A Primer On Concrete Countertops — Precast vs. Pour In Place
I finally started prepping for my concrete contertops yesterday!! I didn't get very far at all, but it felt great to at least get something done. In fact, this is the sum total of my countertop progress yesterday.
Since I haven't gotten far enough to do an official "Part 1" post, I thought I'd start with a little primer on concrete countertops and answer some of the most-asked questions I've been getting about concrete countertops and about this whole "pour in place" business.
I heard about concrete countertops for the first time about 11 years ago when I came across a book in Barnes & Noble called Concrete Countertops: Design, Forms, and Finishes for the New Kitchen and Bath by Fu-Tung Cheng. I was intrigued at the idea of using concrete as a countertop material, but as I read the book and looked at the pictures, the process seemed so labor intensive and non-DIY-friendly to me.
His method, which produced precast concrete countertops, and which was pretty much the only method used for many years (as far as I know), and is still widely used today. This method starts with taking measurements of your countertop area, and then building a mold (in your garage or some other large work area like that) out of melamine-covered particle board to match the dimensions of the countertop you needed. Using the precast method, you have to take into account sink and faucet placement and be sure that the mold includes holes for these items.
Here's a picture of a precast concrete countertop mold from DIY Network.
After the mold is built and caulked, the concrete is poured into the mold. The main difference between this precast method and the pour in place method is that when you pour the concrete into the precast mold, the top of the countertop is on the bottom against the melamine mold. Once the concrete is dry, the mold is disassembled and the concrete is removed and flipped over before putting it into place on the cabinets.
This method has some obvious advantages, but also some real disadvantages.
First, the disadvantages:
Building the mold can be tricky and quite labor intensive for a DIYer, especially if you have any non-90-degree angles or curves on your countertops, and especially considering that you have to keep in mind that you're building the mold upside down and then the countertop will be flipped over. If you've got any awkward corners or shapes, in addition to holes for a sink, faucet, etc., it can get really confusing.
Adding any fancy edge profiles to precast countertops can also be tricky, so most DIYers just stick with straight 90-degree edges.
The concrete is heavy!! Once you break away the mold, you have to carry the countertop and put it into place. That might be fine for little countertops like the ones I'll need here that are 24″ x 24″ and 18″ x 24″…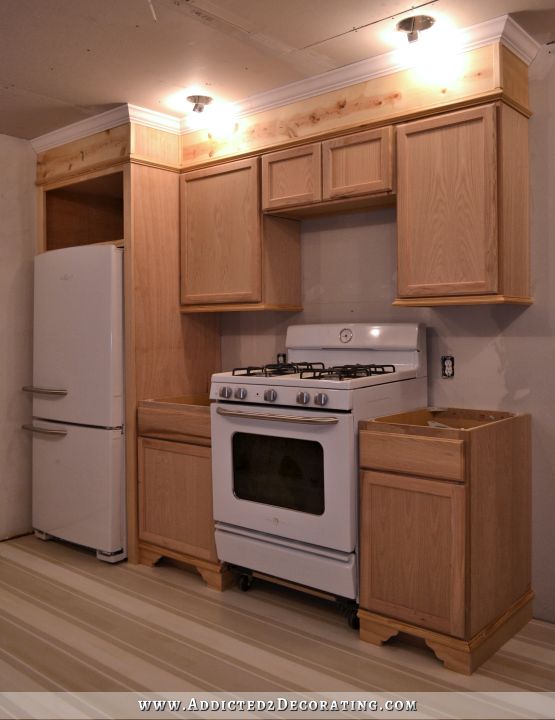 …but what about the one I'll need here that's about 110″ x 40″? Can you imagine how heavy that countertop is going to be?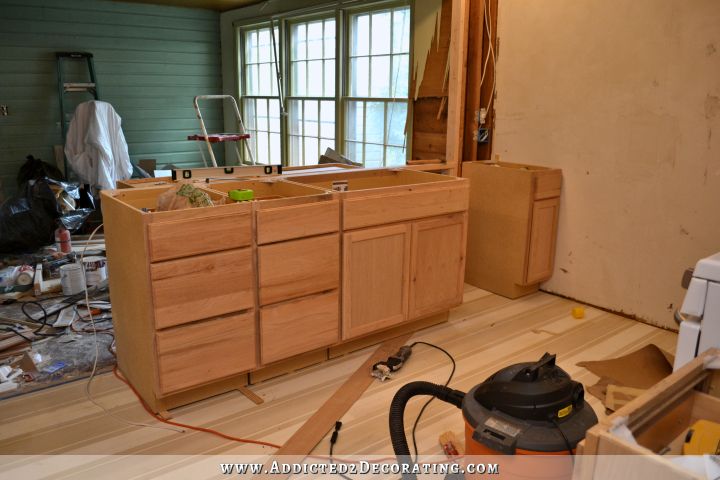 Of course, it's not impossible to precast a countertop like that. Moving it and putting it into place would be about like moving and installing a piece of granite that large. But it's just not really DIY friendly.
The advantages of precast countertops are that you can get really creative with the mold by adding things like integrated drain boards, like this countertop created by Formed Stone Design in Illinois.
And if you're willing to put the time, creativity, time, thought, and time into it, you can get super creative with things like an unusual integrated sink shape.  Check out this guitar-shaped sink by Chris Havill via Concrete Network.
But truthfully, I don't think I've ever seen a DIYer do anything like this. But this is the type of creativity that you'll often see from the pros who do precast concrete countertops.
One thing that DIYers can do, and that is actually quite easy to do with precast countertops, is embedding interesting items into the concrete, like fossils or colored glass. The aggregate goes in first, and then the concrete is placed on top. Here's an example of a glass swirl design being placed into a mold before the concrete is poured. This photo is from Concrete Countertop Institute.
You can also add these decorative items to pour-in-place countertops, but for some reason it seems easier to do (at least to me) with precast countertops.
So you can see that the options with precast concrete countertops are limitless, and especially when those molds and concrete are in the hands of skilled pros. But like I said, DIYers who use precast countertops tend to stick with the very basics.
The other option for DIYers is to pour the countertops in place. This is a newer method developed by some very smart people who realized that the precast method wasn't so DIY friendly and decided to help us DIYers out a bit.
I came across this whole idea of pour-in-place concrete countertops for the first time about two years ago (I think) when I saw a video on YouTube by Concrete Countertop Solutions. I was amazed at the (comparative) simplicity of the process.
You can see the short 3-minute video I'm talking about here:
That's the short version. There are much more detailed videos available.
Ever since I first saw that video, I've wanted to try pouring my own pour-in-place concrete countertops. Over the last couple of years, I've watched their videos countless times, just dreaming of the opportunity to do this myself.
The basic (very basic and very abbreviated) pour-in-place process is that you cover your cabinets with with a solid material like concrete board or plywood, you build a form around the edges, and then you pour the concrete into the form. Once the concrete is dry, you remove the form from the edges.
The type of solid material base that you use (concrete board, plywood, etc.), and the type of mold products that you use around the edges, will depend fully on the company where you purchase your supplies, and the instructions that they give for using their products.
I'm personally sticking with the products and instructions given by Concrete Countertop Solutions, and I'll be using their Z Countertop edge forms. They suggest using concrete backerboard as the base, and you can see here that I've installed Hardibacker concrete board on the wall of cabinets. That's about as far as I've gotten.
Next I'll apply the straight back edge pieces along the wall, and then attach the edge profile of my choice (I'll be using the ogee edge) along the edges where I want the decorative edge.
Once the molds are attached all the way around the countertop area and secured together with duct tape, I'll then pour the concrete into the mold. And then once the concrete has dried, I'll break away the plastic edge molds to reveal the decorative concrete edges.
Here are some examples of pour-in-place concrete countertops done with this system.
After a couple of years of dreaming about pouring my own concrete countertops, I'm pretty darn excited to make them a part of my kitchen remodel. After deciding to go with concrete, I reached out to Ed at Concrete Countertop Solutions (he's the creator of the product and the owner of the company) to see if he would be willing to provide me with the products to pour my own countertops if I would in turn share the process and outcome with all of you. I was thrilled when he agreed!!
So I do want to make it clear that I was provided the materials to do my own countertops free of charge, but they didn't ask me to do it. I approached them after two years of watching their videos and dreaming of using their products. 🙂
Now I do want to point out that Concrete Countertop Solutions isn't the only company around that makes products for pour-in-place concrete countertops. Over the last two years, I've come across a couple of other companies that have seen a need for this type of product and have tried to meet that need. But the reason that I decided to reach out to Concrete Countertop Solutions instead of those other companies is simple. Their products impressed me more, and their process seemed the easiest.
As a comparison, here's a video showing the products and process from another company called Stegmeier Corporation. After watching the Concrete Countertop Solutions videos showing their products and process, and then watching this Stegmeier video about a year ago, I remember thinking to myself, "What an absolute mess! I don't think they could have made that any more difficult if they tried!"
I know that sounds mean. Sorry. But I remember watching this and just being so shocked at the difference between the two. One seems so straightforward and easy. The other seems so long, drawn out, and complicated.
So I just wanted to share that to show that there are different companies and different methods providing products for pour-in-place concrete countertops, but after researching this process for about two years, I'm convinced that the Concrete Countertop Solutions products are the easiest for DIYers. And that's exactly why I reached out to them specifically.
And now I realize that somehow, this post is starting to sound like a commercial. 😀
That wasn't quite my intention. I just wanted to give a little info on the two main methods* for casting concrete countertops, and give you some insight into why I chose the pour-in-place method, as well as why I chose the particular products I did.
And just to clarify, Concrete Countertop Solutions is not paying me to write this post or any other posts about their products. They did provide the materials free of charge, but that's only after I did my own thorough research, decided that I wanted to use their products, and contacted them to see if they would be willing to provide the products if I shared the process and results with all of you.
Hopefully I can make some real progress today, and share the details with you tomorrow. But don't get your hopes up…you won't be seeing actual concrete just yet. I still have lots of prep work to do, and I still have to finish the cabinet installation on the peninsula. I'm really trying my hardest to be ready to actually pour the countertops this weekend.
(*Concrete countertops can also be sprayed into a precast form.  I have never even once seen a DIYer attempt to make sprayed concrete countertops.  The equipment needed isn't really available to DIYers, and the process is one that looks like it takes quite a bit of practice  to master.  But it's pretty darn cool to watch! You can click here to watch a video of the process.)
Update:
My concrete countertops are finished! If you want to see how they turned out, you can jump right to the finished product here…
If you'd like to read about the whole process, you can start with Step 1 here…
Addicted 2 Decorating is where I share my DIY and decorating journey as I remodel and decorate the 1948 fixer upper that my husband, Matt, and I bought in 2013. Matt has M.S. and is unable to do physical work, so I do the majority of the work on the house by myself. You can learn more about me here.