DIY Pour In Place Concrete Countertops – Part 1
Disclosure:  Concrete Countertop Solutions provided me with the materials to make my own pour in place concrete countertops using their products free of charge. All opinions are my own.
My DIY pour in place concrete countertop project is finally underway! I have one countertop (the one on the wall of cabinets) completely prepped and ready for concrete. I told y'all yesterday that my goal is to have all of these countertops prepped and ready to go so that I can pour the concrete on Saturday, and I actually think I'm on track to make that happen!! It's getting exciting around here! 😀
My brother will be helping me with the mixing and pouring part. I brought all of that concrete (twenty-four 50-pound bags) from the end of my driveway into my garage by myself and stacked them on the countertop in the garage, but that was a struggle, and I was exhausted when I was finished. I can't even imagine trying to mix and then carry twenty-four 56-pound buckets full of concrete, and lifting them, one after another, up to those countertops to pour them out. I'd estimate I could mix, carry, and pour about four or five of those by myself before my arms would turn to Jello.
I don't want to take any chances, so Saturday will definitely be a time to call in reinforcements. But before that can happen, I have to do the rest of the prep work! I'll show you what that entails.
For my countertops, I'm using products from Concrete Countertop Solutions, and I'll be using something similar to the Z Liqui-Crete system. The only difference is that instead of purchasing concrete at a place like Home Depot or Lowe's and mixing their Liqui-Crete mixture into the store-bought concrete, I'm using a new product from Concrete Countertop Solutions that has the concrete as well as all of the Liqui-Crete additives already combined in one bag, so I just have to add water.
The mix is white and produces a white countertop. You can keep it white (which is exactly what I'll be doing), or you can stain it to any color you want.
Anyway, let's get on with the process…
Prep work for DIY pour-in-place concrete countertops
1. Cover the cabinets with concrete backerboard.
To start the prep work, I brought in a 1/2-inch piece of concrete backerboard (purchased at Home Depot) and placed it on the cabinets. In their videos, they used Durock, but I prefer Hardibacker. Then I used a pencil and marked the underside of the concrete board, tracing along the front edges of my cabinets to mark where it needed to be cut.
I used a Hardie blade in my circular saw to cut the concrete backerboard. (Click here to see what that looks like.) Those blades are expensive (about $55), but they're so worth it.
With the board cut to size, I then placed it back on the cabinets and screwed it down using 1 1/4-inch drywall screws. You can see that the concrete board comes right to the edge of the cabinets. There's no need to allow for any overhang with the concrete board.
My wall on the left side isn't square, so I ended up having to piece together three pieces of Hardiebacker for this countertop.
2. Tape seams with duct tape.
My not-so-square walls plus my not-so-perfectly-straight cutting skills left me with small gaps between the pieces of backerboard. Those are gaps that concrete could seep through.
So I sealed those gaps using duct tape. And of course, you always want to cut your duct tape with hair cutting scissors. 😀
3. Attach the form edges.
Next I cut a very small piece of the ogee edge profile that I'll be using on my countertops, and I used this small piece to mark the corners of the countertop — both the inside corners and the outside corners. I just put it on one side, and marked the edge…
…and then put it on the other side and marked the edge.
The points where the two lines intersect give me the points where I'll measure when measuring to cut the edge profiles.
For example, if I were wanting to cut the short vertical (in the picture) piece of edge form, I'd measure between these two points.
Concrete Countertop Solutions sells a set of jigs called Edge Expert that help hold the edge profiles completely straight while you're cutting them.
They had intended to send me a set of these, but they accidentally got left out of my shipment. Oops! And of course, I didn't notice that until the day I was ready to start cutting. 🙂
It wasn't really a problem. I ended up using a 1″ x 2″ piece of lumber, and placing the edge profile on the lumber so that it would sit straight while I was cutting it.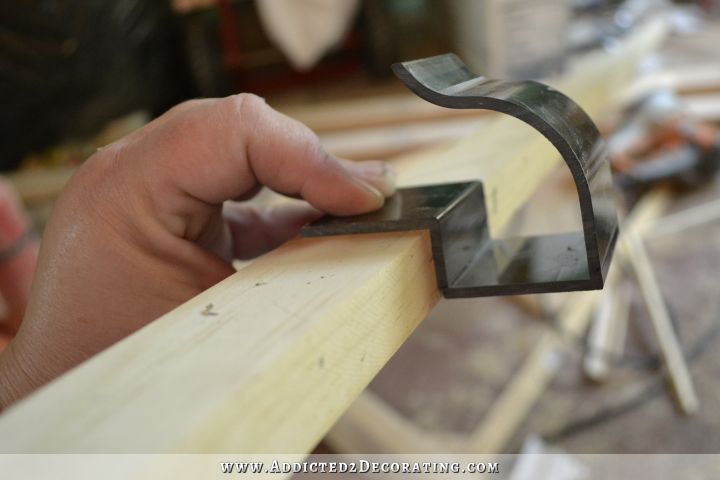 I also had a relatively new blade in my saw, and I cut the form pretty slowly so that I didn't put any unneeded pressure on the plastic form.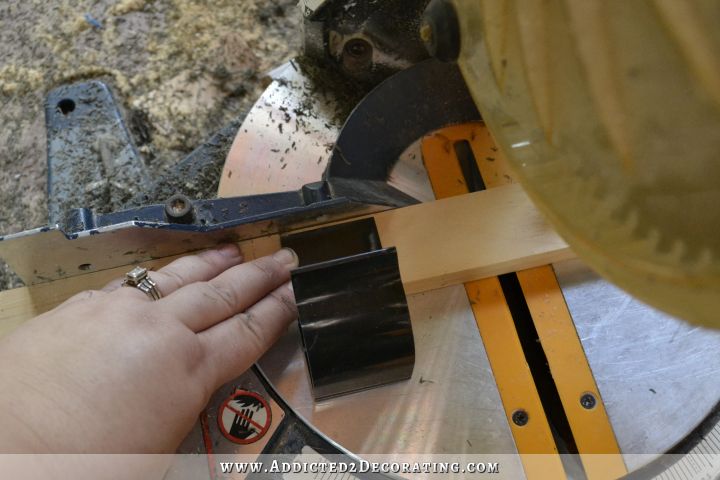 I made it work, and it all ended up just fine. But if I had to do it again, I'd made sure I had a set of Edge Experts to make the cutting easier. The actual cutting was easy, but when working with the long pieces propped on top of the 1″ x 2″ board, they had a tendency to shift around if I didn't pay close attention to them. The Edge Experts are designed to hold the forms in place on the front, back, and bottom to prevent that shifting around.
Anyway, I made it work. My only very insignificant complaint so far is that I found myself wishing that the edge profiles were made of a different color plastic other than black. I didn't have any pen or marker that would show on the black. But I found that measuring and marking with a piece of painters tape worked just fine.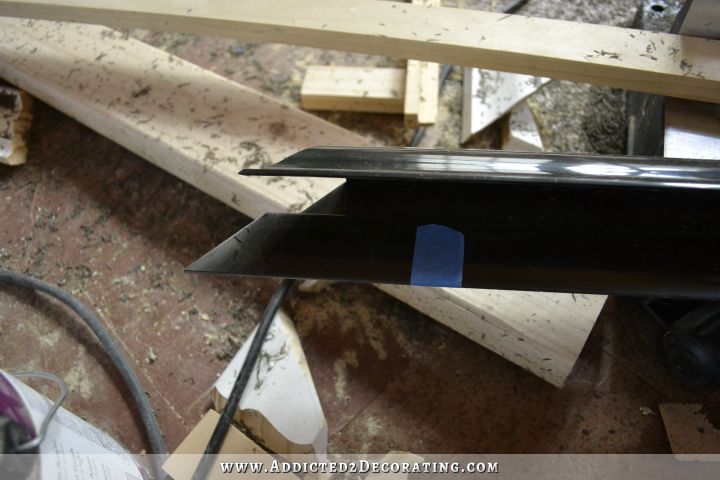 The cutting of the edge forms was very easy. The forms are made of thick, hard plastic, and my little miter saw had absolutely no problem cutting right through it, leaving perfectly smooth cut edges.
As I measured and cut the pieces, I screwed them into place on the edges of the concrete board. You can see now why you don't have to leave any overhang with the concrete board. The edge forms provide all of the overhang that the countertop will need.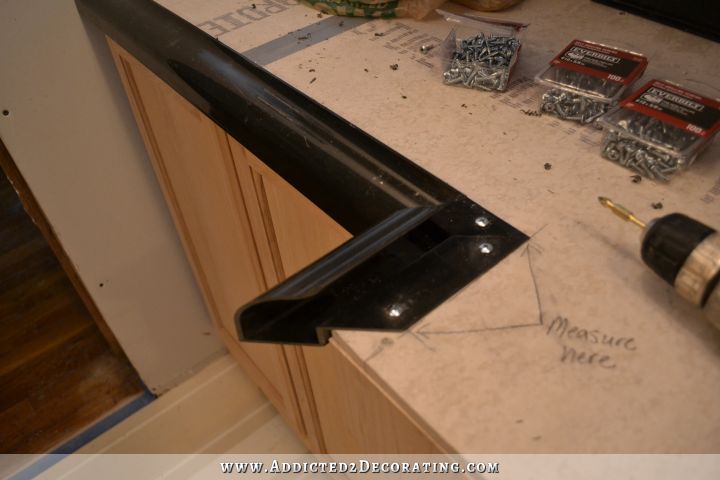 Along the sides and the back wall, I cut and installed the straight forms. Obviously there's no need for ogee edges against the walls, so each package of countertop forms includes several of these straight pieces to place against walls.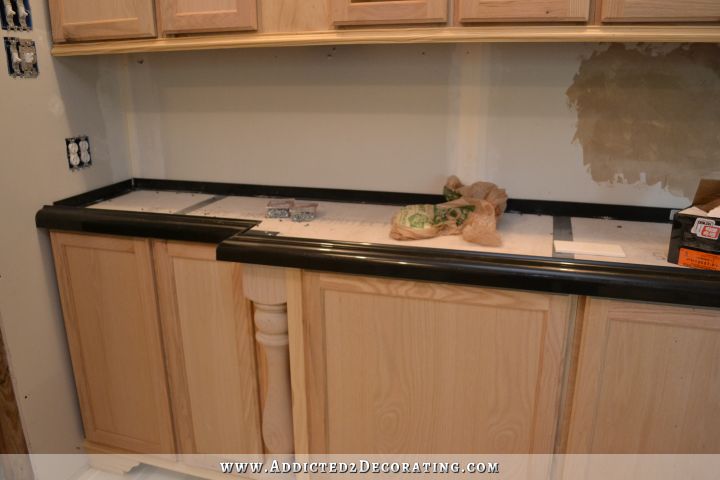 And yes, those back straight forms are needed. This gives you something to screed against and ensures that as you're screeding the concrete, the concrete remains level from front to back. Without those, you wouldn't know how much pressure to place along the back edge when screeding, and you'd probably end up with a countertop that's either too high in the back, or slopes down towards the back wall. Or a combo of both in various places. 🙂
Unlike the front edge profile forms which get broken away when the concrete has dried, the back wall forms stay in place once the countertop is finished. It has a tiny lip on top, but it will easily be covered by the backsplash.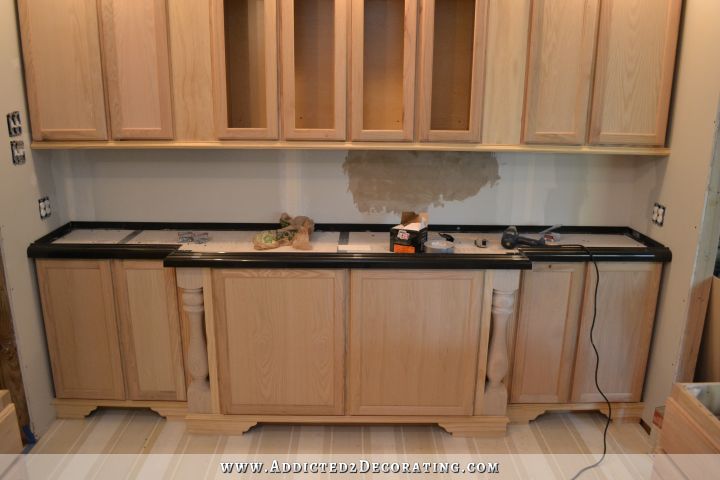 With the forms in place, I caulked along the edges of the forms, as well as any other areas I saw where wet concrete could seep through.
To secure the joints of the edge forms, I used duct tape and taped them together, making sure that the corners met as perfectly as possible before taping. I taped the edges as well as the bottom just to be sure that everything was sealed up and held together tightly. Obviously, you just want to be sure that no tape wraps around to the inside of the form where the concrete will actually be touching, or it'll leave lines in the dried concrete.
4. Attach fiberglass mesh to concrete board.
The final step is to add the fiberglass mesh.  With the Liqui-Crete system, this is used in place of metal wire that you've probably seen being used in other types of DIY concrete countertops.
I simply rolled it out and then cut it to size to fit just inside the forms. And by the way, those shears that I used to cut it are overkill. (Are those metal shears?) The fiberglass mesh can be cut with regular 'ole scissors. No fancy tools are needed. But seriously, the only scissors I can find in my house at the moment are my one and only pair of hair cutting scissors, so I opted for the overkill with these shears.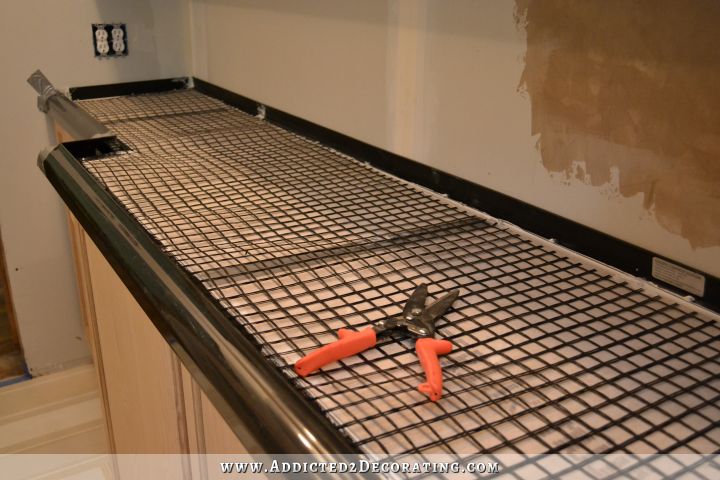 Next, I got out my box of Z-Clips.  These have two lengths of plastic doohickeys on them, and for standard DIY concrete countertops, you just need the short doohickeys.  (The long ones are for thicker commercial countertops.)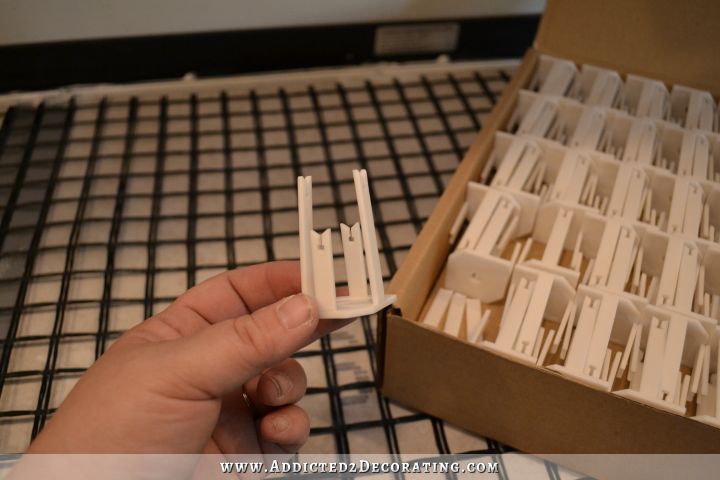 So I just snapped off the longer ones, leaving the two shorter ones.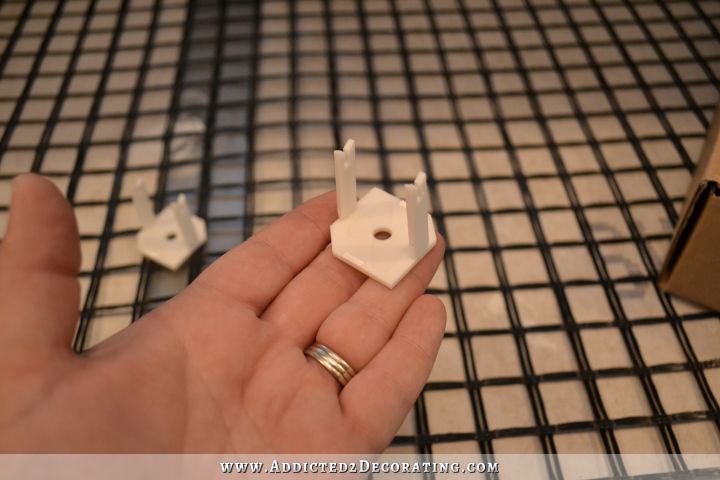 And then these plastic clips are used to hold the mesh at the perfect height. I started by attaching the clips to the front edge of the countertop (along the ogee edge), and then screwed those down. Then I flipped the mesh over the front of the countertop, attached the rest of the clips, flipped it back into place, and screwed the rest of the clips down.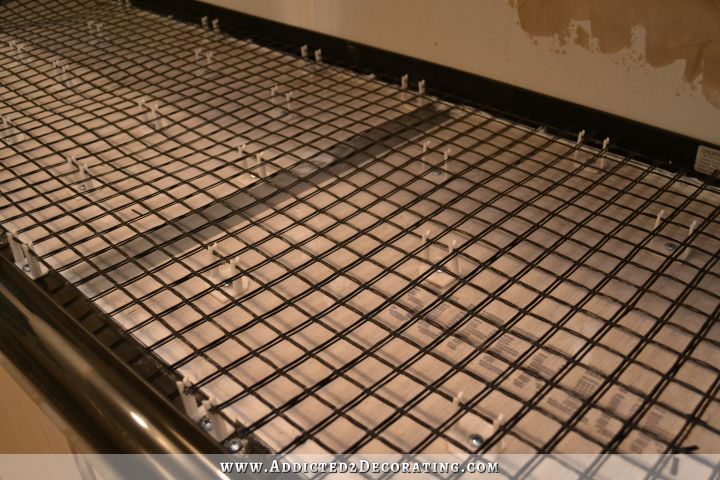 And here it is…my completely prepped, ready-for-concrete countertop form!
It sounds like a long, drawn-out, complicated process, but I promise that it's not. I just like to take lots of pictures, which makes it look more complicated than it is. 🙂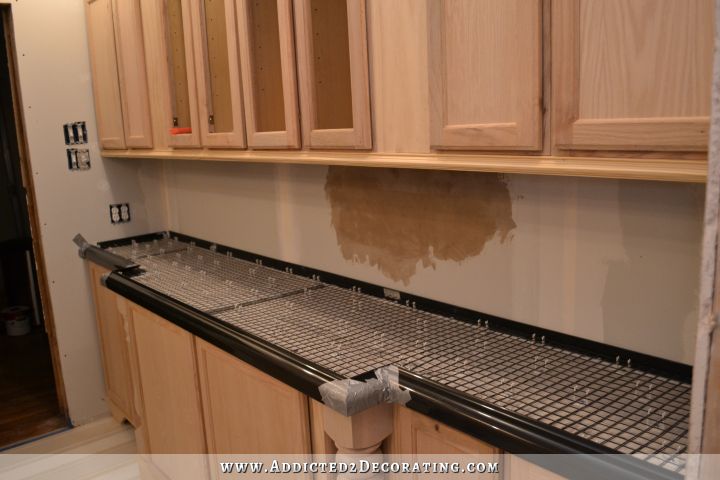 Now I just have to lather, rinse, and repeat three more times, and the prep work will be done!  And thankfully, two of those countertops are tiny, so those will go very quickly. Next step: poured concrete countertops!
How To Make Concrete Countertops – The Cliff Notes!
This looks do-able so far, right? I mean, it's pretty straightforward. Cut and install concrete board. Cut and install the edge profiles. Caulk. Tape. Add the mesh. Then you're ready to pour concrete. On the difficulty scale so far, I would rate this somewhere between "easy" and "intermediate", and the only reason it's edging towards intermediate is because it involves cutting mitered corners, and I know (because some of you have told me) that cutting mitered corners can be challenging for some of you. But if you're experienced with a miter saw, then this is squarely in the "easy" range so far.
Update:
You can see the next step in this project here…
Addicted 2 Decorating is where I share my DIY and decorating journey as I remodel and decorate the 1948 fixer upper that my husband, Matt, and I bought in 2013. Matt has M.S. and is unable to do physical work, so I do the majority of the work on the house by myself. You can learn more about me here.