This week has been exhausting.  First with our photo-bombing cat getting sick and having to be admitted to the kitty hospital, and then with Matt having a really rough week with exhaustion and weakness (which in turn, takes a big toll on me), I've gotten virtually nothing done in the kitchen this week.  I was sure that I'd be ready to start pouring the concrete countertops this weekend, and that I might finally have a working kitchen sink next week.  But now that doesn't seem likely.  I did manage to build the half wall for the peninsula cabinets, but I still don't have the electrical stuff done in that half wall, and I don't have the cabinets installed.
*Sigh*  That kitchen sink is starting to feel like an unobtainable dream.  I'm just feeling a bit down right now.  🙁
The good news is that our cat Powder is doing much better and will be coming home this morning.  🙂
Anyway, I was blown away by all of your suggestions and input on the backsplash yesterday!  There were so many original, interesting ideas.  I read through all of them twice, checked all of the links that some of you left, and really contemplated each idea.
I came very close to just going with the IKEA idea that Ayisha used on her herringbone dresser, and my bonus sister (a.k.a., step-sister) Cathi was just minutes away from leaving her house in the Dallas area to head to IKEA to purchase them for me when I backed out.  I just couldn't shake the idea that those particular wood tiles, with the color variation that I love so much, would be too busy with my cabinets and everything else going on in the kitchen.  I believe my kitchen needs something a bit more subtle.
One suggestion from yesterday that really stood out to me was making my own wood "tiles", so I decided to start there.  I had some 1 x 2 Select Pine lumber from Home Depot on hand, so I just cut a few pieces of those to see if they might work.  (I did a very sloppy and quick job.  I'll need to take it much slower and do much better precision cuts if I go with this idea.)
Interestingly the one thing that I usually dislike about this wood — the heavy grain — is my favorite part about using these in a herringbone design.  I would leave the boards as square as possible on the edges, install them as tightly as possible (what would be called zero grout lines if these were actually tiles), and possibly even fill any tiny gaps with wood filler to make the surface as smooth as possible.  So the herringbone pattern would rely solely on the grain of the wood.
The problem, of course, is the color.  Ugh…I hate the color of pine!  You can see in the picture above how red it is compared to the floor colors.  So I definitely need to do some experimenting with that.  I tried three different things that I already had on hand, but I knew before I even started that they wouldn't work.  I'm not even sure why I bothered.  Obviously I don't want them stained dark, and that middle stain is just not good at all.  The one on the right has a wash of white paint followed by a wash of metallic paint.  It's not horrible, but those washes of paint covered up the grain too much.  I also tried a wash of just white paint.  It was just okay, but nothing special.
So I definitely need to do more experimenting.  I want it to be subtle, but still obviously herringbone.  I don't want it to be one of those situations where I go to all of this trouble, but then get it so subtle that from a distance that it just looks like a solid backsplash.  If I'm doing herringbone, it needs to be visible.
I still have a few ideas I want to try, like using white pickling stain, and maybe even doing a wash of the two floor colors and alternating them in the design.  But if you have any brilliant ideas on how to finish these "tiles" for my herringbone backsplash, I'm all ears.  (Or…all eyes?)
And I'm still not 100% sure this is the direction I'll go.  This is just my starting point for now.
In my search for herringbone inspiration last night, I actually came across another fantastic green kitchen.  This one is designed by Kishani Perera.
I love those green cabinets!  Those look a bit more emerald than mine will be.  I think mine will lean more towards kelly green.
And totally off topic, but I was looking at more pictures of this project by Kishani Perera, and noticed that the colors on the exterior of this house are very similar to what I plan on using on the exterior of my house…if I ever get to those projects.
Of course, my house isn't quite so grand, but the colors I chose for the exterior are very similar.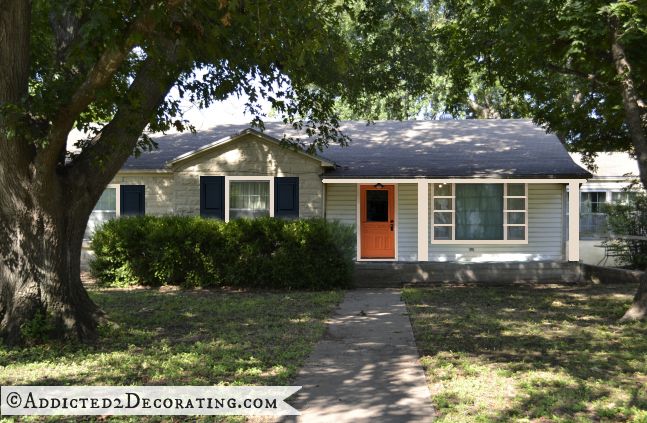 Also, looking through her pictures of that project may have also swayed me back towards black interior doors.  But that's a topic for another day.  🙂
Addicted 2 Decorating is where I share my DIY and decorating journey as I remodel and decorate the 1948 fixer upper that my husband, Matt, and I bought in 2013. Matt has M.S. and is unable to do physical work, so I do the majority of the work on the house by myself. You can learn more about me here.