My Almost Finished Stained Wood Slat Bathroom Ceiling (And New Ceiling Light!)
Disclosure:  This post is sponsored by Kichler Lighting & Del Mar Fans & Lighting.  All opinions are my own.
My bathroom ceiling just about finished!  I still need to do some caulking, trim painting, and touch ups on the ceiling, but I'm almost there!  The process is taking way longer than I had expected, but I think it's so worth it.  I thought the dark ceiling would make the room look and feel so much smaller and closed in, but that's not the case at all.  I was surprised!  And I really love the warmth that stained wood adds to the room.
Yesterday I showed you how I used a two-stain process to give the plywood slats some depth of color, and camouflage the crazy grain that plywood has.
I had also painted the ceiling black since the slats would be installed with small gaps between them, and I didn't want white drywall showing through.
I thought at that point I was ready to install the plywood slats, but after giving it some thought yesterday morning, I decided to polyurethane the slats before installing.  That way I could coat both sides of the plywood, as well as the edges, really well to protect them against any moisture in the room.  I gave the stained side of each slat a quick sanding with 220-grit sandpaper, and then used Rust-Oleum polyurethane in a satin finish, applied with a sponge brush.  It dried very quickly, and then I was ready to install the slats.
I didn't take a picture during the process because I kind of had my hands full.  But I used a generous amount of heavy duty Loctite construction adhesive on the back of each slat, and then nailed it to the ceiling with 18-gauge finishing nails in my nail gun.  I used a scrap piece of 1/8-inch plywood as a spacer between the slats.  To install the pieces around the junction box in the ceiling, I held up the pieces and marked the circle with a pencil, and then used a jigsaw to cut the hole for the junction box.  Then I installed those two pieces just like the others.
The nail holes will have to be touched up, but I'm not in a hurry to do that just yet.  I want to try a couple of different things on a scrap piece first to see what works best before touching up the ceiling.  So for now, it looks like specs of dust on the ceiling.  I also got dust on the slats during installation, but because they were polyurethaned ahead of time, they wiped clean very easily when I was finished.
Next I installed pieces of 1 x 4 to "frame" the dark ceiling.  I just cut the pieces to size, and mitered the corners, using my miter saw.
And then I added crown moulding.  I finally got a Kreg Crown-Pro, and it made cutting the crown moulding so much easier!  (And somewhere along the way, I also primed the walls. So that's just primer, and not the paint color I'll be using.  I haven't quite decided on a paint color yet.)
I had originally intended to add another moulding (base cap moulding) around the inside edge of the 1 x 4 frame, but after cutting and installing one piece, I decided it was just too much.  I really preferred the look of the clean, squared edges of the 1 x 4's against the dark stained wood slats.
With the ceiling and trim just about finished, and the walls sanded and primed, I was finally able to install my new ceiling light!  This is the Kichler Lighting 42486OZ.
I've been so anxious for this, not only because I was super excited to see this light against the dark ceiling, but also because I've grown very tired of working by the light of a single bulb.  From here on out, I'll have much better lighting in here as I work, although I'll probably remove the shade until I'm finished with the room so that it doesn't get dusty.
I love this Kichler light, and it's the very reason I wanted a dark-ish ceiling in this bathroom. I didn't want that beautiful linen drum shade getting lost against white drywall. I wanted a nice contrast that would really show off the light.
And my absolute favorite feature of this whole light — the reason I chose this one — is this very understated, yet very classy, crystal accent in the middle of the diffuser.
I'm so excited to finally have this Kichler light installed. It's been packed away in a box, sitting in the corner of my music room for about three weeks now. And on two occasions, when I had just about had all I could stand of rubble and construction debris, I'd unpack the light just so that I could look at it and be inspired to continue. And now it's up!  I was only able to put one light bulb in to take pictures (too much light made the pictures so washed out you couldn't see the light!) but the light holds four bulbs.  I like a really bright bathroom, and this will be great light to work by from here on out.  Plus, it's pretty to look at.  🙂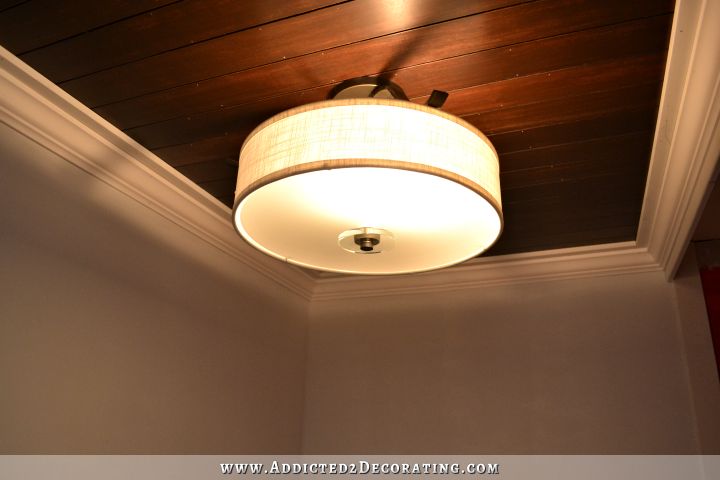 But I am considering installing a dimmer switch and dimmable LED bulbs for those occasions when I'm just in here soaking in the tub.  I don't need quite so much light for that, but I do love the option of having plenty of light when I'm in here getting ready to go somewhere.
Now that the ceiling and trim are just about finished, I'm thinking I'll finish up the tile on the tub surround, and then move on to the floor tile.  Things are coming together!  This is the fun part for me!
(Note:  Regarding your questions/concerns about moisture and mold, I will be installing an exhaust fan somewhere on the ceiling.  I just wanted to get the light installed first so that I can strategically place the exhaust fan where it'll be hidden by the light.  And since we don't have lots of people using this bathroom, and very few overnight guests, I don't anticipate any kind of moisture/mold problems with this ceiling.  If we had a large family and/or were constantly hosting overnight guests, and this bathroom was constantly in use with people taking several hot, steamy showers each day, I probably would have considered a different design plan.)
Addicted 2 Decorating is where I share my DIY and decorating journey as I remodel and decorate the 1948 fixer upper that my husband, Matt, and I bought in 2013. Matt has M.S. and is unable to do physical work, so I do the majority of the work on the house by myself. You can learn more about me here.