Last Updated on December 24, 2015 by Kristi Linauer
I finally took a day off of working on my bathroom/house.  On Friday, I did absolutely nothing all day except sit in bed and watch past episodes of Fixer Upper, Rehab Addict, and Downton Abbey, with a couple of naps in between.  It was glorious!  I'm pretty sure that's the first entirely relaxing day, with not a single bit of work on the house or any house-related projects, I've taken since I started my bathroom remodel almost a month ago, so it was very much needed.  My body (and my arms!) have thanked me for it.
But then on Saturday, I got back to it and tiled my bathtub surround, which I grouted yesterday.  I still need to do some cleaning up, and I was frustrated to learn that Home Depot didn't carry sanded caulk at the store in the grout color I chose (Alabaster), so I had to order it online.  They carry sanded caulk at the store to match every single color of pre-mixed grout that they sell in the store…except for the color I chose.  Of course.  So it still wont' be finished for at least another week.
Anyway, as I was working on the tile for the last two days, I was thinking about the remaining undecided design decision — mainly the shower curtain fabric and the vanity color.  And of course, the shower curtain fabric needed to come first, so that I could choose my vanity color from it.
I kept thinking about the characteristics I wanted in a fabric.  I wanted something floral (of course, because I love florals), but I didn't want anything too crazy and bright.  I wanted something with shades of greens and blues, set on a neutral background.  I didn't want the neutral to be white, because that would be too much white against a white tub with a white subway tile surround and white wainscoting, but I did want it to have some white accents on the pattern.  And after finishing my stained wood ceiling and installing my new ceiling light with the linen shade, I decided that a floral fabric with a linen-type background would be just perfect.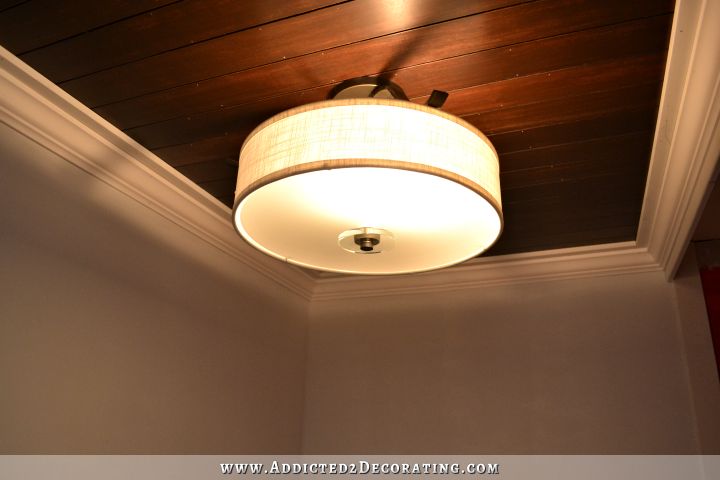 And most importantly, the fabric needed to coordinate with the accent tile that I chose.
So I knew everything I wanted in a shower curtain fabric — floral, nothing crazy and bright, blues and greens on a linen background, some white accents, coordinates with the accent tile.
Remiiiiind you of anything? (Read that in your best Craig Ferguson impression.)  😀  It turns out that I already have the perfect fabric hanging right in my living room.
Yep, it's the P. Kaufmann Florabunda Sea Glass fabric that I used on my living room window treatments!
Now I know you're thinking, "But Kristi, you decided you didn't like that fabric!"  I actually still love the fabric.  I just didn't like it for my living room, used on all of the windows.  But used in a much smaller quantity, and in a context where visitors will see it more closely rather than from a distance, I think it will be perfect!
So that means that my vanity will be dark teal — the same Behr Mythic Forest that is currently on my living room walls.  (This is a very old picture, but it shows the color very well.)
It's funny how these things didn't work out for my living room, but I'm pretty confident that they'll be perfect for my bathroom!  I have a feeling that this is a situation where context (and quantity) are everything.  I had things out of proportion in the living room, but I think it'll be just right in the bathroom.
By the way, I am still planning on selling these window treatments, so if you're interested, stay tuned.  I just think it's foolish to take apart one panel of a set of fully lined, pinch pleated draperies to use as a shower curtain, making the other panel completely useless on its own.  I'd rather sell these as a pair to someone who wants them, and purchase new fabric for my shower curtain.  That way it all gets used, and none of it ends up in a scrap fabric pile in my closet, never to be seen again.  Anway, I'll give details soon on the price, measurements, etc.
Addicted 2 Decorating is where I share my DIY and decorating journey as I remodel and decorate the 1948 fixer upper that my husband, Matt, and I bought in 2013. Matt has M.S. and is unable to do physical work, so I do the majority of the work on the house by myself. You can learn more about me here.
I hope you'll join me on my DIY and decorating journey! If you want to follow my projects and progress, you can subscribe below and have each new post delivered to your email inbox. That way you'll never miss a thing!