Last Updated on October 11, 2012 by Kristi Linauer
Here's another DIY project that fell through the cracks when I switched to WordPress. This was the very first DIY project I ever did for Addicted 2 Decorating, originally posted in July 2008, and it was before the days that I realized I needed to be taking pictures of each step of the process. Blogging DIY projects has certainly been a learning process! I hope you enjoy this blast from the past!
This drinking straw pendant light is a fun and fairly easy DIY lighting project that is sure to add great texture to your room. It's also sure to be a great conversation piece! After all, who would have thought that such humble materials as drinking straws could look so great!?
This drinking straw light would be a fun addition to a child's room, a play room, or anywhere you'd like to add some fun and color. Or you could use all white straws, or all translucent straws, for a more mature look that would work well in just about any room of your home.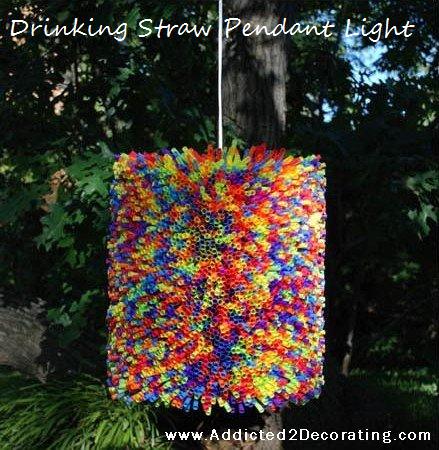 **Please read the helpful hints section before beginning this project.
Project Cost:
Approximately $40
Tools & Materials:
1 roll of metal hardware cloth with 1/2 inch grid (found in the home improvement store with the "chicken coop" wire),
Wire lampshade ring with washer top in the diameter of your choice,
22 gauge craft wire (most hardware cloth is wrapped in wire. If this is the case, you will not need additional wire),
1500 drinking straws (number will vary depending on size of shade),
Pendant light wiring kit (sometimes called a swag light wiring kit. Light socket may have to be purchased separately);
Scissors,
Pliers,
Sidecutter wire snips,
Lots and lots of patience!
Instructions:
1. Remove old lamp shade fabric from the wire hoop. You will only need the top hoop.
2. Begin wrapping the hardware cloth around the metal hoop to form a drum shade. Secure with craft wire.
3. Once you've wrapped the hardware cloth all the way around the hoop, overlap the hardware cloth about 1 inch, and use your side cutter wire snips to cut off the excess hardware cloth.
4. Using the craft wire, secure the hardware cloth where it overlaps to create a drum lamp shade form. (A drum shade has the same diameter on top and on bottom.)
5. Using your side cutter wire snips, cut the shade to the desired height.
6. Prepare your straws by cutting them in half. There's no need to be perfect with this step. The slight variations in length will add a textural quality to the finished shade.
7. Begin inserting the straws by folding each one in half, and from the inside of the lampshade form, push the straw through to the outside of the shade, making sure that the straw wraps around the wire of the hardware cloth.
8. Continue the process until all of the wires are covered by a straw. Each 1/2 inch opening will end up with 4 straws through it.
9. Finish the very top row, and the very bottom row, with a double layer of straws.
10. Finish the light by following the instructions on the pendant light kit to wire the lighting.
11. Hang the light, and enjoy!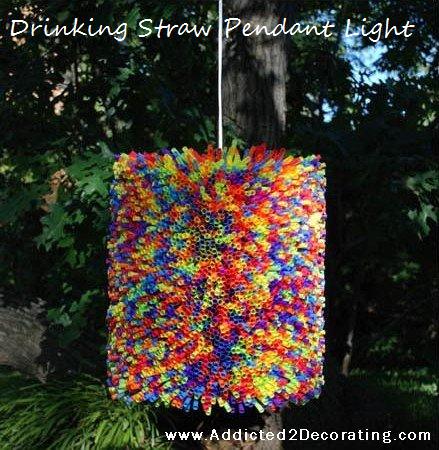 Helpful Hints:
This project is not appropriate for small children. The hardware cloth can be difficult to work with, and when it's cut, it leaves sharp edges that can injure children (and adults!). Please handle the hardware cloth with caution.
Due to sharp edges on the finished product, please keep this lamp shade out of the reach of children. It should be hung in an area where it can be enjoyed, but not touched or handled.
Keep in mind that your finished shade will be about four inches larger in diameter than the hoop size you started with.
When inserting the straws, it's easiest to start in the middle of the shade and work up towards the top. When you have half of the shade completed, flip the shade over, begin in the middle again, and work up towards the top.
Variations:
For a more mature, contemporary look, use one color for the entire shade. White or translucent straws create a beautiful contemporary shade, but you can also use red, blue, etc.
For a child's room, use multi-colored neon straws (as shown in picture above.
For a mature, contemporary look with a bit more variety, mix translucent and white straws.
Addicted 2 Decorating is where I share my DIY and decorating journey as I remodel and decorate the 1948 fixer upper that my husband, Matt, and I bought in 2013. Matt has M.S. and is unable to do physical work, so I do the majority of the work on the house by myself. You can learn more about me here.
I hope you'll join me on my DIY and decorating journey! If you want to follow my projects and progress, you can subscribe below and have each new post delivered to your email inbox. That way you'll never miss a thing!