Last Updated on October 18, 2019 by Kristi Linauer
The whole "it's too pretty to be called a carport" structure project has been very exciting for me from the beginning, but yesterday was a momentous occasion. It was the day I've been awaiting for over a month. It was the day that they finally removed the old low ceiling from the back part of the studio.
If you'll remember, this area used to be a dark and kind of scary storage closet that housed a huge furnace. Here's the side that now houses the new HVAC for the studio…
And this side is where the half bathroom is now. This was taken after the huge furnace was removed…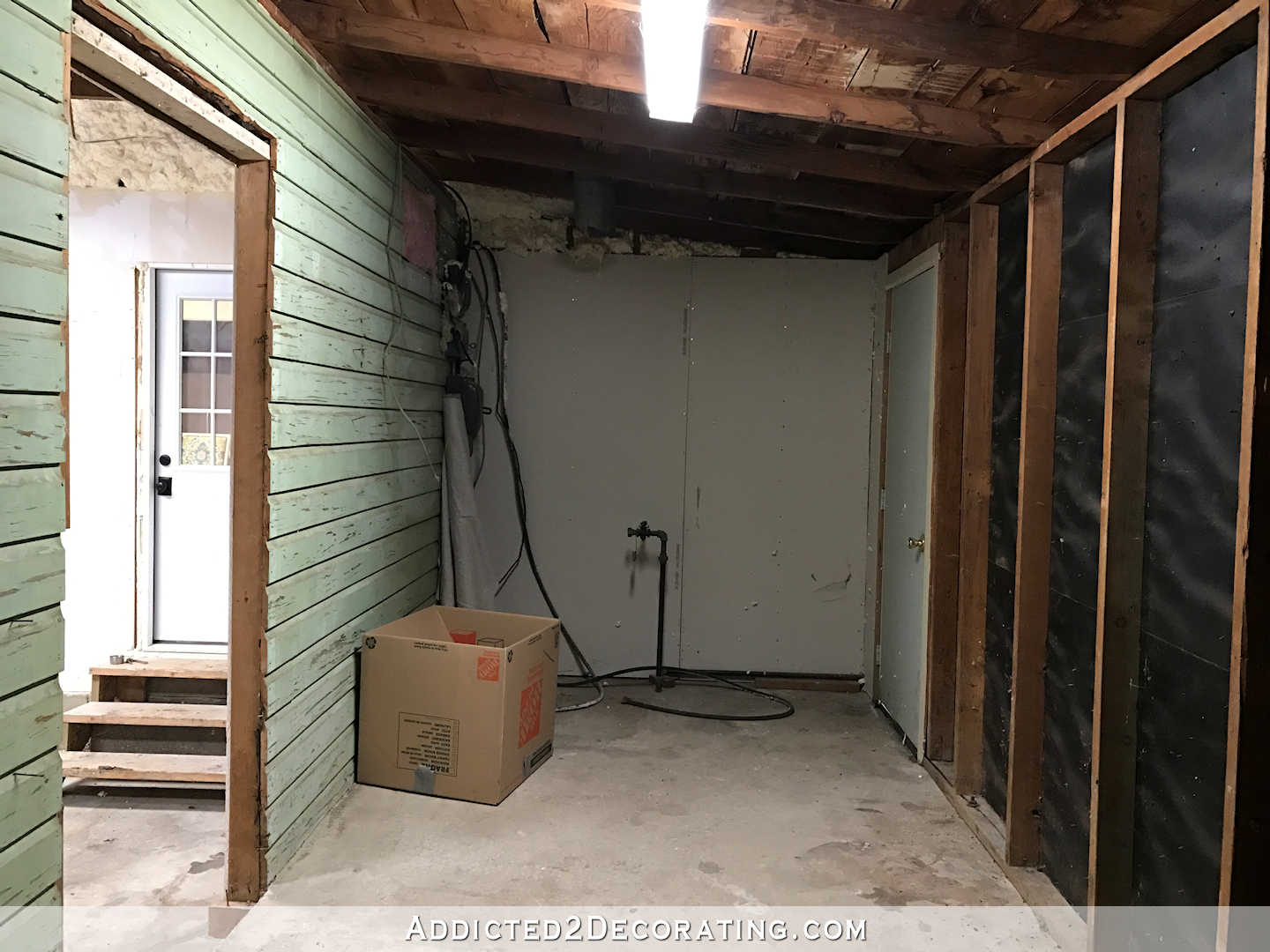 But you can see how dark and cave-like that area used to be with the tar paper walls and the low ceiling.
So when the studio was framed, I had those guys create a larger opening into this back area, add French doors, and partition part of it off as a half bathroom. You can see the pocket door framing for the bathroom to the left of the French doors here…
And while that was a huge improvement over the dark cave that was there originally, I still had that awful low ceiling that was about seven feet tall on the back wall.
When the carport project first started, and we talked about how the new roof would tie into the old roof, I knew that would solve the low ceiling problem at the back of this room. But I had planned on ending up with an eight-foot ceiling with plenty of space above the ceiling joists to run air ducts.
So yesterday, I literally sat in a chair in the studio and watched as they dismantled that old ceiling piece by piece, and what they revealed was glorious. Just look!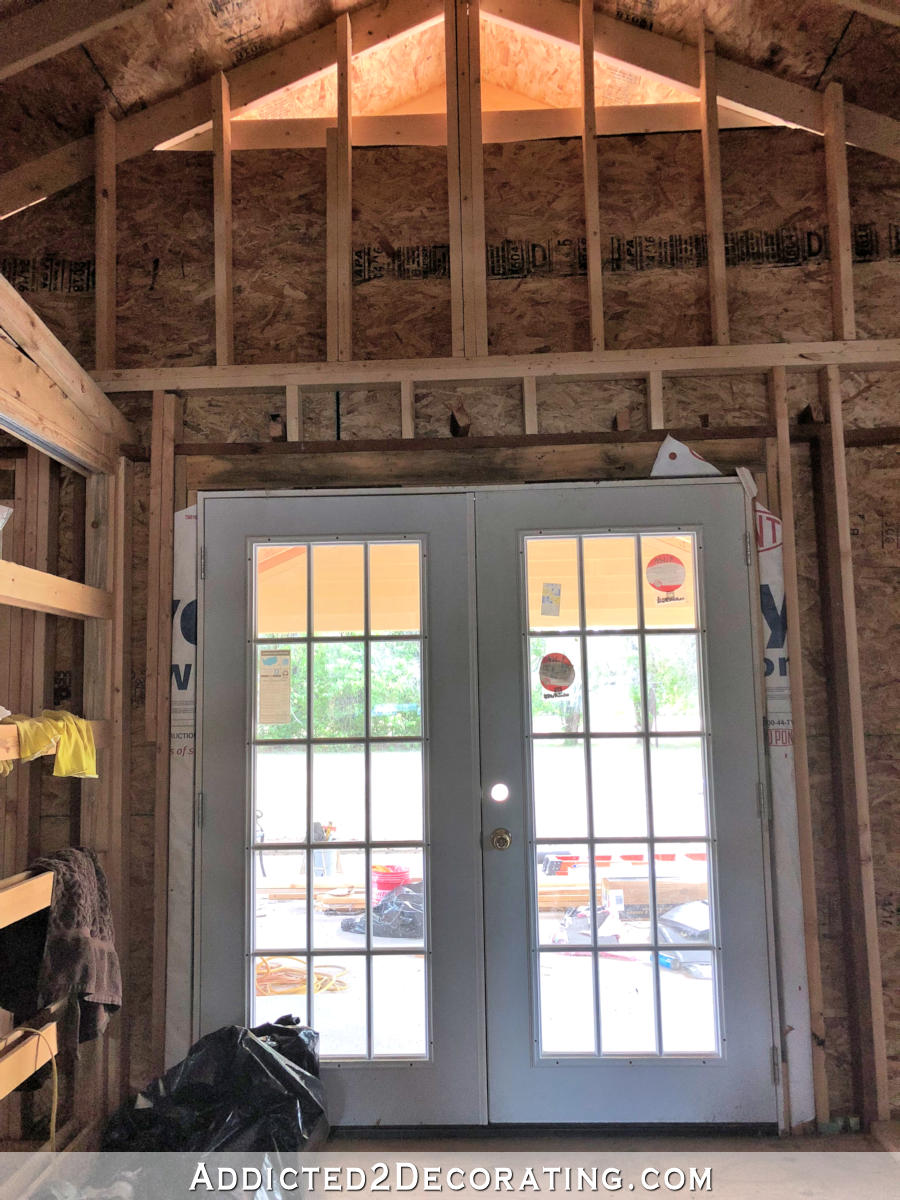 And after seeing that, I can tell you that there's no way I can bear to cover that up with an eight-foot ceiling.
But one thing I absolutely need is symmetry. I don't always need symmetry in decorating (furniture, accessories, etc.), but in major room design decisions that require actual framing around French doors and such, my brain needs symmetry. My brain requires symmetry. My brain would be driven absolutely mad with an asymmetrical vaulted ceiling.
So since the symmetry of that vaulted ceiling has been thrown off by the pocket door wall of the half bathroom, I'm going to have them replicate that exact wall on the other side of the French doors to create a closet on that side.
The wall for the closet is going to have the same size pocket door as the bathroom wall, and will be set the exact distance from the doors. And they'll both be framed all the way up to the new ceiling height. The bathroom wall framing will need to be redone a bit so that it goes all the way up, because right now it's still slanted and only goes up seven feet on the back wall…
So that will need some extra framing, and then the new closet wall will be built correctly from the start…obviously. 🙂
Not only will the addition of this closet give me the perfect symmetry and balance, but it'll give me a very convenient spot to store my miter saw and table saw. And if I make some rolling tables to mount those on, it would make my life so much easier! When I need to use them, I can just roll them out of the closet, out the back doors, down the ramp, and to the carport. Yes, I'm going to lose my little mudroom area, but it was going to be so small that it wasn't going to be too terribly useful anyway. This closet will be far more useful for me.
But with that decided, I still had one roadblock. Where would the air ducts go if I don't have any type of attic space in the vaulted ceiling area?
You might remember me saying a while back that this carport addition would possibly remedy one other problem, but I was going to hold off on sharing it until I knew more. Well, the problem I needed to remedy was this mess of air ducts that were squeezed between the top plate of the wall and the roof decking, and that were going to be absolutely squished between 2″ x 6″ rafters and really needed far more room (and far less snaking through the ceiling) to be efficient.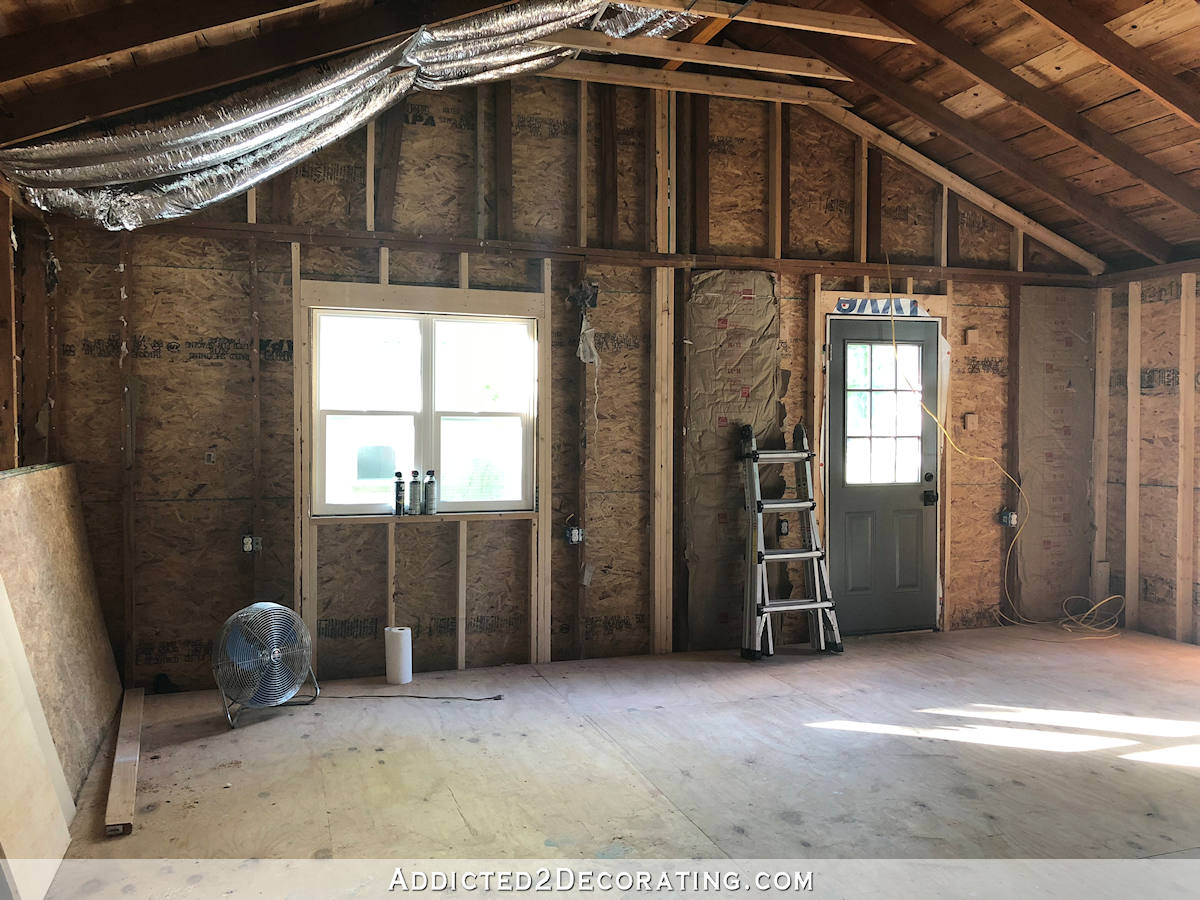 The whole advantage of having the 8-foot ceiling joists at the back was to create an attic space where those ducts could run, completely free from being squished, and without having to travel so far and snake around the ceiling to reach their destinations. After all, two of those ducts were for the half bathroom and pantry, which are about eight and sixteen feet away from the unit, and yet I had about 50 feet of ductwork snaking through the rafters to get to those rooms. Talk about inefficient! With that new attic space, it would be a straight shot from the unit to their destinations.
I kept thinking, "If I don't add ceiling joists and have space above, where am I going to run the air ducts?"
So I sat, and I stared, and I thought, and I dreamed, and I schemed, and then it dawned on me. There's PLENTY of room on top of the original roof!
On this side of the studio, almost the entire original roof has been covered over with a new, higher roof. If I stand with my back against the French doors and look towards the studio, you can see what I mean.
In that picture above, you can see the top beam for the cased opening. Just above that is the top place for that wall. On top of that is the original rafters (pointing right at me), and above that is the original roof. But as you can see, the new roof completely covers over a large portion of the original roof, creating an empty space up there that's big enough to run twenty air ducts!
I climbed up on a ladder to get a better view…
So what that means is that the air ducts can run up from the unit (that will now be in a closet), up onto the original roof, and then to wherever they need to go.
And any portion of the shingles and decking can be removed from the original roof (as long as the rafters remain intact) to get the two air ducts to the center of the studio.
I mean, I couldn't have planned this better had I tried. 😀 All of these little issues that I had with this back area have been solved, and I get to keep the vaulted ceiling above the French doors. This is far better than I had expected!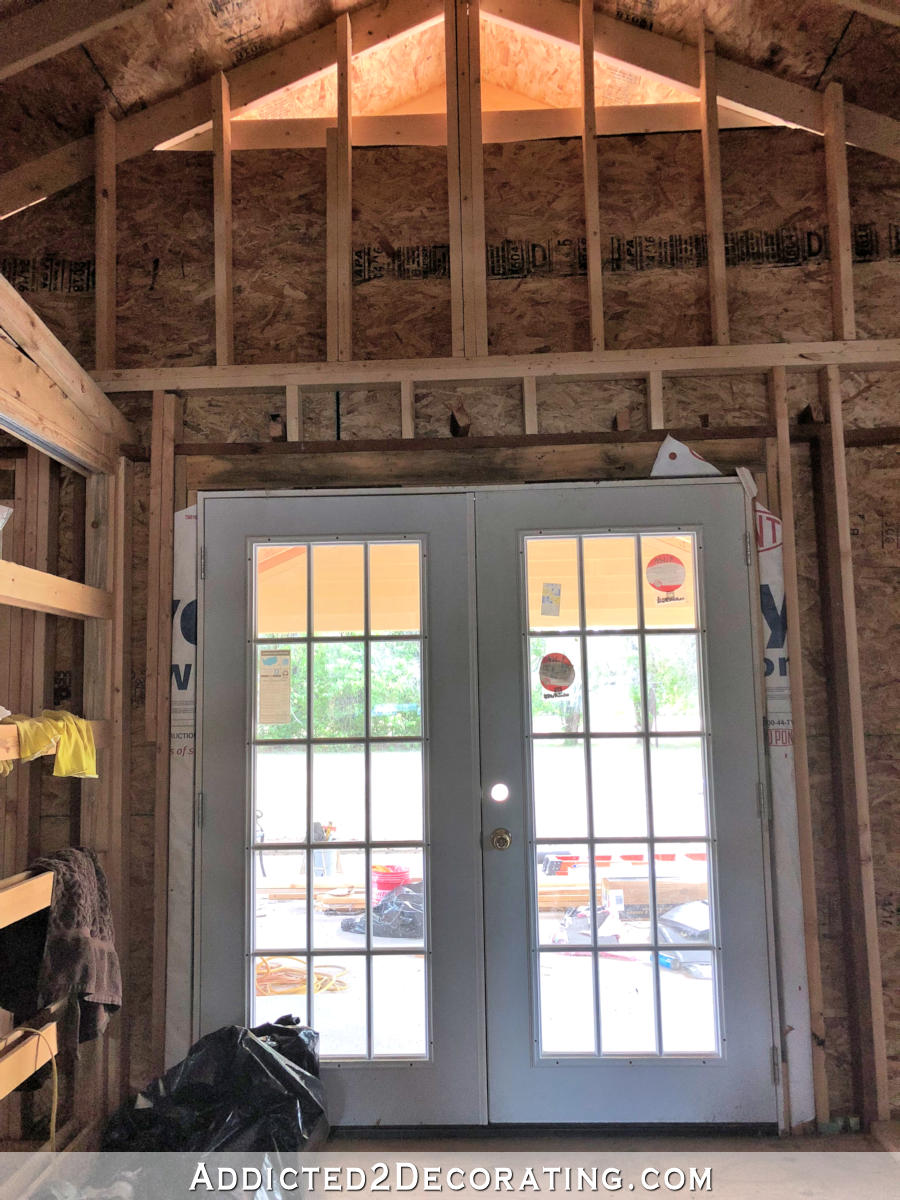 Addicted 2 Decorating is where I share my DIY and decorating journey as I remodel and decorate the 1948 fixer upper that my husband, Matt, and I bought in 2013. Matt has M.S. and is unable to do physical work, so I do the majority of the work on the house by myself. You can learn more about me here.
I hope you'll join me on my DIY and decorating journey! If you want to follow my projects and progress, you can subscribe below and have each new post delivered to your email inbox. That way you'll never miss a thing!