Two More Countertop Options: Epoxy Countertops and Polyurea Coatings
When I wrote yesterday's post about my concrete kitchen countertops, what they look like now, and what I plan to do about it, I pretty much knew the direction I was headed. I had my plan in place.
And then I started down the research path again, and found some very interesting and exciting information about two different countertop coating options — polyurea and epoxy. I wanted to share because I'm pretty sure that both of these options can be used to update a variety of existing countertops (i.e., it's not just for concrete), and both are very reasonably priced, especially compared to the price of completely replacing countertops. So those of you looking to update on a budget might find this info helpful also.
Anyway, I've had about three people over the last week or two suggest that I look into epoxy for my countertops. I looked at a few pictures, and then for some reason, I moved on. I had already decided to use the Stonelok sealer that I mentioned in yesterday's post (which, by the way, is an epoxy/urethane sealer that can be sprayed or rolled on).
But yesterday as I was working on my countertops, I was having a heck of a time getting things to work right. I contacted the concrete countertop company to see what to use to remove the sealer. They said to use acetone, which made my kitchen smell like a nail salon, but seemed to have little effect on my countertop.
So I headed to Home Depot to see what they had. I grabbed these two products. The first one is a stripper, and the label says it'll strip sealers. The second is a cleaner and etcher. Etching is necessary to make the surface porous so that it can be stained or really grab onto any surface coatings.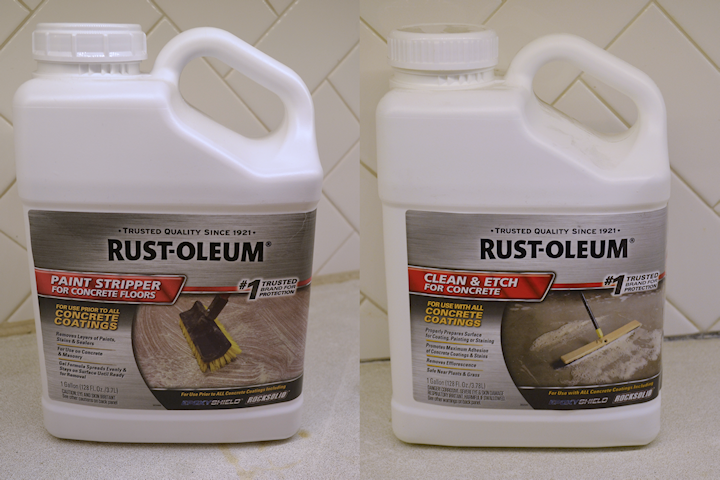 The stripper just made my countertops incredibly sticky, but it never really got all of the sealer off. Even after the countertops were dry, they were very sticky.
The cleaner and etcher did nothing. Not a thing. There was absolutely no etching at all. (Etched concrete should feel somewhat rough compared to non-etched concrete.)
So I headed back to Home Depot to buy another product. This time I got some kind of acid that says it's safer than muriatic acid, and it comes in a dry form that sounds like little tiny pebbles in the jar. You mix it with water and let it sit on the surface of the concrete, and voila! Etched concrete. Or so they say.
But I got home and felt completely unmotivated to try one more thing that probably wouldn't work, so I sat down at my computer and remembered the epoxy suggestions. So I started looking. And this time I really looked. Let me tell you, there are some amazing epoxy countertop ideas out there! Here are a few from this site called Countertop Epoxy, and while these aren't what I'm looking for, you can see how beautiful this can be.
Epoxy Countertops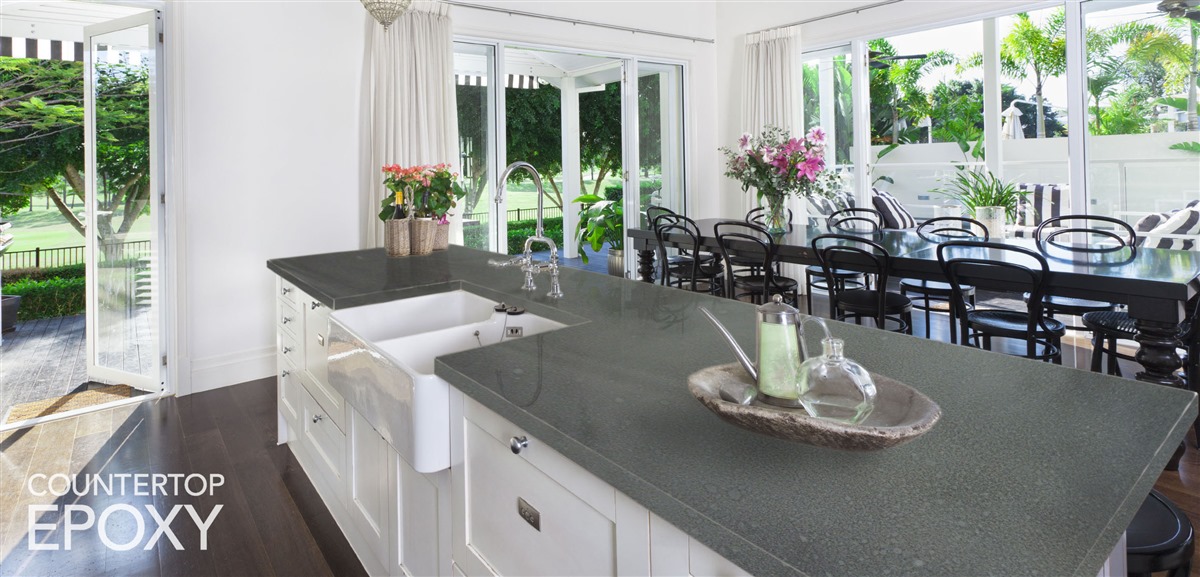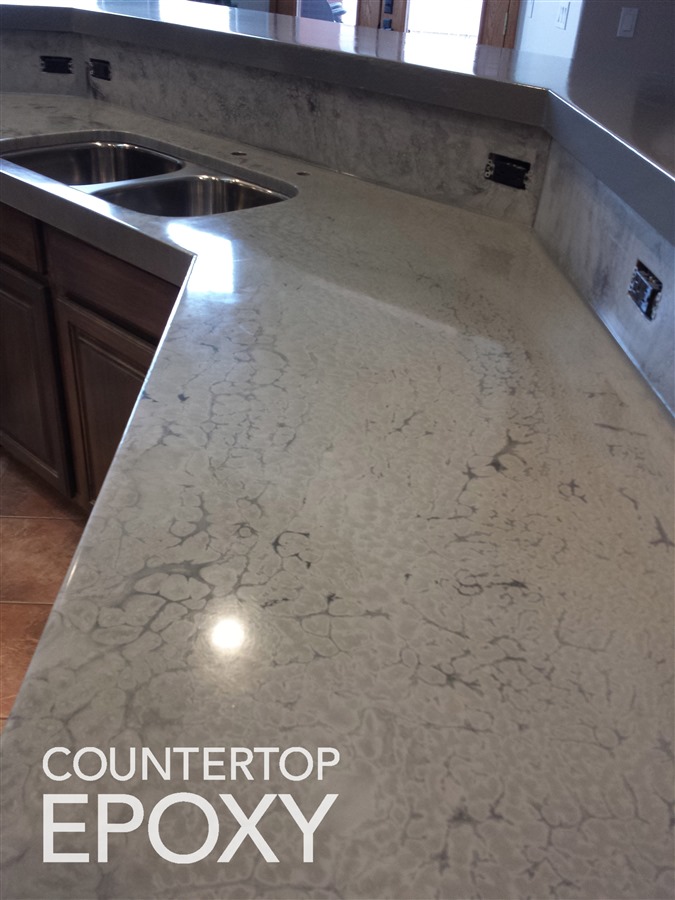 Aren't those pretty? Again, none of those are what I'm looking for, but there's definite potential there.
The good thing about epoxy is that it's very durable, scratch resistant, and non-porous. From ConcreteNetwork.com:
Epoxy sealers form a high-build protective film on the concrete surface, producing a hard, long-wearing, abrasion-resistant finish. They also offer excellent water repellence. They are available clear or pigmented, if you wish to add color. Most products impart a glossy finish. Epoxy sealers are much harder than acrylics. Water-based epoxies bond well to concrete and provide a clear finish, but they are nonporous and do not allow trapped moisture to escape. Epoxies are probably the best choice for concrete countertops and food-preparation areas.
That sounds pretty good, right? I do love that there's such a wide range of options with epoxies. You can add color directly to the epoxy, or you can paint/stain the surface first, and then add clear epoxy over the top. As I've mentioned, I'd love my countertops to look like marble, and I found a few examples of surfaces that were painted to look like marble or granite and then coated with clear epoxy.
via Everything's Better With Sparkles
And you can read how well those countertops held up after two years of use here.
Those are beautiful, right? And while my main opposition to epoxy countertops has been the super high gloss finish, I have to admit that it's growing on me a bit.
Now can you set pots and pans directly from your stovetop onto epoxy countertops? Nope. But you shouldn't do that on granite or any other natural stone, either. Can you chop veggies directly on it? You probably shouldn't, but I never do that anyway. Putting food directly on my countertop kind of makes me cringe, so I always use cutting boards even with my indestructible concrete.
So as I was reading and looking at pictures last night, epoxy started looking like a really great option to me. And while epoxy counteretops are very easily DIYable (and I've wanted to try it for the longest time…it just looks fun), I got to wondering if maybe there was a company in my area that would do it for me so that I could be sure to get a very durable, professional finish.
My online search for epoxy countertops in Waco only led me to one local company called Garage Force. And as I looked through their portfolio on their Facebook page, I noticed I only saw floors. They do mostly garage floors (hence, the name), but they also do interior floors, patios, outdoor walkways, etc. Their products can be used on concrete, tile…basically anything.
Their portfolio is impressive, but…no countertops. But as I read through the comments, I saw where the owner said that they hadn't done a countertop yet, but they certainly could!
Yay!
Then I continued reading through the comments, and someone asked, "What brand of epoxy do you use?" The owner responded, "This is not an epoxy coating but a polyurea coating…"
POLYUREA!!
Are y'all familiar with polyurea? It's unbelievably amazing stuff! I was first introduced to polyurea several months ago (maybe a year now) when I first began my research into solutions for my concrete countertops. I found that, hands down, polyurea is the best protective coating that exists. Urethanes and epoxies can't hold a candle to the strength and durability of polyurea. In fact, polyurea is 20 times stronger than epoxy, it dries to the touch very quickly and when used on garage floors, can be driven on in 24 hours, it has no VOC's, and very little odor.
I remember being absolutely amazed watching videos like this, where a cardboard box is sprayed with polyurea, filled with water, then the top of the water is sprayed with polyurea, and then the guy stands on it!!
I ruled it out all those months ago, because I couldn't find any polyurea products that I thought I could DIY, and I certainly didn't know there would be a place right here in Waco, Texas that had that amazing product.
But there is! And not only can they mix their product in just about any color imaginable, but they also have a clear polyurea coating that can be used over painted/stained surfaces. So that means that I can get my countertop looking just like I want it (e.g., marble, granite or some other design), and then they can spray the clear polyurea right over the top to protect it. He said it works just fine over latex paints, it goes on crystal clear and never yellows.
The best thing? The price! The colored products are anywhere from $5 to $8 per square foot, but the clear coat runs about $2 per square foot. And I only have 54 square feet of countertop space in my kitchen!
Anyway, he's coming later this week to look at my counteretops and be very sure that we can do exactly what I'm planning, so I'm just hoping and praying that this works out. This would be the ideal coating for my countertops, and it's so durable that it comes with a lifetime warranty.
Now I need to start practicing my marble painting technique. 😀
UPDATE:
My countertops have been refinished! Click here to see the process and how they turned out…
Addicted 2 Decorating is where I share my DIY and decorating journey as I remodel and decorate the 1948 fixer upper that my husband, Matt, and I bought in 2013. Matt has M.S. and is unable to do physical work, so I do the majority of the work on the house by myself. You can learn more about me here.