Last Updated on December 24, 2015 by Kristi Linauer
I got the lower cabinets painted, but I didn't get them polyurethaned.  Why?  Well, because I went to Lowe's yesterday to get more matte finish polyurethane, and they were out.  I've never been more convinced of my celebrity status than I am now.  I'll explain, and I'm sure you'll agree, but first, here are my painted lower cabinets.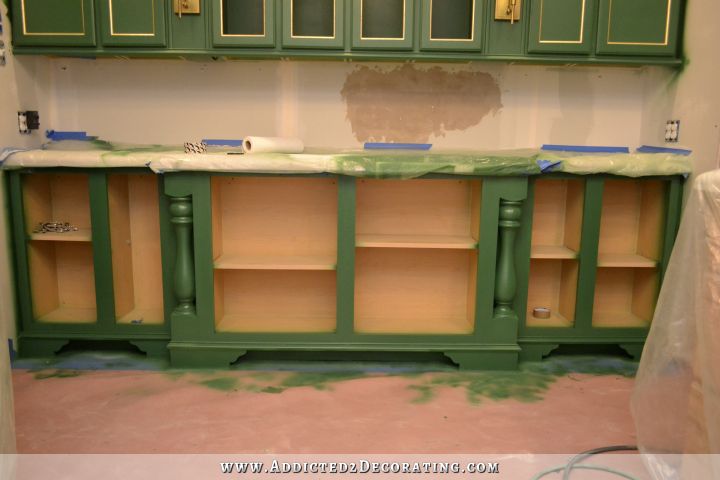 I can't wait to get this finished!!!  Those columns turned out just as I had envisioned.  When everything was bare wood, I was getting a bit concerned because those columns just seemed to really stand out and demand attention.
But now with everything the same color, they look just as I had imagined.  They're a pretty architectural detail, but they're more of a subtle detail now rather than a front-and-center, demand-your-attention feature.
So now as far as my celebrity status, let's look at this logically, shall we?  At the beginning of this week, I have trouble with the finish on my cabinets.  It's way too shiny.  Then I go to Lowe's to pick up some Rust-Oleum polyurethane in a matte finish to try over the shiny paint.  When I bought mine, they had at least five more in stock.  I'm sure of it.
I come home, use that matte polyurethane finish on my cabinets, and they turn out gorgeous.  It's the perfect velvety satin finish.  I share that info here on my blog.  Then I go back yesterday for another quart, and they're completely out of matte finish polyurethane!  Not even one in stock.  Oh, there's plenty of satin, semi-gloss, and gloss.  They have all of those in quarts and gallons.  But they're completely sold out of the matte finish.
Right?  I mean, come on.  If that's not irrefutable proof of my celebrity status, and that, "When Kristi talks, people listen," I don't know what is.
You're welcome, Rust-Oleum.  And Lowe's.
😀
(I'm joking, of course.  I'm only a celebrity in my dreams.  And really, not even then, because then I'd have to start leaving the house in something other than my paint- and caulk-splattered clothes.  And I'd have to actually do something other than stick my hair in a pony tail.  And I'd probably even have to put makeup on at least sometimes.  Who has time for that?!  I've got a house to remodel, people!)  😀
Okay, back to reality.  I had many people ask me how I was going to protect the floor around those feet on the cabinets in order to spray the cabinets, so here's how I did that.
First, I folded back the existing paper that's been down for a while to protect the floor.  Then I used the widest painters tape that I could find at Home Depot (about 1.5 inches wide), and I used that in the space between the decorative feet and the toekick. I also added about four additional rows of tape in front of the side sections of cabinets so that the tape was even with the tape on the center section.
It looks tedious, but it really only took about 10 minutes to do the taping.  And then I rolled out a piece of red rosin paper to cover the exposed area of floor, and taped that down on all four sides.  (I did block off that doorway before spraying.  I just took my picture before I did that.)
Simple as that!  So was I able to prime and paint every single bit of the toekick behind the feet?  Probably not.  But every single bit of it that can be seen from any angle (plus some, since I used my sprayer) is completely painted.  I'm not worried at all about any parts that can't be seen not being painted.
I didn't get the other four doors gold leafed because…well…life happened yesterday.  You know what I mean?  I'm talking about those frustrating real-life things that get in the way of your grand plans for the day, and before you know it, it's 5:00pm, and you're just now getting started on the thing you had hoped to spend the whole day doing.
So I started at 5:00 yesterday, beginning with the sanding of the wood filler that I had added the day before, and then I caulked everything.  Then after dinner, I primed the whole thing and had to wait for it to dry before I could sand and paint.  I didn't get started painting until about 9:00pm.
Painting took me about two hours.  Two hours!!  And let me tell you why.  (Please…if you bought a Critter sprayer at my recommendation, please pay attention!).  It's because I ran out of paint strainers, so I ended up having to just pour the paint directly from the can into the jar without being strained.  That might be okay when you're using a brand new, only-been-opened-to-be-tinted can of paint.  But when you're using a can of paint that's been opened and closed, shaken, stirred, and had leftover paint poured back into it many times over the course of a week, it's a big mistake.  I spent about 45 minutes of those two hours actually painting.  The other hour and 15 minutes were spent trying repeatedly to get the sprayer unclogged.  It would work just fine for about 10 minutes, and then get clogged.  Then it would work for two minutes, and get clogged.  And so went the entire two hours.
So just save yourself the immense frustration and always keep some paint strainers on hand.  I use the paper cone paint strainers (just google to see what they look like), and I get them from my local Benjamin Moore store for about 15 cents each.  I'll never let myself run out of them again.  Ever.
I'm still determined to get this entire wall done by Monday — the remaining four doors gold leafed, doors and cabinets polyurethaned, doors installed, backsplash installed, corbels made and installed, and ceiling overspray touched up.  That sounds reasonable for an entire weekend, right?  We'll see!  🙂
Addicted 2 Decorating is where I share my DIY and decorating journey as I remodel and decorate the 1948 fixer upper that my husband, Matt, and I bought in 2013. Matt has M.S. and is unable to do physical work, so I do the majority of the work on the house by myself. You can learn more about me here.
I hope you'll join me on my DIY and decorating journey! If you want to follow my projects and progress, you can subscribe below and have each new post delivered to your email inbox. That way you'll never miss a thing!