Teal Kitchen Cabinet Sneak Peek (Plus, A Few Cabinet Painting Tips)
I got started on painting the kitchen cabinets yesterday, and while I didn't get very far (I only painted the backs of all but two doors on the wall of cabinets), I couldn't step away from the blog for the weekend without showing y'all a sneak peek of the color. I'm giddy with excitement about the new direction of my kitchen.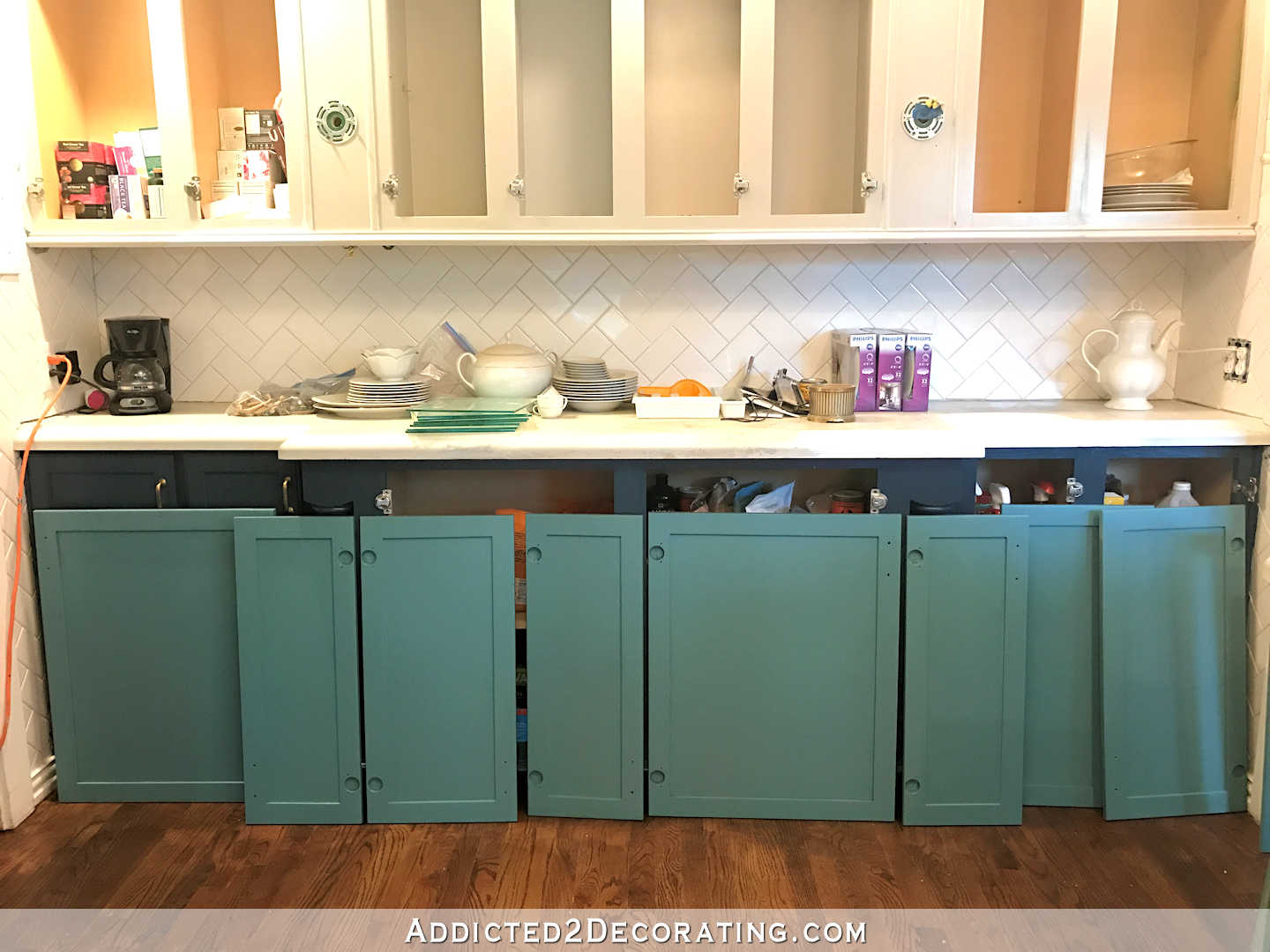 Aaahhhhh!!! Isn't that pretty?! This color is absolutely, 100% "me," don't you think?
And the interesting thing is that even though this color is pretty much identical to the color on the kitchen cabinets at the condo, it feels like a new, fresh color because of the differences in the two kitchens. The condo kitchen was tiny (about 8′ x 8′). It didn't have any windows in it either, and the window in the neighboring eating area (only one of four windows in the entire condo) was underneath a walkway in an interior courtyard in a building built like a rectangular donut, so it never got a lot of light even during the brightest time of the day. It was very much like a little cave. A pretty little cave 😀 , but a cave nonetheless. So the teal always looked dark and gray.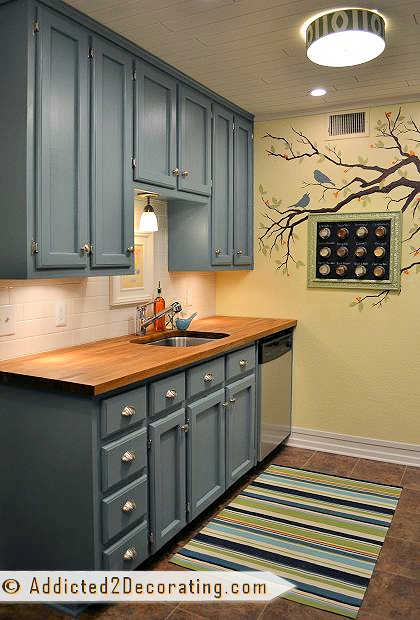 My current kitchen, while still small (10′ x 14.5′) is much bigger than the condo kitchen and feels about four times as big just because it's so open to the breakfast room. And while it also doesn't have any windows directly in the room, it gets a ton of natural sunlight from the eight windows in the two neighboring rooms.
So with the room differences, it feels like a brand new paint color to me. I like that.
Anyway, I had several people ask me what I was going to do about the streaky buildup of paint where I tested color after color after color on those two cabinet doors.
All I did was use my small Ryobi Corner Cat sander, starting with 80-grit sandpaper and ending with 220-grit sandpaper, to sand off all of the streaky buildup of paint.
It made very quick work of removing all of that paint, and even got into the corners of the recessed panels. This is the second corner sander I've owned. The first one was something called a Mouse. (Black & Decker, I think.) That thing was tiny and not very powerful, although I bought it many years ago, so they may have improved it by now.
But this Ryobi Corner Cat is far better than my old Mouse. It gets into corners just like the mouse, but the sanding pad is quite a bit bigger. It's also more powerful, so it does the job faster. It doesn't have any removable parts or accessories like the Mouse, but I just wanted a simple corner sander that actually sands in corners and this one does the trick. I highly recommend it.
I also want to answer a few questions I get repeatedly about painting cabinets. I do have a very thorough post about how I paint kitchen cabinets with a brush and get an almost flawless finish. You can find that here.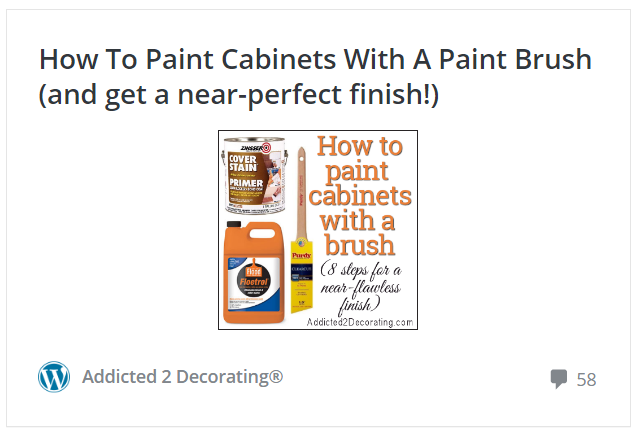 But here are a few more questions that I get quite often…
Do I have to sand my cabinets before painting?
Only if you want them to look good. 😀
I absolutely hate all of these products that promise "no sanding required." Your final paint finish will only look as good as the layer underneath. If you're putting paint on top of cabinets that are dinged, scratched, have heavy grain, have an imperfect finish, etc., then your new layer of paint is going to show those imperfections. Prep work is key to getting a flawless finish, so if you're going to tackle a huge project like painting kitchen cabinets, take the time to do it right. Yes, sand your cabinets and doors first.
The good news is that you don't have to do it all by hand. Start with a small sander like the Ryobi Corner Cat to do all of the flat surfaces. If your cabinets and doors are in pretty good condition, just start with 150-grit and end with 220-grit. If they're in pretty rough condition, start with 80-grit and end with 200-grit. Then go back and sand by hand any details (routed edges, beaded details) that the sander couldn't reach. The goal isn't to remove all of the existing finish. The goal is simply to get a smooth surface. So don't rely on your eyes to know when you're finished, since they sanded doors will probably look terrible, just like my door where I painted all of the sample colors…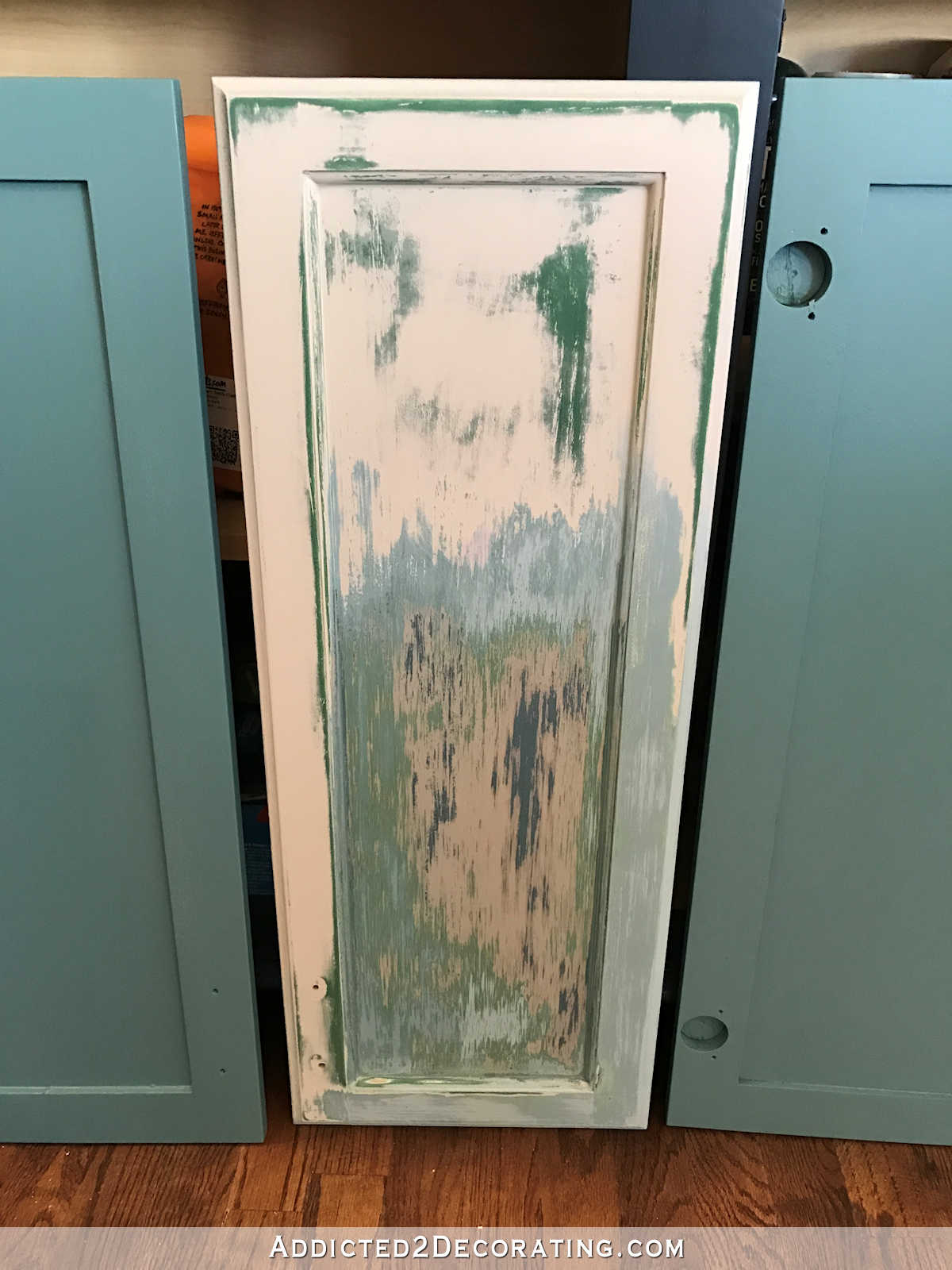 Rely instead on your hands to feel how smooth the surface is. If you feel any roughness, do a bit more sanding. That door in the picture above looks terrible, but it's super smooth and ready for a new coat of paint.
Do I have to prime my cabinets before painting?
Only if you want them to look good. 😀
Okay, just kidding. Whether or not you have to prime first depends on what the existing finish is. And I'll just assume that you're painting with latex (water-based) paint, since the use of oil-based paints seems to be a thing of the past.
If your cabinets are currently stained and polyurethaned…
you need to prime first with an oil-based primer. It's safe to assume that any stained and polyurethaned factory finish is done with oil-based products, in which case an oil-based primer (my favorite is Zinsser oil-based Cover Stain) is the best way to cover it. Once the primer is dry, you can paint the cabinets with latex paint.
If your cabinets are currently painted with oil-based paint…
you need to prime first with an oil-based primer. Once the primer is dry, you can paint the cabinets with latex paint. If your cabinets haven't been painted in a couple of decades, it's pretty safe to assume they're painted with oil-based paint. Use extreme caution when sanding anything that was painted before the early- to mid-80s, though. It could be lead paint, so things that old should be tested before sanding.
If your cabinets are currently painted with latex paint…
there's no need to prime first, but you will want to sand first. Even if the finish is in perfect condition, I still recommend sanding just enough to give the existing finish some "tooth" so that the new layer of latex paint will bond better with the old. There's no need to put a lot of time into the sanding process if the existing finish is in great condition. Just quickly run some sandpaper over the surface (by hand) and you're done. If the existing finish has some issues (rough spots, cracks, dings, etc.), use a sander. When the sanding is done, you can paint on a new coat of latex paint.
If you have no idea what the current finish is…
then go ahead and prime. It's better to be safe than sorry. If you assume it's latex, but end up painting latex directly over oil-based paint, there's a good chance that the latex paint will fail at some point, and start peeling off. Don't take that chance. If you're unsure, just go ahead and prime first.
So those are my tips for the day. 🙂 And don't forget to refer back to my "how to paint" post for the details on getting a flawless finish. Even if you're using a sprayer, some of these tips will still apply…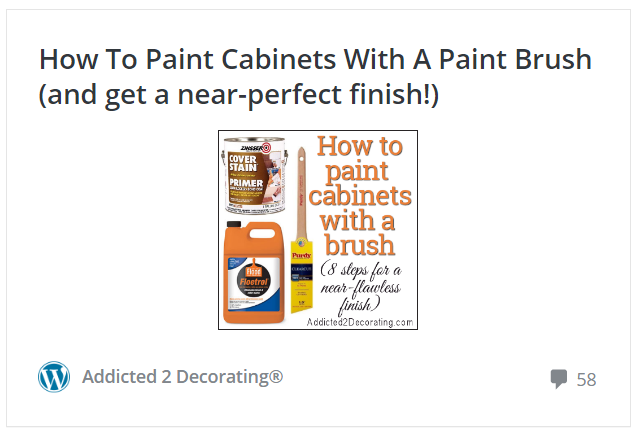 Now I have one more day of gorgeous, clear, sunshiny weather before the rain gets here this weekend. We'll see how far I can get on these cabinet doors before then. 🙂
Addicted 2 Decorating is where I share my DIY and decorating journey as I remodel and decorate the 1948 fixer upper that my husband, Matt, and I bought in 2013. Matt has M.S. and is unable to do physical work, so I do the majority of the work on the house by myself. You can learn more about me here.