Artificial Grass Lawn (Would You Ever?)
I'm still steadily working on my dining room, and at this point, I'm feeling like the trim and moulding will never get finished. All of the installing, wood filling, sanding, and caulking is such a long process. There's a LOT of trim in that room! 🙂
While I'm spending so much time working in that front room, I also do a lot of looking out the window at my pathetic front yard, and dreaming about the day that I'll actually get to do some landscaping out there and have a front yard (and front exterior) that I'm proud of. The front of our house looks pretty awful and neglected right now. I don't have a recent picture with the new dining room windows, but everything else still looks pretty much the same as it did in this picture…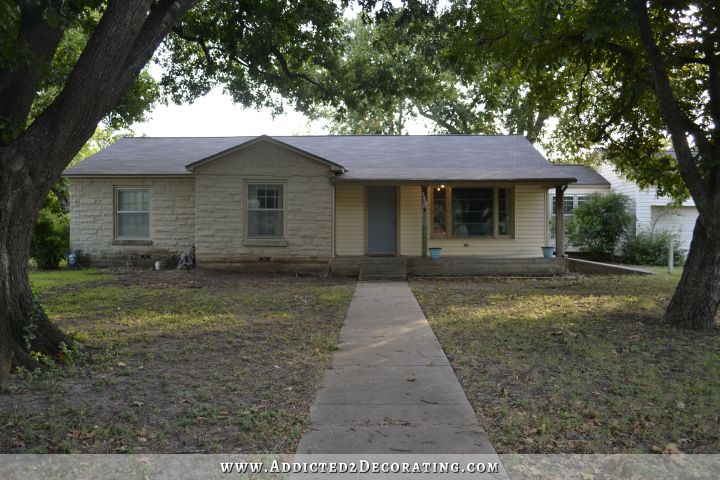 Of course, we have big plans. I want to completely redo the entire front porch, add larger gables, replace all of the siding, and possibly replace all of the stone with brick (or just get rid of it and do siding on everything). This isn't exactly what I want, since I want my house to have a more traditional look rather than a Craftsman look, but this is the general idea…
I have no idea when we'll be able to do that major remodel on the front. Matt wants to hold off on any (more) major remodels until we have the house paid off completely, which we're thinking might be the end of next year. But until then, I can at least do some inexpensive upgrades on the front porch area, and then focus on some landscaping.
But to be quite honest, I'm not really in a big hurry. And the reason is because as soon as I spend money on landscaping, then I'll need to spend time and money on upkeep. As long as it's just completely neglected, I can continue to tell myself, "Oh, that's okay. I just haven't gotten to it yet, but it'll be beautiful one day!" 🙂 But even when I do get around to landscaping my lawn, I still don't want to have to spend a lot of time and money on upkeep. Have you ever looked at the statistics on what Americans spend for lawn care and maintenance? The numbers are staggering! Here are a few interesting facts.
I don't know about you, but some of those numbers just boggle my mind! What is it with our obsession with our lawns? And this continual quest for the perfect lawn is like a hamster on a wheel. It's one of those things that's never "finished." You have to continue, year after year after year, with the money and the time and the maintenance, or it'll all die and all of the time and money you spent will be for naught.
So I've really, seriously considered this information when thinking about how I want my front yard to look. I've done quite a bit of reading on xeriscaping, which is where you rely on drought-tolerant plants and plants native to your area so that your lawn requires little to no irrigation at all. For me, the word "xeriscape" often brings images of lots of pavers, gravel, and cactus. But many xeriscaped yards (depending on where you live, of course) can be filled with lots of green and color.
Contemporary Landscape by Toronto Landscape Architects & Landscape Designers Home Garden Solutions
That particular example is a bit much for my taste, but it shows how a xeriscaped yard can be really colorful and green. It's all about finding plants native to your area that thrive in your climate without the need for additional watering. That idea intrigues me, but so far I've only done general reading (and looking at lots of pictures on Houzz), but I haven't gone so far as to look into plants that would work in my area, or to talk to any local nurseries about their suggestions.
I do want to do some xeriscaping in my front yard, but I don't really like the yards that are just completely filled with plants. And while I do want some hardscaping mixed in (pavers and such), I don't want an entire yard filled with hardscaping. So I do want some grass in there. It's just what I'm accustomed to, and it's what I like. It doesn't have to be much, but I do want a good mix of plants, hardscaping, and grass.
So I've also been looking into artifical lawns. I know that "artificial lawn" brings images of cheap, plastic green carpet-type stuff, but artificial lawns have come so far in the last decade or so!
Contemporary Landscape by Tempe Landscape Architects & Landscape Designers Coffman Studio
Contemporary Landscape by Newport Beach Landscape Architects & Landscape Designers Studio H Landscape Architecture
Traditional Landscape by Dalton Landscape Architects & Landscape Designers SYNLawn
Contemporary Patio by Brooklyn Landscape Architects & Landscape Designers Outside Space NYC Landscape Design
Modern Landscape by Denver Design-Build Firms West Standard Design Build
Contemporary Pool by Dallas Garden & Landscape Supplies Conservation Grass
Eclectic Landscape by Dallas Garden & Landscape Supplies Conservation Grass
To be quite honest, I'm really liking the idea of mixing in some artificial grass into my landscape plan for my front yard (and possibly back yard). The idea of artificial grass seems so strange to me, especially when I have a hard time getting past the images of the awful stuff from decades ago. But it's really come so far, and some of it looks so good now! And there are so many to choose from. One company that I looked at had over 60 different varieties to choose from, with varying shades of green, various textures, different mixes of greens and browns to keep things looking realistic and not too perfectly solid green. Over 60 choices! And that was just from one company.
What are your thoughts on artificial lawns? Too strange for your taste? Or is the no-maintenance thing something that would win you over? Can you imagine having beautiful, green grass that requires no watering, no maintenance, no lawnmowers or edgers, no fertilizers, no pesticides, and no time out of your busy schedule for weekly maintenance?
That idea sounds amazing to me. It's a really big upfront cost, but once it's done, it's done. That sounds good to me!
EDIT:
*To clarify, I realize that artificial grass does NOT equal a yard that requires zero maintenance ever from now to the end of time. I'll still have trees (that drop leaves), flower beds, vegetable gardens, and much more that needs regular (weekly, if not daily) maintenance. I realize artificial grass needs to be hosed down periodically and maintained in general, etc. What is does NOT require, and what appeals to me, is regular (weekly or twice a week) maintenance to KEEP IT ALIVE, which most often seems like a losing game in central Texas in the heat of summer, unless you have lots of money that you can and want to pour into it. I don't love taking care of lawns, and trying to keep them alive. If you do, that's great! This is an option I'm considering FOR ME. I'm not mandating that YOU need to get rid of your lawn, and or even implying that if gardening/lawn work is your hobby, then you're wasting your time and money.
Addicted 2 Decorating is where I share my DIY and decorating journey as I remodel and decorate the 1948 fixer upper that my husband, Matt, and I bought in 2013. Matt has M.S. and is unable to do physical work, so I do the majority of the work on the house by myself. You can learn more about me here.