Last Updated on June 5, 2021 by Kristi Linauer
Today I'm continuing the one year house tour with the exterior of the house and the garage. Over the last year, the amount of work I've put into the exterior of the house is very minimal. I've done practically nothing.
My original plan was actually to use this summer to get lots of projects done outside (especially in the front yard and the front exterior of the house) to add some curb appeal to our blank slate. But then I started my two-week low budget kitchen makeover, which somehow turned into a full blown kitchen remodel that has lasted several months, so that kind of ruined my plans for the exterior projects I had planned. So it's still kind of a sad, neglected blank slate one year later. But I'll show it to you anyway, and hopefully you can see the potential like I can!
Front Exterior/Front Yard
The first time I saw the house, the front exterior didn't impress me at all.  In fact, I almost walked away from the house altogether, but the more I thought about it, and the more I looked at the photos I had taken, the more I could see the potential.  Here's how it looked then…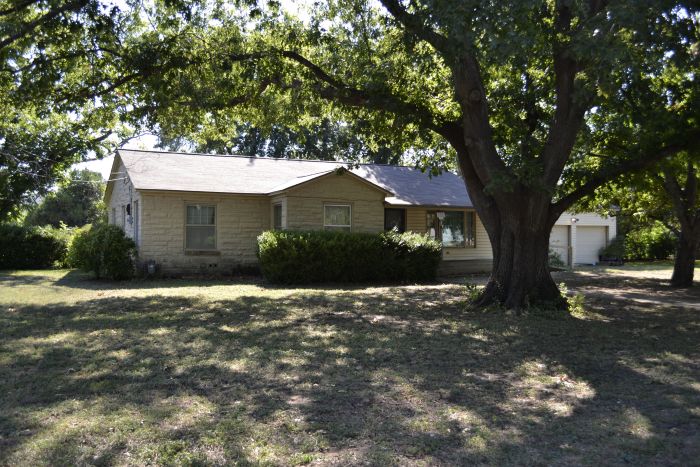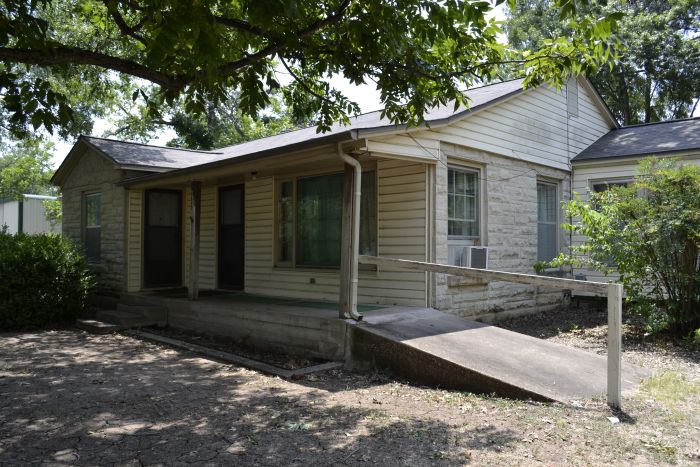 And now?  Well, it looks pretty much the same.  I did remove the dark storm doors from the front door and the side door, the hand rail from the ramp, and I also removed all of the boxwoods from the front.  So really, it's looking even more drab and colorless than it did when we bought it.  😀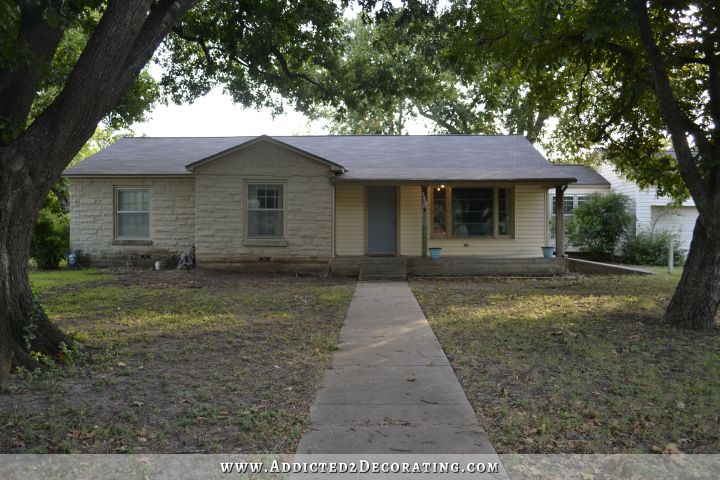 On the picture above, the window on the far left is Matt's game room, to the right of that is my office, and the large window to the right of the front door is the living room.  The windows on the little section set back between the main house and the garage is the breakfast room.  Here's a floor plan again for reference.
The whole house needs a good power washing, but beyond that, I have so many plans for the exterior.  It's a blank slate just begging for some color, landscaping, and so much more.
My absolute least favorite thing about the exterior of our house is the vinyl siding.  I can't even express how much I loathe it, and you have no idea how much self control it has taken me to not rip it off.  I'm almost certain that there's wood shiplap siding underneath, but I have no idea what condition it's in.  The optimist in me wants to believe it's in the same great condition that the shiplap siding in the breakfast room (originally an exterior wall of the garage) is in, but the realist in me thinks it's probably more like the condition of the shiplap siding in the sunroom, which is old and crumbling, and both are probably covered with lead-based paint.
Either way, the plan is to remove all of the vinyl siding and replace it with a long lasting composite wood-look siding.
Traditional Porch by Chicago Building Supplies James Hardie Building Products
In fact, there are a few ideas from that photo that I'd like to implement on my own house. Not only do I want the new lap siding, but I also want the white trim, the wood (or wood-look) front porch, and the white columns and porch railings.
But back to the vinyl siding.  Replacing all of the siding will cost a small fortune, and that's something that would need to wait until the sunroom is removed and rebuilt to create the laundry room and family room so that everything can be done at the same time.  Who knows when that will happen, so for now, I'm stuck with vinyl siding.
I think I'll be happier with it if I can just paint it for now.  That yellowish cream color is just awful, and I want it to be more of a tan color with no hint of yellow.  In fact, if it leaned more towards a hint of gray, that would be perfectly fine with me.  Just no yellowish cream!!
As far as adding color and personality to the front, this is a mock up that I did (obviously using a photo taken before I removed the boxwoods) about a year ago, and I still love it today.
Who knows if I'll still like it when I finally get around to working on the exterior, though.  Remember, all of my plans are subject to change on a whim and without any prior notification.  😀
My absolute favorite thing right now about the front of our house/property is the massive red oak tree.  It towers above our house.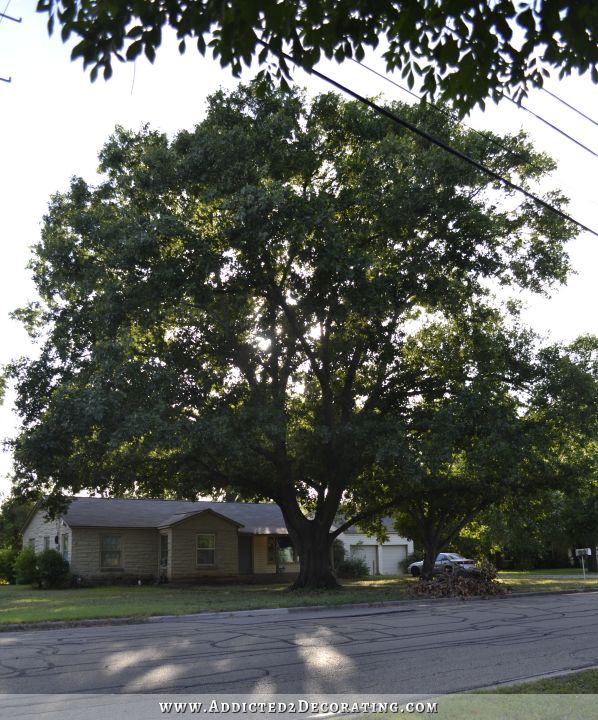 And then next to it is a pecan tree that I'd love to cut down right now.  Not only is it leaning, which annoys the heck out of my perfectionist/OCD personality, but pecan trees are self-pruning, and that thing drops limbs constantly, and sometimes they're very large limbs.
(Ummm…please ignore those sad, neglected gutters and grass climbing over the curb.  In fact, just go put on your "this has so much potential and will eventually be awesome regardless of how it looks now" glasses.  Please, and thank you.)  🙂
One of the things that was almost a deal breaker for me with this house was the lack of a paved driveway.  Seriously.  I just couldn't imagine why there wasn't an actual paved driveway leading to the garage.  But after giving it some thought, I realized that that might actually be a blessing and not a curse.  The lack of paved driveway meant that I can design any kind of driveway I want.  I can be creative and come up with something other than the standard massive expanse of concrete.  I have no idea what I'll actually end up with, but I've always really loved the split path driveways like this…
Traditional Exterior by San Francisco Architects & Building Designers Madson Design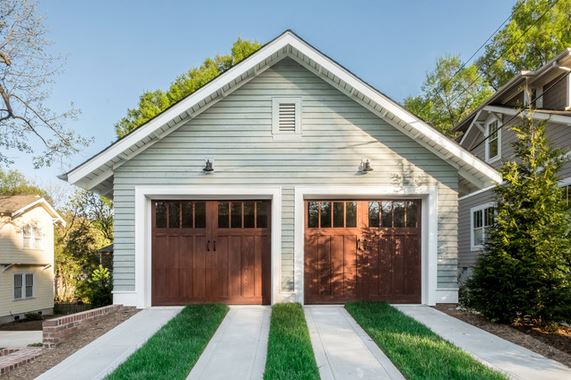 Craftsman Garage And Shed by Charlotte Home Builders Saussy Burbank
I think those are so much more charming that just a massive expanse of concrete, and the look fits well with the age and style of my house.
Now when it comes time to do the landscaping, I'm going to have to work with a professional.  I can do interior stuff, but when it comes to landscaping, I'm completely out of my element.  I have a basic idea of what I want — lots of textures, levels, a manicured look (no wild English garden for me) etc.
One issue that I have is that our property is so large, and there's just so much area that needs attention.  Our side yard on the left goes all the way to the end of the boxwoods on the left side.
And then on the garage side, we have this side yard that extends about four feet to the left of the gate.  (Ignore my trash pile.  We made two trips to the landfill yesterday, and couldn't get the rest before they closed, so I put it there until we can make another trip).
So our property is very wide, and our front yard is quite large.  And since I don't want to spend hundreds of dollars each month trying to keep that much grass alive during the hot, dry summers, I'd like a very good mix of grass, hardscaping, and planting beds.  But other than knowing generally what I want, I have no idea how to actually go about it and design something that looks and functions like I want.  So I'll be counting on a professional to come up with a plan that I can implement over time as I have the funds.
Back Exterior/Back Yard
There's really no need to show before pictures since this back yard and back exterior of our house look exactly the same as they did a year ago.  The only thing that has changed back here is that we added a dogrun to the side.  (Actually, my father-in-law built the fence when he was here in February.)  It's nothing fancy…just a fenced off area where my dog can spend some time outside each day.
The funny thing is that that dogrun is about the size of our entire back yard that we had in Oregon.  Our entire lot in Oregon was 6,437 square feet.  Our lot here is 43,560 square feet.  (Our current house is also 1,o00 square feet bigger, and we paid $55,000 less for our current house than we did for our house in Oregon.  I love Texas!)  So we could easily fence off about 1400 square feet for our dog, and still have more than enough room in our back yard for whatever else we want to do.
And speaking of back yard…
Lots of people over the last year have asked me, "Kristi, why this house?  It needs so much work, so why did you choose this one?"
The answer is simple.  The lot.
When we decided to buy a house, I knew I wanted three things.  First, I wanted an old house.  I don't like new build houses (for me), and I wanted something old that I could fix up.  And secondly, it actually needed to be a fixer upper.  Under no circumstances did I want to buy an old house that someone else had already fixed up, because more than likely they'd pass along those costs to me in the sale price of the house, and I'd still want to redo everything.  So that would have been money wasted.  And third, it needed to be cheap so that I wouldn't feel guilty about spending lots of money over the next five to ten years fixing it up.
I got those things (we paid $82,000 for our house, and as you can see from the pictures, it's definitely a fixer upper in desperate need of some lovin'), but I never in my life dreamed that I could find those things sitting on a one-acre lot inside the city.  Of course, you can find lots of land in the country in Texas, but I'm not a country girl.  You couldn't pay me to live in the country.  Nope, I'm a city girl.  So I feel like I have the best of both worlds here.  I probably could have found a house that I liked better, but I certainly couldn't have found a house that I liked better that sat on a one-acre lot in the city.
So yes…it's the land that sold me on this house.  Not the house.  In fact, my attitude was, "Well, I can work with the house, but I want that lot!"
If you're new around here, here's an aerial view of our our property outlined in red.  The 1400 square foot dog run is marked off in yellow, and you can see that it barely made a dent in our back yard.
I have so many plans for this back yard, but I have a feeling it'll be one of those projects that I'll literally be working on for decades to come.  The row of trees from the right side of this picture to the middle of the picture is the same tree row that cuts the back yard in half in the aerial view above.
Right now, there's a brick fireplace with planters on each side right on the patio.
We'll keep it for now, and we might even build a fire in it this fall.  But eventually this will all be removed.  When I said that on the original house tour a year ago, several people tried to convince me to keep it, but it simply won't work once we tear down the sunroom and rebuild it.  That room, once it's rebuilt, will be the same height as the rest of the house (right now you have to step down into the sunroom), and it will also be extended about five feet towards the back yard.  After that room is raised up level with the rest of the house and extended, the plan is to build a deck off the back so make it easier for Matt to get in and out.  So this fireplace will be in the way and will need to be removed.
But my plan is to rebuild something very similar, and also to add lots of hardscaping in the back yard as well.  In addition to the deck, I'd love a patio area or two off of the deck that are created with pavers or bricks.  Something like this is what I have in mind.
Mediterranean Patio by Carlsbad Home Stagers Suzanne O'Brien
Again, I want to have a good mix of hardscaping, planter beds, and grass. And hopefully not too much grass, because again, I don't want to spend the rest of my life paying for water to try to keep grass alive in the Texas summers. But some grass is fine.
Here's a peek at the back part of the property just beyond that row of trees that cuts it in half.
And here's a view with me standing at the back corner of our property looking back towards the house.
The back of the property (which we refer to as "the back forty") is where I'd eventually like to have our veggie gardens and chicken coop.  Matt also wants to add lots of fruit trees, and he's even talked about adding a pond that we can stock with fish, but I haven't checked yet to see if something like that is allowed in the city.  I would guess that it's not, so he might have to be satisfied with chickens, fruit trees, and a veggie garden.  🙂
And now I'll end with the saddest, ugliest thing.
The Garage
Oh, this garage will eventually be amazing.  One side of it will house my workshop, and the storage room at the back will be so organized with my tools, paints, and whatever else.  Here's how it looked a year ago.
And unfortunately, here's what it looks like now.
Ugh.
I know I should probably be deeply ashamed to show you my mess in there, but I'm not.  I know that my garage in its current state looks like about half the garages in America.  Sadly.
Plus, I'm only one person, and I can only do so much.  🙂
If you look closely, you can find the old cabinets that I removed from the kitchen.  Those cabinets will eventually be used to create lots of storage and a work bench for my workshop.  I'm pretty excited about getting all of this cleared out and getting some organization in here and getting my workshop set up.  I want to make it a priority, but when you live in an old house and everything needs work, it's hard to know how to prioritize things.  When everything is a priority, nothing is a priority.
But it'll get done eventually, and it'll be amazing (to me).  Just like the rest of the house.  🙂
That's all for today.  I'll have more interior rooms to show you tomorrow!
Addicted 2 Decorating is where I share my DIY and decorating journey as I remodel and decorate the 1948 fixer upper that my husband, Matt, and I bought in 2013. Matt has M.S. and is unable to do physical work, so I do the majority of the work on the house by myself. You can learn more about me here.
I hope you'll join me on my DIY and decorating journey! If you want to follow my projects and progress, you can subscribe below and have each new post delivered to your email inbox. That way you'll never miss a thing!