Last Updated on December 24, 2015 by Kristi Linauer
Yesterday I worked on getting the doors and drawers for the kitchen peninsula finished, and also the corbels for the other two walls.  I had hoped to have those things finished today so I could show you, but I didn't quite get finished.  I should have them finished by tomorrow.
But that's okay, because I have something far more exciting to show you!  When I came in from painting last night, I grabbed my computer to check email.  I was so stinkin' excited when I opened several emails from a reader named Phyllis with several CAD drawings showing two possible front porch design ideas for my house.
Phyllis worked in architecture for over a decade before leaving the field to be a stay-at-home mom and focus on her family.  Now that her kids are grown, she's considering re-entering the field of architecture, and wanted to test out a new (to her) CAD program before purchasing it.  And lucky me, she used my house to give that CAD program a test drive!!!
As a reminder, here's how the front of my house looks now — a blank slate in need of some color and detail.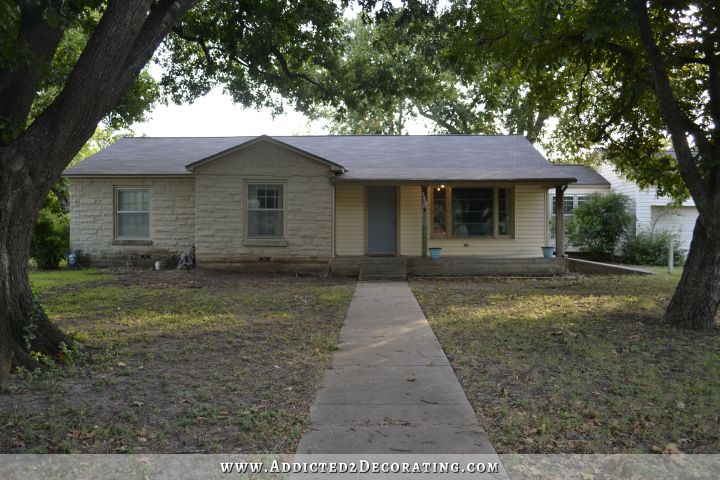 So let me show you the two front porch design ideas she sent me, and you can tell me what your favorite one is.  Y'all might be the tie breakers, because I prefer one, and Matt prefers the other.  I won't tell you which one each of us prefers so as not to sway any opinions one way or the other.  😀
Front Porch Design Idea #1:  Hip Roof With Small Gable Above Door
The first drawing is the hip roof with the gable right above the front door.  This is the option that I said in my last post was my favorite, but it's pretty amazing to see it in an actual 3-D drawing rather than my sloppy cut-and-paste photoshopped version.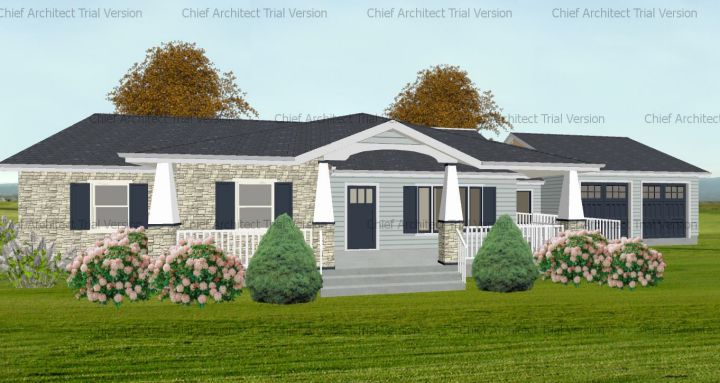 Isn't that awesome?!  One of my favorite things is how she used the stone on the bases of the columns for the front porch.  That's such a brilliant idea, and actually, the two columns I have now were originally wrapped in Austin stone when the house was built.  I'm not sure when or why the Austin stone was removed, but adding that detail back in will not only make the Austin stone make more sense and seem a bit more balanced, but it'll also be in keeping with the house's original design.
Here's an angled view from the garage side of the house.  You'll notice that the front porch doesn't have a roof.  Of course, in real life, it would have a roof.  But since Phyllis was testing out a new CAD program, she wasn't yet familiar with how to create some of those details.  We can all use our imaginations, though.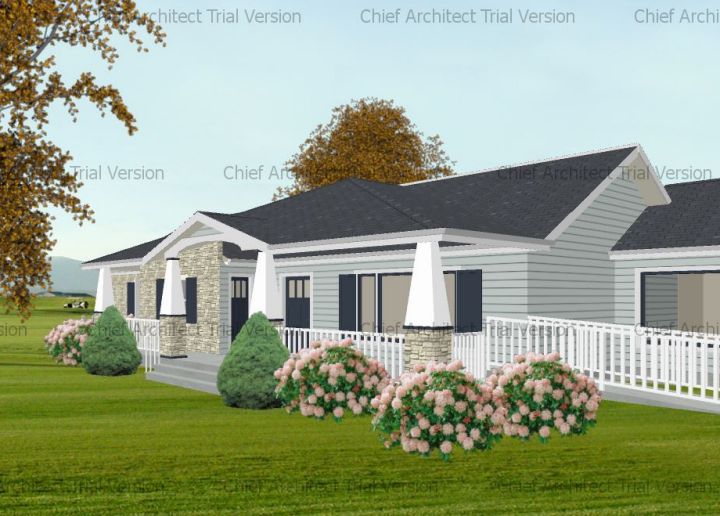 And then here's a view from the other angle.  This design doubles the depth of the original porch, and also includes a shallow porch (probably about 5 feet deep) in front of my office window.
Front Porch Design Idea #2: Double Gables
The second option that she created is this double gable roof.  You'll notice that the porch in this one doesn't extend in front of my office window, but the rest of of the porch is twice the depth as the one we have now, so it's 10 feet deep.  Now see?  This is the magic that a real architect can work.  My double gable rendering had two very individual, disjointed gables.  This double gable design looks so perfectly thought out and intentional.
And here's an angled view from the garage side of the house.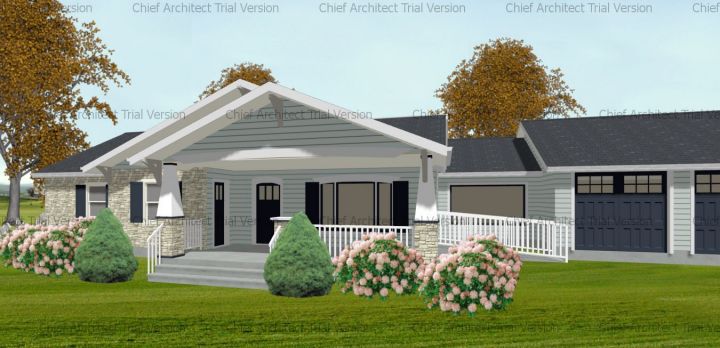 And then looking back the other way.  What I really love is how she added the siding above the back (larger) gable.  That addition of siding to the stone part of the house, and then the addition of stone around the columns in front of the siding part of the house really makes everything feel more balanced.  Because right now, I have no balance.  I have stone on the left, siding on the right.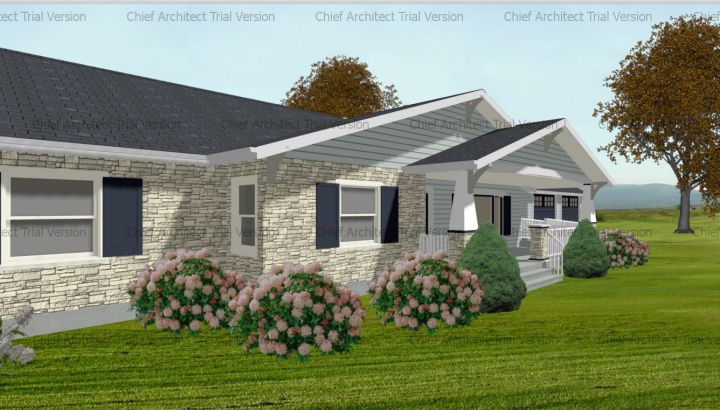 Aren't those amazing?!  Even after staring at those for about 45 minutes last night, I still get a little giddy looking at them.  I want to say a HUGE thank you to Phyllis for doing this!  You have no idea how blessed and blown away I was when I opened those emails last night.
Okay, now you tell me which one is your favorite.  I'm so curious to know what y'all think, and to see if the majority of you vote for the one I prefer, or the one that Matt prefers.  🙂
Addicted 2 Decorating is where I share my DIY and decorating journey as I remodel and decorate the 1948 fixer upper that my husband, Matt, and I bought in 2013. Matt has M.S. and is unable to do physical work, so I do the majority of the work on the house by myself. You can learn more about me here.
I hope you'll join me on my DIY and decorating journey! If you want to follow my projects and progress, you can subscribe below and have each new post delivered to your email inbox. That way you'll never miss a thing!