I didn't get as much done on the front porch floor as I had hoped I would yesterday because I completely forgot that I had scheduled my handyman friends to come and replace the rotting fascia and trim boards on the porch roof. Remember how it looked before?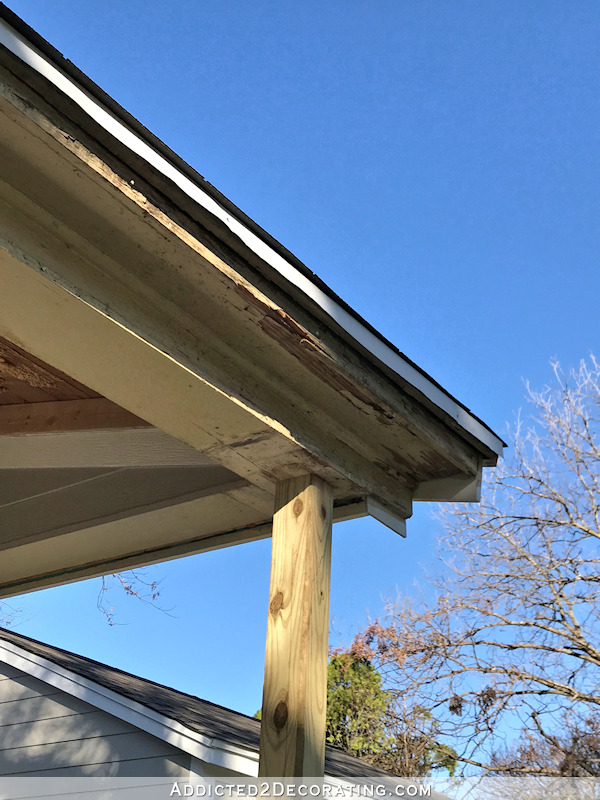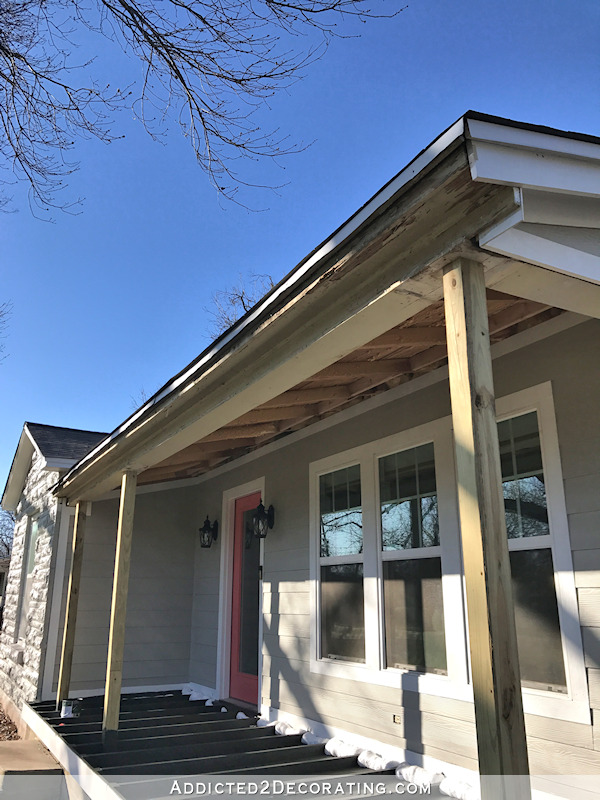 Well now all of those rotting boards have been replaced with new Hardi trim boards, and I have new drip edge flashing across the front.
It still needs to be painted, but it looks so much better already!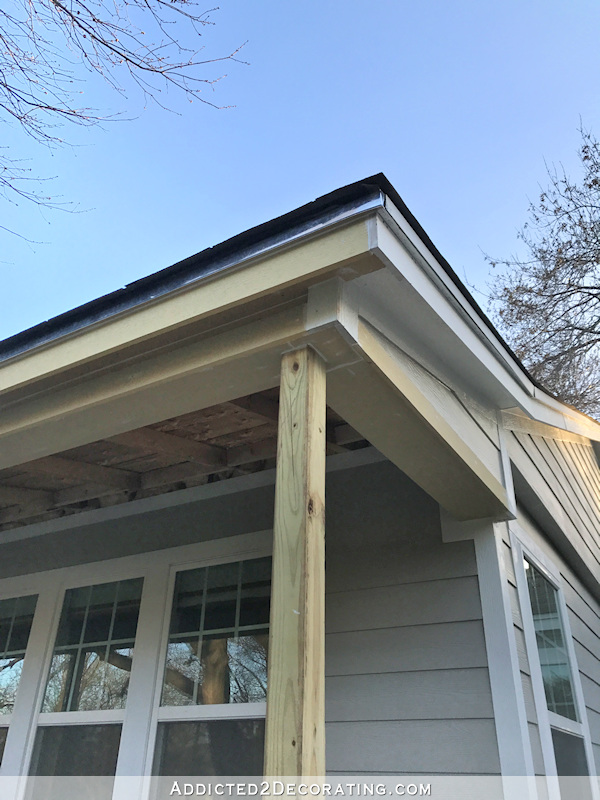 This is one of those jobs I was very happy to hire out. I wanted it done right, and I wanted it to tie in nicely with the trim and siding that was already there. I think they did a fantastic job.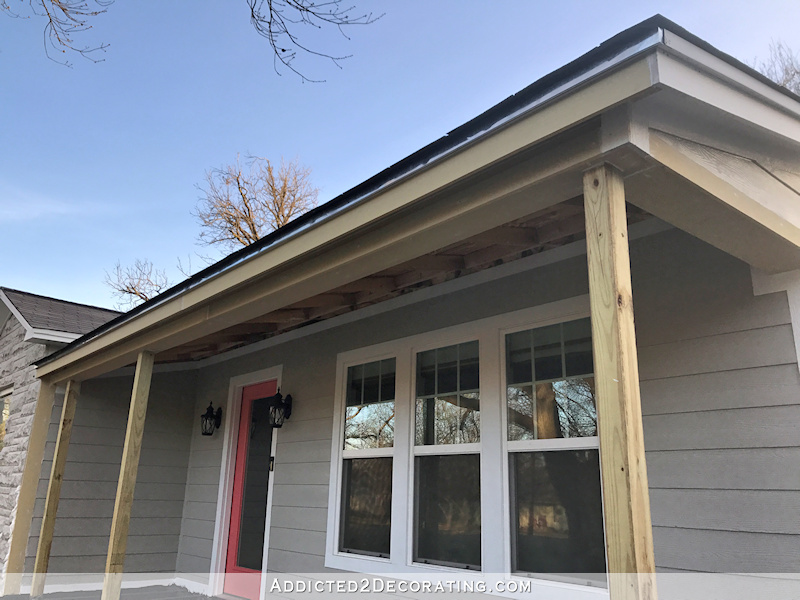 And if you look all the way to the left side of that picture just above, you'll see that I also had them replace that awkward 1″ x 4″ vertical trim board (the one that was painted white where the siding meets the stone) with a wider 1″ x 6″ board that comes almost all the way out to the edge of the stone. I think it looks so much better, and this time I'm going to paint it gray rather than white so it'll disappear. That was a much cheaper fix than paying $950 to have that side wall covered in stone.
Now that the trim has been replaced, do you know what that means? It means that as soon as I get the floor boards installed, I can wrap my columns! That one project alone is going to make such a huge difference on the front of the house, so naturally, I've been doing that thing I do and obsessing about my options.
In general, I know that I want them painted white, and I want a traditional look. I don't want anything too grand, and certainly nothing Craftsman in style (specifically the tapered Craftsman style columns). I just want white, pretty, and traditional.
I've narrowed my decision to four different styles. The first option is just a simple wrapped column with some trim at the top and bottom, like these…
The second option is to dress up the first option just a bit by adding trim to each side to form panels, pretty much like how I did the wainscoting in my hallway bathroom. It would look similar to this, except that mine wouldn't be nearly this big. Columns this chunky would swallow up my front porch. 😀
The third option is to do a simple tiered design, with the bottom part wider than the top. Shades of Blue Interiors has a tutorial on how to create this porch column design.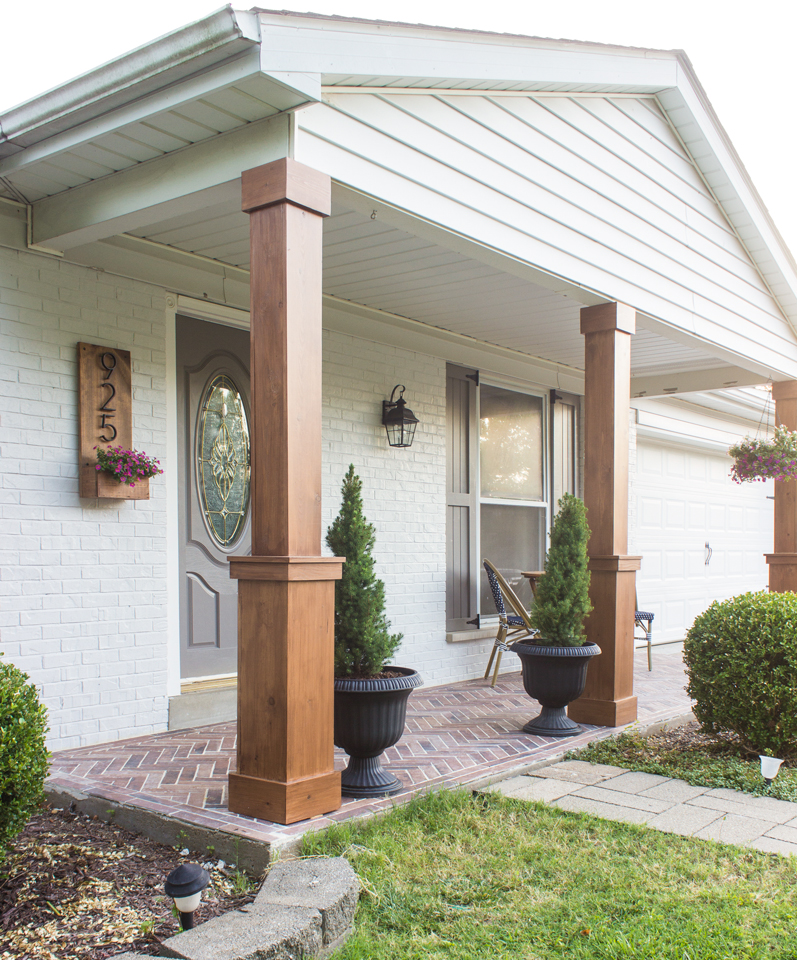 via Shades of Blue Interiors
And the fourth option, which I haven't been able to find a picture of but I know I've seen, is to do the tiered design like just above, but add the recessed panels (like on option #2) on the bottom portion.
Here's my thought process on this. My absolute favorite option is the last one — tiered design with recessed panels on the bottom portion. My one hesitation is that my porch roof at the front edge is pretty low, and I'm a bit concerned that anything that visually cuts the columns into horizontal sections as dramatically as a tiered column design will accentuate the shortness, kind of like putting horizontal stripes on a wall with a really low ceiling, or a really short woman (like myself) wearing a really wide, chunky belt that visually chops her in half and makes her look even shorter.
So that's really the issue. I have a favorite option that I really want to use, but I don't believe that it's the best option for my house, and that frustrates me. I think this is a situation where keeping it simple is the best option for my house, and keeping things simple really isn't my forte. 😀
---
---