It's already time for the second One Room Challenge update! Yikes! That first week flew by since I joined the challenge a few days late. But now I'm fully on board, and things are going really well.
As I showed y'all yesterday, I did get the bathroom wall design finished…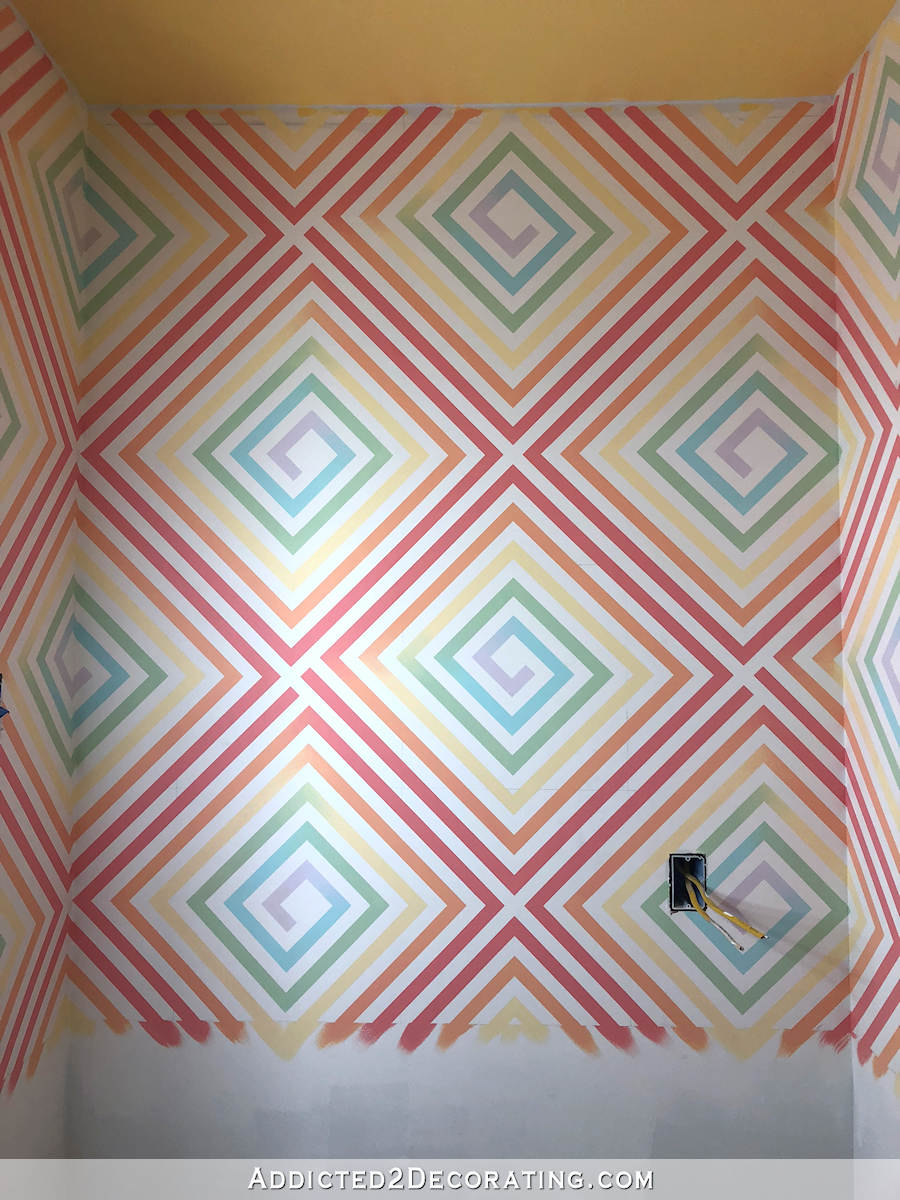 If you missed that, you can see more here…
With that done, I turned my attention yesterday to the flooring. After a snafu with the original flooring I was planning on using, I finally decided to go with unfinished nail-down red oak hardwood flooring. It's the same flooring that's in pretty much the entire house, with the exception of the hallway bathroom, which has tile, and the two rooms that will eventually be torn down (sunroom and master bathroom). Most of that is original to our 1948 house, but the flooring in the kitchen and the breakfast room is new. I think because this flooring is so common in old houses in this area, the Home Depot here carries this flooring in stock, which is incredibly convenient.
Also convenient is the fact that the last time I checked into using this flooring in the studio, the price was $3.65 a square foot. Right now, it's $2.99 a square foot, and then on top of that, I got the quantity discount. (If you don't know about Home Depot's bid room, I share that tip here.)
So I've had the flooring sitting in the studio for about a week-and-a-half now so that it can acclimate to the room, and I was finally able to get some of that put down yesterday.
I didn't get as far as I had hoped because I got a much later start than I had planned, and then had a lot of cleanup to do before I could even start on the flooring. But I was able to get the #15 felt paper stapled down, and then I got about halfway done with the installation in this back area.
I started at the entrance to the back entry (the entrance to the entrance 😀 ) and I'm working my way to the back door. The entry floor opens up into the bathroom and storage closet floor, so I'll continue going that direction in all three areas all the way to the back wall of the house, and then I'll have to come back and go the opposite direction to fill in those blank areas in the bathroom and storage closet.
I should be able to get the installation done today, and then I'll move on to the next thing. I'm not sure just what that is at the moment. 😀 Like I said, I'm pretty much making this up as I go along.
But at some point, when I get to the floor finishing step, I do still want to do a black and white floor pattern in the back entry. Since I'm no longer working with tile, this design will have to be done with paint. But I think it will still be stunning and eye-catching.
I want the painted design to be very simple and bold. I think I'm done with intricate painted patterns for a while. 😀 So I'm debating three different designs. The first is a simple chevron design…
The second is this chevron pattern with the offset colors…
And the third, because I'm me and I love all the stripes, is this offset striped design…
I pretty much like all three of those equally, so the one I go with will probably depend completely on my mood at the exact time I decide to start taping off a design on that floor. 😀 If I had to choose right at this moment, I would go with the second one with the offset chevron design. I think. Probably. But for now, I just need to finish installing this flooring.
Be sure to check out the progress of all of the other One Room Challenge guest participants!
Addicted 2 Decorating is where I share my DIY and decorating journey as I remodel and decorate the 1948 fixer upper that my husband, Matt, and I bought in 2013. Matt has M.S. and is unable to do physical work, so I do the majority of the work on the house by myself. You can learn more about me here.
I hope you'll join me on my DIY and decorating journey! If you want to follow my projects and progress, you can subscribe below and have each new post delivered to your email inbox. That way you'll never miss a thing!