If you're DIYing your way through a years-long remodel like I am, it's easy to forget the journey and only focus on the end products. The problem with that is that it becomes easy to forget all the work you've done, and to get down on yourself for not getting enough done. That's easy for me to do since I've been working on our house for six years so far, and there's still so much that I haven't done.
I was starting to feel a bit like that these past few days, and then last night I came across a picture that stopped me in my tracks. Y'all, I couldn't remember my house actually looking like that until I saw the picture. And then all of the work I had done came flooding back to me. I have done so much work on this house, at times with help, and at other times by myself, and I am so proud of what I've accomplished so far.
For example, I remembered the "before" pictures of my kitchen. Those images are burned into my brain.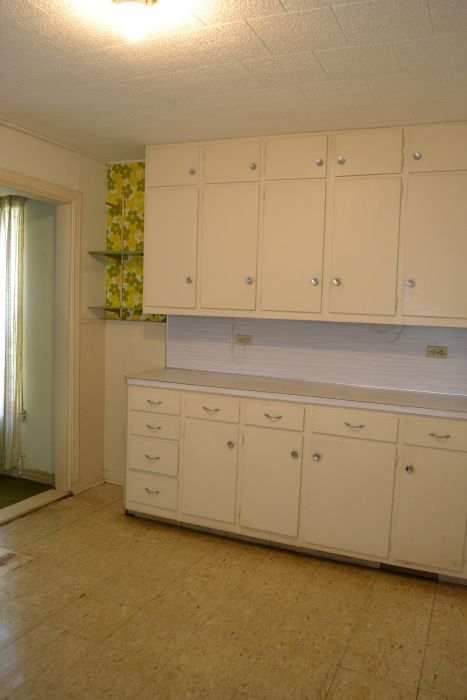 But these pictures that lie somewhere between the "before" and the "after" had been lost in my memory. I had forgotten that my kitchen ever looked like this…
Can you even tell what or where that is? On the other side of that wall to the left is what is now the breakfast room. And on the other side of that wall to the right is the living room. Here's what it looked like after that wall was replaced with a cased opening.
This is an older picture (as you can tell from the gray living room fireplace and the lack of a bed in the breakfast room 😀 ) but this is the same view after the kitchen remodel, and after I created a cased opening between the kitchen and living room.
(If you're new here and wondering about the bed comment, Matt and I are currently using the breakfast room as a bedroom until the remodel on the bedrooms and hallway is to a point where we can move into one of those bedrooms. And then we'll stay in the guest bedroom until we do our big addition and finally have our new master bedroom.)
And the other side started like this, which of course, I do remember…
But then at some point after we moved in, it looked like this. I'm pretty sure I've blocked these memories from my mind. 😀
And pretty much all by myself (I did have some help with drywall, electrical, and pouring the concrete countertops, but I think that's it), I turned that into this…
It's just so easy to forget all of these middle parts. It's easy to look at my kitchen and think to myself, "All I did was install and paint some cabinets, and install some wall tile. Why did it take so long?" But the pictures of the process show that I did a heck of a lot more than that. First, I had to remove all of the existing kitchen, including taking down and moving out all of the existing cabinets. Then the old drywall came down, and the old flooring was ripped up. That made some subfloor repairs necessary. Then all new wiring and drywall went in. I installed new flooring. And only then could I install the cabinets. And because I'm me, I wasn't satisfied with the plain cabinets, so I prettied them up with custom feet and trim. And on, and on, and on.
Remembering the middle makes me wonder how I got the whole remodel done in only seven months working mostly by myself! 😀 Remembering the middle gives a whole different perspective.
And what about our living room? It was just a box filled with outdated carpet, dreary walls, and old windows. And let's not forget that window unit A/C! Of course, I remember these "before" pictures…
But that was just the beginning. I had completely forgotten about this part of the journey until just recently…
That was during a visit from my father-in-law, when we took down the old drywall, took down all of the shiplap, insulated the walls, put the shiplap back up, and then drywalled the room. It was during this phase that I decided to put a cased opening in the wall between the kitchen and the living room.
And while the living room still not completely finished, I'd say that it has come quite a long way!
And then there's the hallway bathroom. Of course I remember when it looked like this. And I also remember my ridiculous plan to basically work with what was in there with a "lipstick on a pig" approach to making the room look better.
But every time I come across pictures of the process, I'm shocked. I can remember it when I see pictures, but it's hard to imagine that I just jumped right in with both feet and did this…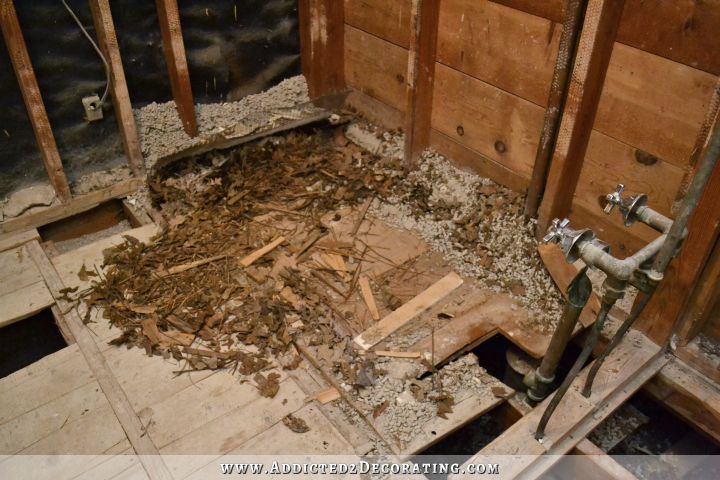 I mean, I didn't even have a plan when I started. I was simply driven by a "it's time for this stuff to go" mindset, and I jumped right in. I had only ever done one previous down-to-the-studs remodel, and that was the kitchen in this house. But somehow I made it through this one also.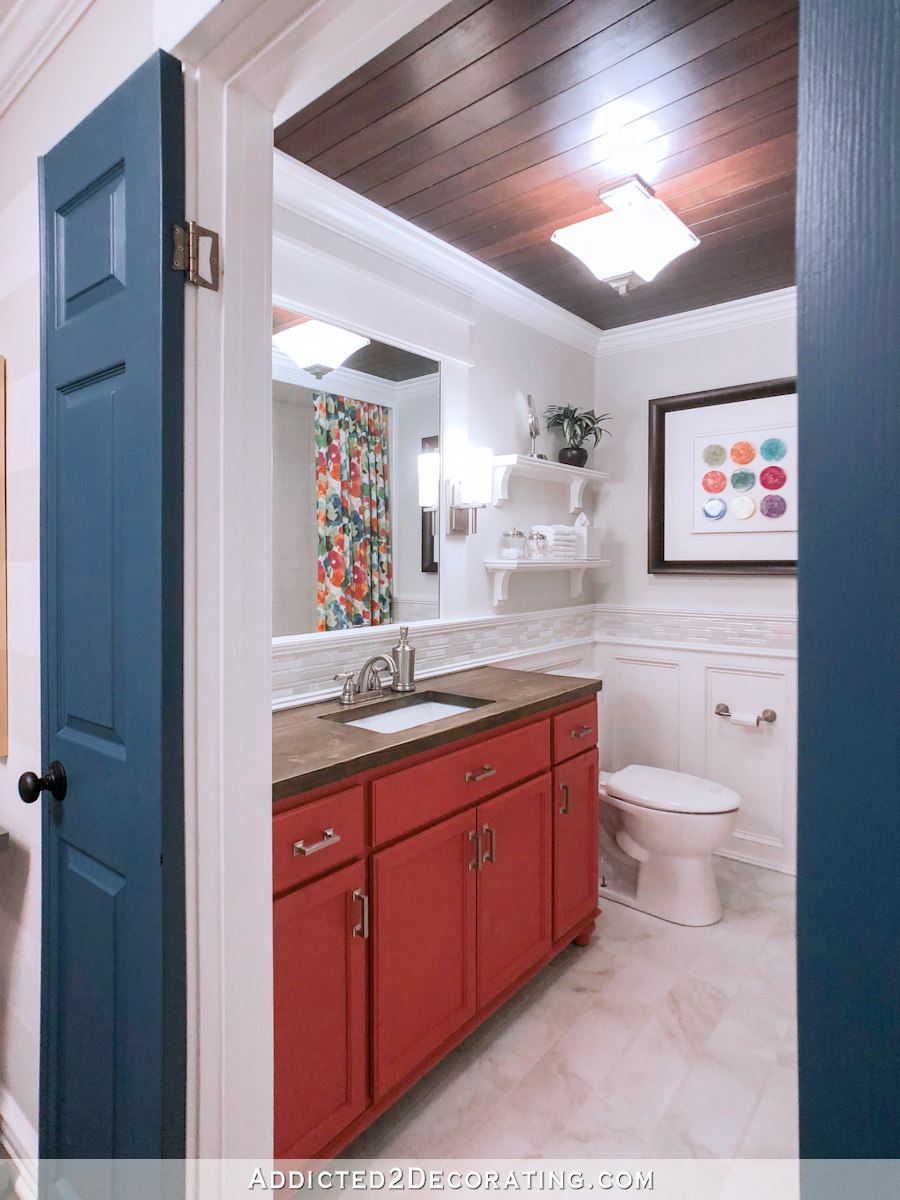 Obviously, this barely scratches the surface. One day, I'd like to put together some books or videos showing the entire process of each room from beginning to end. I have blog posts that I can look through, of course. And I have an archive page for each room in the top menu of the blog (for example, you can see the kitchen archives here), but I think it would be nice to have all of the pictures for each room in one place rather than spread out among many blog posts. I'll have to give that some thought.
Anyway, I'm telling you, if you're DIYing your way through a years-long remodel and you're not taking pictures along the way (in addition to plenty of before pictures), then you're doing yourself a huge disservice!! Don't leave the picture-taking just to bloggers. Document your beginning as well as your journey to the final product. You'll feel so good about your work when you take a look back! It's so easy to forget the details of all of those in-between stages, but it's during those in-between stages where you can clearly see all of those thousands of steps and individual projects it took to get from the "before" to the "after."
And speaking of the process, I've begun working on the guest bedroom closets and window seat wall! If you want to follow the behind-the-scenes journey, I'll be documenting the progress in my Instagram stories, so be sure you're following me on Instagram if you want to follow along!
Addicted 2 Decorating is where I share my DIY and decorating journey as I remodel and decorate the 1948 fixer upper that my husband, Matt, and I bought in 2013. Matt has M.S. and is unable to do physical work, so I do the majority of the work on the house by myself. You can learn more about me here.
I hope you'll join me on my DIY and decorating journey! If you want to follow my projects and progress, you can subscribe below and have each new post delivered to your email inbox. That way you'll never miss a thing!