Pantry Details – My Solution For Blind Corners In Lower Cabinets
I'm kind of glad that my hallway is taking as long as it is, because as soon as I finish the hallway, I'll be starting on the pantry. And having this extra time has allowed me to really mull over my plans, tweak them, improve upon them, etc.
If you missed my last post about how I plan to arrange the whole thing, with a chest freezer front-and-center under the pantry window on the back wall, here's the floor plan drawing I did. (You can read that post here, as well as the amazing suggestions in the comment section about how to disguise the freezer.)
I had considered every corner storage option I could think of to make efficient use of those blind corners in the lower cabinets, and in the end I just decided to go with hidden shelves with nothing fancy, and use those for items I rarely use but don't want to get rid of. It would be pretty much like what you see in the corner here…
But the idea of having those dark blind corners has just never set well with me. I kept thinking there has to be a way to access those items easier without the use of big super susans in the corners or fancy Rev-A-Shelf blind corner storage systems that cost almost $400 but still don't maximize all of the corner storage potential.
And then when I was building and installing the drawer for the hallway cabinets, I had an epiphany. For that drawer, I used these ball bearing drawer slides that can hold up to 100 pounds. That's plenty strong to hold even my heaviest appliances and contraptions, like my juice press, which probably weighs 30 pounds, and my Champion juicer, which weighs about 20 pounds. I'm pretty sure those are the heaviest kitchen items I have that I rarely use but don't want to get rid of.
So my idea is to use those 100-pound-capacity ball bearing drawer slides to make pull-out shelves in the very corners of the lower cabinets. But then I need an easy way to access those pull out shelves, right?
That will be made possible with the use of pull-out cart storage that's custom made to fit right under the countertop, similar to this one…
I'm not sure yet if I would do drawers or open shelves on my rolling carts. I'm still not even sure if drawer storage is necessary in my pantry, so I could easily adapt that idea using open shelves.
So the two working together would look like this…
The open shelves and pull-out shelves would be on the back (long) wall of the pantry, and the rolling cart storage would be on the side walls. To access those seldom used items stored in the corner, I'd simply roll the rolling cart out from under the countertop, and then pull out the shelf with the item I needed, which would pull out in the direction of the arrows, right into the space created by removing the rolling cart.
Does that sound like it would work? I've been mulling over this design for about a week now, and it seems like this plan might work really well…unless I'm missing a potential design flaw that y'all see.
---
---
Update:
My pantry is finished! Want to see the entire project from start to finish? You can find every single post about the pantry build right here…
Or you can skip to the end and see how it turned out. Here's a peek of the finished pantry…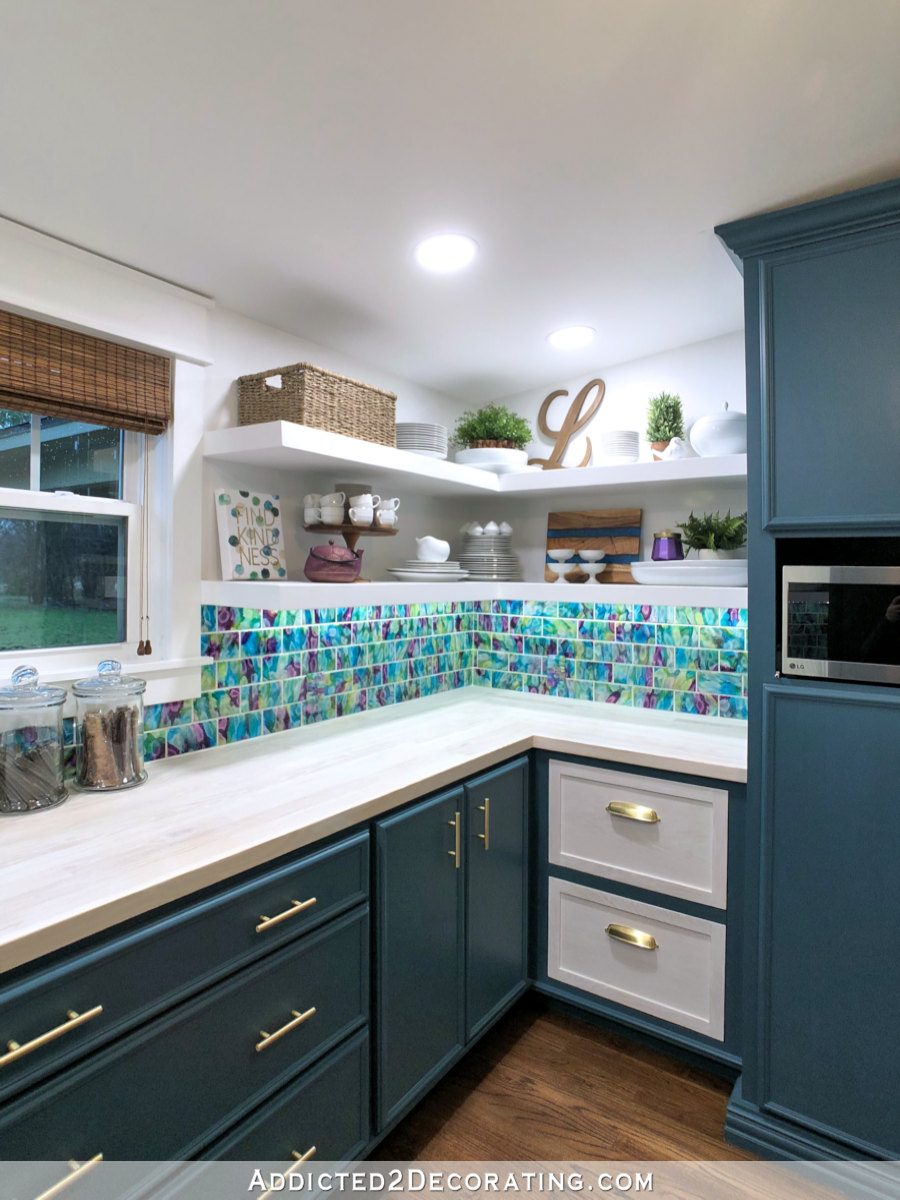 You can see more pictures on the before and after post right here…
Addicted 2 Decorating is where I share my DIY and decorating journey as I remodel and decorate the 1948 fixer upper that my husband, Matt, and I bought in 2013. Matt has M.S. and is unable to do physical work, so I do the majority of the work on the house by myself. You can learn more about me here.