Music Room Updates – Teal Bookcases & A Chandelier Swap
As you may have predicted, I decided to paint my music room bookcases all teal. It's what I wanted to try, and then when the majority of you (much to my surprise) said to go for it, I finally had the courage to try. And I absolutely love it!!
I finished last night, and was excited to get up this morning to take pictures to show you. Unfortunately, I woke up to the absolute dreariest day imaginable. It's like I woke up in Oregon on a gray, drizzly winter day with not a ray of sunlight to be seen. *Sigh*
Oh well. I'm still going to show you how it turned out, but it looks different on a dreary, sunlight-free day than it does on a typical sunny Texas day.
But here are my new all teal music room bookcases…
Probably the most shocking thing to you is that I went with an all-neutral scheme for the items on the shelves. I had actually intended to cover all of our books with new pink dust jackets, but I couldn't find plain pink paper anywhere locally. I mean, I found scrapbook paper, but that's not big enough for dust jackets. So for now, I went with plain brown paper (reminiscent of covering my textbooks in my grade school days), and I'll leave them like that for now. Hopefully I'll happen upon some pretty pink paper eventually.
In addition to painting the bookcases and finally putting things on the shelves, I also swapped the chandelier. I took this one down from the living room and put it in the music room.
If you'll remember, I originally had a light in here that I made myself. I liked the light fixture in style and design, but I made it to accommodate chandelier bulbs, and only four of them. So it just never put out enough light, especially for a room that only ever receives indirect, second-hand sunlight through the adjacent rooms.
Also, this capiz shell chandelier (which I got here) has been bothering me in the living room.
It's the chandelier right in line with the artwork I made to go over the mantel that bothers me. The two pieces right in the same sight line, with both pieces round in shape, and both made of hundreds of identical pieces, have been bothering me for quite some time. But that piece above the fireplace is one of my favorite things I've ever made, and I made it specifically to go right there. So that wasn't moving.
The chandelier, on the other hand, actually seemed like a better fit for the music room, so that's the one that moved. I'm going to find something much more simple in design for the living room.
I used a different teal on this bookcase wall than I used on my entryway wall and fireplace in the living room. That teal is so dark that it often looks black even on the entryway wall right next to the glass front door, so I figured it would always look black in a room with no direct natural light. And I wanted these bookcases and doors to look obviously teal, not black.
So I ended up using Behr Mythic Forest, which is the same exact color that I used on the cabinets (and freezer) in the pantry.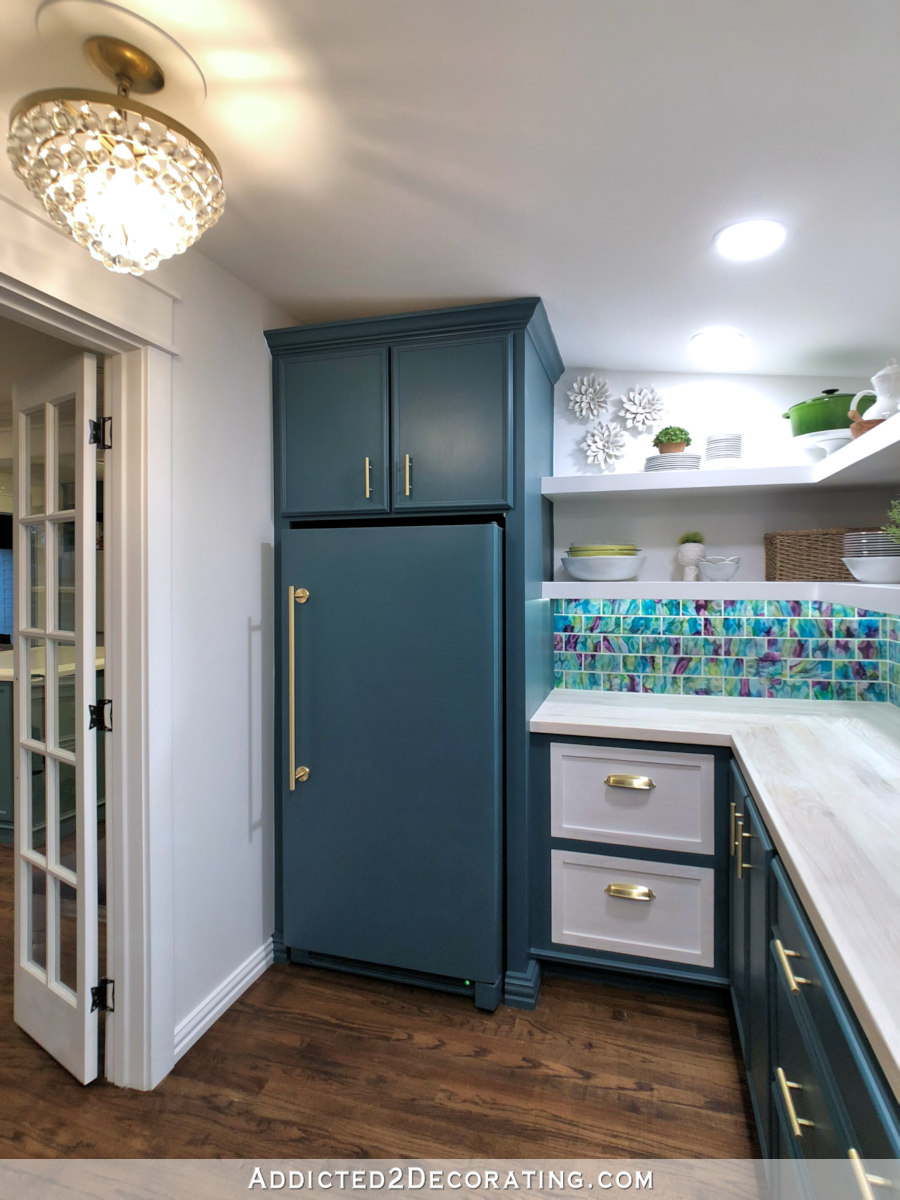 It's an old Behr paint color, so they no longer have it on a paint swatch card. But when they did, it was two colors down from my kitchen cabinet color, which is Hallowed Hush.
These colors are tried and true for me. Back in our condo days, I painted our kitchen cabinets Hallowed Hush, and the hallway bathroom walls Mythic Forest. In this house, I ended up with Hallowed Hush kitchen cabinets again (after a kelly green detour) and a Mythic Forest pantry. And now Mythic Forest is making an appearance in them music room.
I have a feeling that at some point in the future (the DISTANT future — not right now, and probably not even this year), I'll repaint the entryway wall and the fireplace in Mythic Forest. I'm tired of people thinking that my entryway wall is black. 🙂 It really is teal.
But for now, the two teals look fine together. It's obvious to me that they're not the same, but I'm not sure anyone else would know, especially on a sunny day. For some reason, on sunny days, the back wall of the music room looks like a more saturated teal than it does on cloudy, sunless days. But regardless, I think visitors would just chalk up the differences to a difference in lighting in the two rooms, if they even gave it a thought at all.
Side note: I REALLY like my entryway just as it is. 🙂 It's finished, and completely suits my personal taste.
Anyway, I'm glad I went ahead and took the chance. I can't wait for a sunny day so that I can take better pictures to show you. It looks so pretty with sunlight coming through those doors.
This room is so close to being finished. I need to reupholster two chairs, and refinish the piano bench. Then it'll just need some finishing touches, and it'll be done!
Of course, neither of those are quick and easy one-day projects, which is why I keep putting them off. And I need to focus on getting the guest bedroom and hallway finished before I start any big projects in other rooms. But I'm feeling pretty confident that this music room will actually be finished this year.
In the meantime, I'm still on the lookout for pretty, plain, pink paper. There has to be some out there somewhere.
Addicted 2 Decorating is where I share my DIY and decorating journey as I remodel and decorate the 1948 fixer upper that my husband, Matt, and I bought in 2013. Matt has M.S. and is unable to do physical work, so I do the majority of the work on the house by myself. You can learn more about me here.