Last Updated on December 24, 2015 by Kristi Linauer
Work on my bathroom remodel is progressing, but it's slower than I had hoped. I hope to have progress to share with you tomorrow, so today I wanted to share my thoughts on how to become a fearless* DIYer.
I often get comments from readers wondering how I learned to do the things I do, and how I learned to use tools. I also get lots of comments like, "I wish I knew how to…," and "I wish I had the talent to…"  So let me share a few tips that have been a part of my own DIY home improvement journey, and which may help some of you have the courage to jump in as well, and to go from being merely a spectator of other people's DIY adventures to being the main participant in your own DIY adventures.
1.  Start small and gradually build on your new knowledge
I've said this before, and I think it deserves repeating.  I didn't start off knocking down load-bearing walls, and ripping out rooms down to studs and floor joists.  In fact, twelve years ago when Matt and I were moving into our first home after we got married, I never would have imagined that I'd be doing these things today.
I know that there are DIYers out there who just jump straight into the deep end of the pool, without even testing first to see if they know how to swim.  My own father was one of those people.  With absolutely no prior building experience (he had never even so much as built a bird house or a dog house!), he decided one day to cut the roof off of the family home and started building a second story.
That's more than just a little bit insane, and definitely not the norm.  Most of us start off in the kiddie pool, dipping our toe in to test the water, then wading in and splashing around a bit.  It takes a while to finally make it over the deep end.
That's exactly how I was.  My introduction into using tools came at a young age when I used a miter box saw and staple gun to make canvas stretchers and stretch canvases for my mom and her oil painting students.  Power tools came a few years later, when I acquired my grandfather's wood working tools (lathe, table saw, drill press, etc.).  And then at some point in my late teens, my parents gave me a scroll saw, which I used to make decorative wood items, and which I turned into a side business into my early 20's.
I loved to decorate from an early age, including sewing and tackling a couple of upholstery projects with my mom, but the first actual home improvement type of project I remember doing (other than painting walls and decorating) was installing crown moulding  and baseboards in my bedroom at my parents' house in my late teens.
I really didn't do much more home improvement (I mainly stuck to decorating, sewing, upholstering, etc.) until Matt and I moved into our first house after we got married.  There, I tackled removing ugly carpet from a bonus room, installing wood parquet floor, sanding down the floor (which I did with a palm sander) and refinishing it, and tiling a countertop and bathroom floor.  I also did a few outdoor projects, like building a privacy fence and a raised flower garden with a retaining wall.
With each project, my confidence grew a bit more, and I felt like I could take on bigger challenges.  And from there came the condo, and then this house, and if you've followed me through those then you've seen the progression of my DIY abilities and the increasing difficulty of projects that I'm willing to take on.  But it has all been a process, and it has taken many years to get to the point where I'm comfortable removing load-bearing walls and ripping out rooms to the studs and floor joists.
The first key is that you have to start.  If you're just starting out, I would suggest purchasing a miter saw and a finishing nail gun with an air compressor.  You'd be amazed at the number of projects you can do around your house with just those two tools!
The second key is that you have to gradually challenge yourself to tackle bigger and more difficult projects.  If you only ever stick to those basic projects that can be done with a miter saw and nail gun, your DIY abilities won't be stretched.  Challenge yourself, and continually force yourself beyond your comfort zone.
2.  Educate yourself
Knowledge is power, my friends!  And what an amazing time we live in where knowledge is right at our fingertips, and we can have information about pretty much any topic in a matter of minutes!
YouTube is my go-to site whenever I have a question about anything home improvement-related.  I would guesstimate that I spend at least three hours each week watching YouTube videos about different home-related topics.  I love it because you can find videos on just about anything on there!
Just over the last weekend (since Friday), I've watched videos on how to fix a broken toilet flange, how to fix a rocking toilet, how to tile around a toilet flange, how to install a new toilet, how to install a Wink Hub, how to clean grout haze off of tiles, how to set tile on Hardiebacker, how to tape joints on Hardiebacker, how to make a wood countertop, how to rub out a lacquered finish, and on, and on, and on.
And when I want information, I'm like a dog searching for a buried bone.  I don't just watch one video and move on.  I watch every single video I can find on the topic.  And you'll notice that some of the videos I've watched in the last four days are projects that I've actually done before (installing a toilet, building a wood countertop, installing tile on Hardiebacker, etc.), and some of those are things that I don't actually need right now (fixing a broken flange and fixing a rocking toilet) but I'm always wanting more information, more knowledge, more options.  I guess you can say I like to "stockpile" information and knowledge for future use, and if someone can show me how to do something that I already know how to do in a better or more efficient way than I've been doing, then I want to now for "next time."
YouTube is always my first stop, but a couple of my other favorite go-to sites are This Old House and Family Handyman.
These days, you can be as educated as you choose to be…and it's free!  Take full advantage of that.
3.  Befriend a licensed contractor
If you're taking on a whole house remodel, or you're embarking on some DIY home improvement projects that deal with anything structural in which local building codes will be involved, calling on a local licensed contractor to act in a consulting role can be a tremendous help.
This is exactly what I did when we moved into our house, and in the last year, I've had that contractor over twice to give me input on various projects I was considering — vaulting the ceiling in the dining room (which I ruled out as a DIY project), and removing the wall between the kitchen and dining room.  I've also sent him a handful of texts throughout the year to ask various questions about building codes and such.
When this contractor came over to give me advice on removing the kitchen wall, he spent about 20 minutes here, and walked me through the entire process, from beginning to end, in a very detailed manner.  Then he allowed me to ask any questions I had, and he even drew a couple of diagrams and left them with me.  I had already watched every video I could find on the topic, so I had at least a foundation of knowledge about it.  This helped so that he wasn't having to start from scratch in educating me on the process, and it saved us both time.
One of the biggest advantages of consulting a local licensed contractor over watching YouTube videos and finding info on home improvement websites is that local contractors are knowledgeable about building codes that are specific to your area.  I found this to be tremendously helpful, as I had the peace of mind knowing that the finished product was up to code in my city.  So with his detailed step-by-step instructions, I was able to confidently turn this original exterior wall…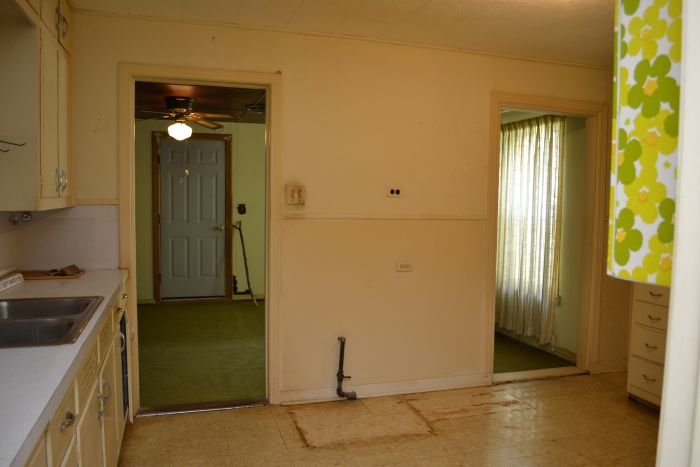 …into this…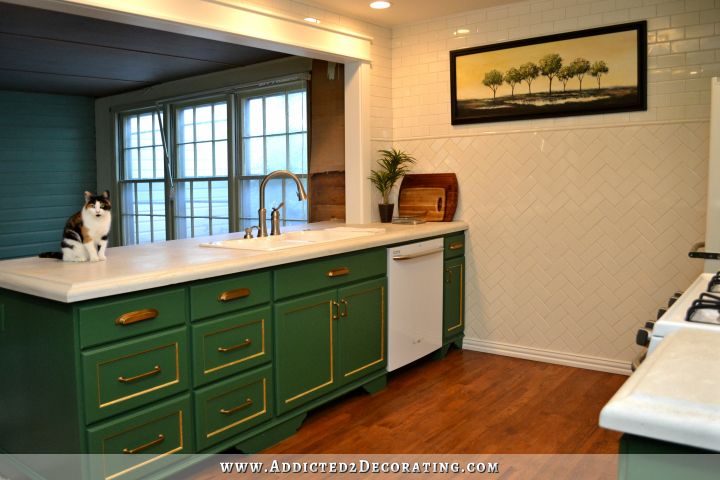 Now just to be clear, I'm not at all suggesting that you find a contractor and monopolize his time, or take advantage of his kindness.  Licensed contractors are generally very busy, juggling several projects at a time, each with different subcontractors, clients, budgets, etc., to worry about.  Their time is valuable, so I think it's important to be mindful of that.  In fact, I would even suggest working out an hourly fee that you will pay for his consulting…if he'll take it.  The contractor I consult refuses to take payment from me even though I've offered and even insisted, so I just make sure that I keep my requests to a minimum so that I don't become a nuisance.
But even if you do pay an hourly fee for consulting, you'll still end up saving loads of money by doing the project yourself, and you'll be able to do it with the peace of mind that it'll be done correctly, and up to local building codes.
4.  Understand how your particular house is built
I'll admit that at times, I can feel panic wanting to take over when I'm working on some of my projects.  Most recently this happened when I was breaking up the tile floor in the bathroom and I broke through the subfloor.  Seeing this…
…and then getting to this point where I could just see the ground below my house…right in my bathroom…
…was definitely more than just a little bit unnerving to me at times.
But in those times when panic wanted to set in, I just reminded myself that it's just subfloor, and subfloor is just wood which can be easily replaced.  And below that subfloor are the floor joists.  And below that are beams, which sit on concrete piers. There's nothing terribly complicated about this structure. It's all just wood, and it's all fixable with nothing more than a circular saw, some construction adhesive, a drill with a screwdriver bit, and screws.  That's it.  There's nothing here to panic about.
Having that knowledge about how my house is built saved me from a full-blown panic attack and helped to keep me calm when things looked at their very worst.  Again, knowledge is power, and educating yourself about the structure of your house (type of foundation, how to locate and recognize load-bearing walls, the type of roof structure your particular house has, etc.) can help you have the confidence in moving forward on your home improvement projects.  This is a case when ignorance definitely isn't bliss.
5.  Welcome the mistakes
I think one of the things that scares people the most, and causes them to be spectators rather than participants when it comes to DIY home improvement, is the dreaded "M" word — mistakes.  And the fact is that if you're going to take on home improvement projects yourself, mistakes are inevitable.  It's important to change your attitude towards mistakes from one of dreading them and being paralyzed at the thought of them, to one of accepting them and looking at them as opportunities to learn and grow.
Yes, mistakes can be very frustrating.  They can cost time and money (like when I blew through about ten feet of crown moulding during my kitchen remodel because I couldn't get the angle right to save my life), but I learned from it.  Shortly after that frustrating experience, I did finally learn how to cut crown moulding.  (And now I have a Kreg Crown-Pro — so simple!)  But as frustrating as it was, it was a valuable experience, and helped me learn and grow in my DIY abilities.  And believe me, I have these "learning experiences" just about every single day.  It's just part of being a DIYer, and I wouldn't be where I am today, tackling the projects that I tackle today, if it weren't for these opportunities to learn and grow.  And I certainly wouldn't be tackling full-on room remodels if I let myself be held back by a fear of making mistakes.
So those are my top tips for becoming a fearless* DIYer!  If you're an experienced DIYer and have more tips for people who are just starting out, I'd love to hear them!
*By the way, I'm not fearless.  Not even close.  People have used that word in comments to describe me, but I always laugh a little at that description, and think to myself, "Ha!  If they only knew…"  I definitely have fears, as I described above, but I try to face those fears head on.  I've come to realize over the years that fear is only a bad thing if you let it hold you back.
Addicted 2 Decorating is where I share my DIY and decorating journey as I remodel and decorate the 1948 fixer upper that my husband, Matt, and I bought in 2013. Matt has M.S. and is unable to do physical work, so I do the majority of the work on the house by myself. You can learn more about me here.
I hope you'll join me on my DIY and decorating journey! If you want to follow my projects and progress, you can subscribe below and have each new post delivered to your email inbox. That way you'll never miss a thing!