Finished Bathroom Floor (And The Amazing Difference Grout Makes!)
I finally finished my bathroom floor last night!  The last time I showed you my progress, it looked like this…
I shared that process, and some tiling tips that I learned, in this post. I had about two-and-a-half more rows to install between where I left off and the tub, and then I had the linen storage area behind the door.
I thought that finishing the tile would be a two-day job — one day for installing the rest of the tile, and one day for grouting.  As it turns out, finishing it up was a three-day job. I had to do the two-and-a-half rows up to the tub, and then let those dry for 24 hours so that I could stand/sit on them while tiling the linen storage space behind the door.  Then I let those dry for 24 hours, and finally grouted the floor yesterday.
I forgot to take a picture of the tile before I started grouting, but I did get this one at the beginning of the grouting process.  And for those of you who were concerned about the tile along the tub not being straight since I didn't start with a chalk line in the middle of the floor (which is the proper way to tile a room), and instead started on the left wall and worked my way over, I'm happy to report that it worked out perfectly.  It turns out that my walls are much more square than I had thought.
I used the same Alabaster pre-mixed grout that I used on the tiled bathtub surround.  I knew that grout would make a big difference in the appearance of this tile, since it would cover up those dark edges, but I was still amazed at the huge difference it made.
The grout gave the tile a much lighter and softer appearance, which is what I was hoping for.
I love how this tile turned out.  It's just what I had envisioned, with the subtle marble-like veining.  And the grout really did make the tile look more like marble.  Before it was grouted, I didn't think it looked like marble at all.  But after I grouted, I stood back and looked at the floor, and my first thought was, "Oh wow!  That looks like marble!"  😀
I'm not quite sure what type of marble it's supposed to look like.  The veining is definitely more tan/taupe than the cool gray veining you see in carrera marble.  That's actually the reason I chose this floor, since I love the look of marble, but I don't have a single bit of gray anywhere in my house.  With this, I get the look of marble that I love, while getting the taupe/tan colors that I prefer.
The one thing that frustrates me a bit is that I ended up with two tiles with almost the exact same pattern lined up with each other, and they just happen to be right in the middle of the floor.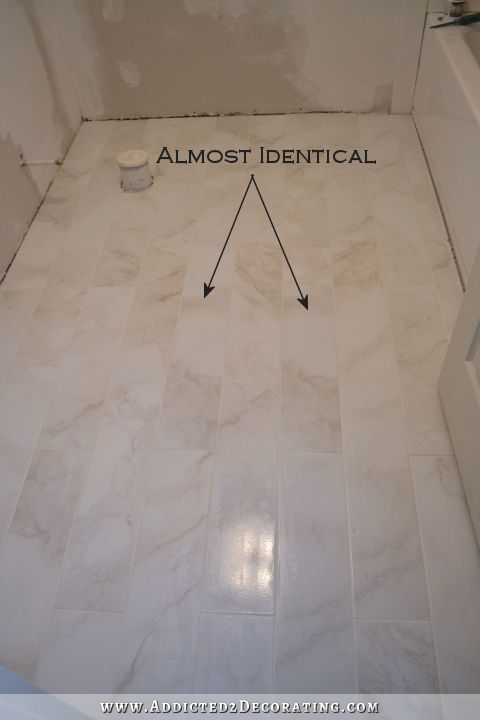 I didn't notice it in person, but as soon as I saw that picture above, it's the first thing my eye was drawn to.  So I haven't decided yet if I'll go to the trouble of replacing one of them.  If they weren't dead center on the floor, I wouldn't worry about it at all.  With them being dead center, they really bother me, but it might be much less noticeable (or not noticeable at all) once the room is finished.
And now if the weather will cooperate, I can get to work on the vanity and the countertop.  It's been cold and rainy (or just rainy) here for what seems like two weeks now, so that's really slowing me down.  In order to make the vanity, I need to take my cabinets outside and cut them down to size.  And in order to make my countertop, I'll need to take it outside to lacquer it at some point.  There's no way I can lacquer inside because of the fumes.  The smell of lacquer is way stronger than most oil-based products like paint, stain and polyurethane, and Matt is super sensitive to chemical smells.  It looks like we might actually get some sun on Friday, so those projects will have to wait until then. Until then, I'm sure I can find something else to do.  Perhaps I'll build the tub skirt!
Addicted 2 Decorating is where I share my DIY and decorating journey as I remodel and decorate the 1948 fixer upper that my husband, Matt, and I bought in 2013. Matt has M.S. and is unable to do physical work, so I do the majority of the work on the house by myself. You can learn more about me here.