Last Updated on April 10, 2019 by
I've been thinking a lot about black kitchen countertops lately. Let me explain…
I'm finally to the point where all of the major projects are finished in the entryway, dining room, kitchen, and music room, with the exception of putting a new coat or two of Waterlox on the floor of the music room. And since my hallway bathroom is finished, that means that I'll only have my hallway and breakfast room to go in order to have ALL of the "public" areas of the house finished (not counting the sunroom, which will eventually be torn down and rebuilt).
It's only the middle of May, so I think I can make quite a bit of headway towards getting all of those areas finished by the end of this year. The hallway won't be a huge project at all, especially since most of the drywall has already been installed. The breakfast room will be a MUCH bigger project. It still needs to to be torn down to the studs and ceiling joists, and all new drywall installed. And then it also has a foundation issue. It's the only room in the house (that won't eventually be torn down) that has a slab concrete foundation. It's not level with the kitchen floor, so it needs a coat of concrete over the top to raise it up about an inch.
But at some point, I'm going to circle back around to the kitchen and do a couple of projects in there. The first thing I want to do is build a vent hood cover that can be painted to match the cabinets. I specifically bought a vent hood with the controls on the bottom so that it could be covered eventually if I decided that's what I wanted.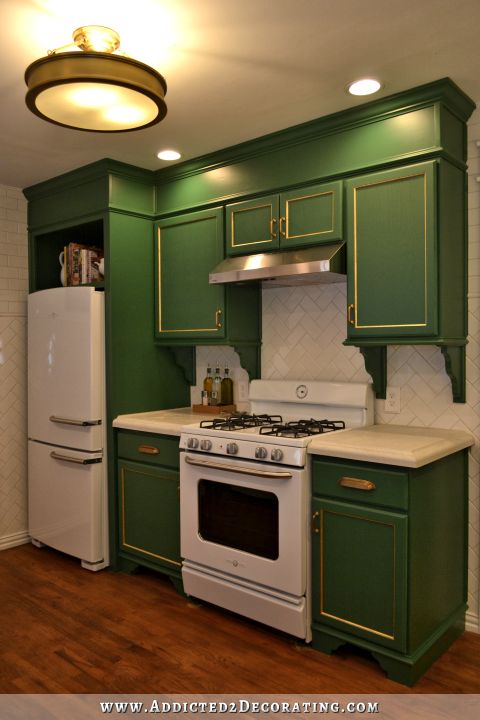 And after living with it for over a year-and-a-half, I've decided that it needs to be covered and painted to match the cabinets.
And my second goal is to address my concrete countertops. And that's where black kitchen countertops come into the picture.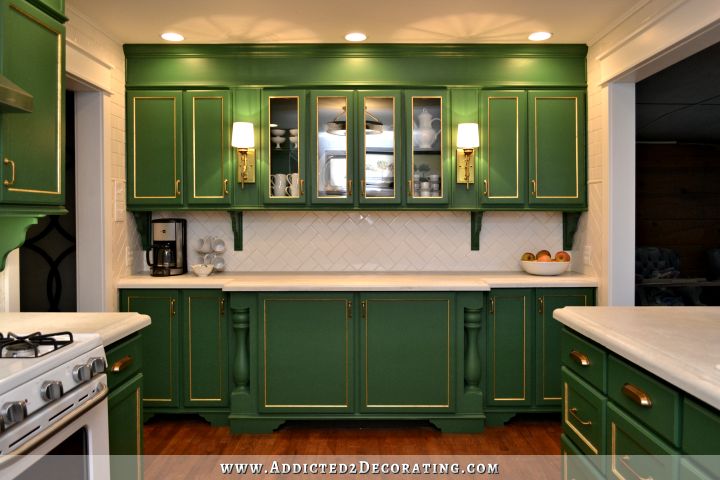 I was always a bit disappointed that they weren't more of a bright white. And now after a year-and-a-half, I've learned just how important it is to choose the right sealer for concrete countertops. The sealer I used wasn't the best, and I have some pretty serious stains on my countertops.
The good thing about concrete is that there are loads of concrete stain removers on the market, and some of them work really well. So getting stains out isn't an issue. The hardest thing about concrete counteretops is finding the best sealer.
After doing some pretty exhaustive research last year, I finally think I found the best sealer for concrete countertops. Interestingly, just a couple of months after I did my research and came to my conclusion, I saw that Chris & Julia used that exact sealer on their concrete countertops.
So I've been planning for several months to strip my countertops, remove the stains, and reseal them. But I'm also considering adding another step — staining the countertops black. Y'all know I love a green, black, and white color combo, and when I picture it in my mind, I think it would be beautiful! I love the look of black countertops.
These Black Kitchen Countertops Are Gorgeous!
Of course, about 90% of the pictures I come across with black countertops show them in white kitchens. So many white kitchens.
So it's impossible for me to actually see an example of what black countertops would look like in my green kitchen. I did find several examples of black countertops in black or dark kitchens, though.
But I don't think mine would look that dark since it gets plenty of natural sunlight.
I'm also torn between the really shiny black and the satin finish black countertops. The sealer I'll be using comes in different sheens, so I could have very shiny countertops or more of a satin sheen. Every time I think I dislike the shiny black, I see one that I think looks gorgeous.
But I think a satin or even matte black is probably more my style.
I really have no idea when I'll get to this project, but I'm hoping to tackle it before the end of this year. And I want to have a plan in place long before I'm actually ready to get started. The only thing holding me back from committing 100% to black countertops is that I've heard such mixed reviews of them. If you've lived with black kitchen countertops, I'd love to know your thoughts! Do you love them? Hate them? And why?
Addicted 2 Decorating is where I share my DIY and decorating journey as I remodel and decorate the 1948 fixer upper that my husband, Matt, and I bought in 2013. Matt has M.S. and is unable to do physical work, so I do the majority of the work on the house by myself. You can learn more about me here.
I hope you'll join me on my DIY and decorating journey! If you want to follow my projects and progress, you can subscribe below and have each new post delivered to your email inbox. That way you'll never miss a thing!