My Finished Kitchen Remodel! (Before & After)
Well, did you hear me yelling and screaming with joy?  I finished my kitchen this morning (yes, this morning) at 8:05am.  It's done.  Finished.  I was beginning to think I'd never see the day, but here it is.
I quickly took some pictures to show you the final before and after, but I haven't even had time yet to sit down with all of my receipts and figure up how much this remodel cost.  I'll get to that info soon, I promise.  I'm anxious to know the bottom line as well, because I'll be very honest, I don't even have a clue how much I spent.  If you'll remember, this remodel started out as what was supposed to be a two week, temporary, low budget makeover.  And then one thing led to another, and before I knew it, I was down to subfloor, studs, and ceiling joists and in the midst of a full-blown kitchen remodel that lasted seven months.
I did have help with some of the big stuff.  My brother-in-law Bill and sister Cathy helped me rip down old drywall, rewire the kitchen, and install drywall on the ceiling.  And while he was in the attic, Bill also removed all of the old, massive ducts from the furnace.  And then my brother Rod helped take down the wall between the kitchen and breakfast room and put up the support header.  He also helped me pour my concrete countertops.  And then my mom spent at least three days over here during the whole process just bagging up debris, cleaning up the construction mess, loading up the truck, and going with me to the landfill to unload the truck.  Other than those things, I did everything else myself.
EDIT:  I totally forgot to mention that I hired out the plumbing.  All of the plumbing (water and gas) had to be rerouted since I completely rearranged everything, so I wanted a pro to do that.  Just wanted to make it clear that I didn't do those things myself.  🙂
So let's look at some pictures!
Of course, my favorite wall is the wall of cabinets.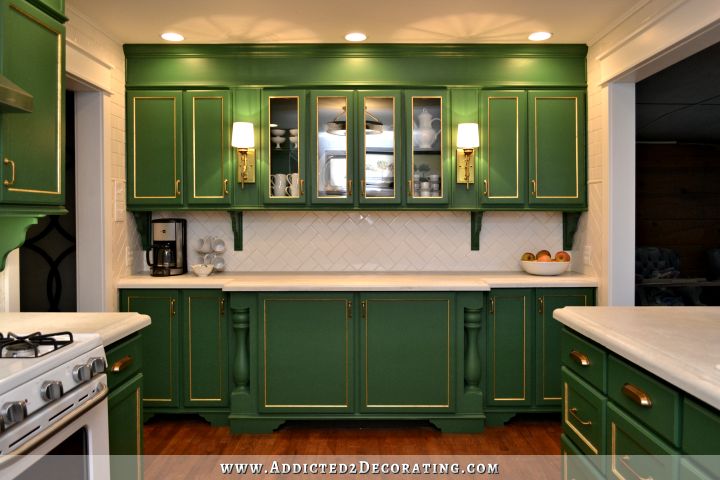 I loved being able to use some pretty sconces in my kitchen, and this wall actually turned out almost exactly as I had envisioned it.  Here's the drawing I did many months ago as I was planning how this wall would look.
The only differences are the number of corbels I used, and the widths of the cabinets on the outer sections.  I had planned to use two 15-inch cabinets in each section, but there wasn't room.  Instead I had to use one 15-inch cabinet and one 12-inch cabinet.
But it's now a far cry from where I started!  This wall was originally the sink wall, with a window that at one time looked out to the back yard.  But at some point a sunroom was added to the back of the house, so the window looked out into the sunroom.
And next up is the refrigerator/range wall.  This wall is where the refrigerator was originally located, just to the left of the floral metal wall cabinet.  And when we bought the house, it also had a portable dishwasher just under the floral cabinet, which I immediately removed.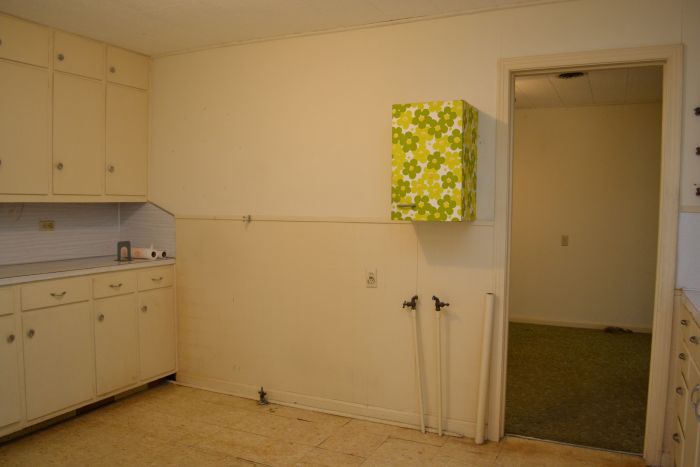 I kept the fridge on this wall, but moved it to the corner and built a cabinet around it.  And then I moved the range to this wall also.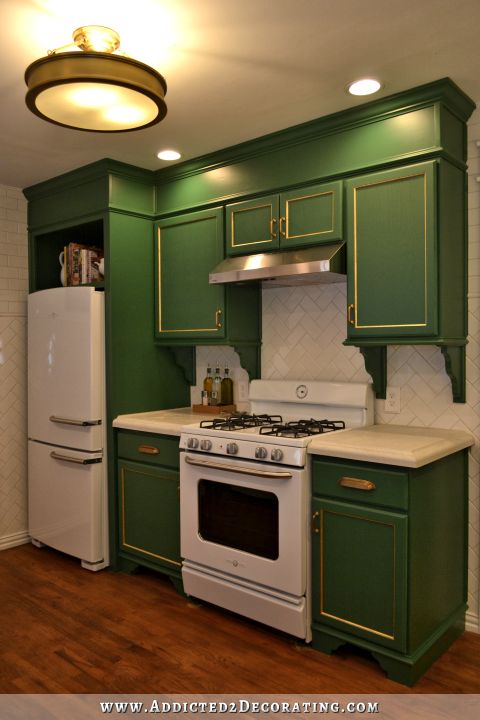 On the wall to the left, which is the wall opposite the wall of cabinets, there used to be another bank of cabinets.  This kitchen was so inefficient, with the only two countertops 14 feet apart, and a maze of appliances on the side walls.
And now that wall is nothin' but tile.  And my new artwork that my mom painted for me.
And of course, the biggest change that I made to this kitchen was knocking out the wall between the kitchen and the breakfast room.  This kitchen used to feel like a dark, tiny little shoebox, and you can see from the gas line that this wall is where the range was originally located.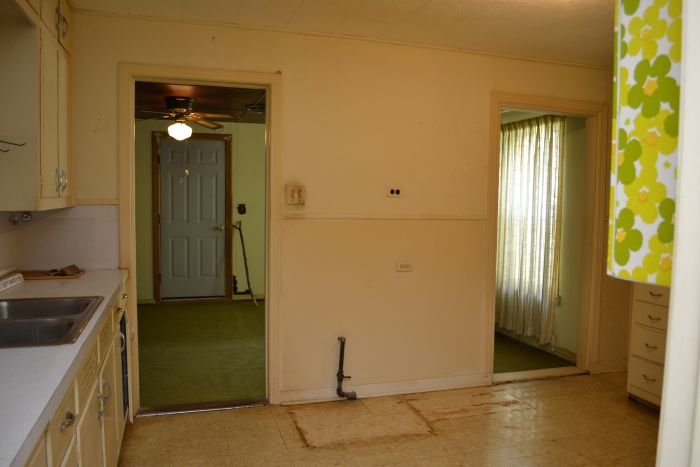 And now that wall is gone, and I have a huge peninsula that now holds my kitchen sink.  (Just remember our deal.  You're supposed to ignore the breakfast room, remember?  It's still a horrible mess.)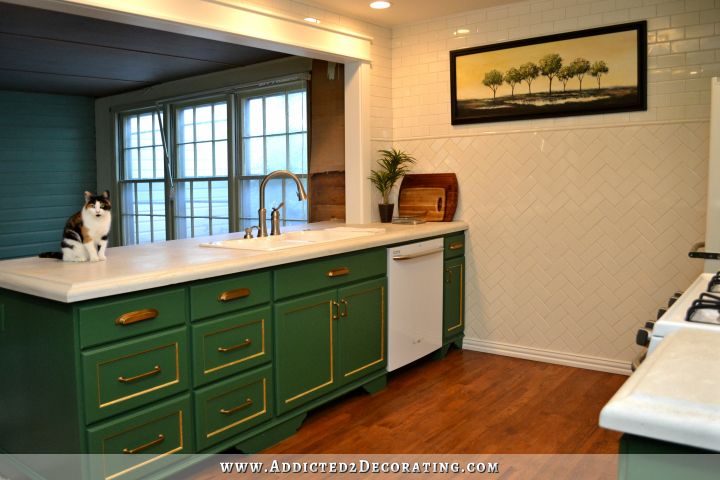 I just love this kitchen.  I'm so proud of the hard work I put into it, and I'm thrilled with how it turned out.  Here's the one doorway that I kept leading from the kitchen to the breakfast room…
…but now it looks just a little different.
And that's it for now.  I'll be sharing costs and sources soon, but for now, I'm taking a nap.  🙂
UPDATE: Click here to see the sources, cost breakdown, and total cost of my kitchen remodel.
Addicted 2 Decorating is where I share my DIY and decorating journey as I remodel and decorate the 1948 fixer upper that my husband, Matt, and I bought in 2013. Matt has M.S. and is unable to do physical work, so I do the majority of the work on the house by myself. You can learn more about me here.