Last Updated on October 6, 2017 by Kristi Linauer
This weekend was pretty much a bust as far as making any kind of significant progress on my "to do" list for this month. Part of that was beyond my control. I usually take Fridays off, but I worked this past Friday because the weather was beautiful and I knew rain was coming our way on Saturday. I didn't want to let a gorgeous day filled with sunshine go to waste, so I got some more sanding and spraying done on the cabinet doors.
On Saturday, my plan was to take the new paint color I mixed to Benjamin Moore and have them mix up another gallon, since I'm pretty sure my kitchen will take more than one gallon. I wanted to have both gallons of paint on hand so that I could mix them together, and then get started on all of the indoor painting. But the two people at Benjamin Moore worked for over an hour to get the color matched, and just couldn't get it right. Then their power went out, so after an hour and fifteen minutes of waiting, I went home empty handed.
All of that was beyond my control, and those are things that we DIYers have to deal with on every project, right? It just comes with the territory.
But the rest of the things that kept me from making progress were well within my control. I'm glad this weekend happened, because it really helped me to recognize bad habits and how I tend to get lost on rabbit trails rather than just follow through in my initial goal.
Here's how this played out this weekend…
I had purchased the supplies needed to build my range hood. I decided to go with an integrated look painted the same color as the cabinets, and I want the kind that has a little ledge on it. A reader sent me a picture of hers in her newly remodeled kitchen, and I love how it looks…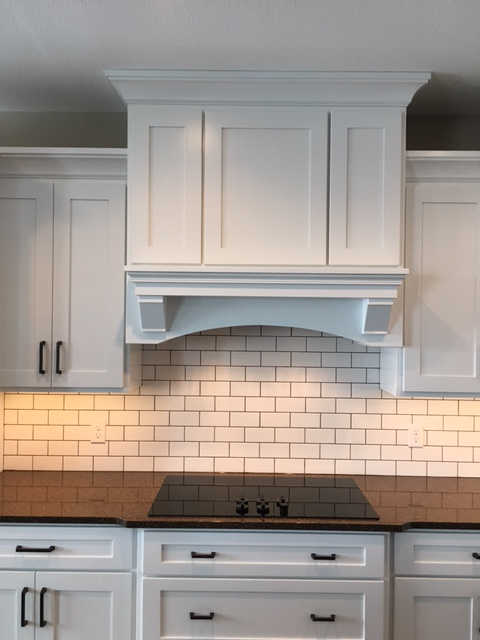 Mine will be a little different because I'm not going to put doors on mine with storage behind. I'm only five feet tall, and I've never once used the cabinets above my stove to store anything. So I'm okay with losing those tiny cabinets. But I do want to do something to capture this overall look.
That part was fine. Building the range hood cover is on my list of things to do for this month. But then I got to thinking about my refrigerator. I want to get rid of my refrigerator/freezer combo and get an all refrigerator in its place. And since I'm going to be building a range hood cover, shouldn't I also go ahead and purchase my new refrigerator just in case that compartment needs some adjustments? That way I can do all of my building at the same time before I start painting that section.
So instead of making progress on my list, I spent about two hours looking for a new refrigerator that would fit the general size of my refrigerator compartment. I found this Whirlpool Sidekicks 30-inch all refrigerator…
Matt said I could go ahead and buy it. But then I realized that if I'm going to sell my refrigerator, I need to also sell my range and dishwasher since they're a matching set and the white has been discontinued. So then I started searching for a gas range. After another hour of searching and reading customer reviews, I selected this Whirlpool 5-burner slide-in range…
Matt said I could go ahead and buy it. But then if I'm getting rid of our refrigerator with the freezer, then I'll also need a freezer.
See where this is going?
Before I knew it, I had planned about $5000 worth of new appliance purchases just because in the future, I might need to raise the shelf in the refrigerator compartment and I thought it needed to be done right now. And that's $5000 that would come out of the money that we have budgeted for immediate use on my studio, which means that I would be spending money replacing perfectly good appliances and delaying getting started on my studio.
But my madness didn't end there. Those appliances are stainless steel. Y'all know how I feel about stainless steel. I'm coming around on it just a bit, but I'm still not fully there. The stove also comes in black, but the refrigerator doesn't.
So then I started wondering if black might be better. I got onto Houzz and Pinterest to see if I could find any teal or blue kitchens with black appliances. And if I got black appliances, would I also need a black sink and faucet? How does a black sink with a black faucet look on a white countertop? I'd need to look at pictures and see how that looks. Or would those be stainless steel? Or would I stick with a white sink and a stainless faucet like I have now?
I couldn't find an example of black appliances with blue or teal kitchens, but in looking through blue kitchens, I did come across this beauty.
And then I totally started second-guessing my "all one color" plan. Should I paint my uppers white? I mean, that looks so light and bright and beautiful! And I could also incorporate some open shelves made of wood, because you know how much I love wood! And then I could do the wood vent hood, which was really my favorite of the three, but it just didn't seem to go in my kitchen. But if I have the wood shelves, it would make more sense.
But where would I put the wood open shelves? In my kitchen, the only place for them would be on the range wall flanking the range hood. So if I removed those cabinets and opted for wood open shelves, how exactly would the two-tone paint work?
Generally in a two-color kitchen, the refrigerator compartment is painted the color of the upper cabinets.
But that's generally because it has upper cabinets actually connected to it. If I remove the upper cabinets flanking the range hood on that wall and opt for wood open shelves, then I'll just have a stand-alone refrigerator compartment painted white next to teal lowers. I could paint it teal, but then the only white cabinets in the room will be the white uppers on the wall of cabinets, which will be weird.
And then, what if I decide to open up the center section of that wall when we do our big addition so that there's a pass through from the kitchen to the new family room, like this?
I don't know that I'll actually do that, but anything's possible. And if I do that, then that'll leave me with just two white upper cabinets on each side of the wall of cabinets. Those will be the only white cabinets in the whole kitchen, which seems very strange and out of place.
So that was my entire weekend. Second-guessing and always on the lookout for a better idea. I get myself so worked up and afraid to commit to an idea because something better might be just around the corner. And because I'm always looking and waiting for that something better, I never get anything finished!
I went to bed last night thinking about how to incorporate white uppers and open shelves into my kitchen, and then woke up at 5:00 this morning with that same thing on my mind.
And then at about 5:30, I realized what I had done. I had totally sabotaged my entire weekend because I had fallen back into bad habits, and had gotten so worked up about possibilities even to the point of it affecting my sleep. I got my eyes off of the goal (i.e., my "to do" list for this month), and I had followed rabbit trail after rabbit trail until my entire weekend was gone with nothing to show for my time.
Anyway, today is the start of a new week, and I'm getting back on track. I've already received a phone call from the Benjamin Moore store telling me that they have my new gallon of paint matched and ready to go, so that was just the swift kick in the pants that I needed in order to get back to my goals.
No, I won't be getting new appliances right now. The white will have to do for now, because I want that money to go towards my studio. And no, I won't be tearing out cabinets and replacing them with open shelving. That might look pretty, but it's totally impractical for me. And no, I won't be doing white uppers in my small kitchen. As pretty as white uppers are, I'm sticking with my original plan of all one color. And no, I won't be doing a stained wood range hood cover. My small kitchen needs an integrated range hood cover, and I've already purchased the supplies for it.
As far as that pass through goes, I'm still open to it. But that addition is still quite a ways in the future, so there's no need to even think about it right now.
So what's my point in even sharing this with you? I'm not sure. I think I wrote this mainly for myself — to write this down in black and white so that I can have a reminder of it the next time I start to trail off on a path that doesn't need to be my focus for now. It has been such a good feeling over the last two months to set (realistic!) goals and to actually achieve them. I really want to continue that path through the end of this year so that at the end of December, I can look back and see finished rooms filled with finished projects. I don't want another repeat of 2016, where I end the year thinking, "What the heck do I have to show for my year? I got nothing done!" That's not a good feeling at all.
So I'm off to pick up my new gallon of teal paint so that I can get back to the business of finishing my to do list for the month. No more distractions. No more rabbit trails. 🙂