I spent most of yesterday in the music room working on the Roman shades for my dining room windows, and as I was working, I kept glancing into the entryway and dining room and making a mental list of all of the projects that still need to be done before I can call those areas finished. My floors are done but still curing. The Roman shades are in progress. I have all of the fabric and supplies for my side dining chairs, except for the monogrammed pieces (which I still need to send to the embroidery company). And I still want to build two host dining chairs.
But another thing the room needs is new artwork for above the fireplace. I love my mom's painting, and I'll definitely use it somewhere else in the house. But I think that particular spot — on a white backdrop and between black and white draperies — needs something bold, vibrant, and colorful.
So last night, I got on Pinterest and starting looking at DIY artwork for ideas. Nothing really impressed me. Most of the time, DIY artwork on Pinterest looks…well…like DIY artwork. That's not quite what I had in mind.
I kept searching. My absolute favorite kind of artwork is abstract, but I don't like anything linear or geometric. I prefer loads of freeform color and movement, with the colors melding together in a marbled effect. And as I kept looking and searching, I came across the work of Emma Lindström. 
via Bored Panda
Somehow, Emma manages to take all of those things that I love — vibrant colors marbled together in lots of movement like an explosion of life — and put them on canvas. Oh, what I would give for the knowledge and talent to be able to do that!! Her Facebook page and Instagram account are feasts for the eyes.
via Emma Lindström on Instagram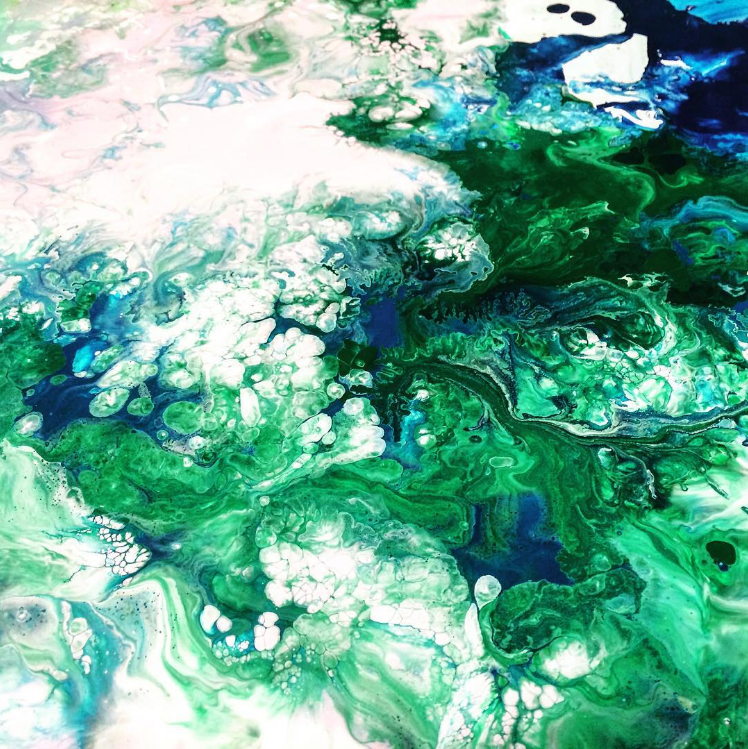 via Emma Lindström on Instagram
*Sigh* I want to be able to do this! I'd pay money just to be able to sit in a corner of her studio and watch her work for one full day just so I could learn the technique. I did get an idea of the process by watching some YouTube videos of liquid acrylic painting. I'm sure I could do some version of it, but I think learning how to get all of that intricate detail takes quite a bit of time, talent, patience, and a really honed artistic eye.
And from there, I somehow got lost in the world of Eric Siebenthal.
Eric Siebenthal via Vango
Eric has a YouTube channel where he shares his process, and I sat in front of my computer completely mesmerized last night as I watched video after video after video. He uses liquid acrylics squirted from ketchup bottles, and then uses an air compressor attachment to blow air onto the paint to move the paint around and get the marbled effect. It's so fascinating to watch!
Eric Siebenthal via Vango
Eric's work, which you can also see on his Instagram, definitely has an edgier look, while Emma's has a softer, watery look to it, but I like them both.
Oh, how I'd love to be an artist! But for now, I'll just settle for creating one piece that I'm really proud of, and that can go over my fireplace in the dining room. When I tried the artwork for my bathroom…
…I was pleased with how it turned out, but I had no idea what I was doing. I didn't know of any other techniques for getting that marbled look other than actual marbling (where you float paints on top of water and swirl them around, and then place the paper on top), and just painting with a brush directly on a canvas.
Now that this whole new world of liquid acrylic painting has been opened up to me, I'm anxious to try it! Who knows? I may have just discovered my new favorite hobby
Addicted 2 Decorating is where I share my DIY and decorating journey as I remodel and decorate the 1948 fixer upper that my husband, Matt, and I bought in 2013. Matt has M.S. and is unable to do physical work, so I do the majority of the work on the house by myself. You can learn more about me here.
I hope you'll join me on my DIY and decorating journey! If you want to follow my projects and progress, you can subscribe below and have each new post delivered to your email inbox. That way you'll never miss a thing!