Last Updated on October 6, 2017 by Kristi Linauer
You know how I said a few posts back that I was going to finish all of my building-type projects, including my hallway, before I start really decorating? Well, I've changed my mind. 🙂 Once I get my kitchen projects and pantry doors done this month (you can see my goals for this month here), I'm going to decorate and finish the breakfast room.
I'm getting so anxious to have a room actually finished, and stopping while my breakfast room looks like this…
…is just way more than I can bear. It's so close to being a finished room!! Plus, it needs COLOR! I mean, my chairs are colorful. Those are a good start, but it needs so much more color, texture, fabric, and decorating touches to be finished.
First, I need to bring my rug in here. I purchased this rug from Overstock for the room…
When I purchased it, I knew it was going to be a tight fit in the room, but decided to go with it anyway. Now I've decided that it's too big, and I want more of my hardwood flooring showing, so I want to take the rug to a place that can cut it down and bind the edges for me.
Included in my goals for this month is to finish painting all of my kitchen cabinets, which includes the back side (i.e., breakfast room side) of the peninsula. And yes, those will be teal.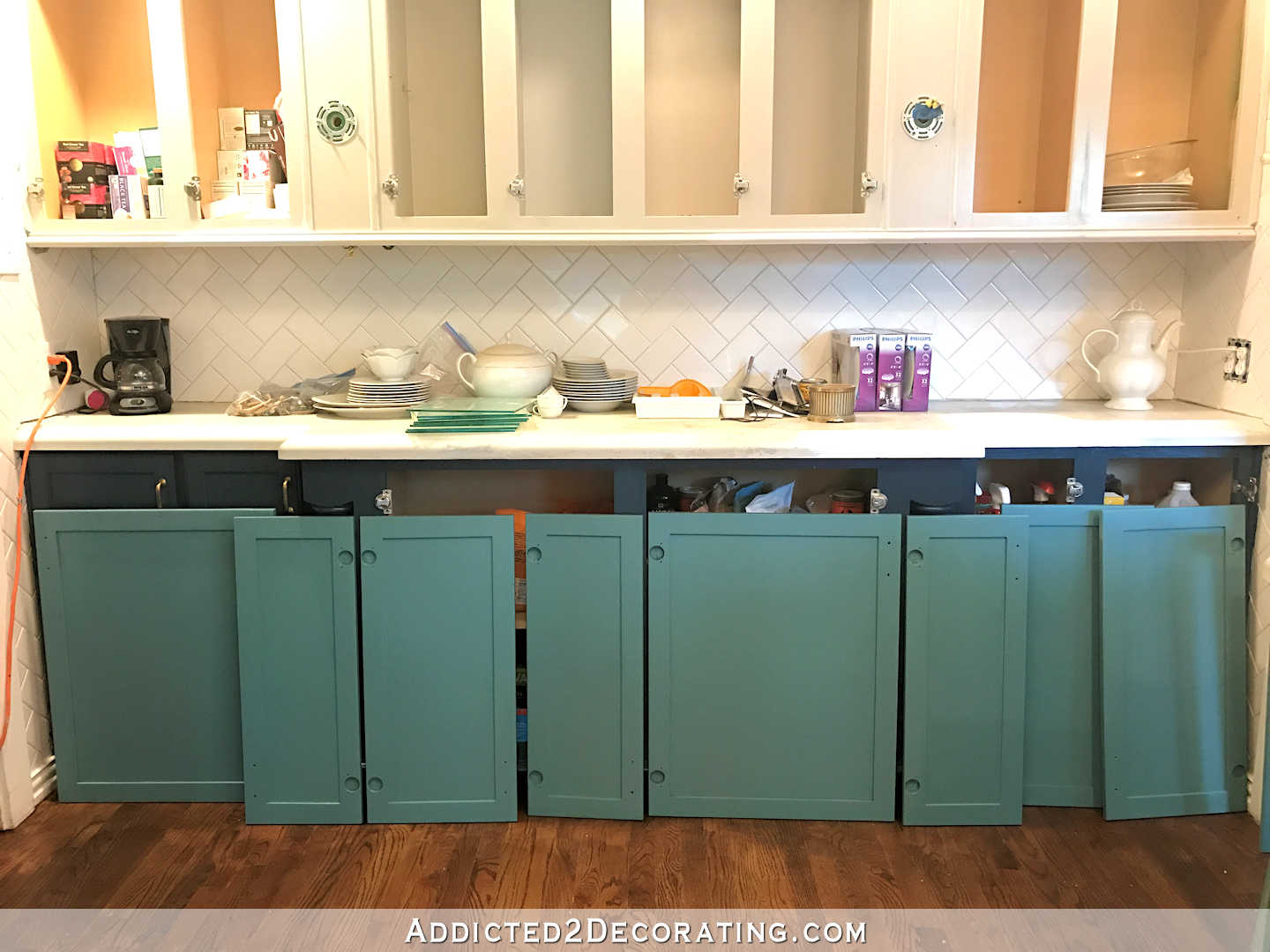 I won't be painting the backside of the peninsula a different color than the front (no white!). So that alone will be a huge change. That unfinished oak looks so drab in the pictures, but it won't be for long.
I still have my heart set on white draperies for the windows — just one panel on each side. A creamy white linen. There's just something so pretty and fresh about white draperies.
But I still might find a way to add color to them with trim, edge banding, or other accents of some sort.
On the wall to the left of the windows, I want to use the buffet that used to be in the entryway.
And yes, it's getting one more makeover. 🙂 That buffet has been coral, and now it's black. But it needs to be green. 🙂 The whole reason I wanted a stained wood dining table in my breakfast room rather than a painted table is so that I could have a green buffet. Remember this credenza that I painted about three years ago?
I'll be using a similar green (maybe just a bit darker) on the buffet.
I'm still not quite sure what I want to do on the walls on either side of the pantry doors, but yesterday I saw an image in Instagram that just stopped me in my tracks. Y'all know how much I love trees and birds, right? Well, check out these handpainted wallpaper panels. That one on the left is so pretty!!
via Gracie Studio Instagram
Oh, how I love it! I can picture two of those panels framed and hung on either side of the pantry doors.
But…those panels are about $550 each. Plus, the actual panel has a precious little lace basket hanging from the tree. I don't do precious. Or lace. But I sure would love to find something similar to add a bold shot of color and pattern to those walls. Floral would work, too. I've looked at this wallpaper from Anthropologie a thousand times, but as much as I love it, it's just not right. Not enough blue and green, and too much orange, yellow and pink.
via Anthropologie
And I really do prefer trees and birds over flowers.
Anyway, I want to keep my eyes peeled for something like that in the right colors and with the right elements (i.e., trees, birds, flowers, and nothing precious or lacy).
So for those of you wondering where the color is, don't worry. It's coming. And I'm so anxious to get to the decorating on that room!!
Addicted 2 Decorating is where I share my DIY and decorating journey as I remodel and decorate the 1948 fixer upper that my husband, Matt, and I bought in 2013. Matt has M.S. and is unable to do physical work, so I do the majority of the work on the house by myself. You can learn more about me here.
I hope you'll join me on my DIY and decorating journey! If you want to follow my projects and progress, you can subscribe below and have each new post delivered to your email inbox. That way you'll never miss a thing!