February Progress & March Goals
It's already the last day of February! The month flew by, and for a while there, I was afraid that I wouldn't get my goals accomplished for the month. But I still have one more day, and one more project to finish. I'm pretty sure I can eek it out just in time.
So my goals for February, selected from my 2017 Master List of Home Goals, were to:
Finish installing all of the trim in the breakfast room and get the room painted.

Done!

Get the back of the peninsula trimmed out.

Done!

Get the woven shades for the windows ordered.

Done!

Paint and reupholster the dining chairs.

Done!

Paint the door that leads to the garage.

Done!

Refinish the dining table.

In progress!

 

Done!
Trimming out the breakfast room and getting everything painted was by far my biggest accomplishment of the month. At the beginning of the month, the room looked like this…
…with everything trimmed and painted. The peninsula is also all trimmed out and ready for paint, which I'll do when I paint the kitchen cabinet.
The walls are Benjamin Moore Classic Gray, and the trim is Behr Polar Bear. I installed all of the trim myself with the exception of the crown moulding. I finally decided that I've paid my dues when it comes to installing crown moulding, so I hired that out.
I also got the door to the garage painted using Benjamin Moore Kendall Charcoal.
Click here to see more pics of the breakfast room remodel, along with before pictures.
I did get my woven shades ordered for the windows. I chose the one in the one on the bottom right.
I ordered them around the second week of February, and was told it would take about four weeks. So they should be here in about a week. I'm excited to get those and get them installed!
I showed you yesterday that my dining chairs are now finished after about four days of sanding, priming, painting, and upholstering. I started off with these Rustic Java Greyson Side Chairs from World Market…
…and transformed them into chairs that are much more my style…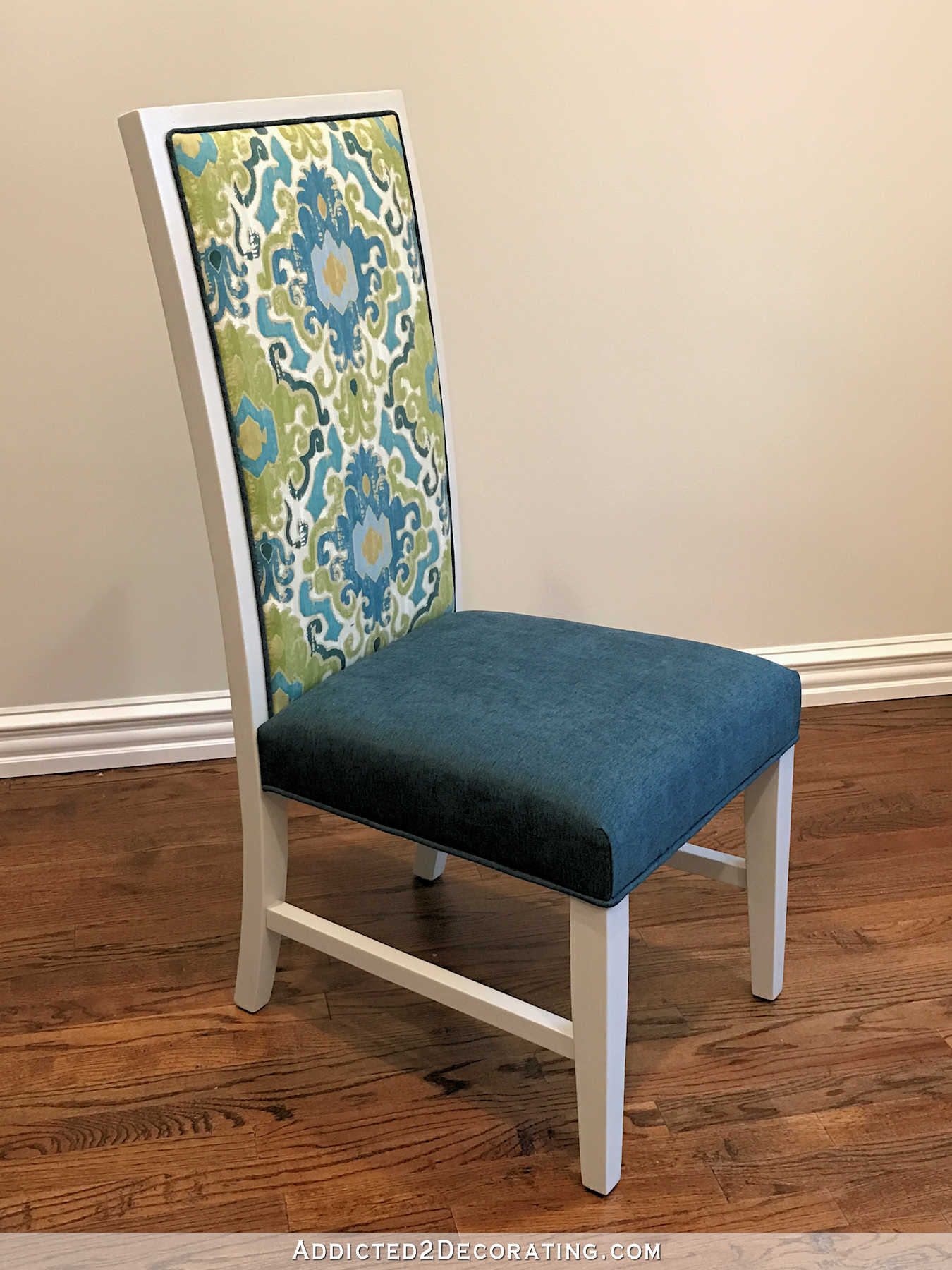 You can click here to see more about the process, as well as how all four chairs turned out.
And the final item on my list is to get my dining table refinished. It started out looking like this, with a very dark stain on it…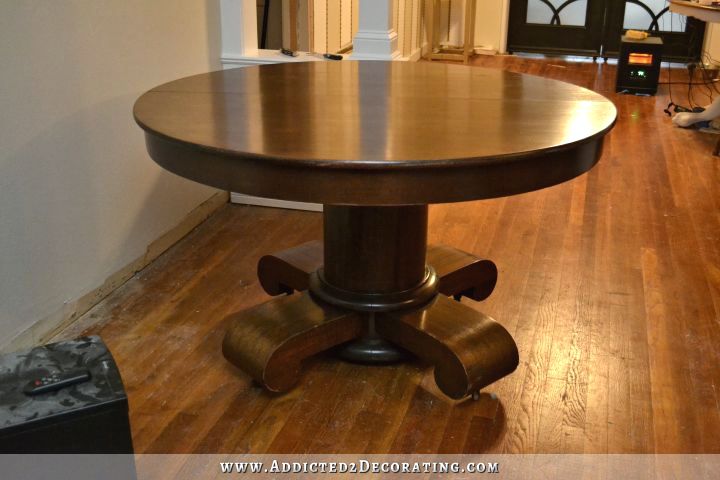 And as of 8:00pm last night, it looks like this…
The table top is the same, but it's still in the sunroom where I rolled it last night after sanding it on the patio.
So now I've got a table that's completely stripped and ready to be finished. I had actually planned on cutting the chunky feet down a bit, which is why I removed them in the first place. My plan was to use a band saw and cut them so that they were still wide where they attached to the pedestal, but curve in and get much narrower as they extend out. I wanted them to get about 1/3rd the width that they are now. My neighbors down the street were going to let me use their bandsaw to cut them down. The problem is that these feet are so thick that they wouldn't fit into the bandsaw. I even thought about just buying a bandsaw (I've wanted one for a very long time), but I couldn't even find one in stock in my area that would cut through the thickness of these chunky feet. So for now, I'll live with them.
I'm still unsure about exactly how to refinish the table. This is the first table I've had that is the same wood from top to feet, and that isn't either pine or oak, so I don't want any paint on it anywhere. I think the top is actually solid wood, but the rest of it is covered in veneer to match. I was actually pretty disappointed about the veneer on two of the feet being damaged, but I've decided to embrace the imperfection.
If I can get the finish on my table to look something like this, I'll be perfectly happy.
via Restoration Hardware
If I can get that table finished up today, I will have met all of my goals for February. I'm pretty sure I can do it!
UPDATE: I did it! My table is finished. You can click here to see it.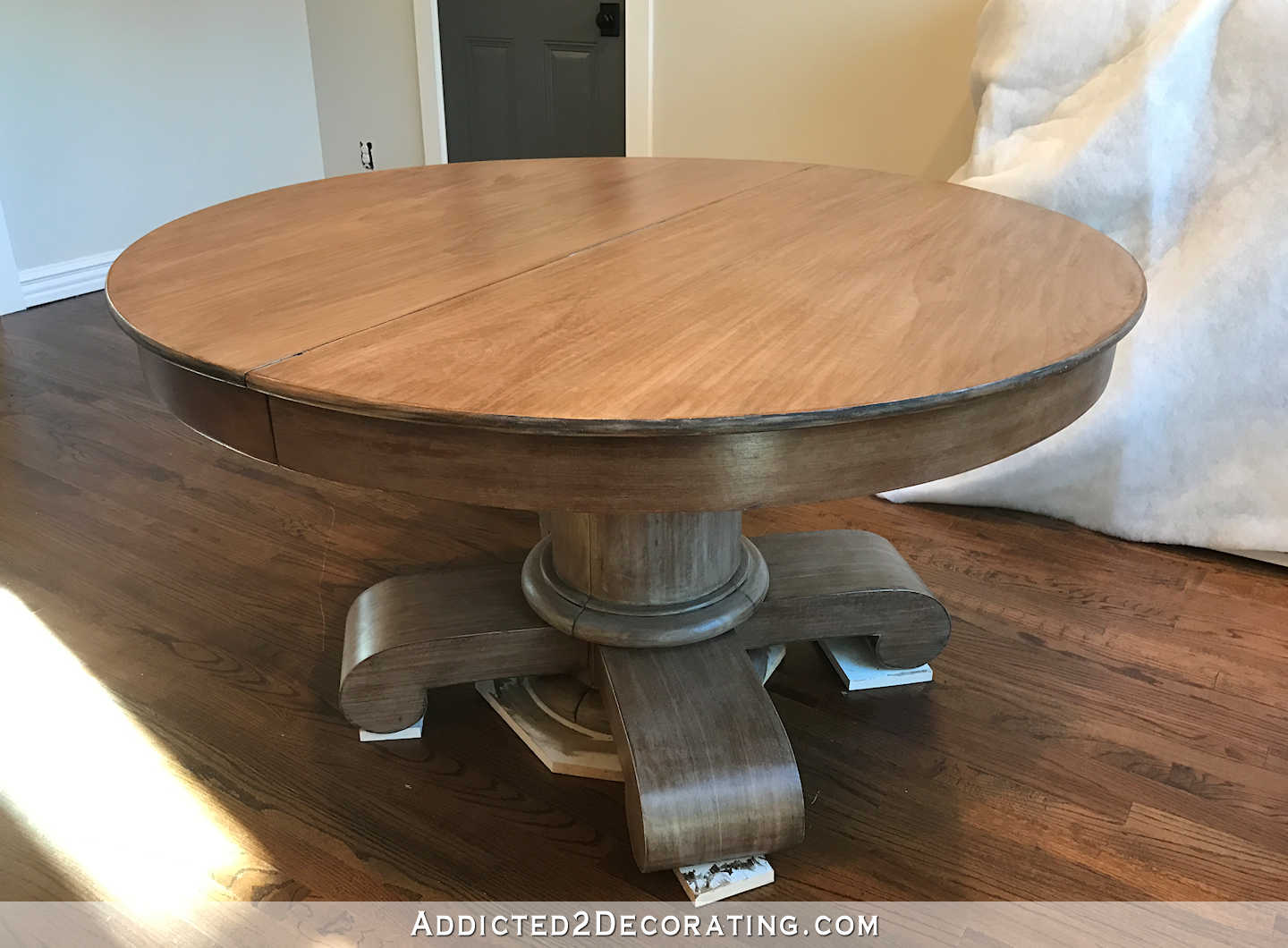 So what about my March goals? Well, here goes…
First, I want to get my kitchen cabinets painted. I finally decided on a color…
…after several of you urged me to stick with what I know I love. I know I love teal, so I'm going for it. I already have the paint, and I'm ready to go.
I also want to finally get my concrete counteretops refinished. I'm ready to be rid of the dingy color and the stains…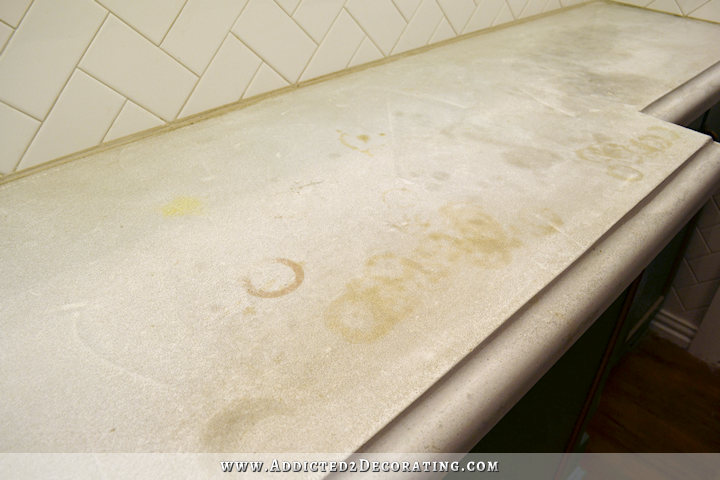 Whiter, brighter countertops will go a long way towards helping me achieve the look I want in my kitchen.
Also in my kitchen, I need to repaint the ceiling. When I remodeled the kitchen, I used my go-to trim color (Behr Polar Bear) for the ceiling, and since then I've decided that I want all of my ceilings bright white using Behr Ultra Pure White Ceiling Paint. I love how bright it makes a room feel, and my kitchen ceiling looks dingy in comparison. So I need to get that repainted.
I also need to get all of the trim in the kitchen repaired, caulked, and painted. When I removed the jambs on the opening between the kitchen and breakfast room in order to cut those down and reinstall them, it damaged some of the trim on the kitchen side. I've also never painted the trim on the opening going from the kitchen to the living room. So all of that needs to be finished.
I'm also going to build the new vent hood cover to cover up the stainless steel vent hood that I have.
At this point, I'm not quite sure what I want the vent hood cover to look like, but I've been searching on Pinterest for the perfect inspiration.
And finally, I want to get the doors to the pantry made and installed. I want double glass doors on the pantry that look something like this…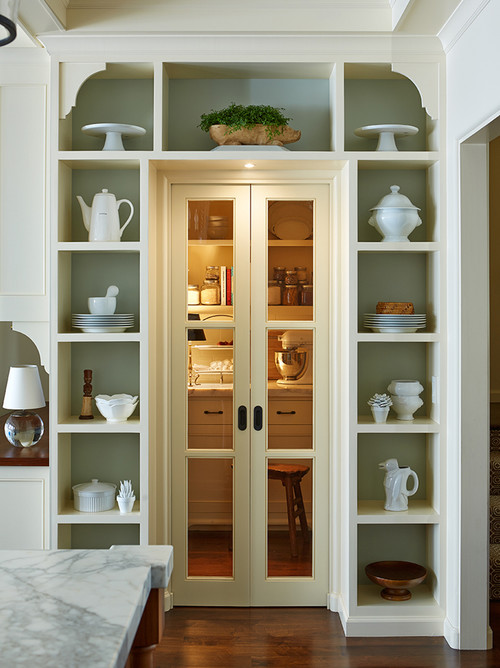 Photo by Lorin Hill, Architect
Except that on mine, I just want it to look like one pane of glass on each door rather than three. I've saved all of the solid wood interior doors that I've removed from my house, and I plan to use those to create the new doors.
So those are my March goals. Do you kind of see a pattern here? If not, and you're thinking, "Why don't you just finish the breakfast room?!" then let me explain. I'm trying to get all of the projects done that require construction/indoor sanding before I start bringing in all of my draperies, upholstered furniture, etc. into the house. I should get a big chunk of those projects finished in March, and then in April, I'll tackle the rest, which includes building and installing the pantry cabinets, and building the cabinets (no longer a hall tree) in the hallway.
Once I get all of the projects finished that require construction, sanding, etc. inside the house, then I'll have the house thoroughly cleaned from top to bottom, and start bringing in those upholstered items, draperies, and finishing touches into the rooms.
But after today, we'll at least have a a place to eat and enjoy our meals. That's enough for now. 🙂
Addicted 2 Decorating is where I share my DIY and decorating journey as I remodel and decorate the 1948 fixer upper that my husband, Matt, and I bought in 2013. Matt has M.S. and is unable to do physical work, so I do the majority of the work on the house by myself. You can learn more about me here.