Breakfast Room Dining Table Makeover
I actually finished all of my goals for February! That means that my dining table is done. Here's how it turned out…
(*Don't miss the update at the end of this post!)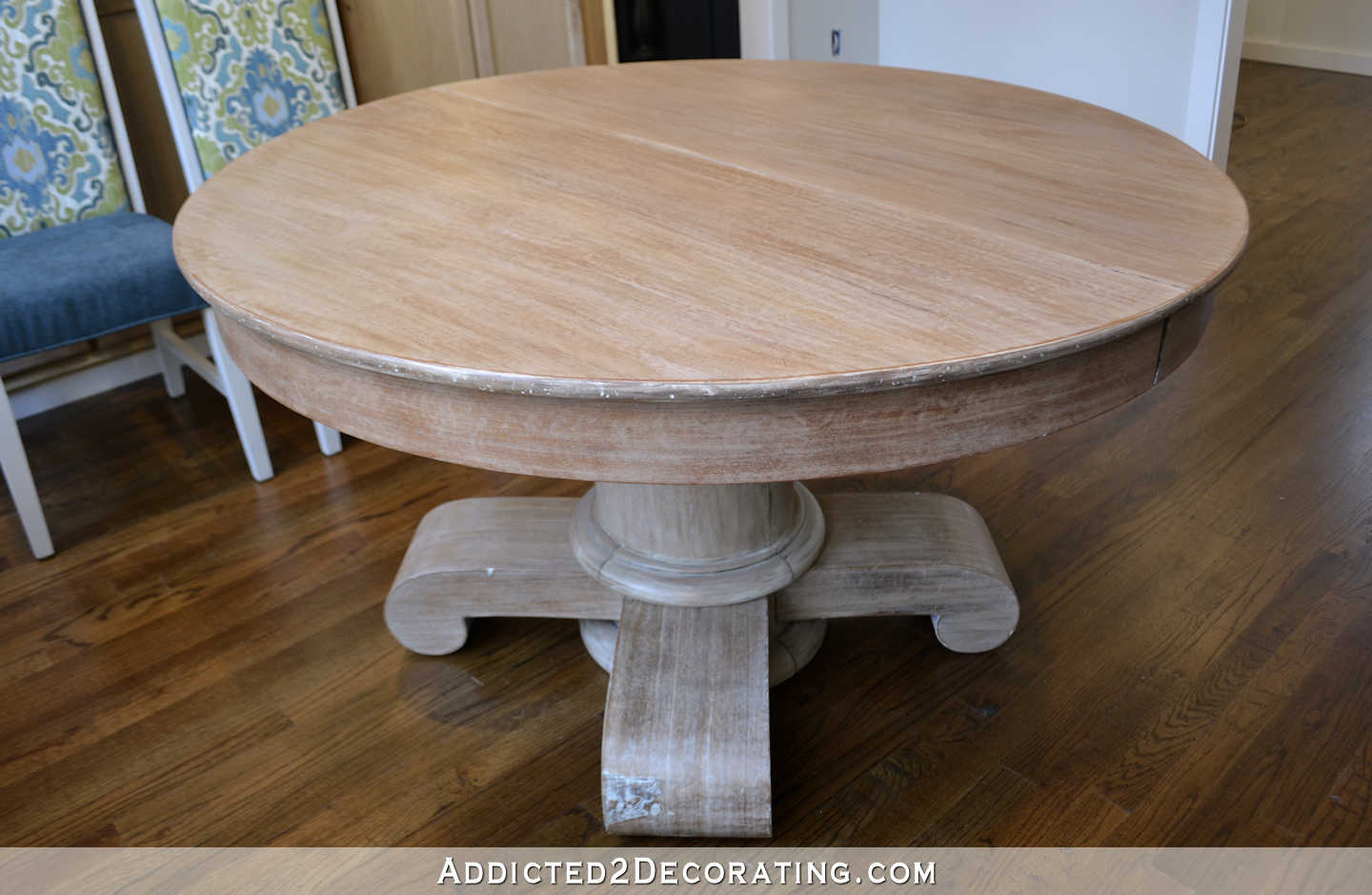 Two of the feet had veneer damage, and I just decided to embrace the imperfections. 🙂 I'm not sure that I achieved the exact finish that I was after, but this will definitely work. I just knew that I didn't want a dark and heavy finish, like the original finish on this table.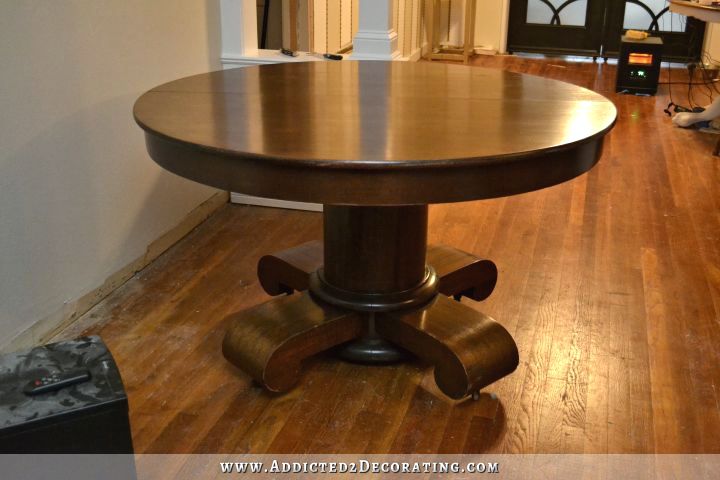 I'm still missing one finishing touch — new casters for the feet. I wanted to use this table instead of the other round table that I have (the cerused oak table) because when this table expands the pedestal actually separates into two parts, rolling towards each end of the table on casters. The old casters don't roll smoothly anymore, so I need to order new ones. I much prefer this table design over the type of pedestal table where the pedestal stays in the middle as the ends of the table are separated. This just seems like a stronger design.
Anyway, getting this finish was quite a long process. On the table top, I had no idea if I was dealing with solid wood or veneer.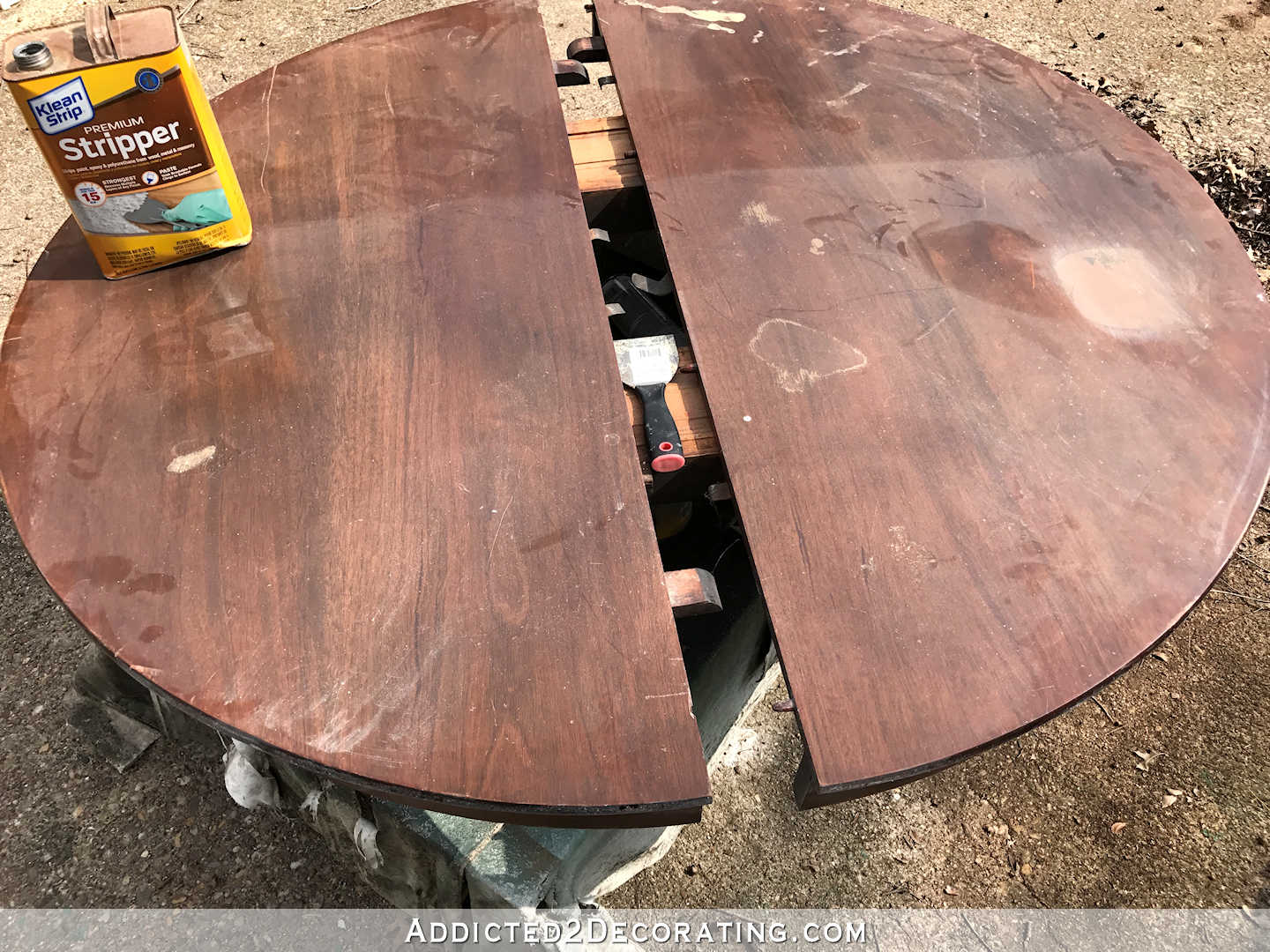 So to be on the safe side, I started by using a chemical stripper to get the first layer or two off of the table. Using a chemical stripper first reduces the amount of sanding necessary to get down to bare wood, which reduces the likelihood of sanding through the veneer.
But for a change, I was actually dealing with a solid wood table top. There's no veneer on that top at all. I have no idea what kind of wood this table is made of, but the raw wood was very orange. Here's how it looked after two rounds of stripping and one round of sanding with 150-grit sanding discs on my rotary sander.
That color actually doesn't look too bad in the picture, but I'm telling you, it was orange. And I tested out a little bit of oil-based finish on an area, and the color was awful. Just awful.
So I knew that any kind of oil-based stain or even clear coat definitely wouldn't achieve any kind of look I could actually live with. Instead, I decided to try Minwax Water-Based Wood Stain in Pure White. But since my table was so orange, I wanted to be sure to minimize the orange as much as I could. So I purchased an empty quart-size paint can, and asked the guy at the paint counter if he would give me just a tiny bit of blue pigment (i.e., the color opposite orange on the color wheel) in my can. For the record, they're not supposed to do that, but they know me pretty well at that store. 🙂
I just wanted to add the tiniest bit of blue to the white stain to counteract the orange of the table. And let me tell you, that pigment is so saturated in color that it really does only take a drop or two. You can see here the original white stain on the left compared to the white stain with just a hint of blue pigment added on the right.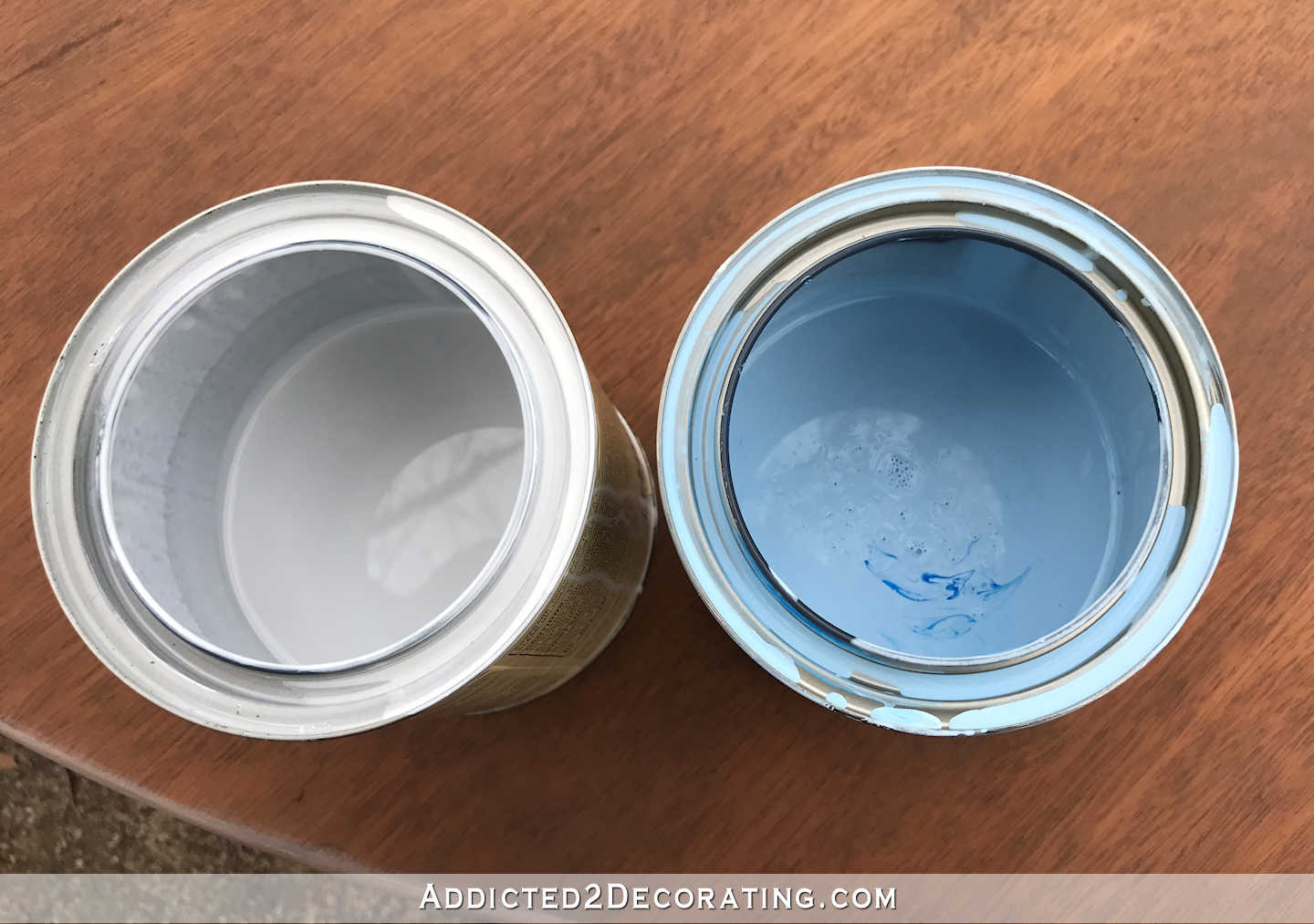 I had never used water-based stain before (at least that I can remember), so I had no idea what to expect. But I just went for it. My first attempt was a huge fail. But you can see that the blue color doesn't really show up. It's just there to kind of neutralize the orange.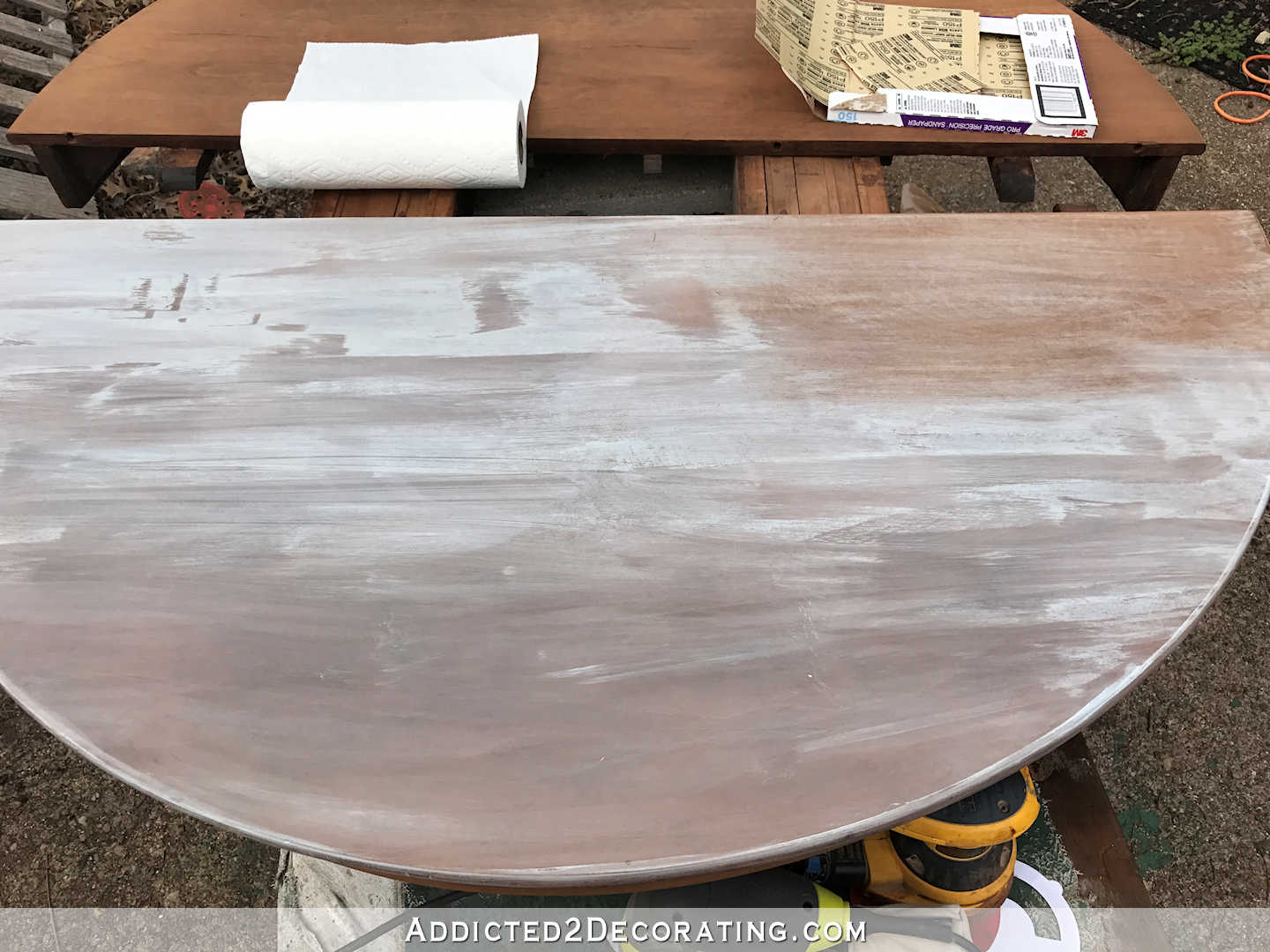 Water-based stain dries really fast, and by the time I went to wipe off the excess, it was already dry.
So then I decided to read the directions. 😀 If at first you don't succeed, try reading the directions.
The directions say to leave it for no longer than three minutes. THREE minutes!! Umm…that's pretty hard to do when you're trying to get an even finish on and entire 52-inch-diameter table top! So on my second attempt (after sanding the first attempt off) I just applied the stain in strips about four inches high going all the way across the width of the table. Brush on, wipe off immediately. It was still streaky where the strips overlapped, so I used 150-grit sandpaper to even out the finish. You can see the white stained wood on the left compared to the raw wood on the right. I thought it looked pretty good!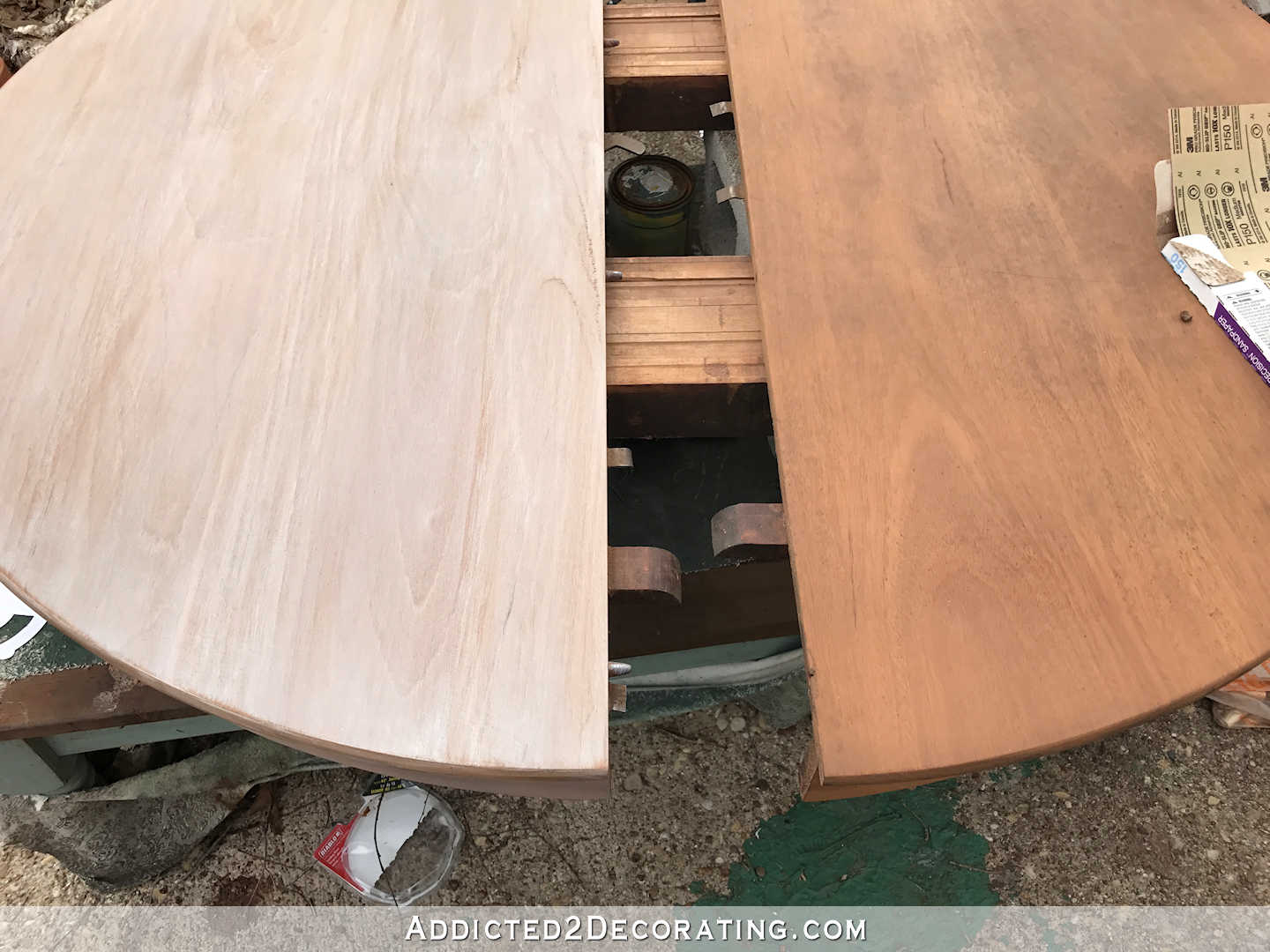 And again, you can see that it doesn't look blue at all. I ended up doing quite a bit more sanding because I didn't necessarily want the top to look whitewashed. I just wanted the color lightened up a bit.
After I got all of the pieces stained and sanded, I brought them inside, assembled the table, and then gave the table a coat of General Finishes High Performance water-based clear coat in a satin finish. It scared me at first because it made the table very streaky, which you can see on the left.
(Also, I have no idea why that side of the table has so many sanding swirls on it. No matter what I did, I couldn't get those to go away. I've never had that happen before.)
But let me tell you, after my very frustrating experiences with trying to use Minwax Polycrylic water-based polyurethane on a couple of projects, I was amazed at this General Finishes topcoat. It brushed on beautifully with no streaks. This will definitely be my go-to water-based topcoat from now on. (I used it over the painted finish on my dining chairs as well.)
The streakiness did concern me, but by this morning, the dried finish had evened out.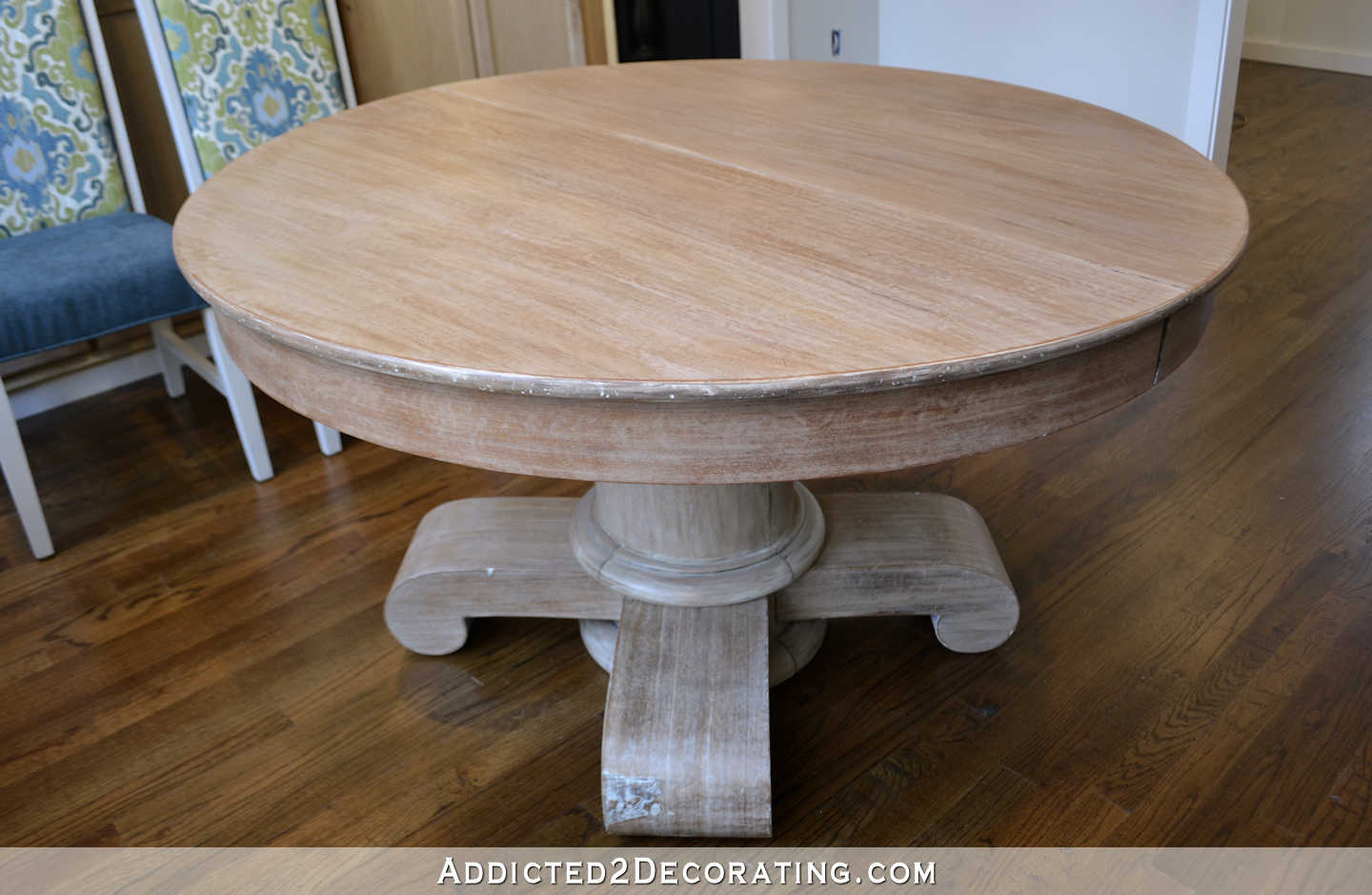 I might need to give it a couple more coats of the clear coat on the top. But other than that, I'm calling it done.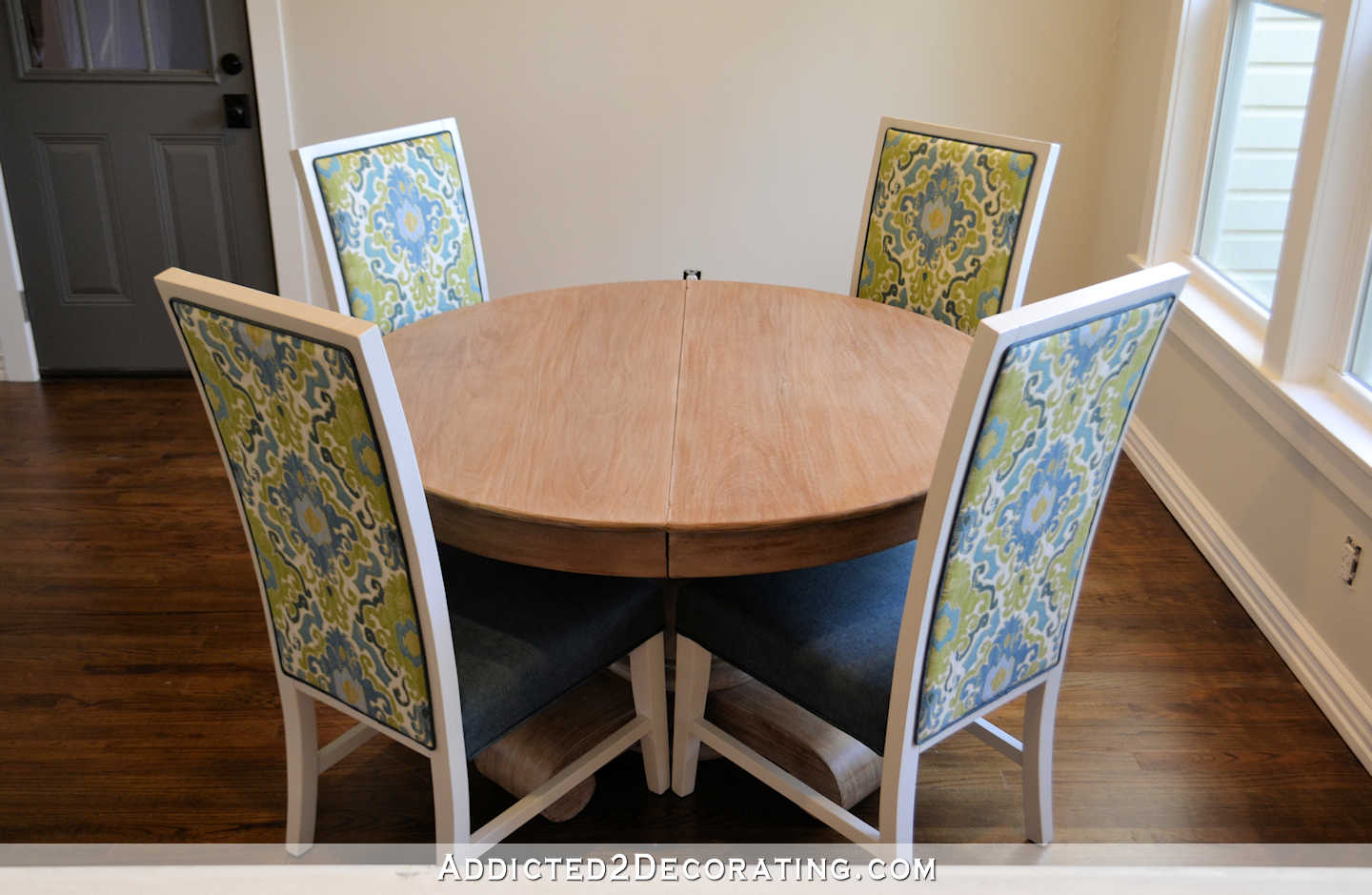 We now have a place to eat our meals, and as soon as those new casters arrive, the table will be high enough for Matt to use.
Now on to my list of March goals. 🙂
UPDATE: The more I looked at the finish today, the more it seemed a bit too light, bright, and as the day went on and the room got brighter, it looked whitewashed, which really isn't my taste. I wanted to warm up the finish just a bit, so I rubbed some Minwax Wood Stain in Dark Walnut over the top (yep, just right over the layer of General Finishes water-based poly). I like it so much more! Here's a comparison of the top with the stain and the base and feet without the stain.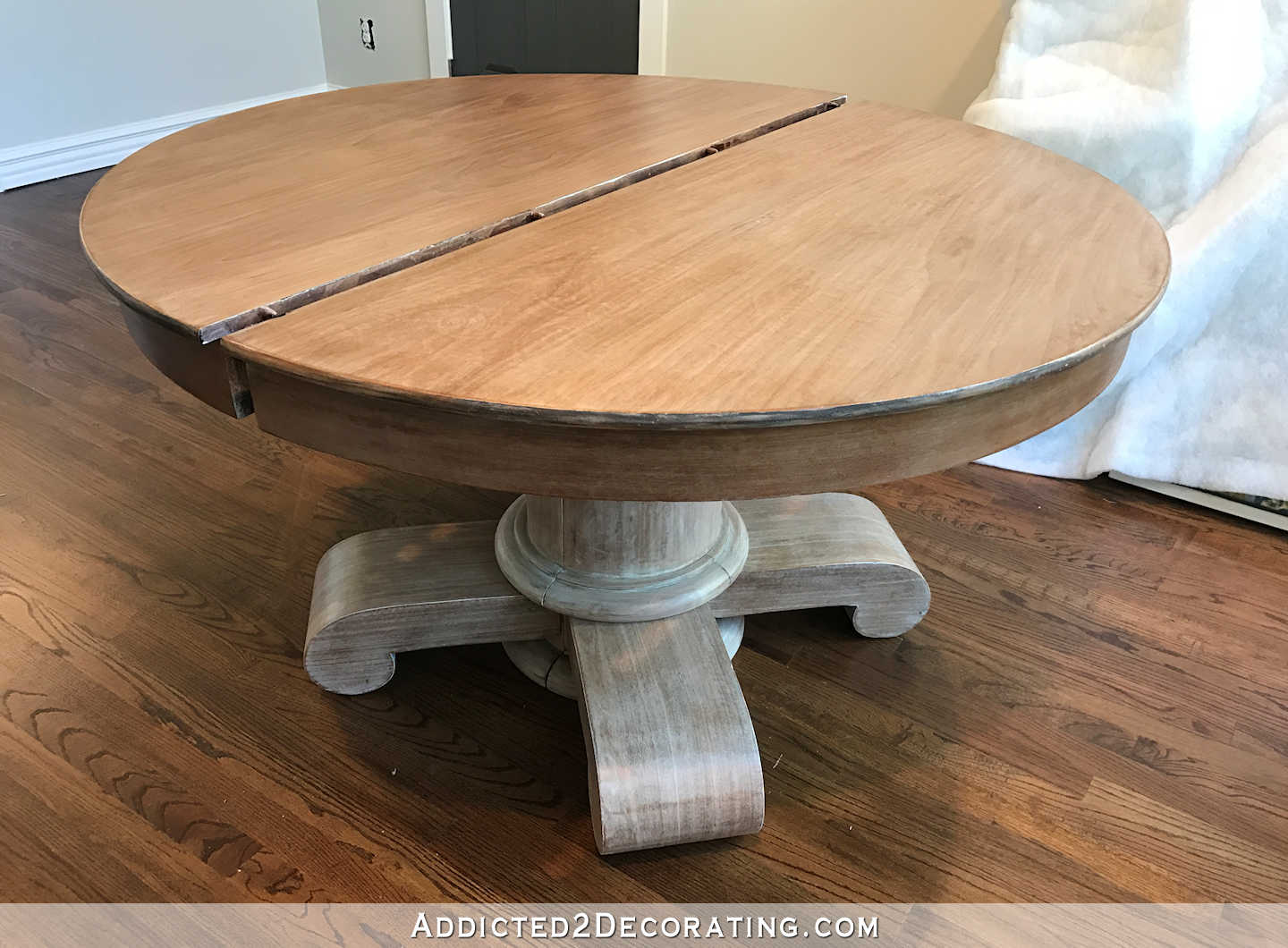 And here's the entire table toned down with the stain…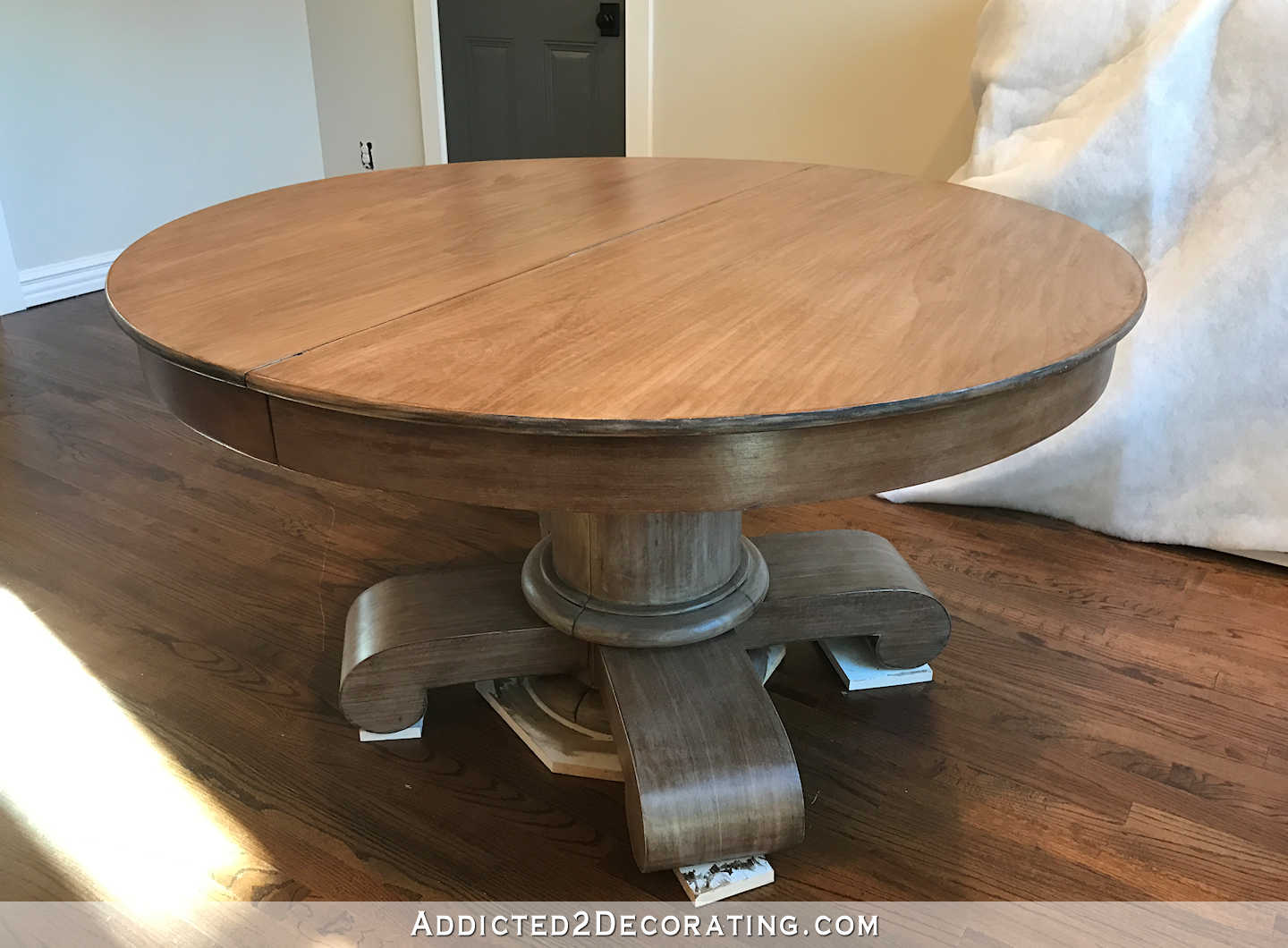 I like it so much more. The original finish was just a bit cold looking to me. This added the warmth that I was hoping for. I'll let it dry for a day or two, and then add a couple of coats of polyurethane to seal it. So I guess I didn't technically finish my list for February, but I'm still going to say I did. 🙂
Addicted 2 Decorating is where I share my DIY and decorating journey as I remodel and decorate the 1948 fixer upper that my husband, Matt, and I bought in 2013. Matt has M.S. and is unable to do physical work, so I do the majority of the work on the house by myself. You can learn more about me here.