A Race To The Finish Line — Five Goals In Fifteen Days
Can y'all believe we're already nine days into December?! This year has flown by for me, and this time of year always feels like a race to the finish line, where I see just how many more projects I can squeeze in, and how much more I can accomplish, before the end of the year.
I like to take the last week (between Christmas and New Year's Day) off from the blog, but I generally try to sneak in some projects during that time. This year, however, Matt has urged me to actually take the entire week off — not just from the blog, but from projects also. I negotiated him down to three consecutive days off, but I might actually take his suggestion and strive for an entire week project-free. We'll see. 🙂 I tend to get antsy after couple of days, so I can't imagine a whole week without a home-related project. But I might try anyway.
So in that case, that means I have fifteen days left in this year to get stuff done. Only 15 days!! So here are my goals during these next 15 days…
Finish painting my kitchen cabinets.
I got one wall of cabinets finished…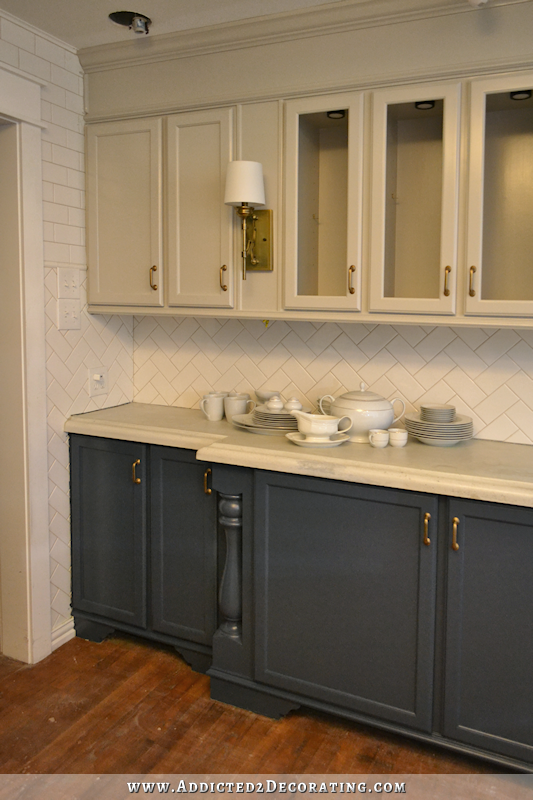 …but the rest are still green with gold accents. I'm filling the wood grain with TimberMate this time, and I ran out of it so I had to order more. I didn't realize it, but Amazon cancelled my first order. So I was waiting and waiting for something that wasn't even on its way. I finally realized it had been a while, checked my order, realized it was cancelled for some unknown reason, and placed another order. It arrived just yesterday, so now I'm ready to finish this up.
I think I can get that done in four days, not including the breakfast room side of the peninsula. That leaves me with 11 days.
Prime and paint the living room walls.
In case you missed it yesterday, I removed all of the picture frame moulding and chair rail from the living room walls. It left them in a complete mess…
But my drywall guys came yesterday and patched them up for me. This morning they look like this…
They'll come back today and do some sanding, and one more very light coat of drywall mud on any areas that need it. So by tomorrow, these walls will be ready for primer and paint. I'm thinking blue, but slightly darker than the Iceberg I've been considering lately. The blue that's just below Iceberg on the same paint strip is called Smoke.
I think I'll try that one, along with a few others that y'all have mentioned over the last couple of weeks.
Once I find the right color, it'll take me a day to prime and paint. That leaves me with 10 days.
Trim the doors and windows in the breakfast room.
The breakfast room still looks pretty much like this, except that the floor is cleaner, the walls and ceiling have been primed and painted, the recessed lights have trim kits on them, and the chandelier (the one from the front room when I was trying to make it a dining room) has been installed.
Oh, and there's no longer plastic hanging between the breakfast room and kitchen.
I've been waiting and waiting for the grasscloth (which now is on backorder until February) because I thought it would be so much easier to install it before I trimmed out the doors and windows. Well, I'm not waiting anymore…and certainly not until February. Even if I do decide to stick with my plan of using grasscloth in this room, I've watched several great videos on how to install it around door and window trim, so I think I can manage it. In the meantime, I'm ready for this room to start looking more finished, and door and window trim will do just that.
I think this will take me three days for installation, caulking, priming (if needed) and painting. Plus, I have to remove the side and top jambs on the cased opening between the breakfast room and kitchen, rip them down a bit, and reinstall them. Once all of the shiplap was removed from the breakfast room walls, the walls were much thinner (3/4 inch thinner) than I had expected, so the jambs are now too wide.
But yeah…I'll give myself three days on that. That leaves me with seven days.
Finish the living room draperies.
…and then I had to put that project away and get my living room walls ready for the drywall guys. I want these finished so that I can get them hung as soon as possible after I get the walls painted.
I'm not fast at all when it comes to sewing. I like to take my time and get it right, especially on something like draperies. I have one more single-width panel to make, and two double-width panels to make, so I think I can get those done in three days. That leaves me with four days.
Paint and upholster the breakfast room chairs
This isn't one of those "need to get it done now" projects, but it's a fun project that I've been looking forward to working on. I bought four of these Greyson side chairs from World Market at about half price…
…and that price allowed me to buy new fabric to reupholster them with, and still come out cheaper than the original chair price. With paint and new upholstery, I'll get a custom look for a very reasonable price. I think I can get all four chairs done in the remaining time.
So those are my end-of-year goals. We'll see just how far I get on them. 🙂 I'm generally completely unreasonable and lose all concept of time when I make lists of goals (Matt calls it Wonder Woman Syndrome), but I really think I've been reasonable this time on the time allowances for these projects. I think I can do it! 🙂
I'm going to start with trimming out the windows in the breakfast room today. The main reason I'm anxious to get that done first is because I've chosen my woven shades (more on that later) and I want to get them ordered ASAP. But I can't get the ordered until the windows have trim on them and I can actually get accurate measurements. I'm hoping to have those ordered by Monday.
But perhaps the first thing I should do is make some fresh iced tea and take some green tea extract. I have a feeling I'll need the caffeine and added energy boost these next 15 days. 🙂
Addicted 2 Decorating is where I share my DIY and decorating journey as I remodel and decorate the 1948 fixer upper that my husband, Matt, and I bought in 2013. Matt has M.S. and is unable to do physical work, so I do the majority of the work on the house by myself. You can learn more about me here.