Cerused Oak Dining Table (Table Makeover) – Finished!
I finished my cerused oak dining table, and I love how it turned out!  Here's a look at the top before and after…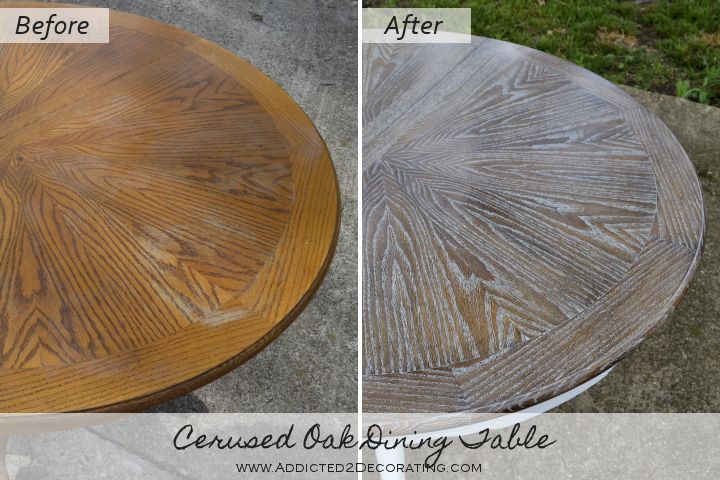 If you missed the first part of this project where I showed how I stripped and sanded the wood, and then wire brushed the grain, you can see it here…
That orange oak table with the sad dark grain has a fresh new, modern look with its not-so-orange stain color and white grain.
And here's a look at the whole table before and after…
I did go ahead and paint the apron and base white just because I didn't want anything competing for attention with that gorgeous cerused top.
I'm tellin' ya, I could stare at that top all day long. It turned out way better than I expected.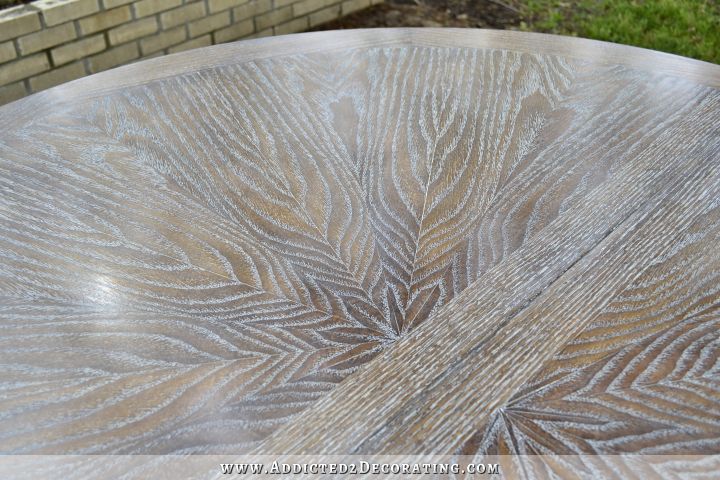 Okay, so let me back up and share the details of how I achieved this look.
How to ceruse wood — continued…
When I left off on Friday, I had just stripped and sanded the top.  Then I scrubbed the entire surface with a brass wire brush going the direction of the grain.  And I followed that with a coat of stain.  I used Minwax Jacobean stain on my table.  So after all of that, the table looked like this…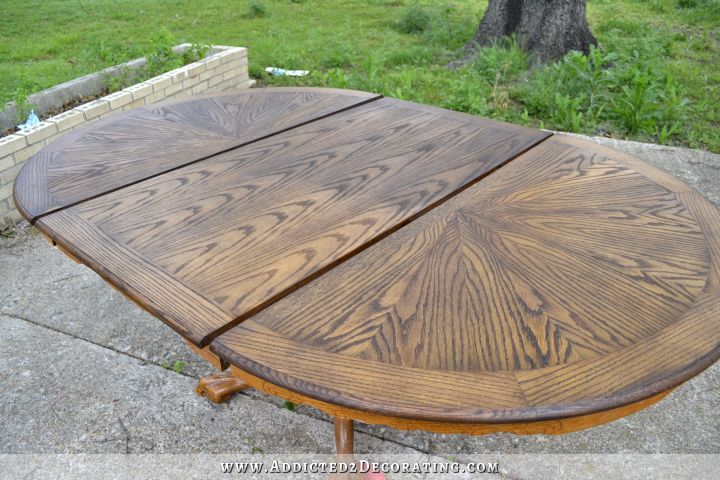 When the stain was dry, I scrubbed the surface one more time with the brass brush going in the direction of the grain. I applied medium pressure to the brush. In other words, I didn't put all of my muscle into it, but I also didn't baby it.
After that second scrubbing, I tried applying the liming wax.
It was actually a disaster at first. The liming wax seemed to stick where I didn't want it, but came out of the areas where I wanted it to stay as I scrubbed it with the steel wool. And I was scrubbing quite hard. I kind of panicked for a second. (And evidently when I panic, I scrub against the grain. Don't do that. Don't ever do that.) 🙂
Then I remembered that this one tutorial I found said that you have to shellac the surface before cerusing it. So I used some mineral spirits to remove the liming wax from that area, and shellacked the whole table using Zinsser Clear Shellac. It didn't really change the look of it at all.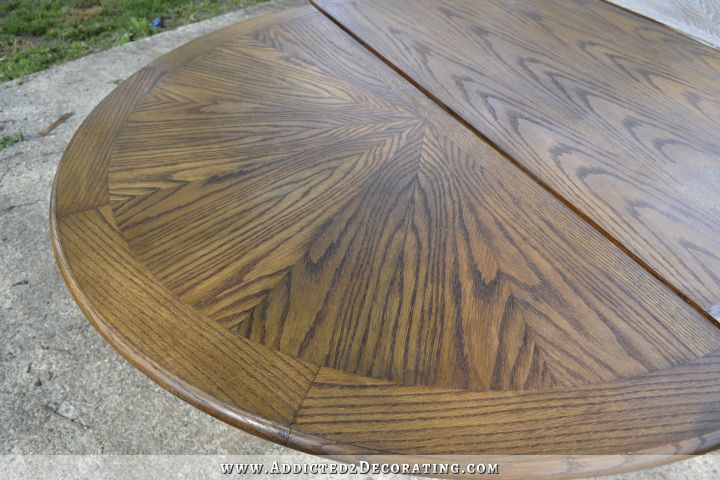 It dried in about an hour, and then I gave it a quick sanding with 220-grit sandpaper.
Then using a small scraper, I worked the liming wax down into the grain of the wood.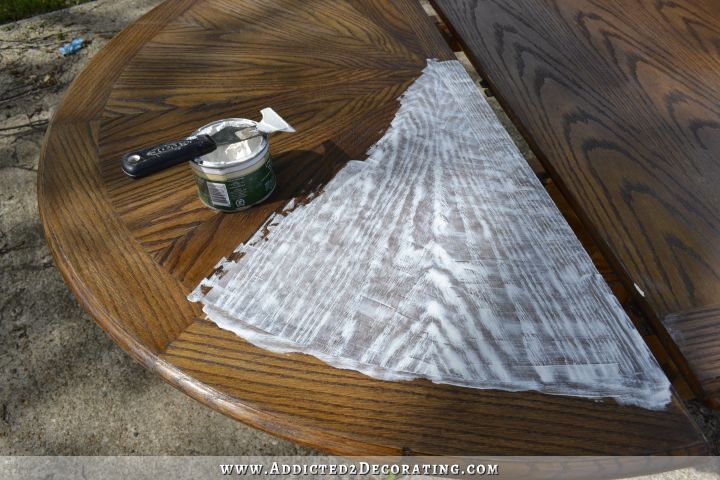 I covered 1/3 of the table at a time and then let it sit for a few minutes to dry a bit.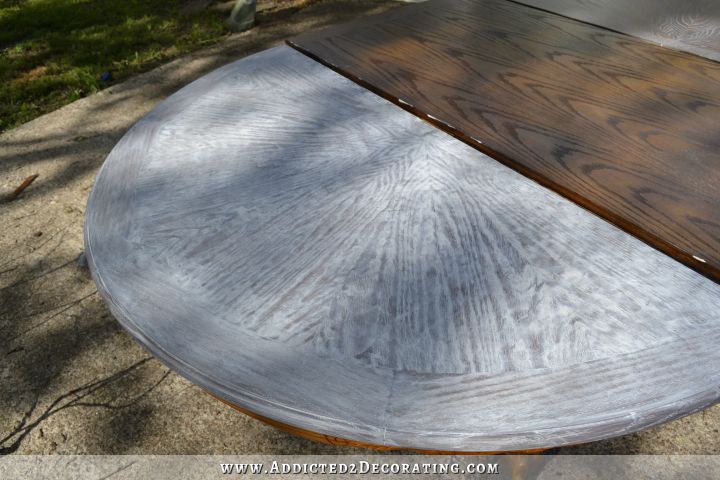 Then I used #0000 steel wool, which is evidently the finest steel wool available…
…and I began to scrub off the liming wax with the steel wool.
And I could see the wood grain pattern emerging. After I scrubbed the entire surface once with that first steel wool pad, it looked like this…
You can really take off as little or as much of the liming wax as you want. If you want the entire surface of the table to look limed, just don't take off as much of the liming wax. But if you want more of your stain color showing with the liming wax only settling in the grain of the wood (which is what I wanted), then grab a new steel wool pad and scrub the surface again. 
I used three pieces of steel wool on each section before I got it looking just like I wanted it.  (Steel wool is just like sandpaper — it'll get dull and fill up with dust/wax as you use it, and become less effective.  So you have to keep using new areas of the steel wool pad, and then eventually just use a new piece once that one gets dull and full of dust.)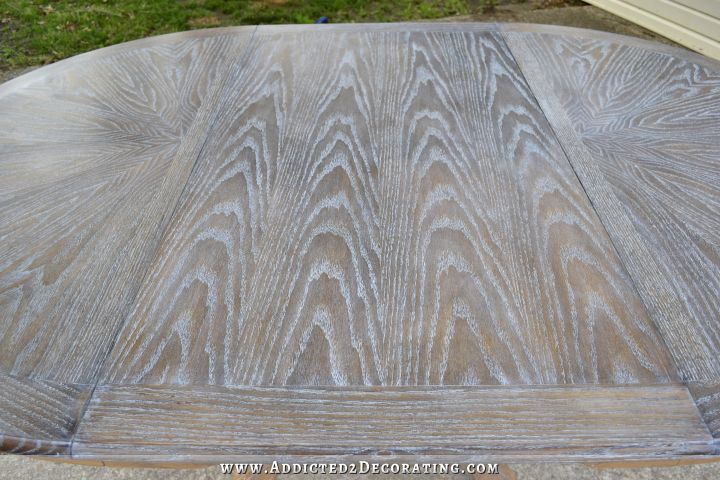 I won't be keeping the leaf in my table on a regular basis. That'll only be used if we have company and need the extra seating. So normally the table will look like this…
I love it! 🙂
But I wasn't loving the orange base with it, so obviously that needed some attention.
(That picture was taken before I had completely scrubbed the center section of the table with steel wool.)
The base of the table got my usual treatment — sanding with 150-grit sandpaper (by hand), and coat of Zinsser Primer, and then two coats of latex paint. I used a Behr color called Polar Bear, which is also what I used on my fireplace. It's my "go-to" white paint color.
And I also had some help with the priming — my 9-year-old niece Yaleana, who handles a paint brush better than most adults! The girl has DIY in her genes. 🙂
After the base was completely primed and painted, and after I had the top scrubbed with steel wool enough to suit my taste, I needed to seal the top.
I really debated over how I was going to seal the top. I do not like using water-based polyurethanes on surfaces that are used often (especially if there's any moisture involved), and we use this table for three meals a day. An oil-based poly would hold up much better to that kind of usage, but an oil-based poly would also be amber in color and will yellow more over time (as all oil-based products do). And I didn't want anything mucking up the bright white grain on my table top.
So I finally opted for a waxed finish using Minwax Paste Finishing Wax. It's very easy to use. You just rub it on with a clean cloth, wait about 15 minutes until it becomes dry and a bit cloudy, and then buff it with a clean cloth. It leaves a beautiful satin finish. It's not as durable as polyurethane, though, so I'll need to keep an eye on it and see if it needs to be waxed again in a few months.
But it gave the stained wood an even richer appearance, which I love.
On the apron and base, I sealed that with Annie Sloan clear wax. My reason for doing that is because the Minwax Paste Finishing Wax does have just the slightest bit of amber color to it, and I didn't want to take a chance on it dulling the white paint. Annie Sloan clear wax doesn't have any color to it at all, and it's specifically made for using over painted finishes.
Truth be told, I don't like the Annie Sloan wax nearly as much. Where the Minwax wax dries in 15 minutes or so and is ready for buffing, the Annie Sloan wax still felt just as waxy and freshly applied several hours later as it did when I first applied it. So I still haven't had a chance to buff it out. I've been told by several people that you need to wait about 24 hours before buffing it.
But other than buffing the apron and base, it's finished! And I love how it turned out. My very least favorite wood just might become my very favorite now that I know about cerusing. 🙂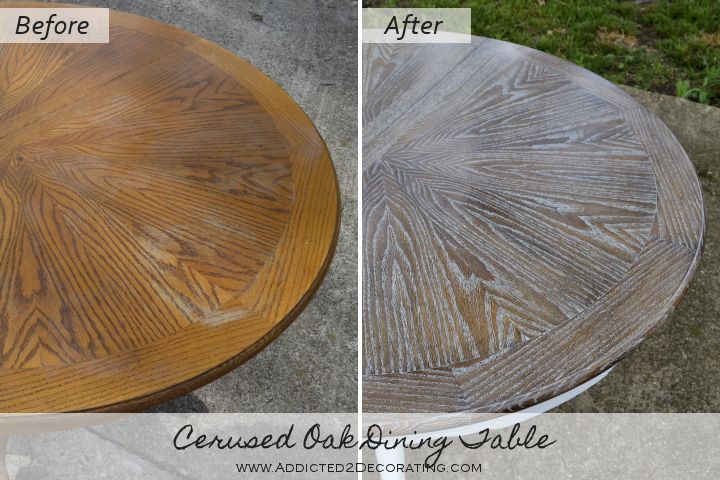 Helpful sources and products:
Addicted 2 Decorating is where I share my DIY and decorating journey as I remodel and decorate the 1948 fixer upper that my husband, Matt, and I bought in 2013. Matt has M.S. and is unable to do physical work, so I do the majority of the work on the house by myself. You can learn more about me here.