Three General Range Hood Cover Options For My Kitchen
Yesterday, I started removing kitchen cabinet doors and getting them ready for paint when I realized that on the range/refrigerator side of the kitchen, I actually need to build the range hood cover before I can paint the upper cabinets. There will probably be some minor modifications needed on the existing cabinets and trim, so obviously I need to get that done before I paint.
And to be quite honest, I have absolutely no idea what style of vent hood cover I want to build. There are three basic types that I'm considering: (1) one that's integrated into the cabinets and painted to match the cabinets, (2) one that's made of stained wood, and (3) one that's made of metal or made to look like metal.
What I like about the integrated vent hood covers that are painted to match the cabinets is that they add an interesting yet subtle detail that doesn't demand attention. They also have a very clean and refined look to them. This is one of my favorites…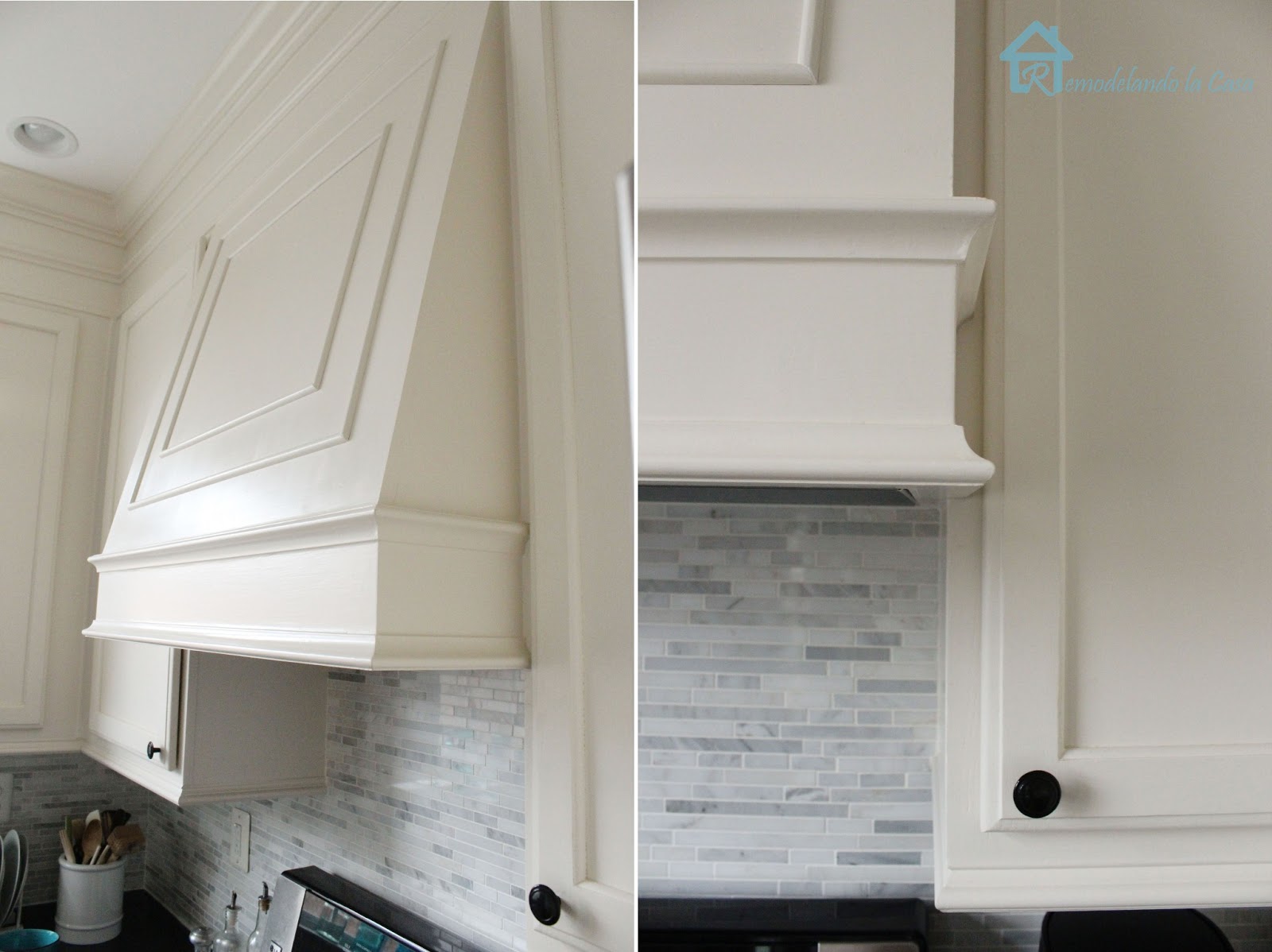 via Remodelando la Casa
I also really like the shape of this one…
The vent hood covers made of contrasting stained wood are also a favorite of mine. But for my house, I wouldn't want the wood looking too rustic. Of all the stained or natural wood vent hood covers I've seen, this one is my absolute favorite. It's made of walnut.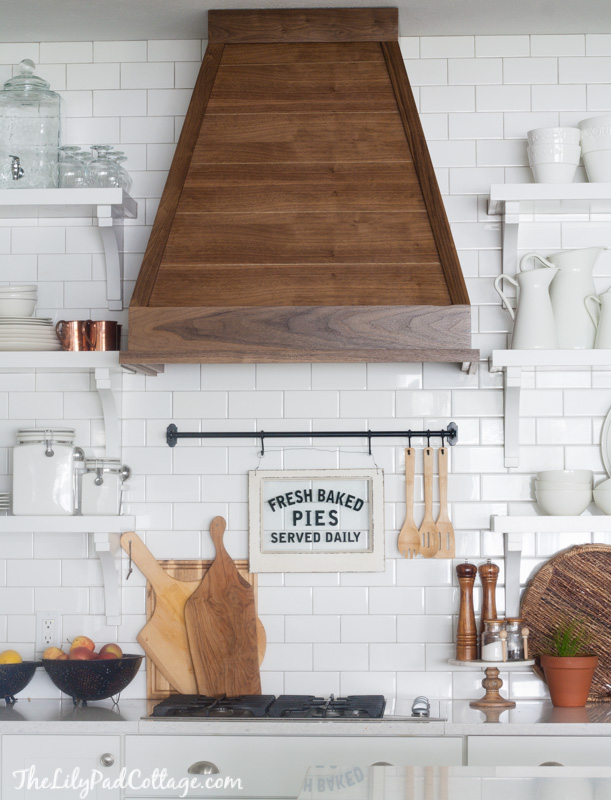 via The Lily Pad Cottage
Of course, I have cabinets on either side, and I'll be covering up cabinets above my vent hood (I won't be removing them), so mine can't be shaped exactly like that, but I do love that walnut.
This is another beauty (and check out that amazing wallpapered refrigerator!)…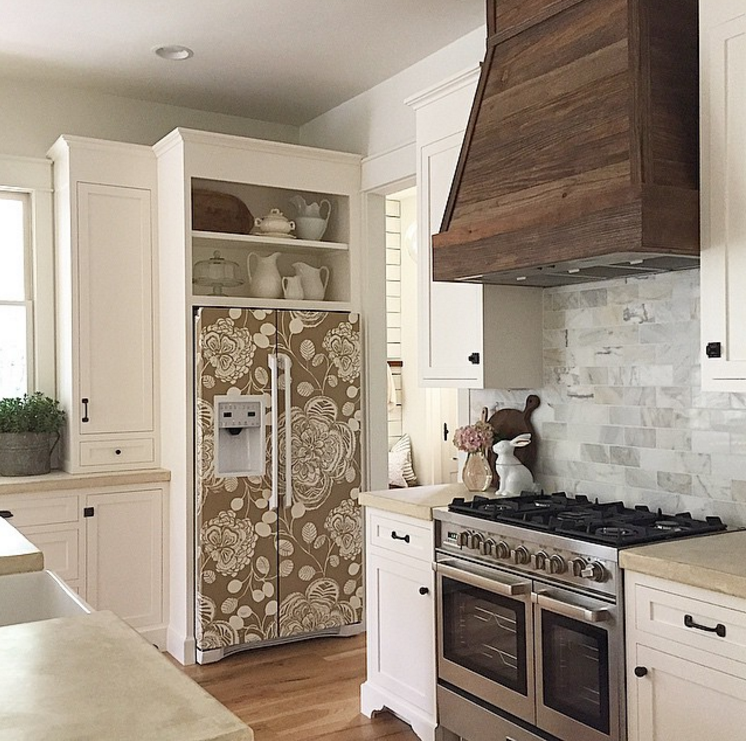 via Farmhouse For Four Instagram
That shape wouldn't work for me either, but at least we get the idea of what the wood looks like between cabinets. And I just keep imagining that the wood range hood cover with the teal cabinets will go a long way towards adding that warmth of wood that I love with the teal, like the warmth of the wood countertops that I had in my condo kitchen…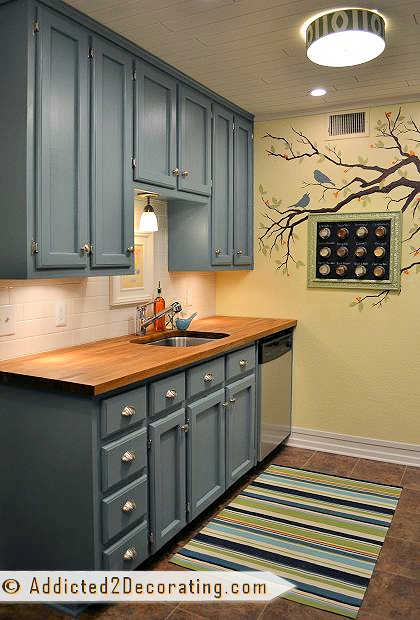 The third option would be to do either a metal range hood cover (which I'd have to have custom made since I don't do metal work), or build one out of wood and paint it to look like metal, like this one…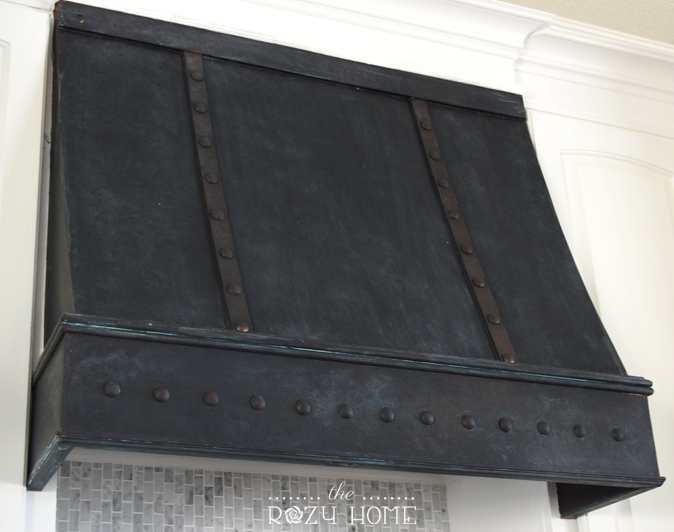 via The Rozy Home
That would bring in some of the dark gray that I'm using in other areas (e.g., my fireplace, doors, etc.) into the kitchen.
I don't even know how to make a choice. I like all three options. The integrated range hood painted the cabinet color is a much more refined look. The wood adds warmth to the room, and I'm looking for ways to add wood and warmth to my rooms. And the dark metal look brings some of that dark gray into my kitchen that coordinates with the other dark grays.
I literally have no favorite here. How in the world am I going to choose?
By the way, I made a small change to the finish on my breakfast room dining table yesterday, and it made a big difference. I added new pictures to the end of yesterday's post. Click here to see the change I made if you missed it.
Addicted 2 Decorating is where I share my DIY and decorating journey as I remodel and decorate the 1948 fixer upper that my husband, Matt, and I bought in 2013. Matt has M.S. and is unable to do physical work, so I do the majority of the work on the house by myself. You can learn more about me here.