Last Updated on December 24, 2015 by Kristi Linauer
I've read and re-read your comments on Monday's post about my dining room and pantry space planning, and I've finally come to a decision.  I almost kept it to myself and waited until I actually started working on it to share my decision with you, but I'm way too excited to keep it to myself!!  I think you'll be surprised.  I was!  It's completely different from anything that I've considered in the past.
Y'all had so many great ideas, and I really did read and consider almost every suggestion.  The only ones I didn't even consider at all were the ones suggesting that we use the music room as the dining room.  I really wasn't joking when I said that option would not work for us.  Here's how our house looks right now.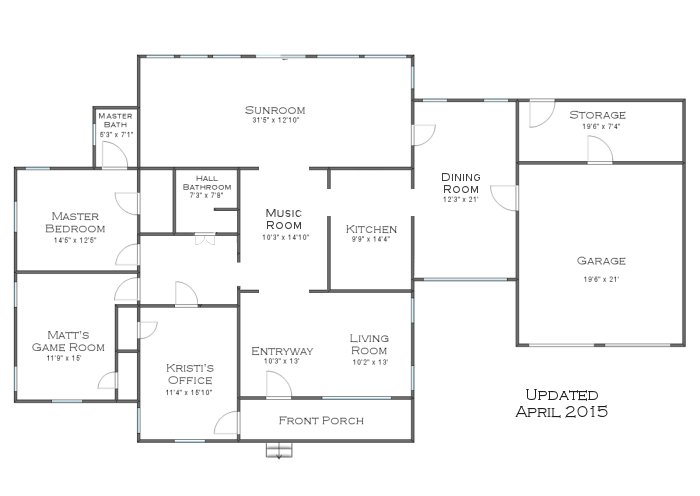 If I put a dining table surrounded by large upholstered dining chairs in the middle of a room that's right smack dab in the middle of our house, and that's just over 10 feet wide, that would make it impossible for Matt to easily get through that room to get to the kitchen or sunroom.  Designing a house that is both beautiful and useful for a person in a wheelchair requires some different thought processes than most homes require, and my goal is to make life a little easier for him.  I don't want to end up with rooms filled with obstacles that make maneuvering around  his own home incredibly challenging for him.  So that room really needs to stay open in the middle, which is why it's perfect for a music room.  My upright piano can go against one wall, and I can put a little seating area (two chairs and a side table) on the other wall, and leave the middle wide open for him to get through easily.
So even though that's the original dining room, and I do agree that a table and chairs would look stunning sitting just past the pony walls and columns, right in front of my rolling doors…
…that's not an option.
The option that I really loved was this one…
That would give me lots of storage at the back of the dining room, and it would probably look something like this…
via It's Always Something
That picture really got my wheels turning because many of you said that walking from the garage through two doors would be a pain, but I thought that I could make the actual entry/garage door be the one from the garage to the (now) storage room, and then I could turn the storage room into a mud room with a cased opening (no actual door) into the back of the dining room by the new built-ins.  That way, I'd just have to contend with one door as I bring in groceries.  And the freezer could go in the mud room.
I was really excited about this idea, and almost put my final stamp of approval on it, but something about it just didn't quite feel right.  Here were the thoughts and questions that kept me from jumping into this plan with both feet:
An entire wall of cabinets would be so much more expensive than what I had originally planned and wanted — open shelving inside a room behind a door that can be closed, where I can store dry goods, appliances I don't use every day, a broom and mop, etc.
Do I really want/need more cabinet-style storage?  That type of storage doesn't seem as easy and efficient as open shelving where I can easily store and get to large, heavy appliances, like our Champion juicer and other things I use only occasionally.
As much as it made sense, I really don't want to move the garage door/entry into that part of our home.  It's really very convenient to have a door that goes directly from the garage and is a straight shot right into the kitchen.  The other way — door into a mud room and through the back of the dining room — felt kind of like a maze.
Do I really need a mud room?  Nope.  Quite honestly, that would be a room that's more for pretty blog pictures and fun for me to design, rather than useful and practical.  We're in Texas.  We really have no need for a mud room.  What I desperately need is organized storage for all of my tools, so the storage room really needs to remain a useful part of the garage where I'll eventually have my workshop.
So those questions and thoughts really got me to thinking.  Plus, so many of you asked great questions that really made me stop and think, in practical terms, just how I wanted to use that area of our home.  My priorities are:.
Not necessarily for formal dining, but a place where Matt and I can eat all of our meals, which means it will be in use three times a day.
A comfortable place where I can work at the table on my laptop and enjoy the sunlight that pours through the front windows.
I want a t.v. in that room.  We don't have a t.v. in the house right now (except for a small one in Matt's game room), and we watch all of our shows on our computer.  The only times we watch shows are when we eat our meals, and right before we go to bed at night.  So for our lifestyle, it makes sense to have a t.v. in the room where we actually will be watching our shows.  Plus, I like the idea of having it mounted on the wall straight ahead as I'm standing at the kitchen sink.  So a t.v. mounted on the wall in that room is very practical for our lifestyle, but it really doesn't say "formal dining."
I want to keep the door into the garage right where it is.  The idea of it opening right into a dining room has really bothered me, but it's convenient and practical, both for me and Matt, so it really needs to stay.
I want a walk-in pantry.  As much as I tried to get on board with more of a butler's pantry with nice cabinetry, it's just not what I want, and it's not as efficient for what I want to use it for.
And then came the question that MANY of you have asked over the last few months, and when I really stopped and thought about it, it changed the whole course of my space planning.
Do I really need a front living room and a family room?
I've wanted both from the beginning, and it has just been engrained in my mind that that's the way it was going to be.  My mom has both a formal living room and a family room, and it was always so convenient and practical for her.  But the reason it worked for her was because she was self-employed (professional photography and photo restoration) and worked with clients, so when they would drop by the house, she would meet with them in the living room.  No matter what we had going on in the family room, and no matter what messes we had made, the living room was always very clean and inviting.
In my mind, I wanted that same thing — a place to visit with people who just happened to drop by unannounced, and a place that would always stay (relatively) clean no matter what messes we had going on in the family room.
But in the 17 months that we've lived here, the only people who have dropped by unannounced are door-to-door salesmen and Jehovah's Witnesses.  I have absolutely nothing against either door-to-door salesmen or Jehovah's Witnesses, but I don't make a habit of inviting them into my home to stay for a visit.  Other than that, all of the other people who come over are people who actually know me, and know that I'm working on remodeling my house.  So there's no need to keep them confined to a front formal living room since they'll want to have a look at my latest projects and progress anyway.  These are people who I would naturally invite into my family room, even if it was messy.
So no, I don't need both a formal living room and a family room.  What I do need is an informal eating space where Matt and I can enjoy daily meals and as we watch our shows, preferably with a more intimate and comfortable setting with a small-ish table and about four chairs, and then I want a dining area that can seat more people since I do have a large family and will eventually want to host meals at my house.
Phew!  That's a lot of words and a lot of explanation all to say….
The new plan is to turn the room by the kitchen into an informal breakfast room, with a large pantry at the back, and then turn the front living room into a formal dining room.
I'll eventually be adding a cased opening from the kitchen into the front room, which will now be the dining room.
Since the room to the side of the kitchen is now going to be an informal breakfast room, I have no issue at all with the garage door placement.
I'll be adding a large walk-in pantry at the back of the room with the open shelving storage that I wanted.
Since that room will now be a breakfast room and not a dining room, I have no problem at all closing up the doorway from the family room to the breakfast room and making the only access to the breakfast room through the kitchen.  Plus, it's just as easy to access the kitchen via the music room as it is to access it via the breakfast room.
That pantry will be large enough to house the freezer that I want, and since it will be off of a breakfast room and not a dining room, that doesn't seem strange to me at all to have the freezer in there.
I get to keep my storage room completely intact and used only for tool storage, which is what I need.
At first, I thought the idea of having the dining room right off of the entryway would be strange.  I mean, I've seen pictures and been in MANY homes where the dining room is just to the left or right of the entryway, but I always seemed to remember that the spaces were separated somehow — a cased opening, or columns, or even different flooring used in the two areas, or just something.  Mine won't have any kind of separation because anything like that would throw off the symmetry of the pony walls and columns.
But after looking for some other examples online, I realized that it's really not all that uncommon to have a wide open dining room, with no separation at all, right off to the left or right of an entryway.  It's not standard, but it's not completely unheard of either.  This is the best example I found.  I wish I could see it decorated, but even undecorated, it's clear that that area is the dining room.
Traditional Dining Room by Atlanta Home Builders Round Here Renovations, LLC
Here's another one, assuming that the picture was taken from the front door.
Traditional Dining Room by Chicago Interior Designers & Decorators Michael Abrams Limited
And another one…
Traditional Dining Room by Chicago Photographers Cynthia Lynn Photography
I even found a few examples with the dining room straight ahead when entering the home, with really no separation between the entry and dining room. Come to think of it, this is how my house was originally designed.
Farmhouse Dining Room
So I guess the lesson I've learned here is that you have to design and use your home in the way that makes the most sense to you and the people living in your home. Sometimes the rules and the original intent of the rooms in your house have to be pushed aside to make things work for your family.
For the last 17 months, I've been trying to force ideas and designs that made sense in my mind, but didn't necessarily make practical sense for us. It's taken me over a year to finally figure it out. And I guess it took me over a year of living in the house and seeing how we actually use the different spaces, but I think this is the plan that will work for us!
I'm very excited to turn that front living room into a beautiful and inviting dining room, but I'm even more excited about getting started on our little breakfast room that we'll be using every single day.
Addicted 2 Decorating is where I share my DIY and decorating journey as I remodel and decorate the 1948 fixer upper that my husband, Matt, and I bought in 2013. Matt has M.S. and is unable to do physical work, so I do the majority of the work on the house by myself. You can learn more about me here.
I hope you'll join me on my DIY and decorating journey! If you want to follow my projects and progress, you can subscribe below and have each new post delivered to your email inbox. That way you'll never miss a thing!