Last Updated on December 24, 2015 by Kristi Linauer
Scattered.  That's how my brain feels today.  And that's probably how this post is going to seem.
First of all, y'all are awesome.  I often feel so blessed by the support and encouragement of the people who read my blog, and yesterday's post was certainly no exception.  I read every single comment (except for the newest ones on Facebook, which I'll get to as soon as I publish this post), and was just blown away by your kindness, and genuinely encouraged both by those of you who shared your own struggle and by those of you who shared your victory over your own similar struggle.  Blessed.  I just feel incredibly blessed today.
Now back to DIY, right?  🙂
I'll admit, I'm just having a hard week.  Our house just has this air of sadness and loss about it (even my cat Peeve seems depressed and walks around the house howling and looking for Powder), and it has been really hard for me to get motivated to do much of anything.  But despite that, I've gotten all but one of the cabinets door and drawer fronts gold leafed and polyurethaned.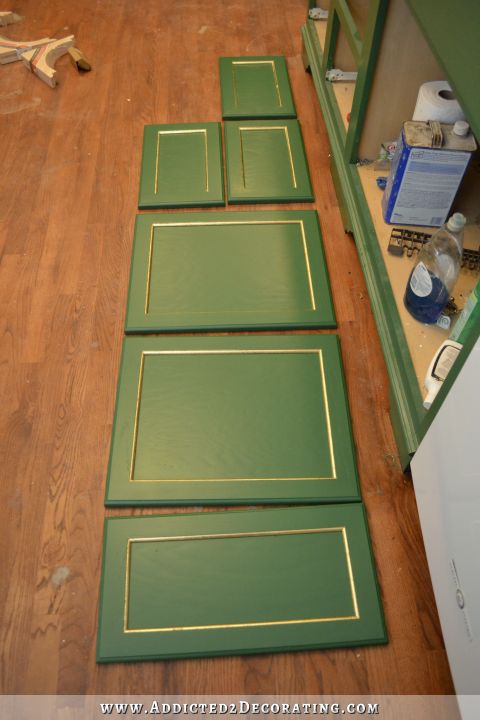 I'm so close to finishing the kitchen side of that peninsula.  So close!
As I was cleaning up in the kitchen, organizing tools and getting things organized so that I could get back to work on the remodel, I came across all of the original corbels that I had purchased, and that were ruined in the rain right alongside my cabinet doors and drawer fronts.  I was just about to throw them away, and I just couldn't do it.  I knew there was something that could be done with them, and I just needed to get creative.
Well, I've got it.  The corbels are no longer 90-degree angles, but each individual side still seems to be straight.  So I'm going to cut off each side like this…
…and I'll discard the corners.  Then I'll use the side pieces with the fancy cuts on the end as individual small corbels on some very shallow gallery shelves.  Or I might even make something like this shelf that I came across just this morning from Simple Southern Charm.  (Link includes great step-by-step DIY instructions, by the way.)
So we'll see.  But I just can't bring myself to throw them out.  I'm thinking some gallery shelves might look great on the back wall of the breakfast room between the two windows.  Or if there's not enough room there, I can do them on the long wall to the left of the door leading to the garage.
And speaking of the breakfast room, I've gone around and around in my head regarding the walls in that room.  I have a very specific look that I want to achieve.  I do not want "planked" walls (i.e, walls covered in strips of MDF or regular lumber).  I literally want walls that look like wood siding, because that's what was original to the wall that used to be the exterior of the garage (the original siding is still there), and I want to stay with that look and continue it throughout the entire room just as a subtle nod to the fact that that room was originally an exterior part of the house with a covered breezeway that connected the house to the garage.
The problem has been finding siding that I actually like.  I came across this at Home Depot, and it seems to be the only siding that's even close to what I'm imagining that they carry in stock.
But I'm just not sure about that texture.
Lowe's carries James Hardie cement lap siding in stock here.
But again with that texture.  I just don't know if I love it for interior use.  For exterior use, I'd go with James Hardie siding without question.  But do I really want cement siding on my interior walls?  That just seems like overkill.  I want wood.  Real, solid wood siding.  But it looks like real wood siding is pretty hard to find around this area.
I always get so irritated with myself when I have a clear vision of what I want before I start shopping, because finding that exact thing to fit my vision almost always seems like an impossible task, and then any choice feels like I'm settling.  Know what I mean?  Hopefully I'll come across the perfect solution for those walls.
Back to the kitchen today.  I'm hoping today is the day that I can finally get that peninsula finished.
EDIT:  Home Depot does carry exactly what I'm looking for, but they don't sell it in any of their Texas stores, and it doesn't look like it's available for shipping.  I want this shiplap siding.  This is almost exactly like the siding that is original to my house.
I'm sure I can find it somewhere else — either locally or somewhere online that's willing to ship — so it'll just take some searching on my part.
Addicted 2 Decorating is where I share my DIY and decorating journey as I remodel and decorate the 1948 fixer upper that my husband, Matt, and I bought in 2013. Matt has M.S. and is unable to do physical work, so I do the majority of the work on the house by myself. You can learn more about me here.
I hope you'll join me on my DIY and decorating journey! If you want to follow my projects and progress, you can subscribe below and have each new post delivered to your email inbox. That way you'll never miss a thing!