Built-In Bookcases & Daybed – Part 1 (The Basic Bookcase Build)
I made quite a bit of headway on the built-in bookcases in my niece's bedroom this weekend.  I still have a lot of building ahead of me, but here's how things are looking so far…
All of the built-ins will be painted white, but I still have quite a bit of work to do before I'm ready to paint.
I decided to add a cute little scalloped design to the top of the bookcases.  I made that decision after coming across this trundle bed with the scalloped design and deciding that I want to do my niece's trundle bed the same way.
via Rosenberry Rooms
So I decided to incorporate the scallops into the bookcase design as well since it's all one big custom built-in.
Anyway, here are the details on how I built the bookcases…
My mom plans to remove the carpet upstairs and replace it with a floor that looks like hardwood at some point in the future, but that's not in the budget just yet.  Since that is in her future plans, I didn't want to build these bookcases on top of carpet.  So while I started building the bases, my mom used the piece of MDF that we had cut for the bottom, which was the exact finished width and depth of the bookcase, and used it as a pattern to cut away the carpet.  She used a very sharp carpet knife* and it worked perfectly.
While she was doing that, I built the bases for the bookcases out of 2 x 4's.  I put it together using wood glue and 3-inch wood screws.
After I built the first base, I decided that I wanted it just a little bit taller, so I cut some "feet" from scrap 2 x 4 and attached those to the bottom using wood glue and 16 gauge nails.  That made it the perfect height.  (There's no "correct" height.  It's just a matter of personal taste and design.)
Next, I built a basic box (with a twist, as you can see) out of MDF.  The back and the side against the wall are 1/2″ MDF, which I used because it's cheaper and the wall gives it support.  For the non-wall side, the top, and the bottom, I used 3/4″ MDF.  I put the box together using wood glue and 1.5″ 16-gauge nails in my nail gun.
As you'll notice, the non-wall side of the bookcase comes up higher.
You don't have to build this way.  I did it this way because I knew I wanted a pretty tall, scalloped rail at the top of the bookcase, and one thing I don't like is a bunch of dead space behind the top rail inside a bookcase.  So I built this with the top lowered.  That way, there wouldn't be several inches of dead space behind the tall scalloped rail at the top.
However…
I couldn't build the non-wall side that low, because there would be a big visible gap between the top of the bookcase and the ceiling — a gap way too big to cover with crown moulding.  The top rail will cover the gap on the front, but there's nothing on the side to cover a gap that large.  So the side piece had to go all the way up, close enough to the ceiling so that any gap present would be covered when the crown moulding goes on.
Make sense?  🙂  If not, I think it will later on in this post.  And do keep in mind that this is purely a style decision based on my desire for a tall scalloped top rail, and my dislike of lots of dead space behind top rails.  If I were just using a standard rail (generally something like a 1″ x 3″ or a 1″ x 4″ instead of the 1″ x 8″ that I used), or if I weren't bothered by dead space behind tall top rails, I could have built a very simple box, with with the back, sides, and top all the same height, that all came up to within an inch or two from the ceiling.  The main thing is that you just have to be very sure that any gap at the top of the side piece (or side pieces, if you're not building against a side wall and both sides will show) is small enough that it can be covered by crown moulding.
And just one more little detail…
Sometimes when nailing the pieces together, I might have a nail or two that shows on the inside of the bookcase.  This is especially easy to do when nailing into the edges of those thin 1/2″ MDF pieces.
And once again, this is a job where my Dremel Multi-Max* comes in handy.  I'm telling you, this is one of the best tools I've ever bought.  I find myself reaching for it so often that I wonder how in the world I went without it for so long.
Here's how things looked with the bases and basic bookcase boxes built.
Beautiful, right?!  😀  Okay, not quite yet, but it will be!
The next step was to install the braces for the shelves.  There are several ways you can install shelves (e.g., using a Kreg Jig), but this is my method of choice because it's effective and it's the easiest, in my humble opinion.  First I measured and marked where I wanted each shelf, and then I cut pieces of shoe moulding and attached it to the inside on all three sides.
I installed it with the flat part up, and the tapered side down.  This creates a perfect support for the shelf.  I always miter the corners where the pieces meet since that will show and they need to look nice.  The small gap at the front of the side pieces won't show once the stiles are attached.  I attached these pieces using wood glue and 1-inch 16-gauge nails.
Since I used 3/4-inch MDF for the non-wall side pieces, the 1-inch nails worked perfectly.  But if you're using thinner MDF or plywood, then you'll obviously need to adjust the length of nail you use so that your nails won't shoot out of the side of the bookcase. You can also use quarter round for the supports, but I prefer the thinner profile of shoe moulding.
With the supports all attached, I then placed the shelves right on top.  I did use wood glue to attach the shelves, but there's really no need to nail them, although you can if you want to.
And here's how the two bookcases looked at this point…
Starting to look more and more like real bookcases!  🙂
And finally, I attached the stiles and rails to the front.  This is my favorite part because this is where it really starts to look nice.  And do keep in mind that it's always better to use real wood lumber for the stiles and rails.  These pieces lend a great deal of support to the structure of the bookcase and the strength of the shelves, and you'll get the most strength from real wood lumber.  If you use MDF boards, your shelves won't be nearly as strong, and they could start to bow over time.
I attached the side stiles first, and for these I used 1 x 2's.
And you can see that both sides come up almost to the ceiling.  Again, I can't leave any gaps that are so large that they can't be covered with crown moulding.
And then I added the rails to the bookshelves, again using 1 x 2's.  I attached all of these using wood glue and 1.5-inch 16-gauge nails.
In order to make my top scalloped rails, I first had to make a pattern.  I started with a piece of paper (that red stuff that comes in the rolls from the paint aisle at Home Depot), and I marked a long straight line using painters tape.  Then I found a lid that was the size of the scallop I wanted, and I used painters tape to mark off how much of the circle I wanted to use for my scallops.  I wanted to use a little less than half of a circle.
And then as perfectly as possible, I lined up the bottom of the painters tape on each side of the lid with the bottom of the painters tape on the paper, and traced around the lid.  Then I moved the lid over, and repeated.  I repeated this until I had covered enough of the paper to make a complete pattern for my top rail.
And then slowly and meticulously, I cut out the scallop pattern.  Then I measured and marked for placement on my 1 x 8 board, and traced the pattern onto the board.
I carefully cut out the design using my jigsaw with a detail (curve) blade on it.
I can't stress this enough.  When cutting out designs like this with a jigsaw, you cannot use a regular blade.  Regular blades are too wide to maneuver around curves, and you'll be cursing your jigsaw (and me, probably 😀 ) before you even make it halfway around one curve.  In order to cut out designs like this, you must use a curve blade.  They're actually labeled "curve" and on the slow-to-fast scale (or the turtle-to-jackrabbit scale), it'll be on the slow/turtle end.  These blades are about 1/2 the width and 2/3 to 3/4 the length of regular jigsaw blades.
But regardless of how good your saw is, how fine your blade is, or how steady your hand is when cutting, there will be some clean up (i.e., sanding) to do once you've cut out the design.  Here's how mine looked right after cutting out the scalloped design.
I not only sanded the edges to clean them up, but I also slightly rounded the harsh corners.  There's actually a woodworking term for this.  It's called "breaking the edges,"  and really good, experienced woodworkers will actually have special tools to use for this so that their edges are all perfectly rounded.  But I'm not quite so picky, so I just use sandpaper and eyeball it.  🙂  You can see here that the scallop on the far right has the hard edge sanded off, while the other two still have the hard edges.
I actually do this to all of the rails and stiles, and any other hard edges (e.g., on edges of table tops, countertops, etc.), on everything I build.  It's one of those small details that I think really makes a big difference in the finished piece.
Here's how the whole scalloped design looked once all of the edges were sanded.
And here's a before and after so you can see the difference right next to each other.
Again, it's just one of those personal preference kind of things.  It's certainly not necessary to break the edges, and the amount of rounding you do on the edges is completely up to you.  If you don't trust your sanding skills to get uniform rounded edges (it really is impossible to get perfectly uniform edges just using your hand and a piece of sandpaper, so you have to be okay with "good enough," which I am 🙂 ), then you can always buy a tool that will make your edges perfectly uniform.
And here's my scalloped rail in place, attached the same way I attached all of the others.
I also attached the very bottom rails, and for those I used 1″ x 4″ lumber.
The gaps at the bottom of the bookcases will be covered by baseboards, and the ones at the top will be covered by crown moulding.
And that's it!  That's as far as I got this weekend…
I still need to attach those decorative "wings" to the bookcases (that act as part of the bed frame).  And then I need to build the bed frame, the drawers, and the trundle bed.  There's a lot left to do, and I'd be very surprised if it actually gets finished this week.  But I'll certainly try!
I did want to mention one thing just in case any of you may want to build your own bookcases, and want to use the process I used in this post.  This area at the bottom of the sides where the MDF meets the base made of 2 x 4's would be visible if I weren't building a bed frame between these two bookcases.
That's too tall to be covered with a baseboard, since any baseboard that comes up high enough to cover that would also cover up the entire front bottom rail.
Again, I'm not concerned about that since this will be hidden on my design.  But if you are building bookcases in an area where that bottom part will be exposed, then you'll need to make a few changes to the building process.  In fact, you'll need to build the bookcases like I built the closets at the condo, where the MDF went all the way to the floor, and the 2 x 4 (or 2 x 6 in that case) base sat inside the MDF.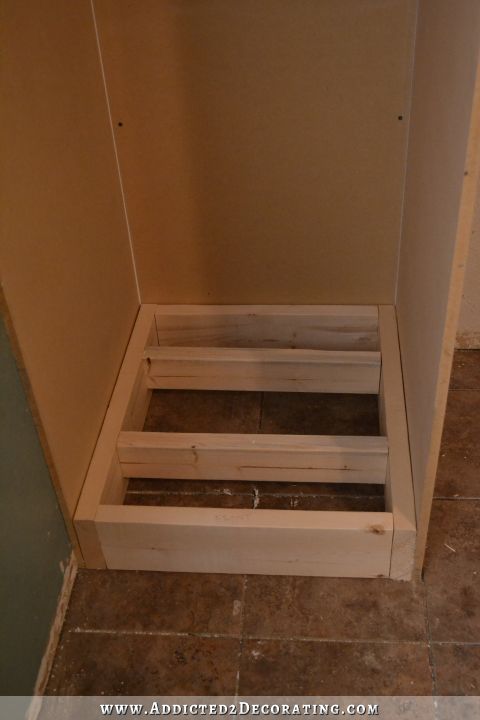 You can click here see more details on how I built those closets.
And speaking of the condo, it's under contract!  We got an offer last Monday for our full asking price.  I shared the good news on my Facebook page, but forgot to share it here for those of you who don't follow my FB page.  We're just praying that everything goes smoothly until closing!  🙂
*Post contains affiliate links.
Addicted 2 Decorating is where I share my DIY and decorating journey as I remodel and decorate the 1948 fixer upper that my husband, Matt, and I bought in 2013. Matt has M.S. and is unable to do physical work, so I do the majority of the work on the house by myself. You can learn more about me here.