DIY Hand Painted Framed Full-Length Mirror
Every young lady needs a full length mirror in her room, so I wanted to make something special for my niece's room. My mom had two of those thick plate glass mirrors that are used in bathrooms and generally unframed, so I decided to turn one of those into a pretty framed full-length mirror.
The design on the frame was inspired by the floral bone inlay mirrors that I'm sure you've seen.
via One Kings Lane
via Anthropologie
I wasn't necessarily trying to make the mirror look like a bone inlay mirror. That's a pretty hard look to replicate, even if you have a stencil. My design was just simply inspired by those mirrors, but I wanted it to look have a hand-painted look to it.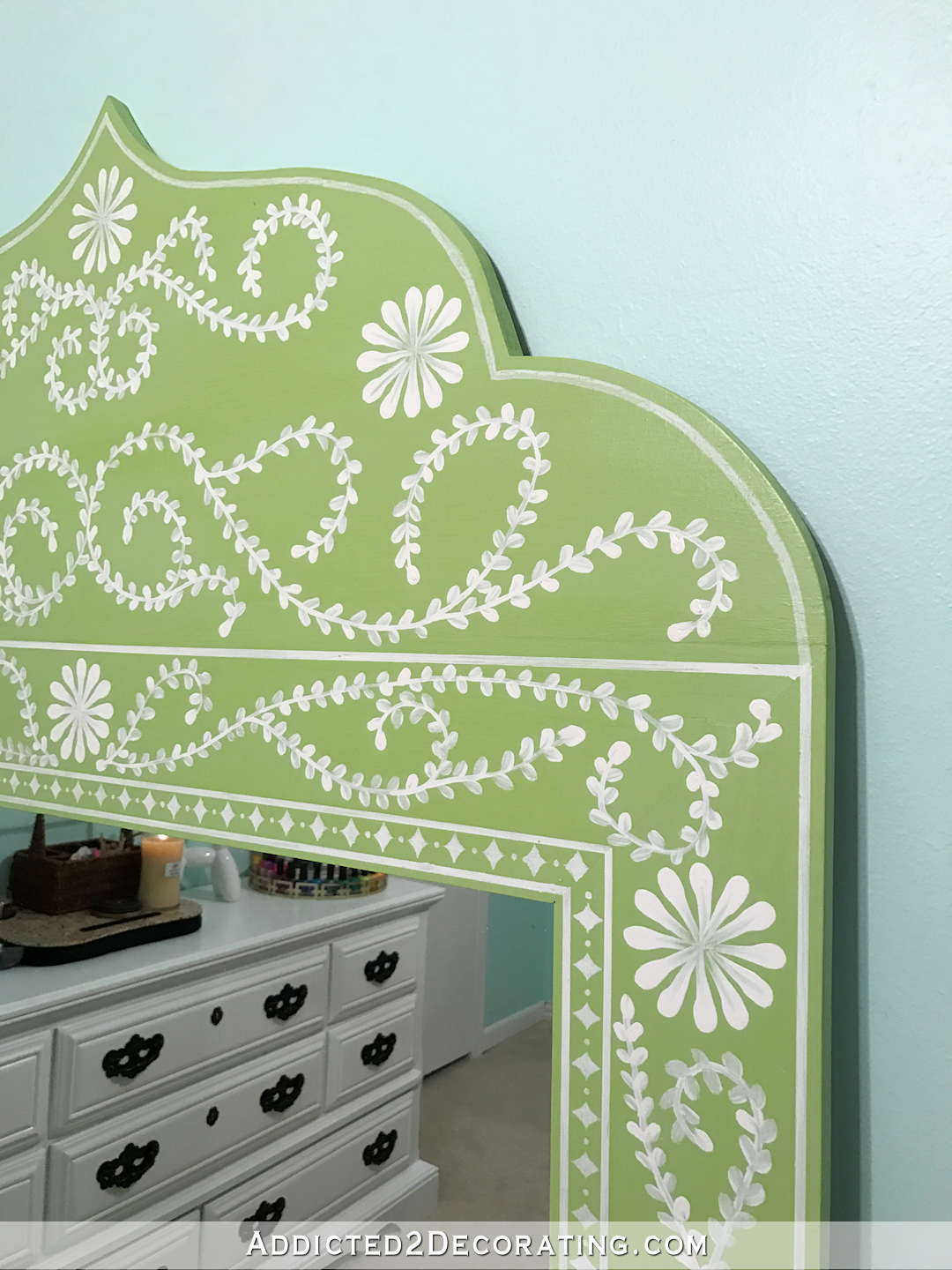 Here's how I did it:
Materials & Supplies:
— 4 lengths of 1 x 6 lumber
— large piece of 3/4″ plywood
— wood filler
— wood glue
— 1.25″ wood screws
— 4″ flat corner braces
— 4″ mending plates
— 5/8″ wood screws
— primer
— 220-grit sandpaper
— mirror mastic
— mirror clips
— green paint (I mixed 3 parts Behr Citrus Peel and 1 part Behr Polar Bear)
— white paint (Behr Polar Bear)
— small craft paint brushes
— stencil (optional)
— painters tape
— refillable acrylic paint pen in white
— Ook hangman cleat
Tools:
— Miter saw
— Kreg Jig
— Drill
— Phillips screwdriver bit
— Jigsaw
The Process:
I started by cutting the 1 x  6 pieces to the desired lengths to fit the mirror I was using (allowing for 1.5″ overlap of the mirror onto the frame on all four sides). I  mitered the corners with the miter saw, and then I attached the four pieces together into a frame using the Kreg Jig, wood glue, and 1.25″ screws. Then I reinforced the corners with two corner flat plates on each corner.
I cut the decorative curvy top out of 3/4″ plywood by just drawing a very simple freehand design and cutting it out with a jigsaw. Then I attached it to the top of the frame with a Kreg Jig, wood glue, 1.25″ wood screws, and 4″ mending plates.
After the frame was painted, the mirror was attached to the back of the frame (overlapping each side by 1.5 inches) using mirror mastic and mirror clips.
But before the mirror was attached, and before the frame was painted, I used wood filler on all of the corners as well as the line where the top decorative piece met the frame, and then sanded it as smoothly as possible. Then I primed any areas that were unprimed. Once that was dry, I gave it a quick sanding with 22o-grit sandpaper, and then started on the painting. I painted two coats of the green paint and let it dry completely before starting on the decorative painting.
I found this FolkArt stencil at Michael's to use for the diamond and dot design around the inside of the frame. And then for the straight lines on either side of the stenciled diamond and dot design, as well as the straight lines around the outside of the frame, I just used painters tape and taped off about 1/4″ lines and painted those.
For the outline around the curved decorative top, I used a refillable acrylic paint pen that I found at Michael's, and filled it with the Polar Bear paint that I was using for the design, watered down just a little bit. (Behr paint straight out of the can is too thick to use in a refillable paint pen.) I just drew that line on as best as I could to match the taped off lines around the frame, but you can see it's not perfect. But that's okay. The imperfection adds to the charm, right? 😀
The rest of the design was just a freehand design. I didn't have a pattern or stencil for it. I did use a pencil to lightly draw the design on first, and then went back over it with small craft brushes and paint.
TIP: If you draw your design on with a pencil and mess up, don't use the eraser! Just get a wet paper towel, wipe off the pencil marks, and start again.
To do the flowers, I first used the acrylic paint pen to draw a big asterisk, trying to get it as uniform in size on all sides as possible. Then I went back over the  lines with paint and a round paint brush.
For the vines, I started off with a pencil, and once I had the design just like I wanted it, I went over the pencil marks with the acrylic paint pen. I let that dry completely, wiped off the pencil marks with a wet paper towel, and then painted the vines on with a small brush and paint. When those were dry, I went back and added the leaves.
This was such a fun project — perfect for getting me out of my funk from the last week — and the most important thing is that my niece LOVED it! We still need to hang it on the wall, and I'll be using an Ook hangman cleat for that. Since we used a very thick, large mirror, it's very heavy, so I bought an Ook hangman cleat that holds 100 pounds. It definitely doesn't weigh 100 pounds, but I always go big on those cleats just to be on the safe side.
That's one big project down. I think we have two more big projects, and then just a few finishing touches, and my niece's room will be done!
Addicted 2 Decorating is where I share my DIY and decorating journey as I remodel and decorate the 1948 fixer upper that my husband, Matt, and I bought in 2013. Matt has M.S. and is unable to do physical work, so I do the majority of the work on the house by myself. You can learn more about me here.