Yaleana's Bedroom: It All Starts With A Large Flower Wall Mural
A couple of weeks ago, I told y'all that my mom and I are redecorating my 10-year-old neice's bedroom.  Well, Yaleana's bedroom makeover is finally underway!  Before we can get to any of the building projects, we needed to address the drab antique white walls.
A 10-year-old's bedroom can't have drab antique white walls!  So after my mom and brother got everything moved out, we gave them a coat of light aqua paint.  (I can't remember the name right now, but I'll get that info from my mom in case any of you want to know.)
With the walls painted, the next step was the large flower wall mural that will go behind Yaleana's bed, flanked by two built-in bookcases.  And since my mom is a very talented and capable artist (and I'm still plugging away at my bathroom remodel), I left this part completely in her hands.  I gave her some general guidelines (e.g., we want BIG flowers, and lots of color!), but other than that, I gave her creative license to create this mural.  And here's what she created…
Isn't that amazing?!  I can't wait to get this wall finished now.  Imagine the bed right in the middle — a twin bed arranged like a daybed with a wide upholstered headboard in a solid color.  And on each side, we'll have a built-in bookcase painted in the white trim color.  So cute!
And just to give you a real sense of the size of these flowers, here's my mom in action…
This wall mural went through quite an evolution, and there were many, MANY family text messages sent, with all of us weighing in on what needed to be added and tweaked.  She started off with flowers that were much less detailed (like the pink and green below), but she wasn't really thrilled with how those looked.  So she tried adding more detail to the yellow flower to see how that would look.
And then she decided to go bigger and bolder with the yellow.  She also tried this variation of leaves to fill in some of the white space…
Those leaves were nice, but then she tried this, drawn with a marker…
That version was definitely the winner!  It kind of reminds me of the Schumacher Birds & Butterflies wallpaper that I love so much.
In fact, when she texted that first picture of this version, I told her that's EXACTLY what I want on my walls (the marker bits, not the huge flowers).  Of course, I was hoping she would volunteer to do them for me since she's obviously so good at it and has the technique down.
Her response?  "Probably wouldn't be so hard.  Have fun with it. 😀 "  So I guess I'm on my own.  😀
In order to do the twig and leaf bits, she used one of these big markers…
I don't even think they make those markers anymore, but Sharpie has king size markers that are pretty much the same thing.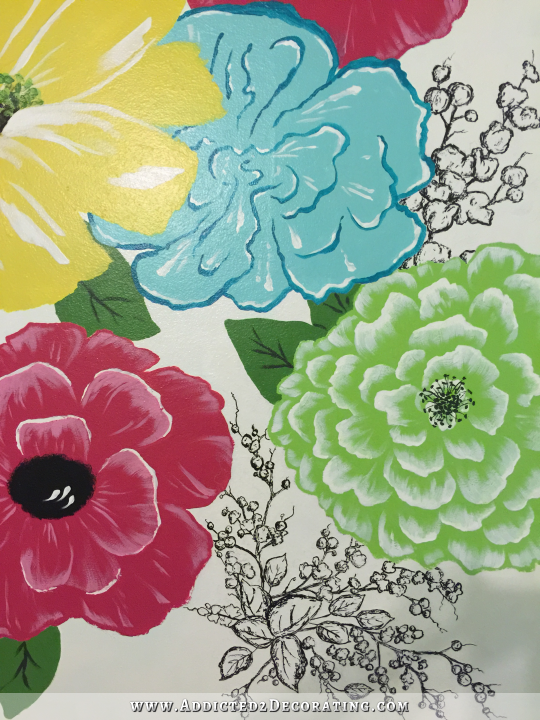 But one thing I love about my mom's twig and leaf drawings is the texture.  You can see that they're not solid black lines, and I think one thing that contributed to that look was the fact that she was using a very old (and somewhat dried out) marker.  A brand new king size Sharpie would be completely saturated with ink, and the lines would be much more solid.  So I'm not really sure how to re-create this look with a brand new marker.
Anyway, after a bit more drawing, and a whole lot more tweaking (you'll notice that the green flowers underwent a transformation also), it was finally finished!
I told my mom that I think we should turn this into a wallpaper mural and sell it.  Or we could make it into fabric.  🙂
And now we're ready for the next steps — the building of bookcases and upholstering a headboard.
Addicted 2 Decorating is where I share my DIY and decorating journey as I remodel and decorate the 1948 fixer upper that my husband, Matt, and I bought in 2013. Matt has M.S. and is unable to do physical work, so I do the majority of the work on the house by myself. You can learn more about me here.