Last Updated on April 18, 2019 by
The last time I showed you progress on my new cased opening from the dining room into the kitchen, it was kind of a mess. I had cut the new opening and did the rough framing to make the structure sound (which you can read about here), but I had a long way to go before it actually looked good.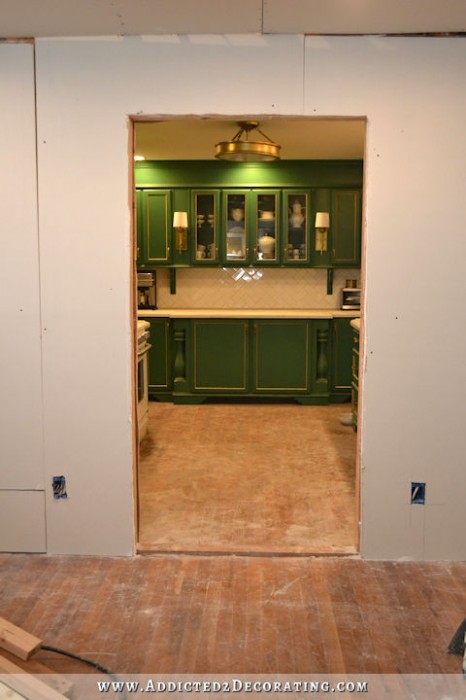 Last weekend I worked on patching the hardwood floor and finished that up (as much as I'm going to do for now anyway).  The day before yesterday, I installed the casing on the dining room side of the opening.  And then yesterday I worked on repairing the tile and installing the casing on the kitchen side of the opening.
Like everything else, all of the trim still needs to be wood filled, sanded, caulked, and painted, but I'm pretty excited about how it's looking so far! Here are a few pictures that I took last night after I finished up the picture frame molding on the left side of the opening.
Here's the (very poorly lit) view of the finished cased opening from straight on.  I'll get better daytime photos at some point, but this will do for now…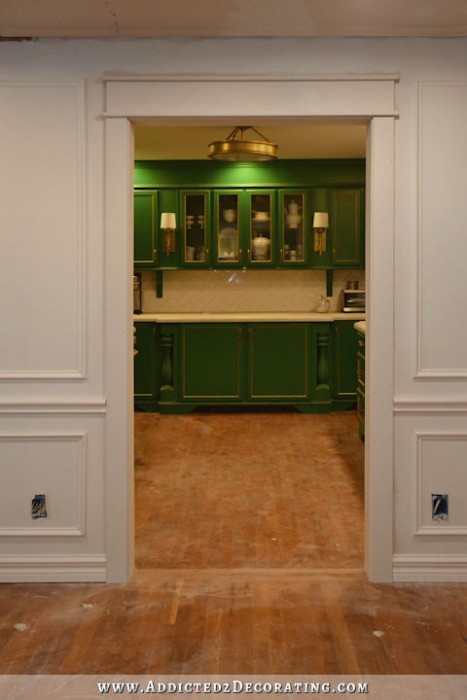 Please kindly overlook my filthy floor. 🙂 I'm not going to even try to get it clean until I'm completely finished with all of the drywall mudding and sanding in these rooms. I try my hardest to keep most of the dust vacuumed up as I go, but it still gets tracked all over the place.
And here's the view of the new cased opening from the front door of the house…
Again, I took these last night, so that back room (breakfast room and future pantry area) are dark, but during the day that room is filled with light. It's wonderful to be able to see all the way through those areas. This cased opening really made the house feel more open and spacious.
And finally, here's the view from the kitchen…
As I was taking that picture, I realized that I forgot to replace the baseboards that I removed on that wall. Oops! 😀
The hardest part of this whole thing wasn't cutting the doorway, or even repairing the tile on the kitchen side (which was actually the easiest part). The hardest part was having to patch the hardwood floor. After removing the wall, I had this base plate to contend with.
I used my reciprocating saw to cut through the base place right along the studs on each side of the opening.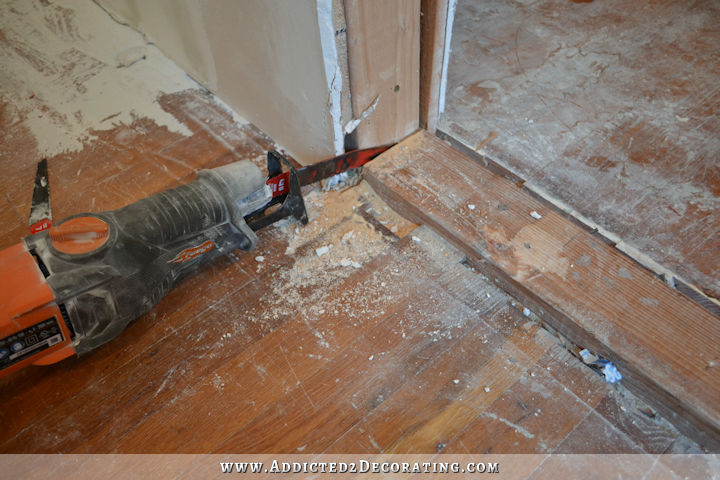 And then I used a prybar and hammer to remove that section. It took quite a bit of prying to get it out (those old nails didn't want to let go!), but it finally came out.
Since the original floorboards in the dining room and the new floorboards in the kitchen aren't perfectly aligned, there was no way to feather in new boards to make the floor continuous.
(Do you like how I said that as if I would have actually feathered in boards if only they had been lined up properly? 😀 Truth be told, there's no way in heck I would have tried to do that. The results would have been disastrous.)
So my only option was to make a transition strip between the dining room and kitchen.  Fortunately, I still had a bag of old flooring boards that I had removed from the closet in the original hallway bathroom.  I'm so glad I held on to those boards!  This is the second area I've patched with them, and I still have one more area that needs patching.  I glued and clamped three rows of boards together to make the transition strip, and cut them to the width of the doorway.
The hardest part of the whole thing was cutting the edges of the existing flooring straight and wide enough so that the transition strip would fit.  I'm not gonna lie…it wasn't really smooth sailing.  It was frustrating and difficult.  I used both the reciprocating saw and the Dremel Multi-Max to get the job done.  In hindsight, I wish I had just gone to Home Depot and purchased one of those tiny circular saws.  That would have made quick work of it and would have made straighter, nicer cuts, but I wasn't in a money-spending mood that day, so I managed to get it done with the tools I had.
I secured the transition strip with glue (lots and lots of glue), and I also face-nailed some of the boards. I hate having to face-nail flooring boards, but sometimes there's just not another way to do it.
I had some pretty significant gaps, so I used this wood filler to fill them.
I did quite a bit of research to find the best wood filler for hardwood floors, and this one had great reviews on Amazon, so I went for it.  It's unlike any other wood filler I've ever used.  It's very dense and hard (almost like a molding clay), and it stinks.  In fact, it smells like formaldehyde, and as soon as I opened the container, I was taken back to my high school biology class when I had to dissect a cat.  🙁
Anyway, it got the job done, and of course, the smell went away. I used a very generous amount of the wood filler, and let it dry for a couple of days before sanding the area down. And sanding it down took some effort since the boards were old and not perfectly aligned. I actually had to start with 50-grit sandpaper on my belt sander to get everything sanded smooth. Then I finished up with 150-grit sandpaper on my rotary sander.
I thought it looked pretty good at that point! I was actually pleasantly surprised.
If you'll remember, the kitchen has new red oak flooring, and the rest of the house has decades-old red oak flooring. Even though they're the same wood, they don't look the same when treated with Waterlox. So back when I remodeled the kitchen, I actually had to stain the kitchen floor to match the rest of the house. I taped off the transition strip, and then carefully tried to touch up the stain on the kitchen floor. It's not perfect, but I'll work with it later and see if I can get it looking a bit better.
(I have no idea why the kitchen floor and the dining room floor look so completely different in color in the above picture. You'll see in these next photos that they're really more similar in color.)
Then I used a paper towel to rub a light coat of Waterlox onto the old flooring boards.  Waterlox takes about three coats, and sometimes four, to reach its full depth of color, so that area is still looking really light with its one thin coat of Waterlox.
But that's as much as I'm going to do for now.  As soon as I get through with all of the construction-type projects in here, and I'm ready to start on decorating projects, I plan to give the whole floor a quick spot-sanding to remove any scratches and scuffs, and then I'm going to give the entire floor a new coat of Waterlox.  So I'll give this transition area more attention at that point, and make sure it has all of the coats needed to reach its full depth of color and blend in with the rest of the floor.
Once the transition piece was finished, I could focus on framing out the doorway.  The dining room side was easy, but the kitchen side required an extra step since I had to repair the tile.  That part was pretty easy and only took me about 45 minutes.  Here's how it looked after I repaired the tile, and before I added the door casing.
The whole cased opening project was a lot of work, but it was SO worth it!!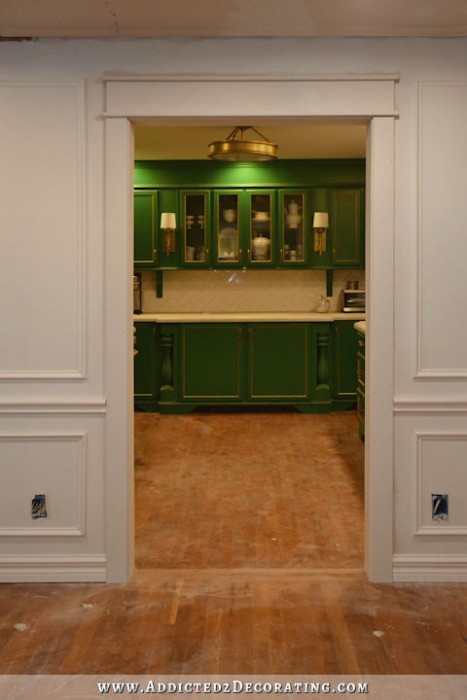 It just feels like a doorway was meant to be there, right?  🙂
Addicted 2 Decorating is where I share my DIY and decorating journey as I remodel and decorate the 1948 fixer upper that my husband, Matt, and I bought in 2013. Matt has M.S. and is unable to do physical work, so I do the majority of the work on the house by myself. You can learn more about me here.
I hope you'll join me on my DIY and decorating journey! If you want to follow my projects and progress, you can subscribe below and have each new post delivered to your email inbox. That way you'll never miss a thing!