How To Install Picture Frame Molding (The Easiest Wainscoting Style Ever!)
I've made quite a bit more progress on my dining room walls!  In fact, I would have had most of the wall molding installation finished yesterday (excluding the parts around the windows that will soon be replaced) except that the Home Depot that I always go to was completely out of the molding that I'm using to create my wall frames.
Anyway, I'm so glad that I went with this style for these rooms, because this the absolute easiest wainscoting (or faux wainscoting, as the case may be) style I've ever installed. It takes a fraction of the time that the recessed panel wainscoting takes, and I think if I had chosen to use the recessed panel style in these rooms, I would be pulling my hair out by now. I'd probably still be working on the entryway wall. 😀
Here's how to install picture frame molding the absolute easiest, most foolproof way.
I started by installing my baseboard and chair rail.  These will be the guide for installing the picture frame molding, so it's imperative that each of these is installed level.  Don't try to eyeball it!
I installed those using construction adhesive (Loctite) and 2-inch 16 gauge finishing nails in my nail gun. My drywall has shiplap behind it, so no matter where I nail, those nails are going to go into solid wood. If your drywall is installed directly on the studs, then you'll want to use a stud finder to make sure some of your nails are going into the studs.
Then I used a scrap piece of 1″ x 4″ lumber as a guide to mark for the inside frame. I just pushed it right up against the door casing, baseboard, chair rail, and side wall, and marked the inside edge of the board.
I ended up with a perfectly spaced and centered rectangle for my picture frame molding.  This also makes it incredibly easy to use a tape measure to measure the exact height and width needed for the frame pieces.  This completely eliminates all guesswork (and possible miscalculations for math-challenged people like myself).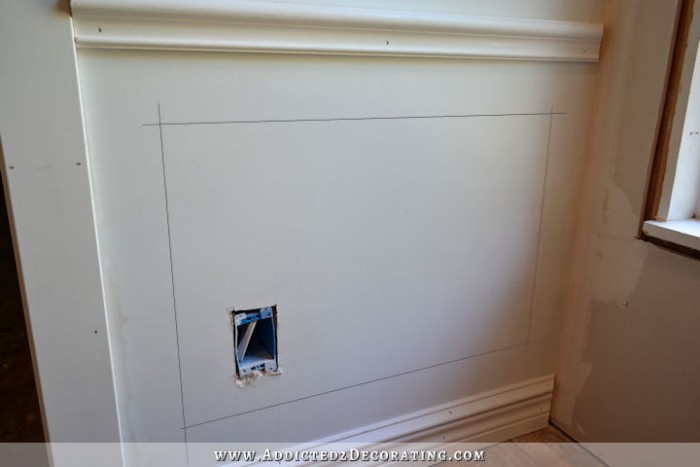 I used those measurements to cut out the pieces for the frame, and then I pre-assembled the whole frame using wood glue and 1″ 18-gauge finishing nails.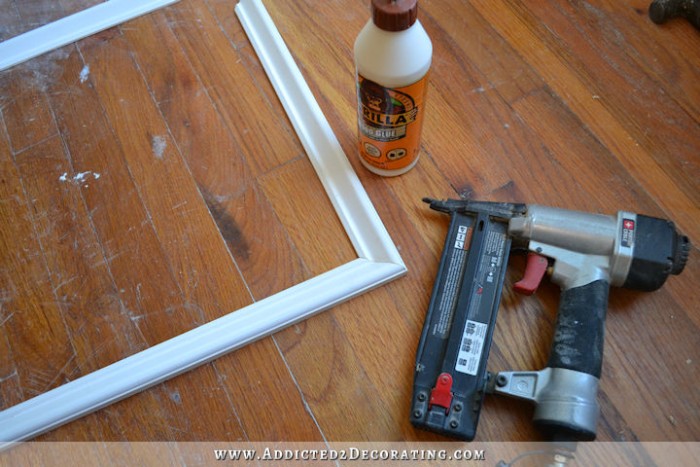 Pre-assembling the frame before attaching it to the wall (rather than attaching it to the wall piece-by-piece using a level) eliminates the possibility of ending up with corners that are less than perfect and needing to be filled with caulk. I'll still caulk the corners on these, but using this method, I don't have have to deal with slightly misaligned corners or corners with small gaps. They're all perfectly mitered and fitted together.
Then using the guide lines that I drew on the wall, I attached the frame using construction adhesive and 18-gauge finishing nails.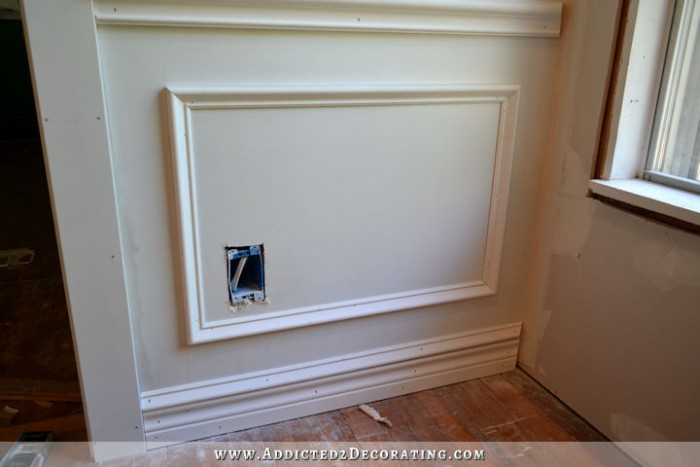 For the upper panels, I figured how tall they all needed to be based on the height of my crown molding (and since that's not installed yet, I actually had to do math…yikes!).  Then I used my scrap lumber spacer to just mark the bottom and the sides (about half way up).  I pre-assembled the top frames just like I did the lower frames.  And since these are bigger and flimsier, I just kept my spacer sitting right on top of the chair rail so that I could set the frame right on top while making minor adjustments.
I aligned the bottom corners with the pencil marks, and nailed the bottom piece to the wall. But I didn't strictly rely on the pencil marks for the sides of the upper panels. Instead, once the bottom piece was aligned with the marks and nailed to the wall, I used a level on the sides before nailing them to the wall.
The long entryway wall, where I used several picture frames in a row, also required a bit of math. I still used my spacer to mark around the side walls, chair rail, and baseboard. But then I had to figure where the individual panels needed to stop and start.
I knew I wanted five panels, and I knew that my spacer was 3 1/2 inches wide. With five panels, I would have six spaces, and six spaces at 3.5 inches wide gave me a total of 21 inches needed for the spaces between the picture frames. So I subtracted 21 inches from the total wall width (152 inches) and then divided that number by 5 to arrive at the width needed for each picture frame.
152 inches (total wall width) – 21 inches (total width needed for spacing) = 131 inches / 5 panels = 26.2 inches wide for each panel
With that measurement, I then used my spacer and level to mark the spacing for the panels.
I actually did the two outside panels on each side first, and I just measured and marked them at 26.25 inches (for the sake of simplicity). Then I did the center panel last. It ended up being a tiny bit smaller, but I was okay with that.
So that long wall with the multiple panels required a bit more math, but once I had all of my marks drawn, the rest of the process was exactly the same.
And that's it! It's so simple! And so beautiful, in my humble opinion. 🙂
Oh, and I had a few people ask me what kind of molding I used for my picture frames.  I studied probably a hundred different pictures of picture frame molding wainscoting on Houzz and Pinterest, agonizing over the decision of what kind of molding to use.  I finally decided to use this base cap molding (one of my go-to moldings that I like to use) since I've already used it in other areas.  It's what I used to dress up the panels on my fireplace, and it's also what I used on the recessed panel wainscoting in the bathroom.
So slowly but surely, I'm getting these walls trimmed out.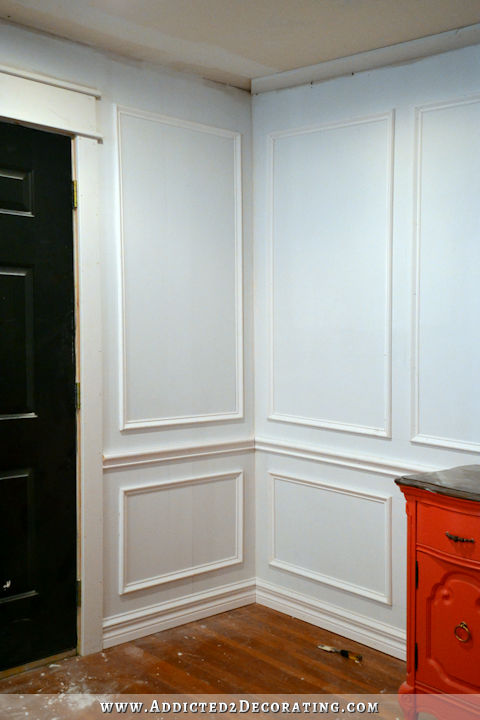 While the picture frame molding is almost all installed, I still have all of the crown molding (plus a little additional ceiling molding that I want to add) that needs to be installed.  Then I still have a ton of wood filling, sanding, caulking, and painting ahead of me.
And since I worked so dang hard to get my walls perfectly smooth, I'm also considering spraying the walls in here once I get all of the trim installed and ready for paint. That way I won't ruin my perfectly smooth, texture-free walls with brush strokes. But I'm not completely sure yet. I'm generally not one to take time to mess with even the basic prep things like drop cloths (as you can tell from my floors) or painters tape, so the thought of having to tape and drape everything for spraying kind of stresses me out. But I really don't want to mess up my walls, so the headache of taping and draping would probably be worth it.
Addicted 2 Decorating is where I share my DIY and decorating journey as I remodel and decorate the 1948 fixer upper that my husband, Matt, and I bought in 2013. Matt has M.S. and is unable to do physical work, so I do the majority of the work on the house by myself. You can learn more about me here.