Last Updated on December 24, 2015 by Kristi Linauer
Obviously I'm still in the planning stages for my breakfast room, but almost everything is starting to come together in my mind, and I'm so excited to see my vision become reality!
I know for sure that my walls will be two sheens of black, painted in a subtle trellis design using this stencil.
And I know that I will have this chandelier above my dining table.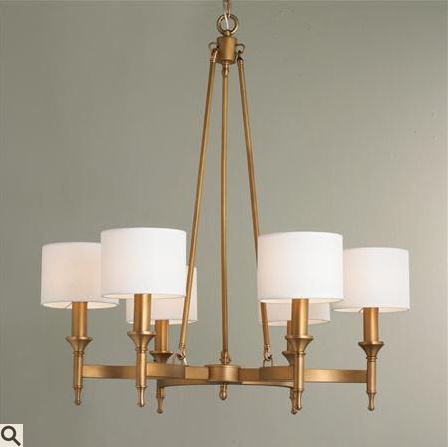 My dining table will be this one, but I'm actually open to changing the finish if I need to, but I'll see as the room comes along.
And the dining chairs will be these four wingback chairs that my step-sister Cathi gave me.  They'll have to be tweaked a little (they're not tall enough) and reupholstered for the room, but they're on the small size which makes them perfect for dining room chairs.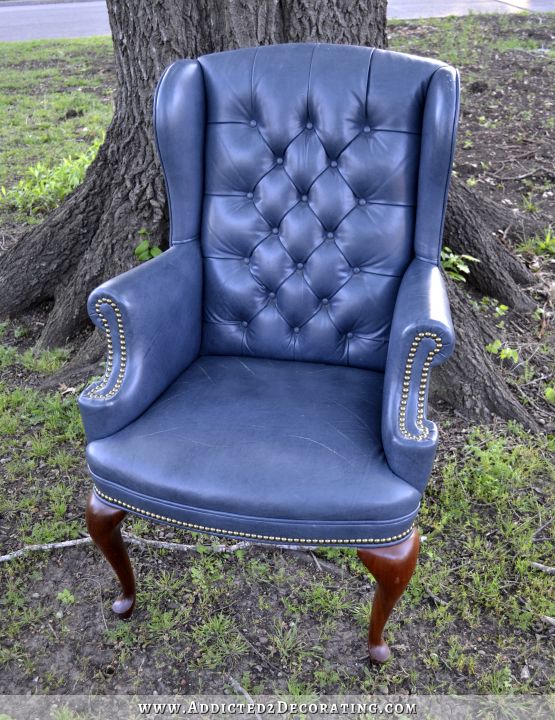 My window treatments will be white Roman shades with thick green ribbon, similar to these from Pottery Barn.
Actually right now, I'm not sure if I want Roman shades or curtains on the big front window (which is actually three windows).  I keep going back and forth between curtains and Roman shades, but regardless, they'll be white with thick green ribbon accent.  And the two windows at the back of the room will have Roman shades for sure.
Everything will be black, white, and green, with some stained wood in there to warm things up as well. And of course, gold/brass accents.  The floor will be the same stained wood that's in the kitchen and the rest of the house. The ceiling will be white (which is the only way I could get Matt to agree on black walls.) 🙂
So that brings me to the fireplace.  I want to put a fireplace and a seating area at the back of the room.  The fireplace will go between the two windows on the back wall.  Excuse the mess, but here's the picture I showed you on Friday to refresh your memory.
From that view, the kitchen is on the left.  In fact, here's a view to the left showing how the kitchen is situated in relation to this room.
So the big question in my mind is what to do with the fireplace.  I've looked and looked at pictures of black rooms.  There are more and more showing up on sites like Houzz, but not all of them have fireplaces.  So for some of the options, I just have to use my imagination.
For example, this picture gives me an idea of what a stained wood fireplace might look like against a black wall.
Contemporary Living Room by New York Photographers CM Glover
I really like the idea of adding stained wood to the room, not only because I love stained wood, but because I think it adds such beautiful warmth to rooms.
Of course, an obvious option would be to paint the fireplace black from floor to ceiling (i.e., fireplace as well as overmantel) and use a pretty stone tile around the firebox.

Eclectic Living Room by Tiburon Interior Designers & Decorators Jerry Jacobs Design, Inc.
Here's another black fireplace against black walls.
Transitional Living Room by Cambridge Architects & Building Designers LDa Architecture & Interiors
I really do like the subtle look of a black fireplace against black walls. And since my walls will be stenciled with a pattern, perhaps subtle on the fireplace is the best option. But I'm just not sure.
And then white is always an option since the ceiling and trim will be white.
Traditional Living Room by Toronto Photographers Lisa Petrole Photography
Right now, the white is probably my least favorite option simply because it seems so jarring against the black walls…although I do like it in the photo above. But for some reason, I have a much harder time picturing it in my breakfast room. The subtle choices of either a darkish stained wood or black seem to appeal to me more.
Or maybe I'll go bold and paint it green!
Just kidding.  Or am I? 😀
This is one of those decisions that I'll probably need to wait on and make after I have my walls finished.  But as is my process, I like to dream about my options well in advance.  If I had to choose right now, I'd probably go with the stained wood, just because I love, love, love stained wood.  But I'm sure y'all have come to expect me to change my mind at least five times, right?  😀
Addicted 2 Decorating is where I share my DIY and decorating journey as I remodel and decorate the 1948 fixer upper that my husband, Matt, and I bought in 2013. Matt has M.S. and is unable to do physical work, so I do the majority of the work on the house by myself. You can learn more about me here.
I hope you'll join me on my DIY and decorating journey! If you want to follow my projects and progress, you can subscribe below and have each new post delivered to your email inbox. That way you'll never miss a thing!