Original Kitchen Inspiration…From 1960 Paris?
You know the saying 'There's nothing new under the sun'?  (It's actually a Bible verse from Ecclesiastes.)  The older I get, the more I realize just how true that is.  Y'all know that the inspiration for my kitchen cabinet colors, as well as the design for the top part of my upper cabinets, came from a kitchen designed by Kelly Wearstler.  But where did her inspiration come from?
via Architectural Digest
When I saw the picture of this desk and bookcase designed by the Paris design firm Maison Jansen circa 1960, I couldn't help but wonder if that's what originally inspired Kelly Wearstler in the design of Cameron Diaz's kitchen.  I saw that for the first time a month or two ago in a tiny little picture in a magazine.  I think it was Elle Decor.  I couldn't believe how it reminded me of my kitchen!  And then two people sent me a link to the same picture featured on Architectural Digest yesterday.
Could it have been her inspiration?
Cameron Diaz's Manhattan apartment kitchen, designed by Kelly Wearstler, featured in Elle Decor
And then could my kitchen have been indirectly inspired by that as well?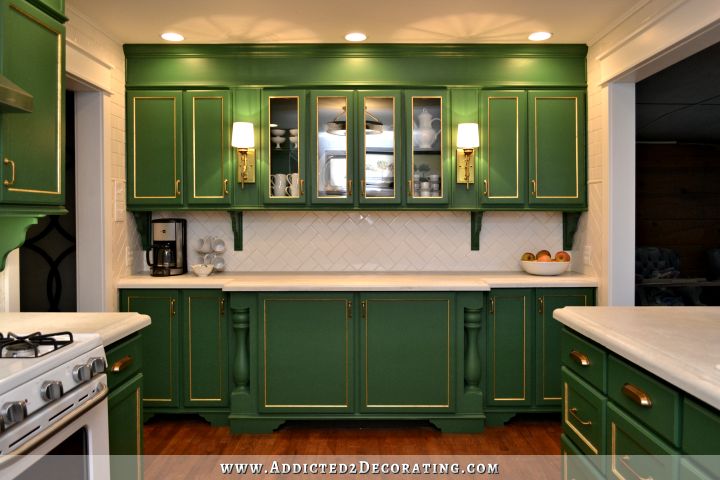 I guess I'll never know, but it's certainly possible!  After all, even world-renowned designers have to get their inspiration from somewhere.
But I do love that the bookcase and desk are from Paris circa 1960, and they still seem relevant today, 54 years later.  That gives me hope that even though I chose to go with a very bold color, maybe it's truly a timeless design, and that I won't have to be breaking out the paint brushes in five years.  Oh, and the good news is that it looks like the bookcase and desk are for sale if you're interested!  And based on the prices of other items I've seen that were designed by Maison Jansen, I'd guess that they're available for around $30,000, or maybe a bit more.  A real bargain. 🙂
I'm still working on the cost breakdown and sources for my kitchen.  I didn't do such a great job at keeping that info organized over the last several months, so it's taking a bit longer than I had anticipated.
Can I just tell you how much I love using my kitchen?  It's fun to be in there simply because I think my kitchen is beautiful, and I love to look at it.  Ha!  😀
But I also really love the layout of the kitchen.  The layout is so efficient, and makes cooking in there actually kind of fun!  I can't believe I just said that, because cooking has never really been my thing, but I'm actually enjoying cooking.  Right now, because of our diet, the foods we can eat are extremely limited.  But I actually think the lack of variety has been a good thing for me.  It has given me a chance to ease back into cooking (two meals a day!) without being overwhelmed by thousands of possibilities.  I keep it simple, and it doesn't take long at all to cook a meal.
They say it takes twenty-one days to form a new habit, and if that's true, I've done it!  I've been cooking two meals a day for twenty-five days now.  We'll be eating very simply for fifteen more days, and then I'll start branching out.  And I'm actually looking forward to it!  I've been collecting recipes that I want to try (we'll be doing the Paleo AIP diet, which is the Autoimmune Protocol specifically designed to help people reverse their autoimmune diseases), and I plan to get a ton of use out of my kitchen.  I really don't want to go back to eating out every day again.  What a waste of a pretty and efficient kitchen that would be!
So it looks like finishing my kitchen remodel wasn't just about making a room pretty,but it was also the beginning of a whole new lifestyle for us, and possibly the beginning of a new love for cooking for me.  That's nothing short of miraculous, and I just hope it sticks.  🙂
And I've seriously become obsessed with finding good Paleo AIP recipes.  If you have some good ones, pass them along!
Addicted 2 Decorating is where I share my DIY and decorating journey as I remodel and decorate the 1948 fixer upper that my husband, Matt, and I bought in 2013. Matt has M.S. and is unable to do physical work, so I do the majority of the work on the house by myself. You can learn more about me here.