Dining Room & Entryway Progress
When I started on the picture frame molding and chair rail on the walls of my entryway and dining room, I had absolutely no idea how time-consuming that project would be to finish. This room has so much molding in it that it's starting to feel like a never-ending job.
I was certain that I could get it finished this weekend. I worked all day Friday (which is usually the day I take off), all day Saturday, and all day yesterday, and STILL it's not finished! I feel like I'll be wood filling nail holes, sanding, and caulking until the end of time. So, while I had hoped to have a room with finished walls and ceiling to show you today, unfortunately I don't. I can assure you it's not for lack of trying! But I did promise an update no later than today, so here goes…
On Friday, I finished installing the rest of the picture frame molding, baseboards, base cap, and chair rail molding on the fireplace wall.
It looks like a complete mess right now, because so much is still unprimed. So you kind of have to use your imagination. The rest of my weekend was spent wood filling and sanding. Soooo much wood filling and sanding!
I ran into a couple of problems. First, the electrical outlet beneath the middle front window is right in the center (vertically, not horizontally) of one of the frames.
But there's not enough room left to use a whole outlet cover. So I'm going to have to cut one to fit, and I really don't know how I'm going to do that. I would image that a miter saw blade would just crack and split a plastic outlet cover, and the wood outlet covers have metal plates on the back, although it might be thin enough for my miter saw to cut through. I've cut metal several times with my saw successfully, but cutting something so small with my fingers so close to the blade without knowing how my saw will handle it makes me a bit apprehensive. So we'll see. I'll figure something out.
The second problem was the light switch plate by the door…
I tried just butting the picture frame molding right into the edge of the switch plate, and that looked really silly and unfinished. So then I decided to frame out the plate, and then butt the pieces into that frame. It's not ideal, but it's fine. If only I had known I was going to do the top picture frame molding when we were installing those switches, I could have moved them over to leave room. But things like this happen when you make up the plan (and change your mind repeatedly) as you go along. 🙂
And you can see that I tested the green paint in a couple of places. I'm still deciding on that.
So by the end of the day yesterday, even with my non-stop working throughout the week, I still only had one wall that is finished and ready for paint today, and that's the entryway wall. I did have to re-mud one of the drywall seams, so today I'll have to quickly sand and prime that first before I can paint, but at least I have all of the wood filling, sanding, and caulking finished on this entire wall.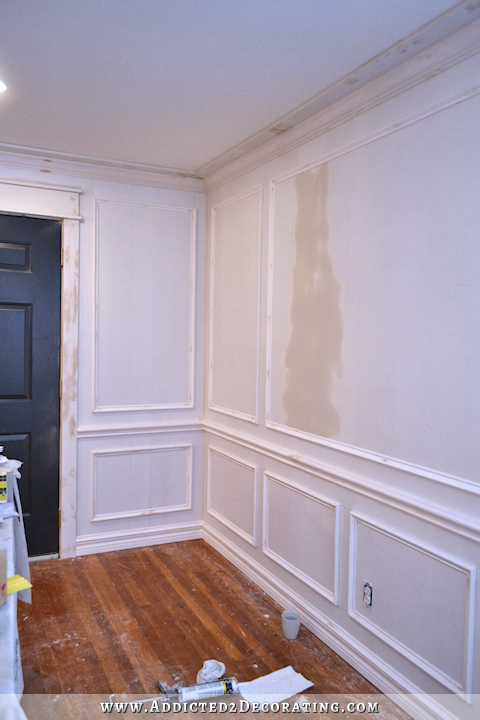 I really had no idea how time-consuming and tedious all of this would be. I've installed and finished tons of molding and trim before, but no other job seemed to go on and on and on like this room has.
Once these walls are finished, I'll breathe such a huge sigh of relief…and then be able to get on with the fun stuff! 🙂
Addicted 2 Decorating is where I share my DIY and decorating journey as I remodel and decorate the 1948 fixer upper that my husband, Matt, and I bought in 2013. Matt has M.S. and is unable to do physical work, so I do the majority of the work on the house by myself. You can learn more about me here.