Last Updated on December 24, 2015 by Kristi Linauer
Lately, I've been doing quite a bit of daydreaming about how I'd decorate the house that Matt and I hope to purchase in the near future. One thing I know for sure is that I want to use more neutrals in my decorating, but I can't go with a completely neutral palette. That's just not me. I love color way too much to live in a neutral home.
So I've just been waiting…waiting for inspiration to hit. Waiting to see that perfect color combo that, without hesitation and without contemplation, would make me say, "That's IT!! That's what I want!"
And I think I may have found it right on the cover of the latest issue of House Beautiful.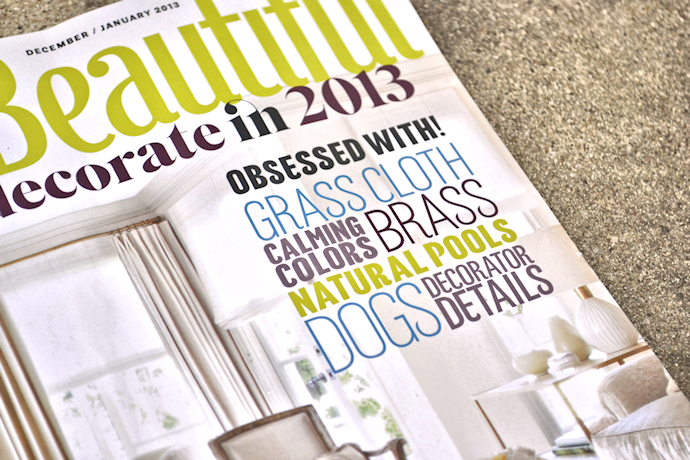 As soon as I pulled that magazine out of my mailbox and I saw those colors, I fell in love with them! The colors may not be clear in the photo above, but the purple is a beautiful grayed purple, along with teal and bright green.
But purple? I've never thought of myself as a "purple" kind of person. In fact, in our very first house, Matt and I decided to paint our upstairs living room purple. Let's just say that those days were way before I honed my decorating skills, and my misuse of purple in that huge room just ruined any love I ever had for any shade of purple. Since then, any time I hear the word "purple" in regards to decorating, I kind of have this involuntary disgusted-face-scrunch response.
But perhaps that's wearing off, because as soon as I saw that magazine cover, I had no thoughts of my misguided attempt to decorate with purple nine years ago. Instead, I just wanted to see more of this color combo.
Here are a few inspiration pictures that I found…
This photo from Amoroso Design via Houzz definitely captures the green and deep purple colors beautifully.  Just add a bit of teal, and it would be perfect!!
And of course, if it's color inspiration you're looking for, Design Seeds is a perfect place to look.  These colors are definitely on the right track, but I would make some modifications.  I'd like to see the dark purple be a little deeper, lose the lilac color on the far left, and replace the dark greenish gray color with a light and bright neutral, like a natural linen color.
This living room from Lovehome is a bit too purple for my taste, but I do love the purple and green combo.  But again, I'm thinking more of a deep purple, like the rug, rather than the light purple on the walls.  And I want the dark, saturated colors set against a backdrop of light and bright neutrals with lots of natural textures.  Grasscloth, perhaps?
This living room by Rachel Reider Interiors via Houzz is definitely getting closer to the mark…minus the baby blues, and with a lighter, brighter wall color.
I absolutely love the colors used in this dining room by Katie Riddler.  The deep purple, dark teal, and green are amazing!  But imagine them used more sparingly, and set against a neutral background.  Yep…I love it!
And finally, this bedroom from Amanda Nisbet Design is pretty close to perfect for my taste.  Lots of texture and neutrals, deep purple, green.  Just take out the lilac (or is that pink?) items, substitute teal, and it  would be just what I envision!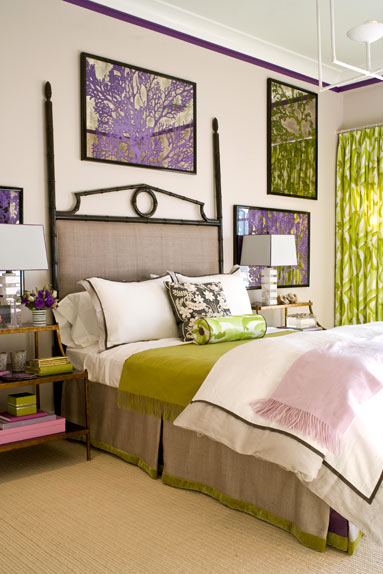 So what do you think of my color inspiration?  I know the teal and green are similar to what I have now (although now I'm using more of an apple green), so it's not too much of a stretch for me.  But the purple is definitely out of my comfort zone.  I really like it, though.  And in a crazy way, I almost think that if I do decide to stick with these colors, this will be my chance to redeem myself after my gross misuse of purple in our first house.  I want a re-do.  And this time, I want to do it right!
Addicted 2 Decorating is where I share my DIY and decorating journey as I remodel and decorate the 1948 fixer upper that my husband, Matt, and I bought in 2013. Matt has M.S. and is unable to do physical work, so I do the majority of the work on the house by myself. You can learn more about me here.
I hope you'll join me on my DIY and decorating journey! If you want to follow my projects and progress, you can subscribe below and have each new post delivered to your email inbox. That way you'll never miss a thing!