Last Updated on December 18, 2012 by Kristi Linauer
I decided to start over with the pillows on my banquette.  The other pillows that I made just weren't doing anything for me, and as some of you mentioned, they were just too small.  So this time I went with 24-inch pillows.  I wanted to add a unique design…something with color and texture, but that wasn't too overwhelming or busy.  When I saw this particular skein of yarn with the beautiful (and perfect for my breakfast room) variegated blue, turquoise and green colors, I knew I had to use it somehow on my new pillows.
I really like the color and texture that the yarn adds, and to hold the yarn in place on the pillow, I used a decorative stitch on my sewing machine, and alternated green and turquoise thread.
Here's how I made these pillows…
I started with a 25″ square of pre-washed cotton duck fabric.  I used a measuring tool to mark off where I wanted the yarn.  I placed the yarn in one-inch sections, leaving two inches between each yarn section.  I marked both edges of the fabric so that the design would be straight.
Then I used this Peel N Stick Fabric Fuse (which is VERY sticky)…
…and I cut pieces that were just a little over one inch long, and then I cut those in half lengthwise.  I placed the sticky tape on the edge of each one-inch section where I wanted the yarn design to go.
I used this variegated yarn for my design, but of course, there are probably hundreds to choose from.  One skein was enough to do two 24-inch pillows with this particular design, with just a little bit left over.
Starting at one end of the pillow, I started attaching the yarn in the one-inch sections, pressing it securely to the sticky tape on each end.  I didn't cut the yarn at all.  Instead, I just kept looping it around, as you can see on the ends.  I did pull the yarn slightly so that I wasn't left with any sagging yarn.  This pulled the edges up, so they had to be weighted down.  I learned quickly that an iPhone isn't heavy enough to weigh down the edges.  🙂  I finally had to pull out many cans of food to weigh down the edges.
With all of the yarn in place, and the edges weighted down with canned food, I measured out where I wanted my vertical stitched lines.  I placed my lines two inches apart, and I used a disappearing ink fabric pen to mark them.  (The ink is supposed to disappear within 24 to 48 hours.)
Then I used lots of pins to pin the yarn in place between my marked lines.
And finally, I was ready to sew the decorative stitches to hold the yarn in place.  I sewed all of the blue lines first, and then went back and filled in with the green lines.
With all of the vertical lines stitched, I trimmed the excess yarn from the edges, and then finished my pillows with a zipper closure at the bottom.  If you're unsure how to do this, you can refer to my tutorial on how to make a pillow cover with a zipper closure.
The first pillow took quite a while to make.  I was kind of figuring it out as I went along, and when I saw the edges curling up after applying the yarn, I was stumped.  I had no idea how I was going to be able to sew the lines and keep the yarn straight.  As you can see, not all of the yarn stayed perfectly straight.  But that's okay!  Perfection is overrated, right?!  😀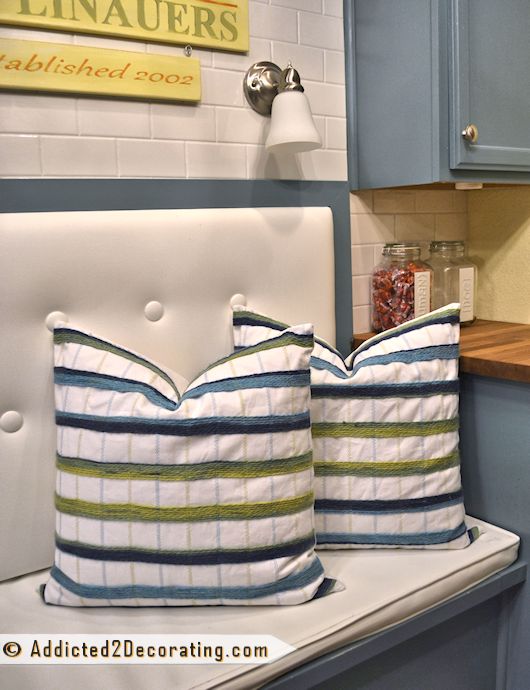 But once I figured out the system — weighing down the edges with canned food, and then pinning the yarn in place before removing the cans of food from the edges — the second pillow went really fast.
I think at some point in the future, I'd like to do a much smaller pillow and cover the entire front of it with this type of yarn.  I just love the variegated colors!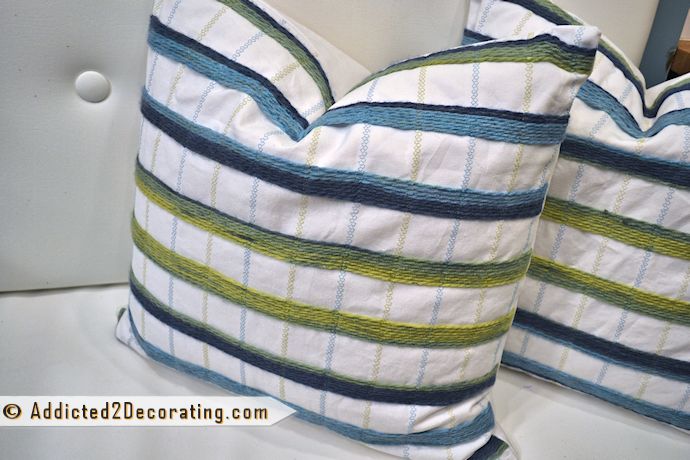 I have one more pillow to make…another 24-inch…and I have no idea what I want to do with it.  I want it to blend with these two pillows, and not be too bold and overpowering that it takes away from the design of my yarn pillows.  So we'll see.  Do you have any brilliant ideas for me?
---

This project was for my condo breakfast room makeover. Click here to see the whole before and after of the breakfast room makeover.
Or click on the thumbnails below to see other DIY projects that I did for my condo breakfast room makeover.
Addicted 2 Decorating is where I share my DIY and decorating journey as I remodel and decorate the 1948 fixer upper that my husband, Matt, and I bought in 2013. Matt has M.S. and is unable to do physical work, so I do the majority of the work on the house by myself. You can learn more about me here.
I hope you'll join me on my DIY and decorating journey! If you want to follow my projects and progress, you can subscribe below and have each new post delivered to your email inbox. That way you'll never miss a thing!