Last Updated on February 14, 2019 by Kristi Linauer
Thank you so much for all of your input yesterday! I still haven't finished reading all of the comments (I will, though, because I hate leaving questions unanswered in comments), but as I was reading comments from those of you who actually have manual defrost freezers, telling me how often you defrost your freezers, the process you use, the mess it makes, where you keep your manual defrost freezers and why, it became clear to me that manual defrost is probably not the way to go for me.
My mom has a manual defrost freezer in her garage, so I asked her about it. Here's how that went:
😀 Ummm…yeah. I am my mother's daughter. And at some point, I have to come to grips with the reality that while I want to be one of those responsible people who schedules things like "defrost freezer" every six months, writing them down in my Franklin Covey planner where I keep all of the details of my perfectly planned, perfectly scheduled, and perfectly disciplined life, I'm just not that person.
It'll never happen. For one, I don't even own a planner. Well, I guess technically I do, since I have an iPhone, but I have no idea how to use it (and don't want to learn). I'm kind of a shoot-from-the-hip kind of person, and if projects seem uninteresting or awful to me, I'll put them off as long as I can. Like perhaps putting off defrosting my freezer for 12 years. 😀
And a lot of you brought up a very good point. Keeping a freezer in the garage during the very hot Texas summers probably isn't the best idea. A couple of you said you tried that, and the freezer ran constantly to keep the temperature, which ended up flipping the circuit breaker. That would be awful to have that happen, not realize it until hours later (or perhaps the next day) and lose everything in the freezer.
It also occurred to me that having the freezer directly in the garage like this…
.
…probably isn't the best idea since the garage is where I currently use my big tools (table saw, miter saw, etc.) and it's messy. That freezer would be constantly covered in sawdust. I do plan to eventually build a nice workshop and have one of those huge dust collection systems, but that won't happen any time soon. So the only option for a sawdust-free freezer would be one of the two options for putting it in the storage room at the back of the garage, both of which require a new doorway in a load-bearing wall and immediate removal of the monstrous, archaic, and non-functional furnace that currently sits in that storage room.
All of that to say that I'm back to my original plan. The freezer is going in the pantry. The whole idea for that was convenience, and having it right there in the pantry is definitely the most convenient option. So I found a frost-free, stainless steel freezer that is just a touch over counter depth (26.5″), opens the direction I actually want it to open, and has an ice maker, which is a huge bonus. I'm going with this Frigidaire stainless steel freezer.
I already have a vacuum sealer, so that should reduce or eliminate the freezer burn issue, and sticking with my original plan to have the freezer in the pantry just seems like the most reasonable option. And it'll go right here on the left wall of the pantry…
Except that the footprint will be smaller than what I originally marked off with tape for the deeper manual defrost freezer.
Now that that's settled, I can finish up my electrical stuff today. Drywall tomorrow!!
---
---
Update:
My pantry is finished! Want to see the entire project from start to finish? You can find every single post about the pantry build right here…
Or you can skip to the end and see how it turned out. Here's a peek of the finished pantry…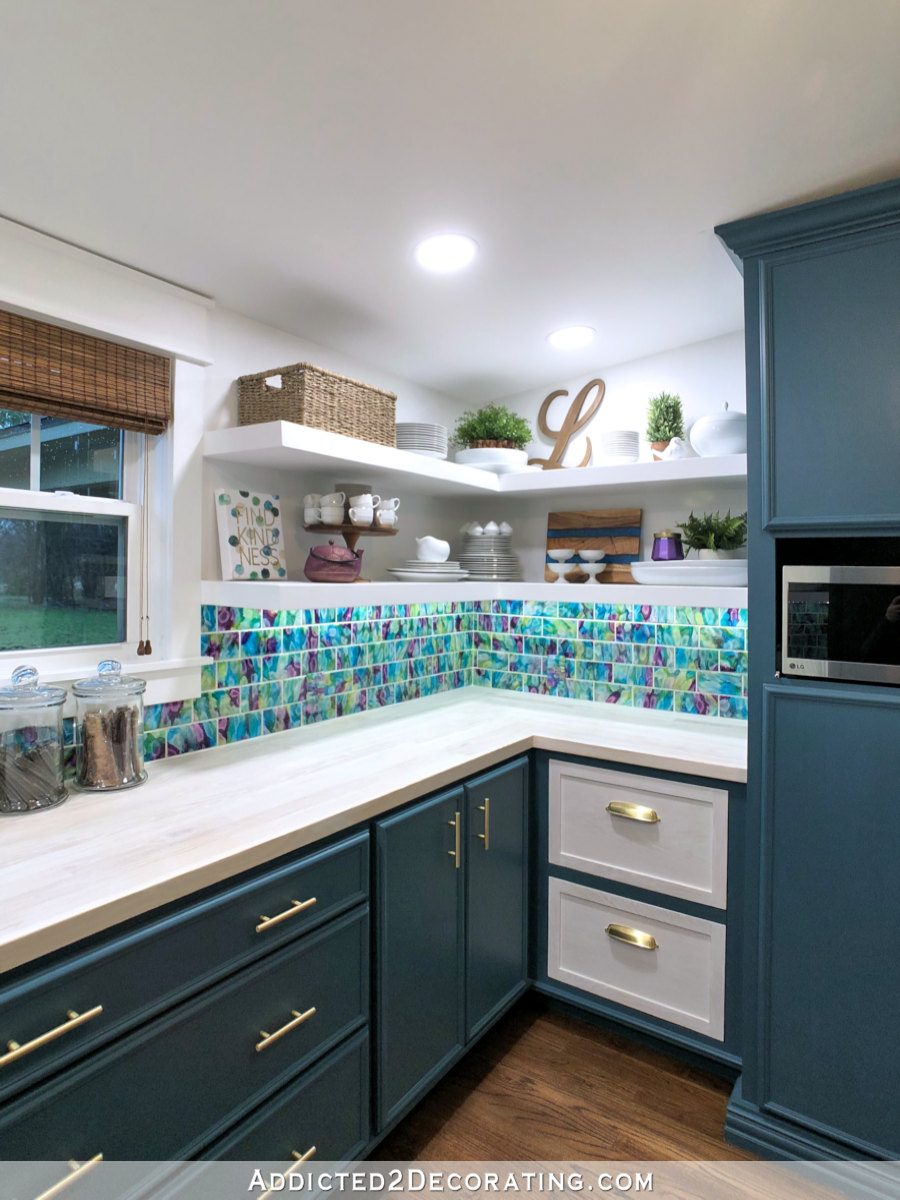 You can see more pictures on the before and after post right here…
Addicted 2 Decorating is where I share my DIY and decorating journey as I remodel and decorate the 1948 fixer upper that my husband, Matt, and I bought in 2013. Matt has M.S. and is unable to do physical work, so I do the majority of the work on the house by myself. You can learn more about me here.
I hope you'll join me on my DIY and decorating journey! If you want to follow my projects and progress, you can subscribe below and have each new post delivered to your email inbox. That way you'll never miss a thing!