IKEA Ritva Curtains Customized With Contrast Edge Band, Pompom Trim and Pinch Pleats
I finally got a chance to work on my breakfast room curtains, but unfortunately, neither of original plans worked out. Many of you convinced me that the trellis stencil would be too busy for the room, which was fine. I actually had my heart set on doing horizontal stripes, and I wasn't really particular about the stripes being blue or green. I would have been happy with either one, to be honest. So late Saturday afternoon I headed to Joann Fabric to find the perfect blue or green fabric.
Well, I spent about 90 minutes there and looked through every single decorator fabric they had, both in stock and special order, and didn't find a single fabric that would work. They did have two teal fabrics that were gorgeous. One was a dupioni silk, which was my absolute favorite, and the other one was a cotton that had some color variations that gave it a textured look. But both were pretty much the exact color of my kitchen cabinets. I would have been fine with a slightly lighter teal, or a faded turquoise, or even a light aqua. But there was no way I could do more of the exact same color on draperies right next to a kitchen filled with teal cabinets. And there weren't any greens that were even close to being a possibility. I finally gave up and went home.
I went back on Sunday, determined to expand my search into the apparel fabric section. I was certain that in that entire store, there had to be at least one blue or green that would work.
There wasn't.
So I sat in my car looking through ideas on Pinterest, and came across this picture…
Evidently that's from an interior designer who's no longer in business because her website is gone. But her pretty curtain idea lives on forever on Pinterest.
Anyway, I decided to do something like that with just a simple contrast band on the leading edge of each panel and some fun trim. I know this kind of trim isn't everyone's cup of tea, but I really love tassel trims, pompom trims, and other types of passemeterie. So I looked at their selection (which is generally pretty terrible, to be quite honest), and they happened to have a pompom trim that I really liked! So I snatched it up, along with some green fabric, and headed home to get started.
While I worked on the edge banding, I washed and dried the Ritva curtain panels. And by the way, if you're not happy with the color of your Ritva curtains (they're somewhere halfway between white and ivory right out of the package), you can add some bleach while washing them and they'll come out a brighter white. The label says very clearly "do not bleach" so do this at your own risk. But I'm so glad I tried it. I think they look so much better now.
So on to the edge banding…
I bought three yards of green cotton fabric and cut a strip that was about 12 inches wide by 3 yards long. When I'm doing two or more of the same thing (in this case, two curtain panels), I always mark the top of the fabric with pins so that I can be sure I'm using the fabric the same way on both panels.
Then I folded the fabric in half down the length of the fabric and pressed the fold in place with my iron.
And then I folded the bottom back out creating a pocket that was just over one inch deep going the entire length of the strip, and I pressed that into place.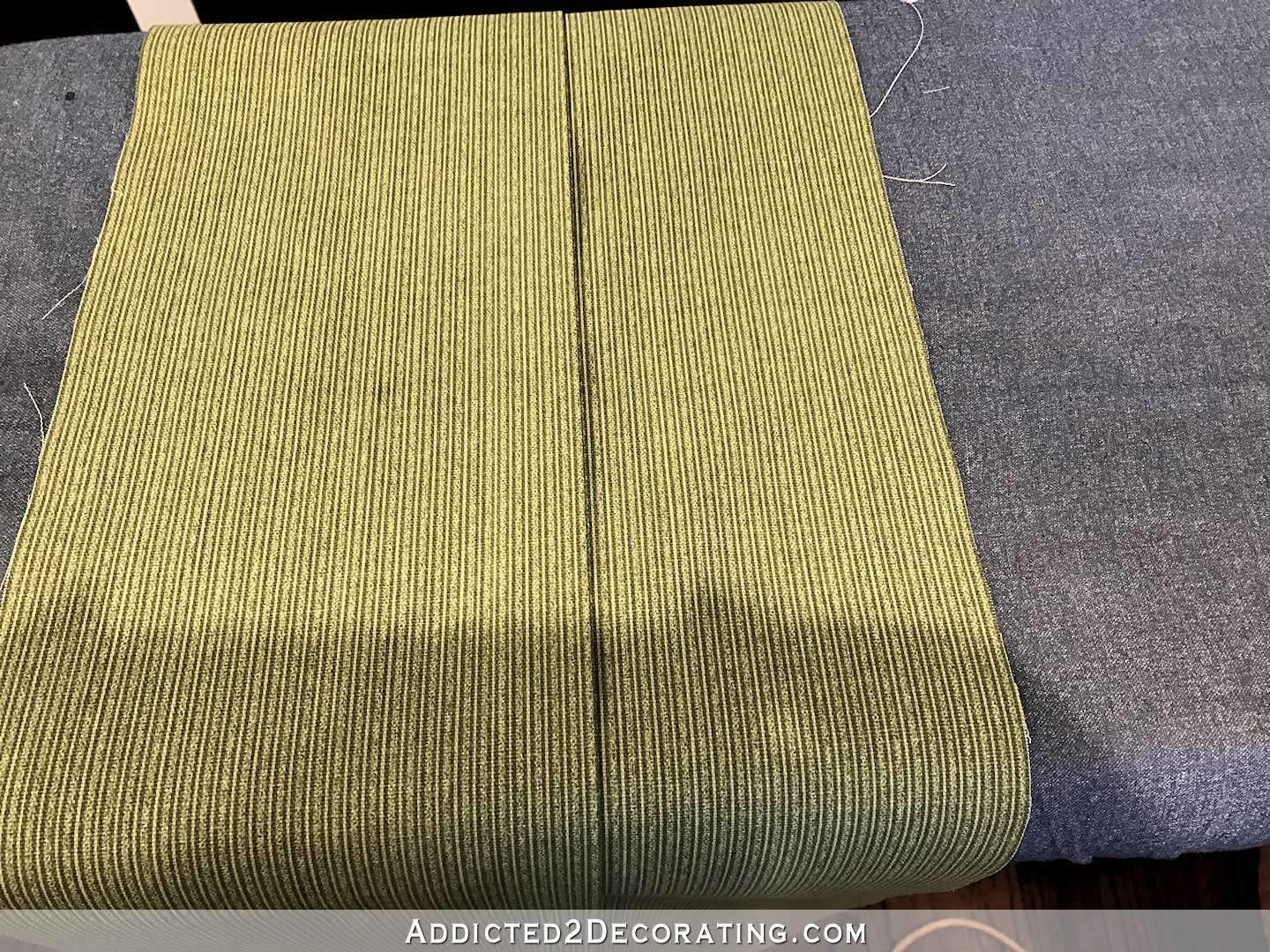 Then I tucked the lip of the pompom trim into that pocket and pinned it into place. I sewed these layers together using a stitch right along the edge of the green fabric as close to the trim as possible.
Next I measured 1.5 inches of green fabric from the edge of the trim, and folded the excess green fabric under. Then I pressed that fold in place with my iron.
You can see here how the excess is just folded under…
I placed my curtain panel on my work surface and made sure the leading edge was pressed as flat and wrinkle-free as possible.
Then I measured over from the edge three inches and marked it with painters tape.
I used that mark to place the folded/pressed edge of the green fabric right along the edge of the painters tape, and I pinned it into place along the entire edge of the curtain panel. You can see that I left several inches of excess green fabric at the top of the panel.
With the entire length of green fabric pinned into place on the edge of the curtain panel, I then took it to my sewing machine and stitched it into place using a stitch right along the edge of the green fabric.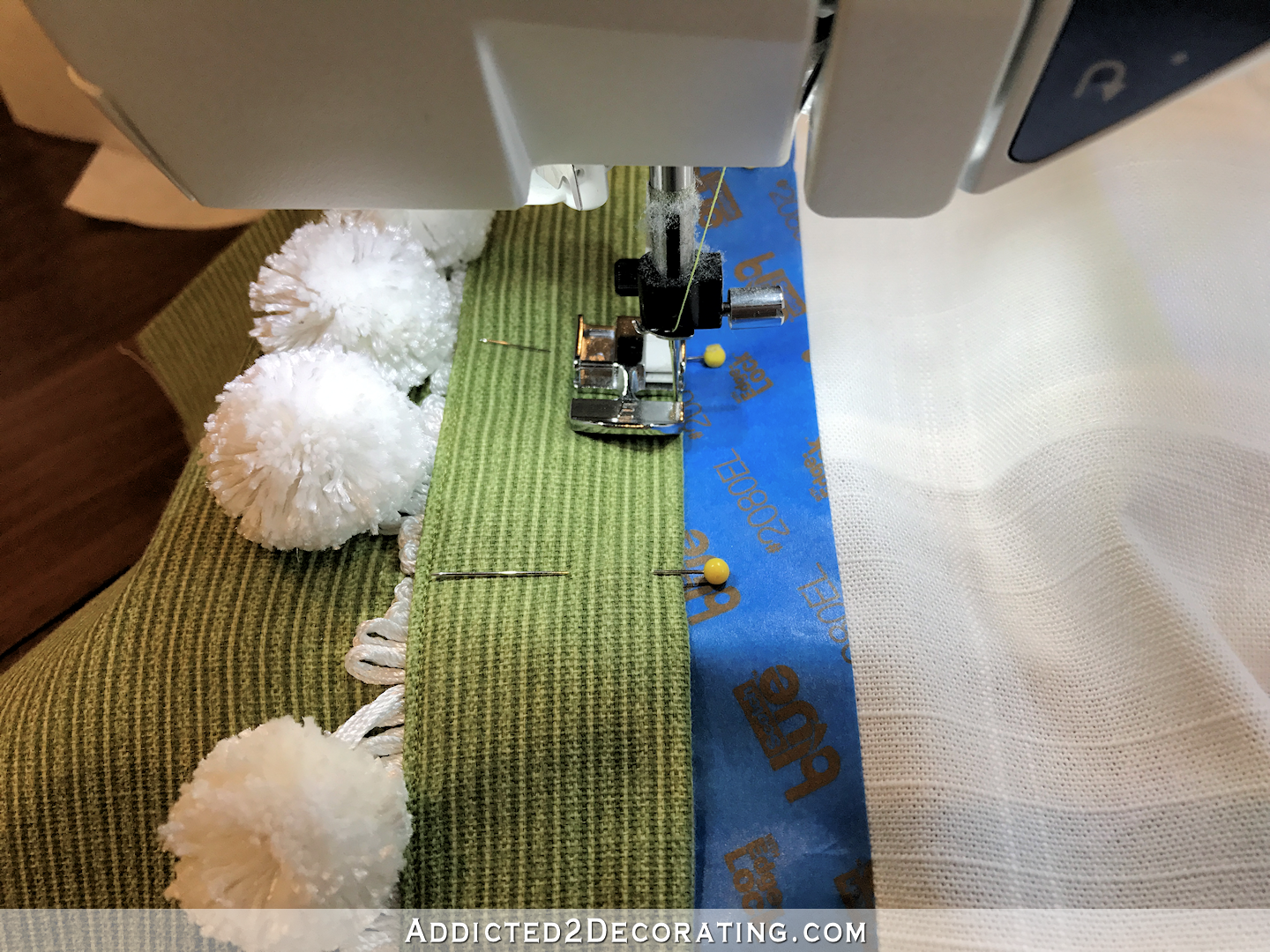 With the whole thing stitched into place, I removed the painters tape and ironed along the seam to make sure everything was lying as flat as possible.
I still had this excess fabric that had been folded under to create the folded edge that I just sewed into place…
So I folded the top layer back, and trimmed the bottom layer to within 1/4 inch of the edge of the curtain panel. I didn't trim it off all the way simply because the extra layer of fabric gives the edge banding more body and thickness, kind of like an interfacing.
Then I returned the top layer back to its place, and folded the excess fabric around the edge of the curtain panel and pinned it into place.
Then I pressed the fold with my steam iron, and removed the pins.
I trimmed the fabric on back to two inches…
And then folded it under one inch, leaving a one-inch hem along the edge, and pinned that into place.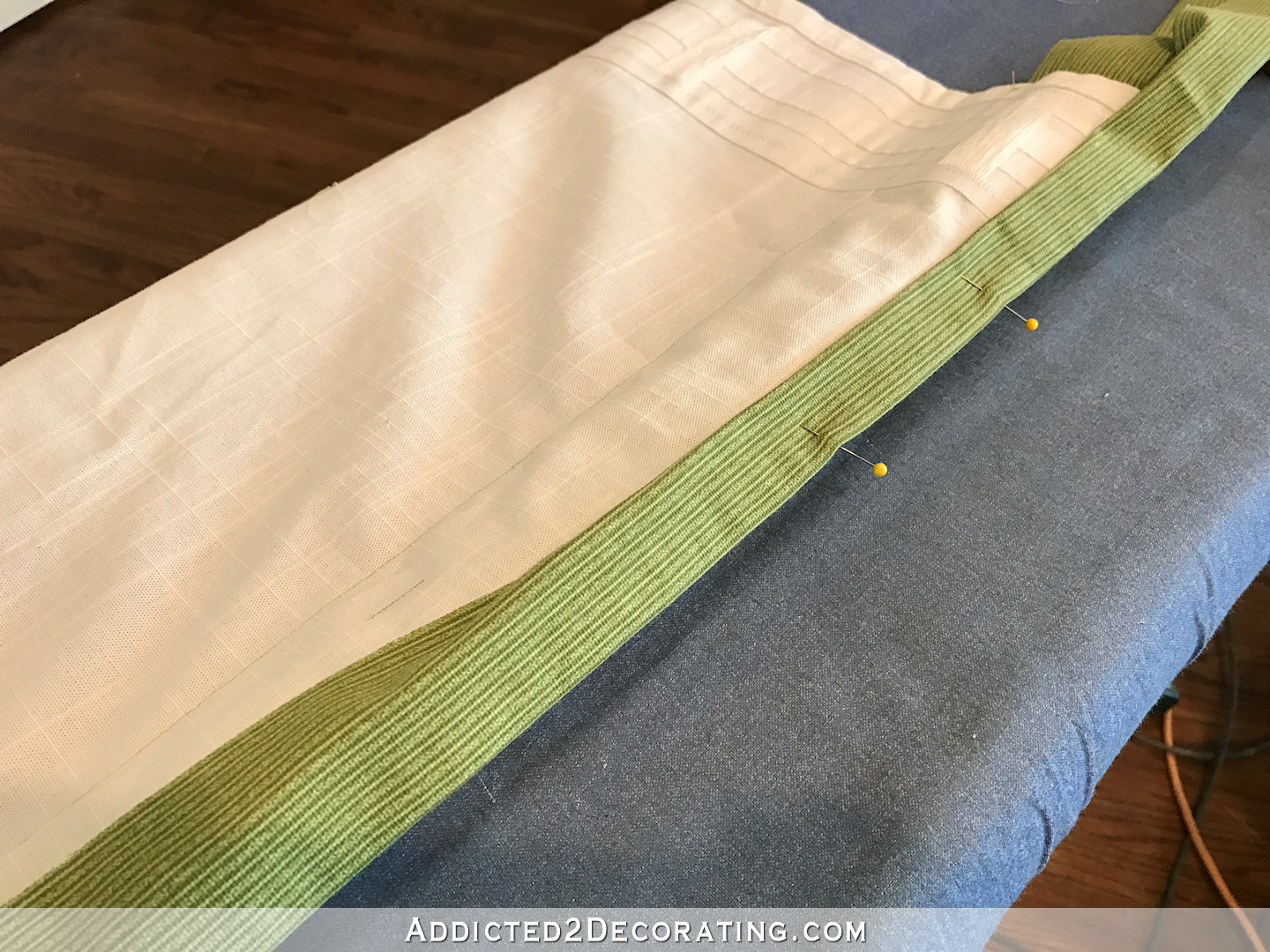 Then I sewed that fold about 7/8-inch from the edge of the curtain panel.
Here's how the back looked with the green fabric hemmed along the edges…
And here's how the front looked…
And finally, I finished the top by folding the excess fabric over the top of the panel and around to the back, and to the bottom edge of the header tape. I folded the raw edge under, and then stitched along the edges on the sides and the bottom to hold that flap into place.
That was pretty much it with the edge banding. I still have to hem the panels, so once that's done, that will finish up the bottom edge of the edge banding.
Now since I'm using two panels on each side of my window, I also wanted to sew the panels together. I simply pinned two panels together with the right (front) sides together, making sure they lined up as perfectly as possible on the top edge of the panels…
And then I sewed them together and pressed the seam open.
I also pinch pleated the tops of my panels.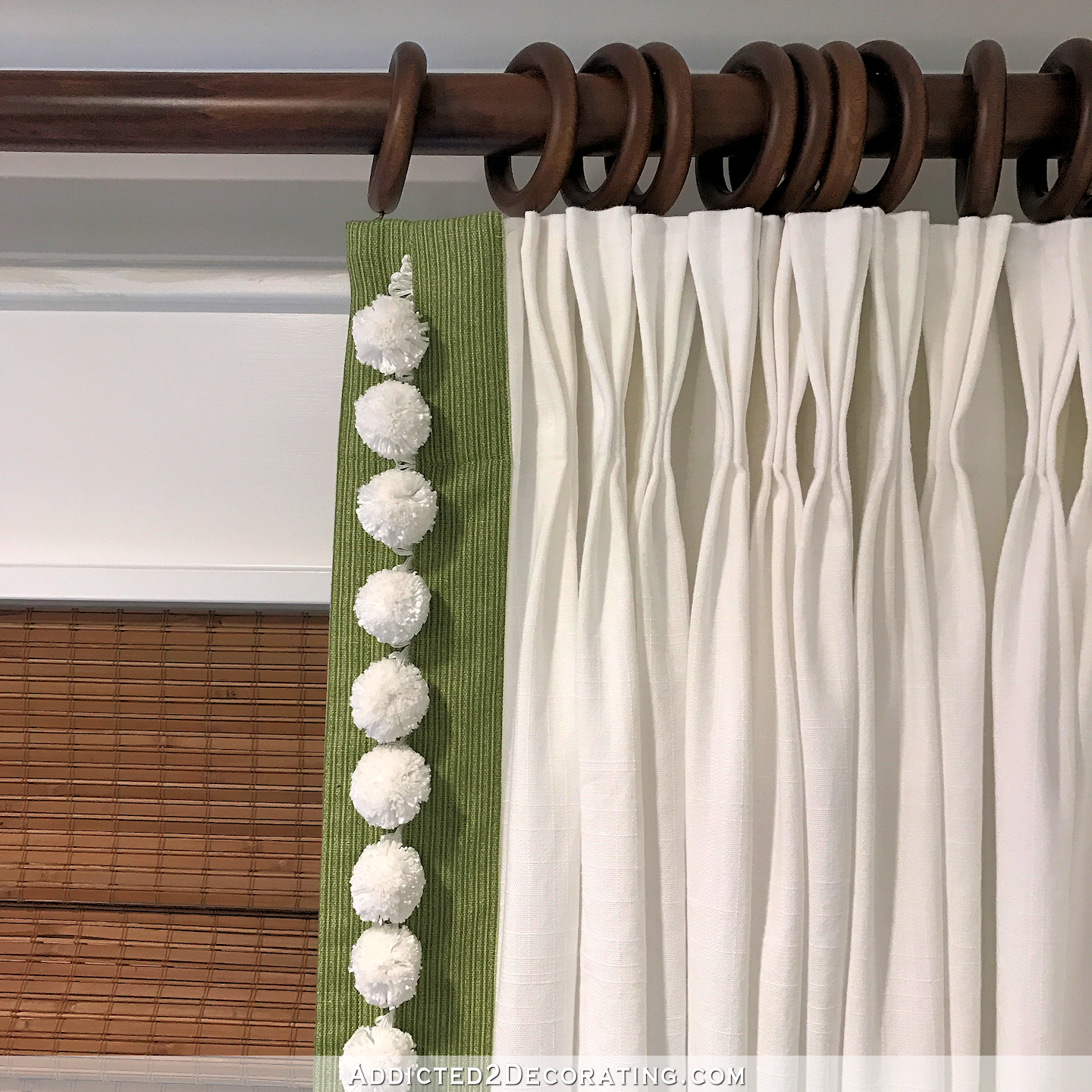 Just an FYI, these Ritva panels come with pleater tape already attached. If you don't want to go to the trouble of sewing in your pleats, you simply need to purchase three-prong pleater hooks and slide those into the tape wherever you want to create a pleat. Click here for a video that shows how to do that.
I prefer my pleats to be sewn in, so that's what I did here. I didn't take pictures of that process because I've already shown in at least two posts the detailed step-by-step process of sewing in pleats. You can find more details on how to sew pleats on this tutorial under the section called "Adding The Pleats":
How To Make Double-Width Lined Pinch-Pleated Draperies – Part 2
So these are completely different from what I had originally planned, but that's okay. I can live with almost all white curtains now that they have a touch of color with the green, a bit of fun and whimsy with the pompom trim and a tailored look with the pleats.
They're still not finished though. I need to fix the return, which is currently attached to a curtain ring and looked a bit awkward…
And the bottom is still a mess and needs to be hemmed.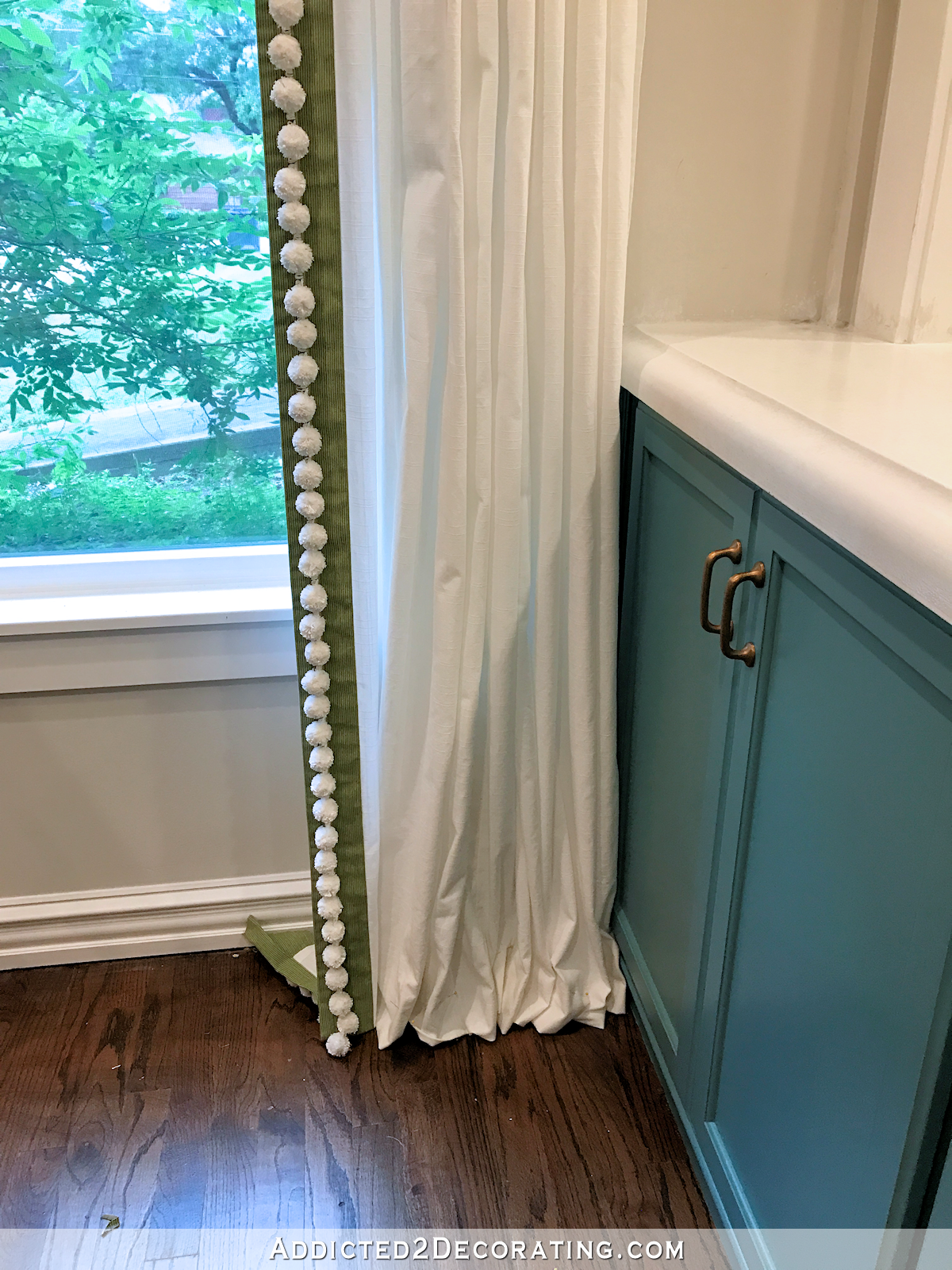 I should be able to get these finished today, and I'm hoping to get everything cleaned up and in place by the end of the day so that tomorrow I can give you a full view of the breakfast room with the table, chairs, rug, curtains, and peninsula finished.
Addicted 2 Decorating is where I share my DIY and decorating journey as I remodel and decorate the 1948 fixer upper that my husband, Matt, and I bought in 2013. Matt has M.S. and is unable to do physical work, so I do the majority of the work on the house by myself. You can learn more about me here.