My Finished Butler's Pantry Remodel – Before & After
My butler's pantry remodel is finished, and I'm excited to show you how it turned out! I came up with this butler's pantry design to maximize this 7′ x 12′ space and be very functional, but also to look pretty since it can be seen through French doors at the back of my breakfast room.
The actual butler's pantry design took me ten-and-a-half weeks to build and finish, which was much more than I had bargained for when I decided to be a guest participant in the Fall 2018 One Room Challenge. I must have been delusional to think I could get this room done in five weeks, including building the cabinets from scratch, building a wood countertop, building floating shelves, painting the freezer, building pull-out shelves, and hand-tinting over 200 resin/alcohol ink tiles.
But that challenge was just what I needed to give me the motivation to get started on the pantry. And while I didn't finish it during the challenge, I did meet my main goal of finishing it by the end of 2018.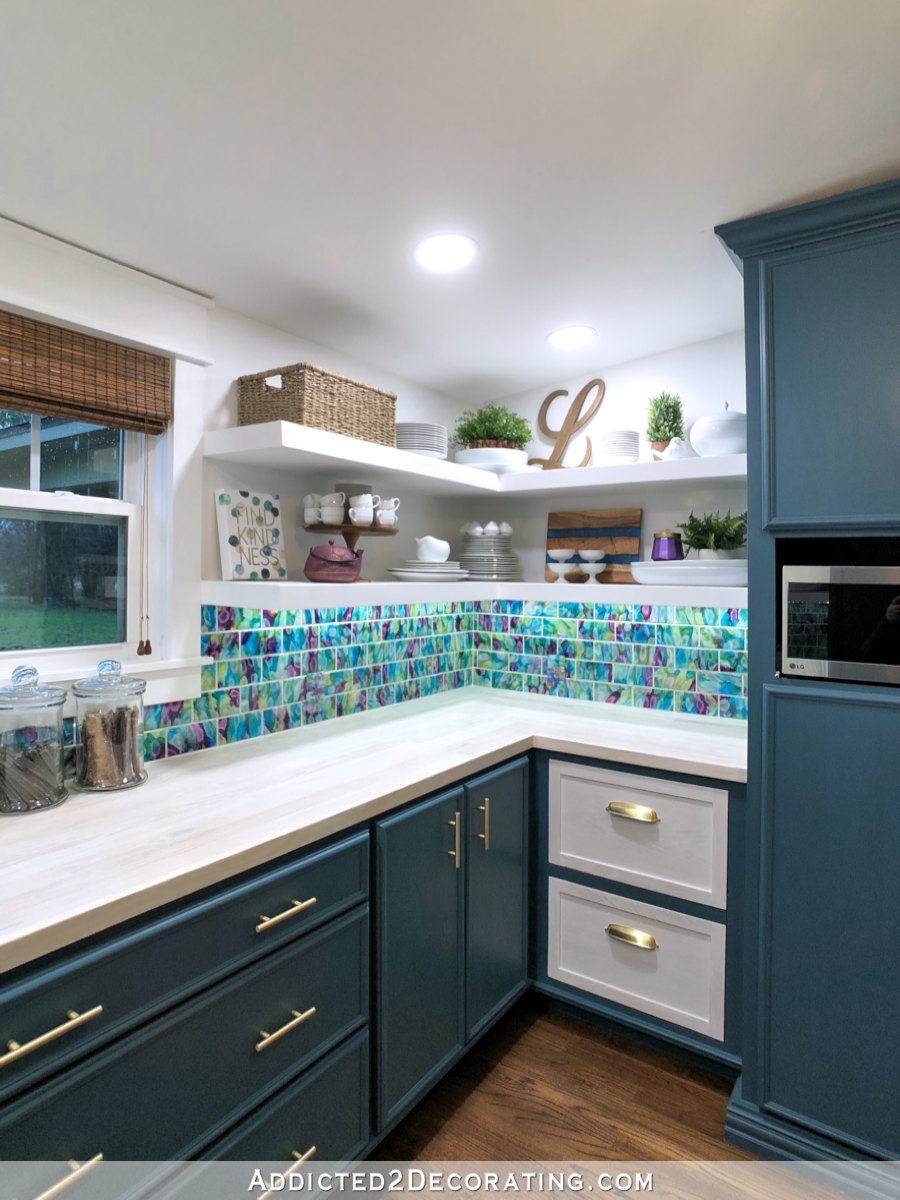 I'll give you the whole tour of the butler's pantry design, and show you lots of before (waaaaay before, as well as before the One Room Challenge) pictures. But first, did you notice that I'm calling it a butler's pantry now? I was reluctant to use that term because it seems so fancy and highfalutin for my house. But just calling it a pantry seems misleading since the only food you'll find in here are Cooper's bones and dog treats in the three canisters that sit on the countertop right below the window, and then the food inside the freezer.
Sooo, I guess I'm one of those fancy people with a fancy house that has a butler's pantry! 😀
As soon as I finish up my kitchen organization projects, I'll do a whole kitchen/pantry organization post and video to show you how and where I've stored everything, but for now, I just want to focus on the actual pantry building project.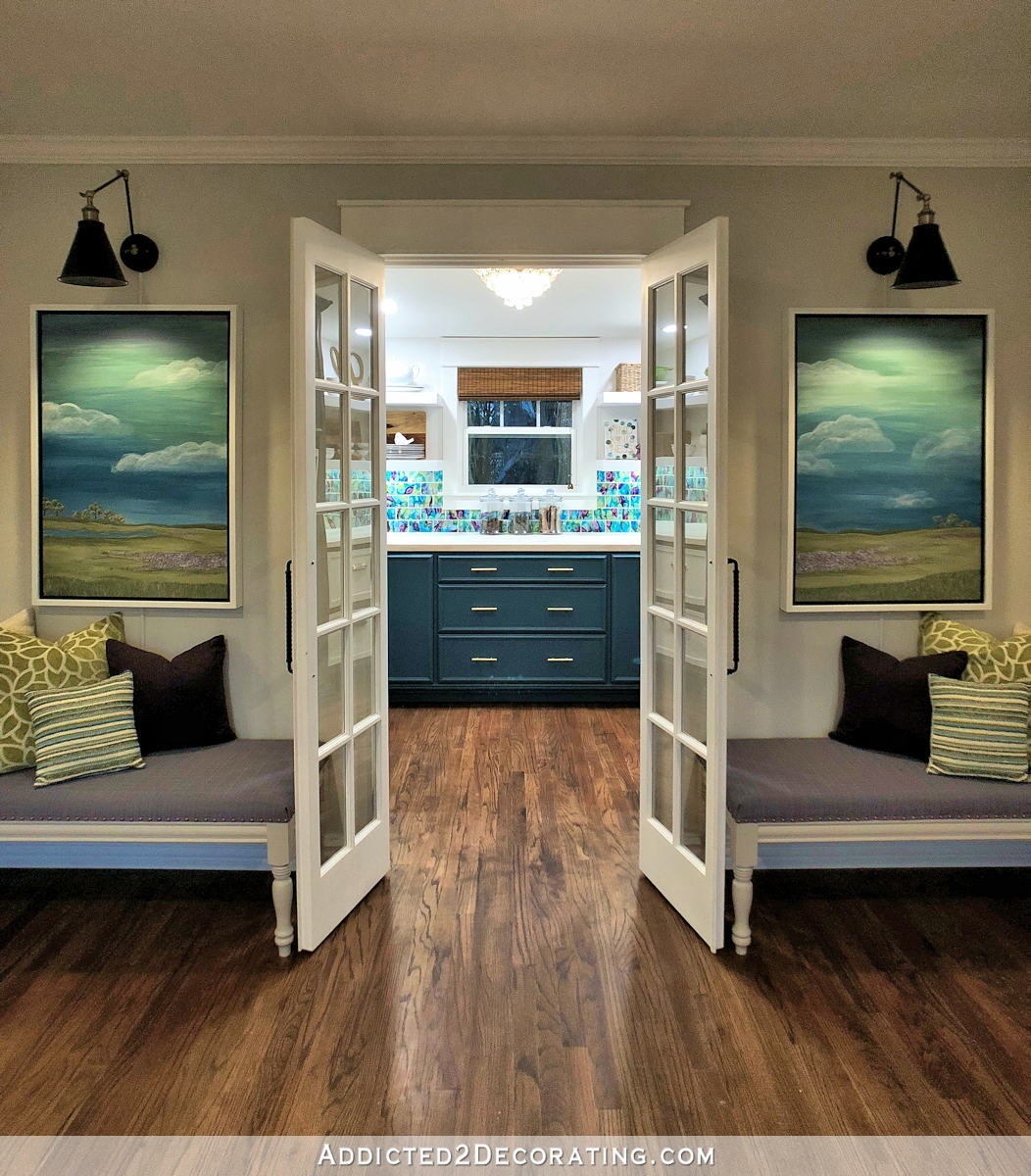 The whole remodel, from the very beginning to the end, was actually a work in progress for over two years. When we bought the house in 2013, there was no pantry. There was just one big room that measured 12 feet by 24 feet next to the kitchen (and separated from the kitchen by a wall) that the previous owners referred to as a den. So the area that is now the pantry originally looked like this…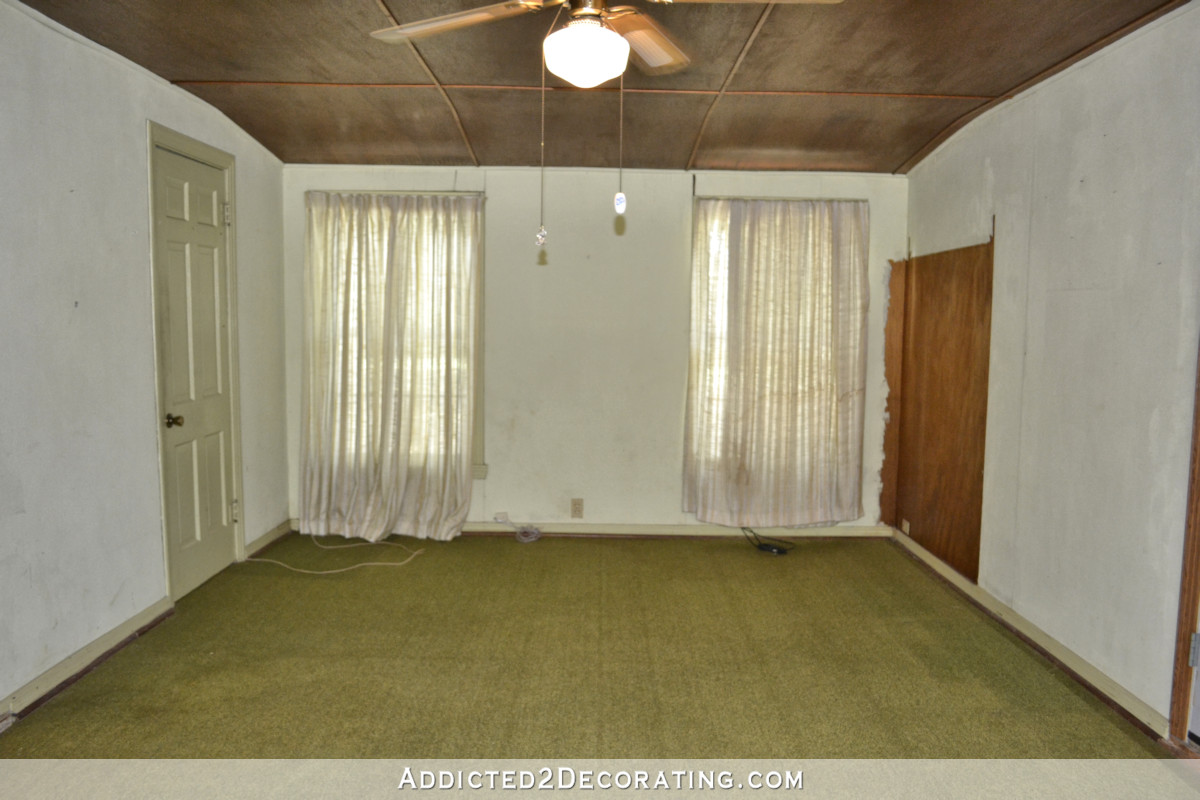 The area had two large windows with broken panes, a door that led to the sunroom, a dark plywood ceiling that awkwardly curved down around some interesting ceiling framing, and green carpet.
I took out all of the carpet shortly after we bought the house, and that revealed the asbestos tile floor.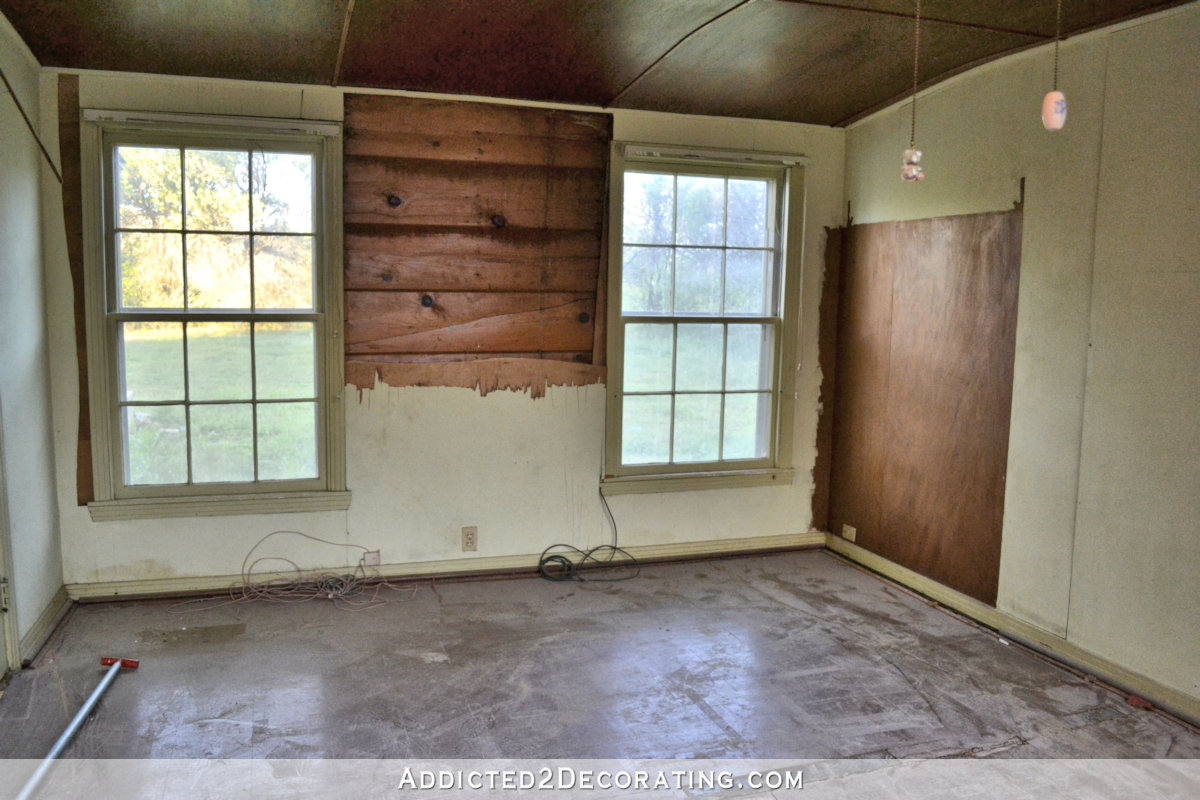 During the breakfast room remodel, everything was torn down, torn out, reframed, drywalled, etc. It was a big elaborate process which included my brother and I completely tearing out the back wall and rebuilding it with one small window in the center.
And then I framed out a wall seven feet from that back wall and put a 48-inch doorway in the middle to create a pantry at the back of the breakfast room.
So by the end of the breakfast room remodel, the pantry was its own separate room sitting behind cute French doors…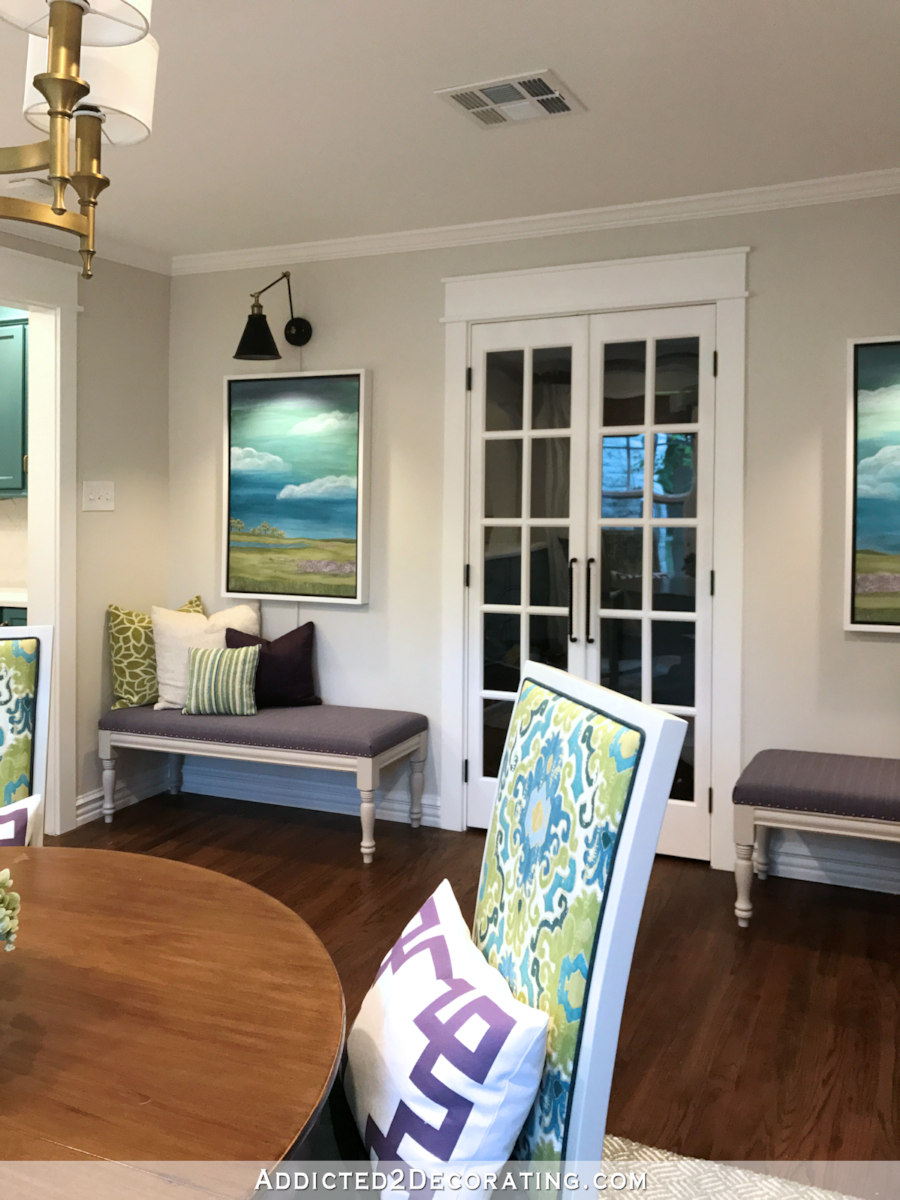 And it sat like that — empty for a while, and then filling up with random piles of stuff — for a year-and-a-half until I decided to do the Fall 2018 One Room Challenge. That's when I cleared out the room, devised a plan, and got to work.
The butler's pantry design drawings.
The first thing I did was get the decide on a final butler's pantry design and get it down on paper. That way I wouldn't be making things up (too much, at least 😀 ) as I started the actual build.
Here's what the design looked like on paper…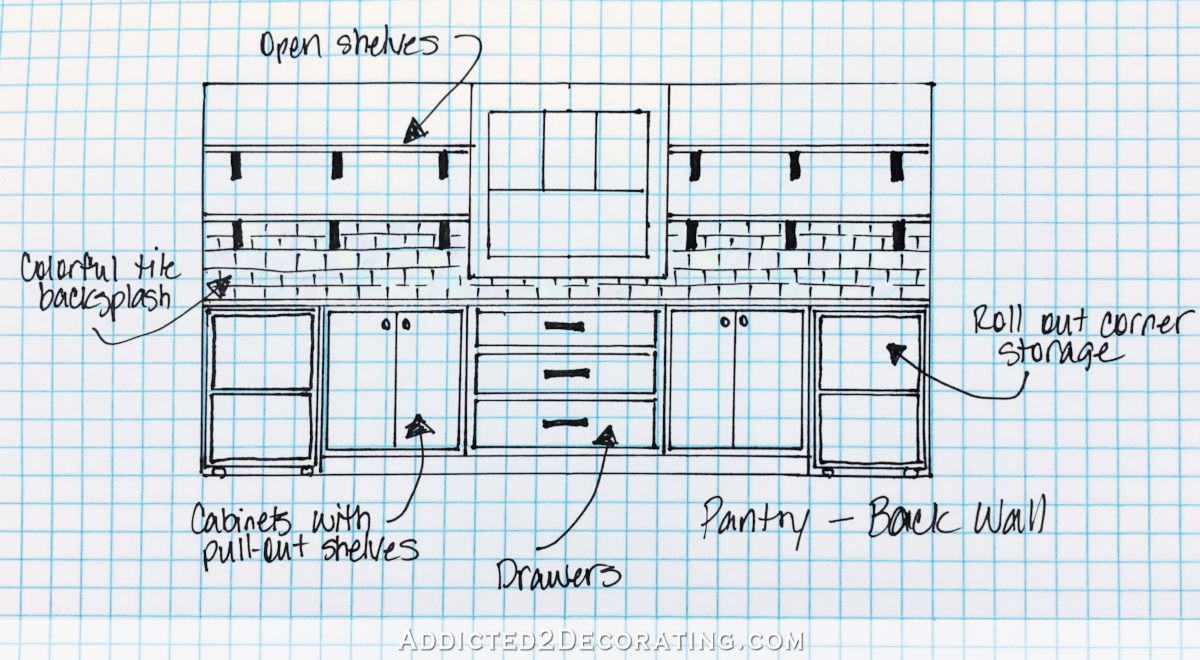 So with my butler's pantry design down on paper, I was ready to get started. And after ten-and-a-half weeks, it was finished!
So after all was said and done, this area went from this…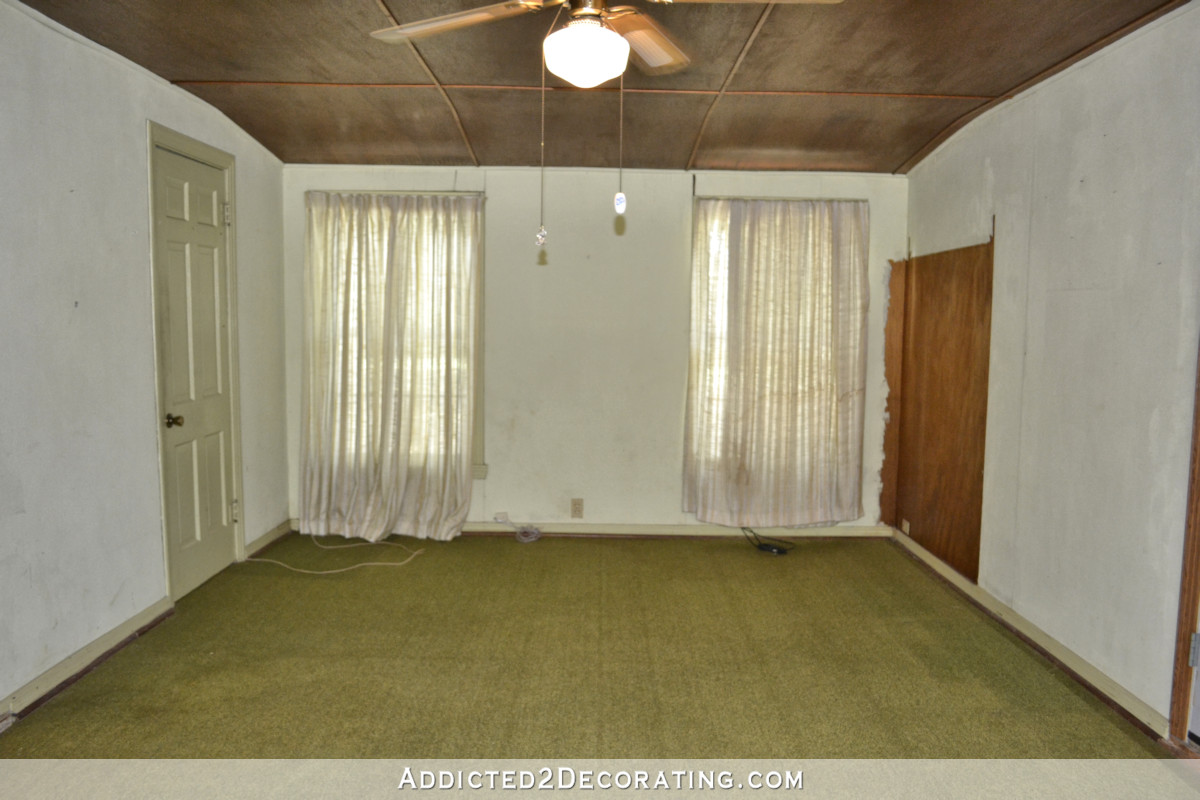 …to this…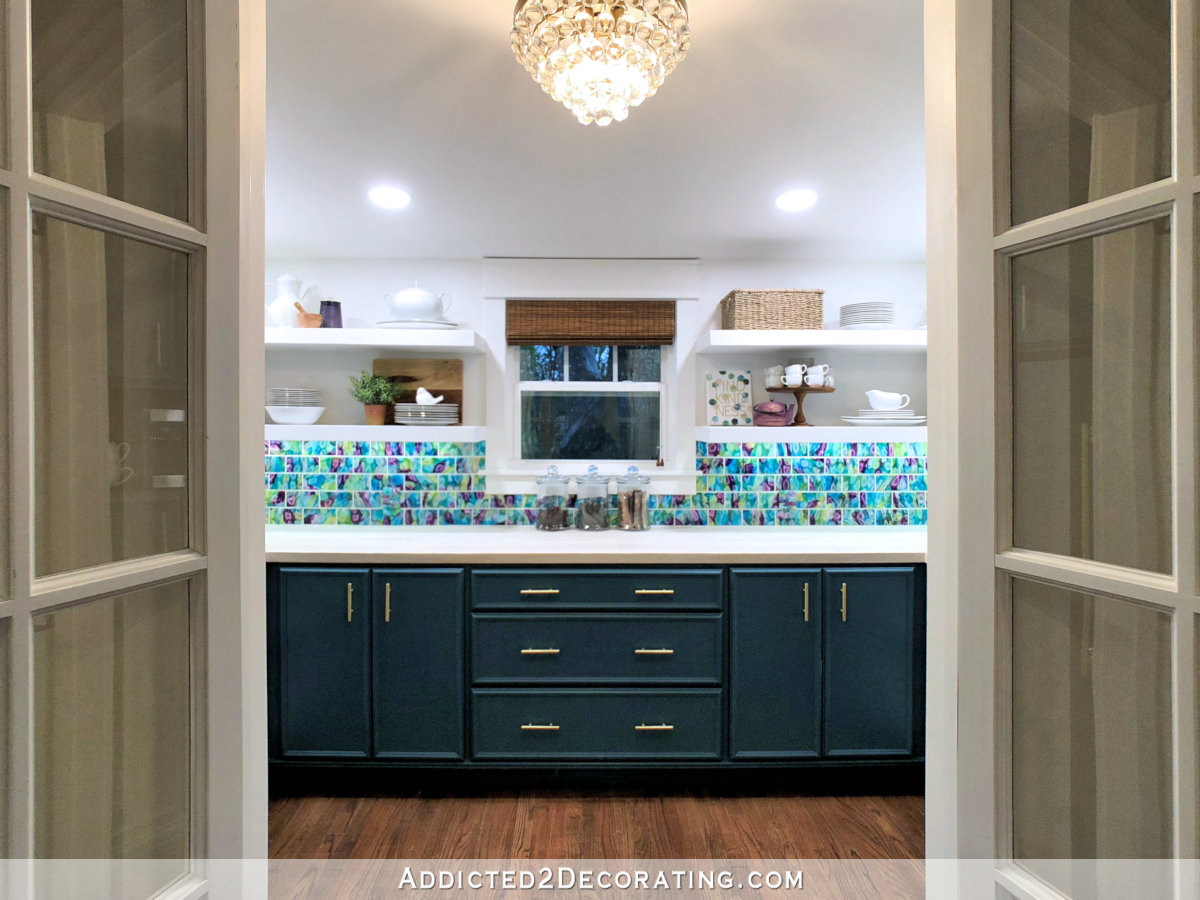 But now that I've reminded you of how this room looked before any remodeling took place, I'll just focus on the "before the One Room Challenge" pictures to show you what I did over the big ten-and-a-half week pantry build.
The Butler's Pantry Tour
So let me give you a quick, wordless before-and-after tour…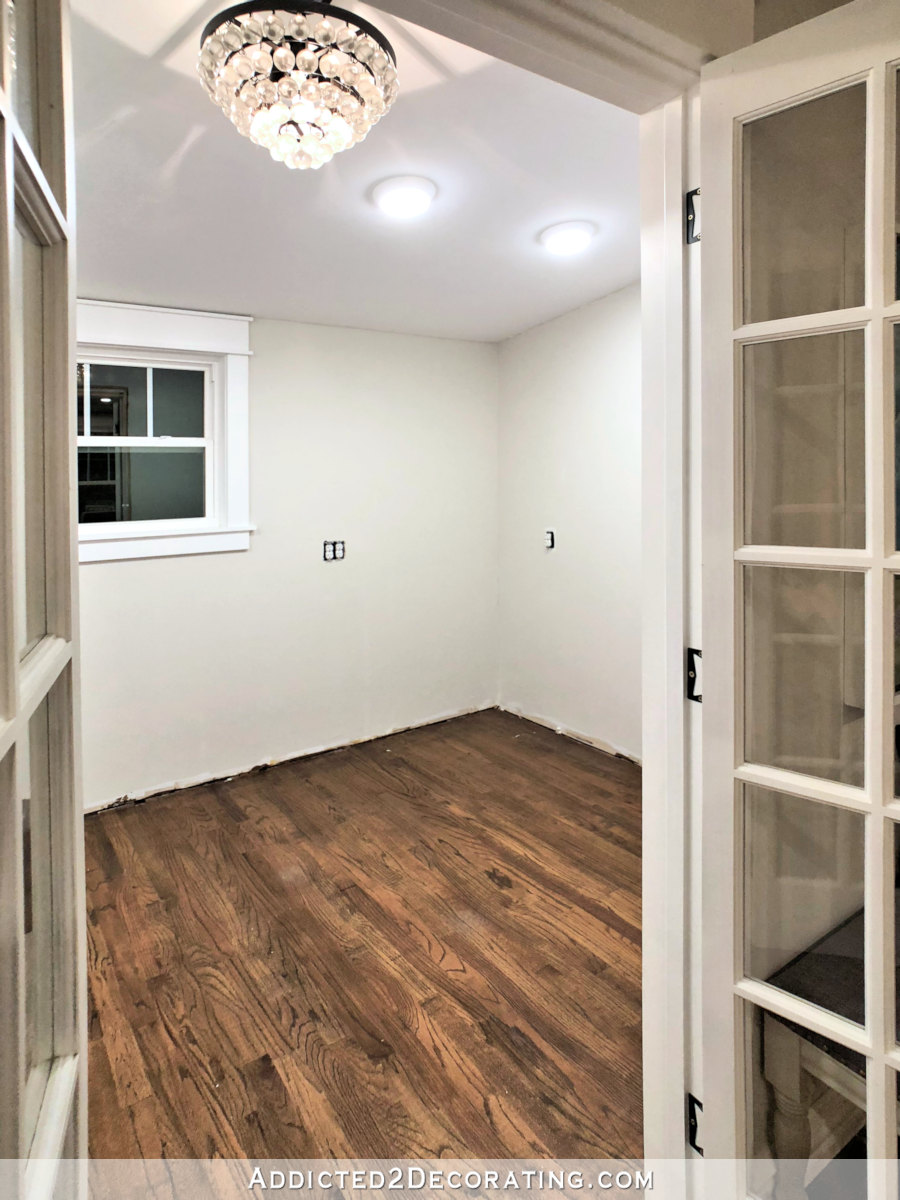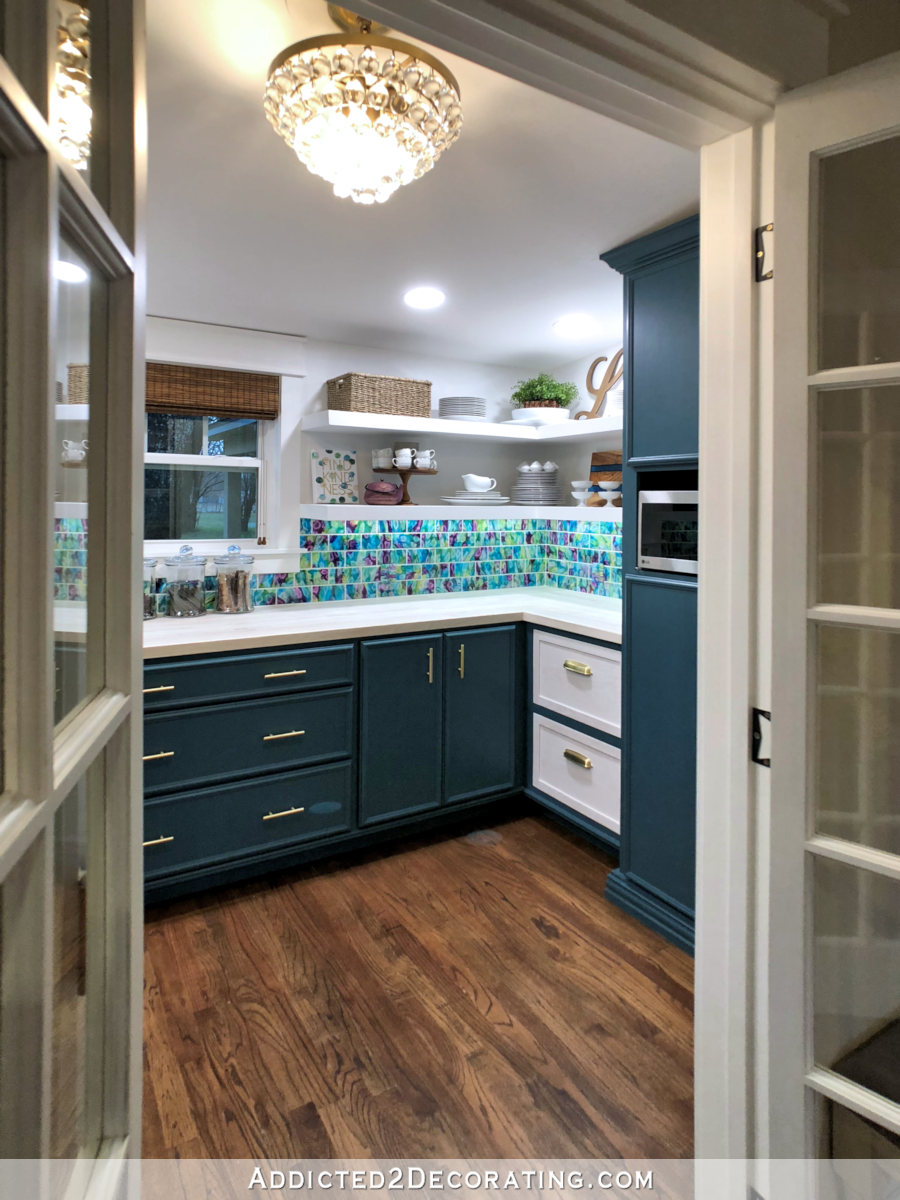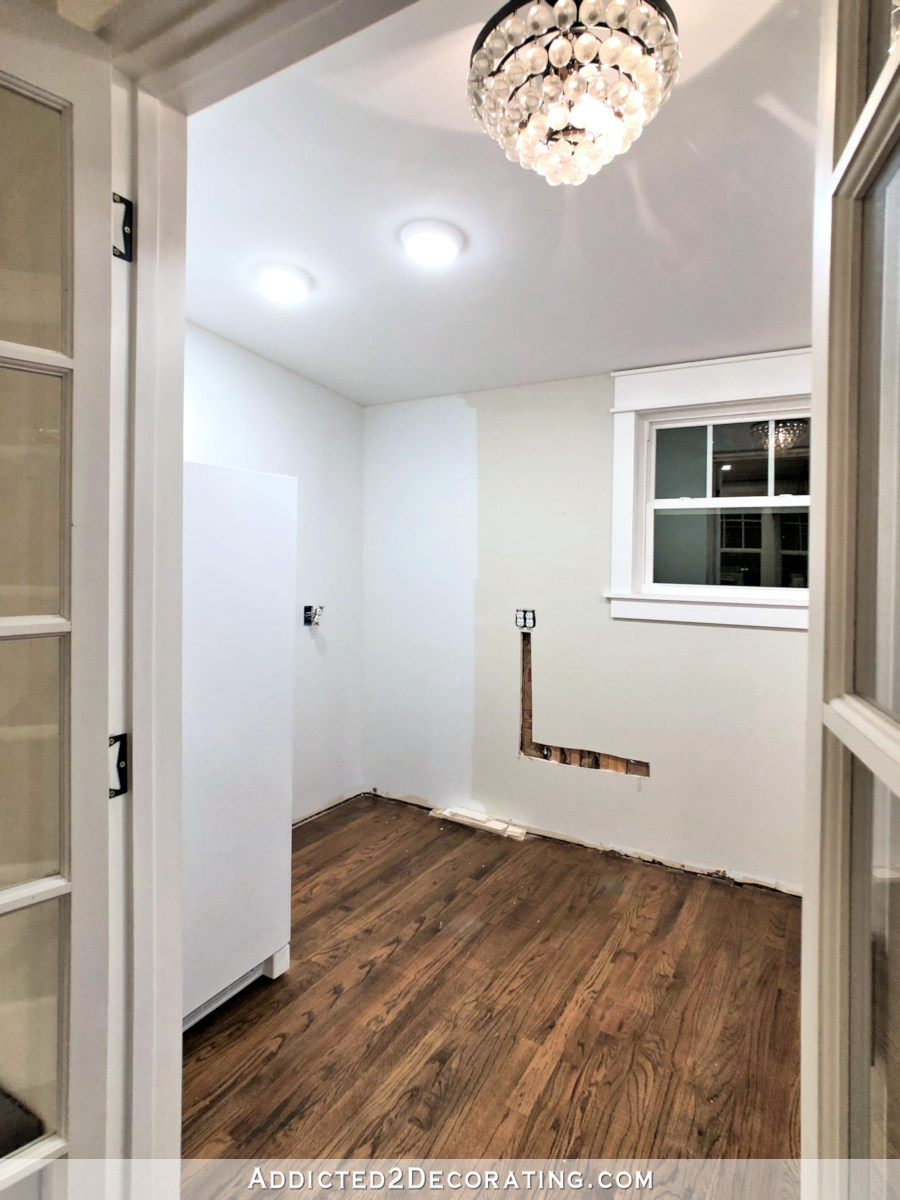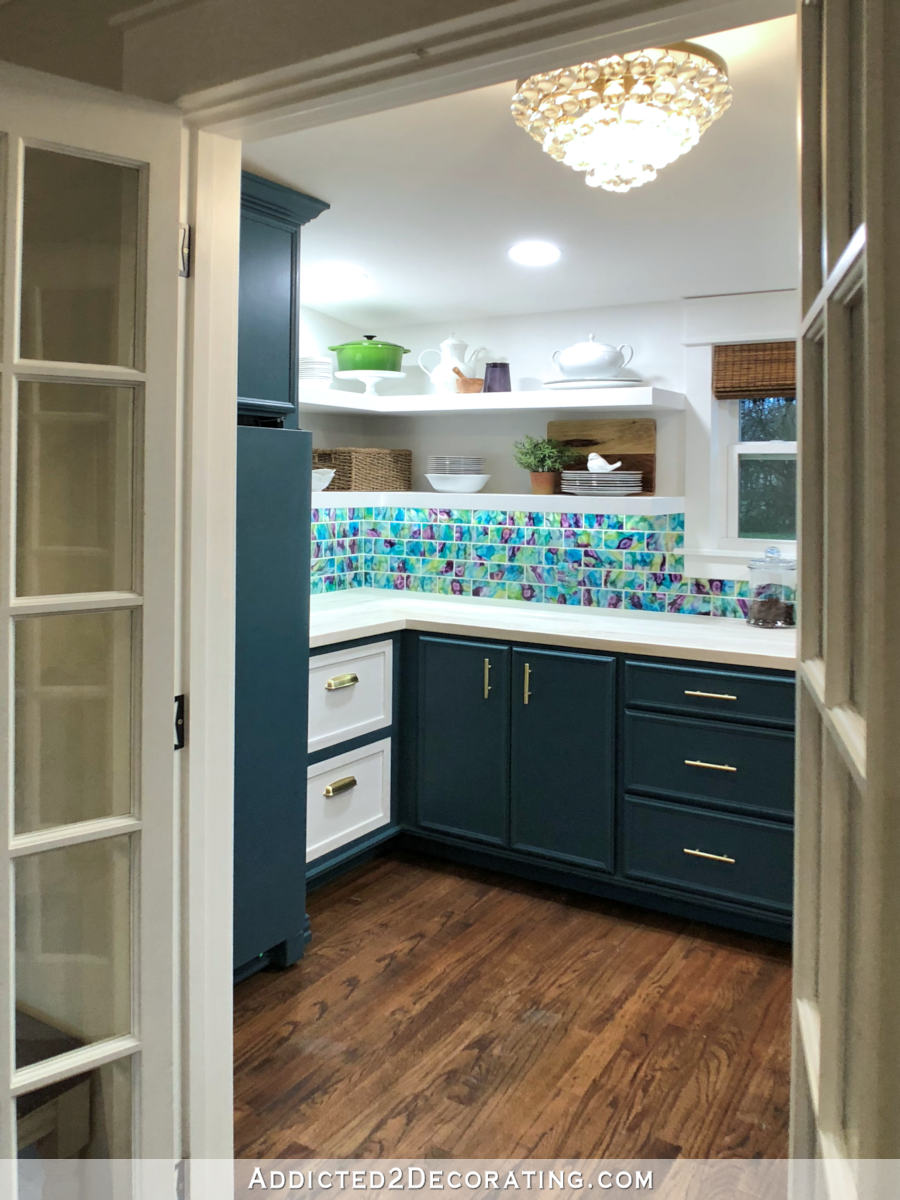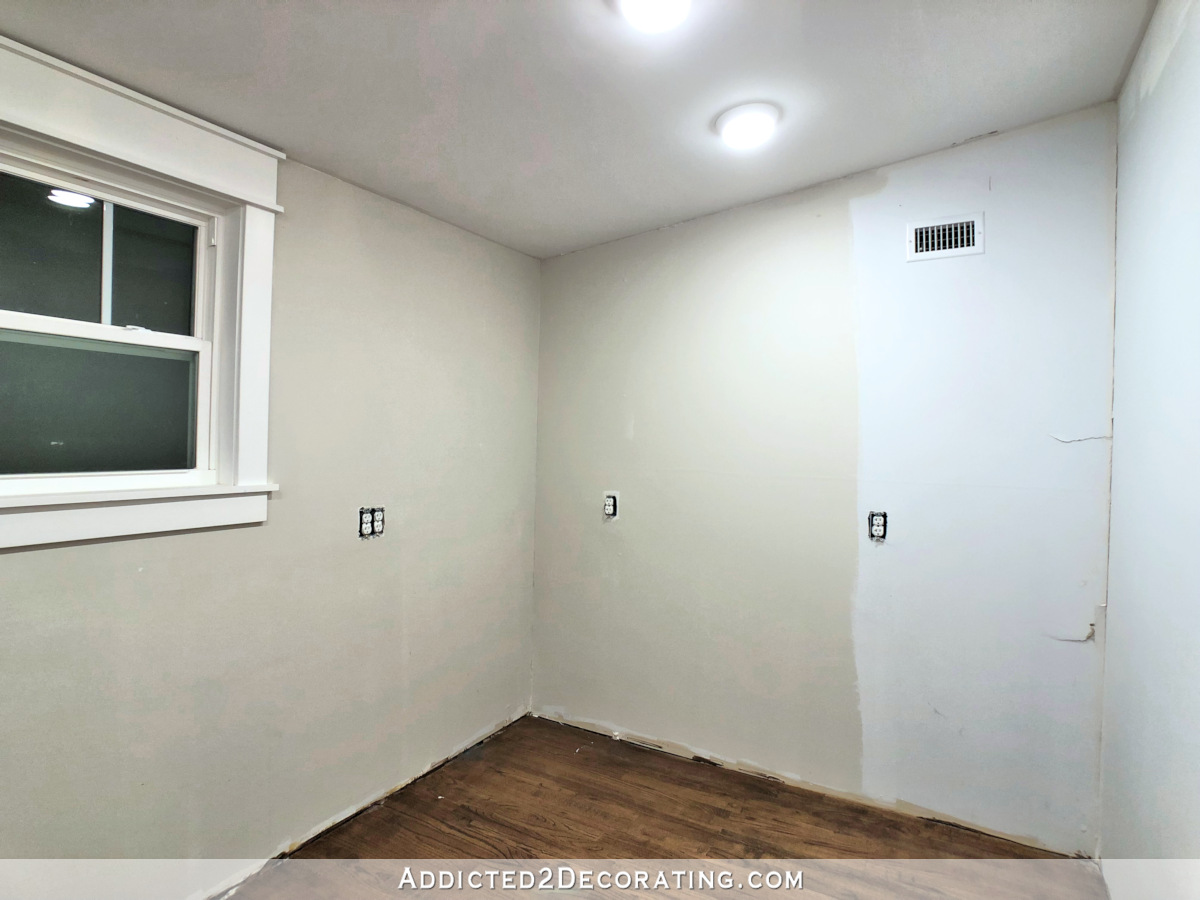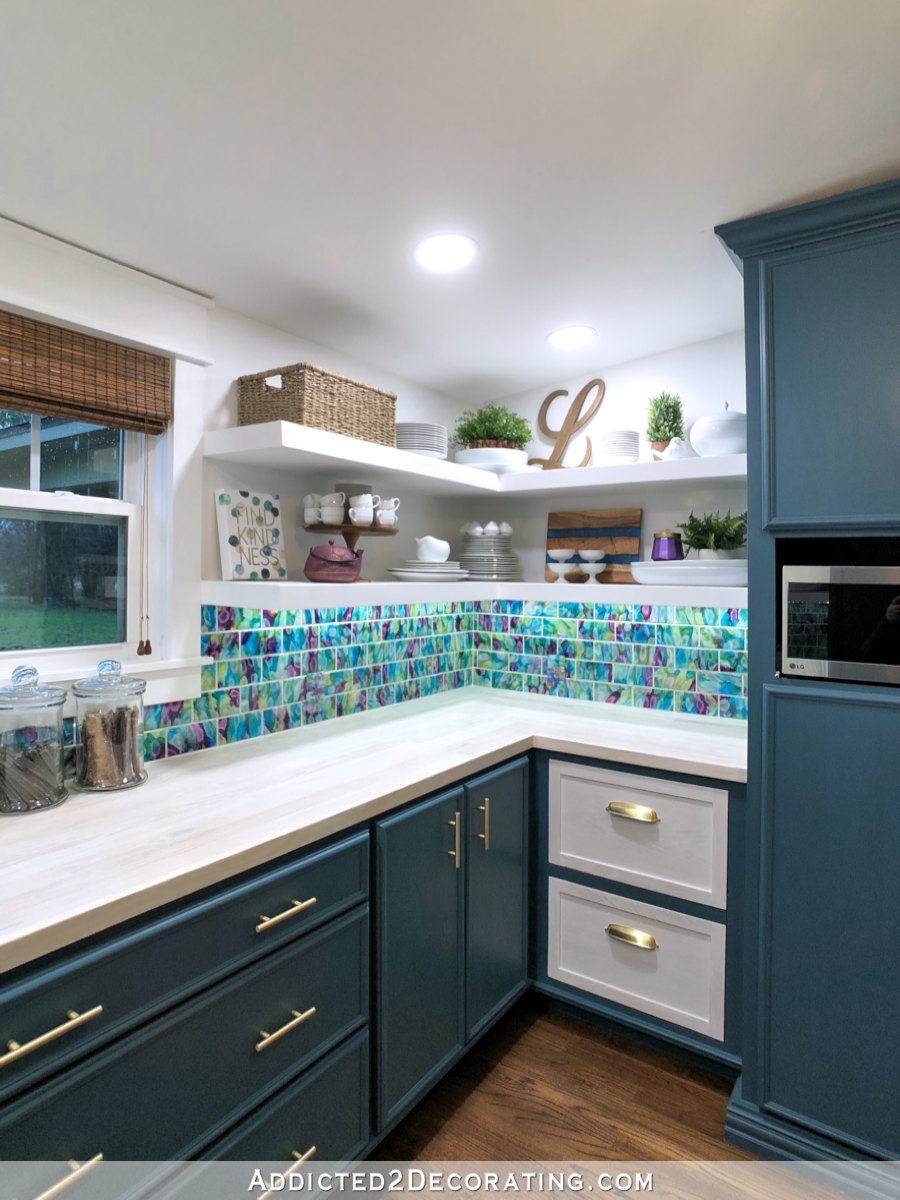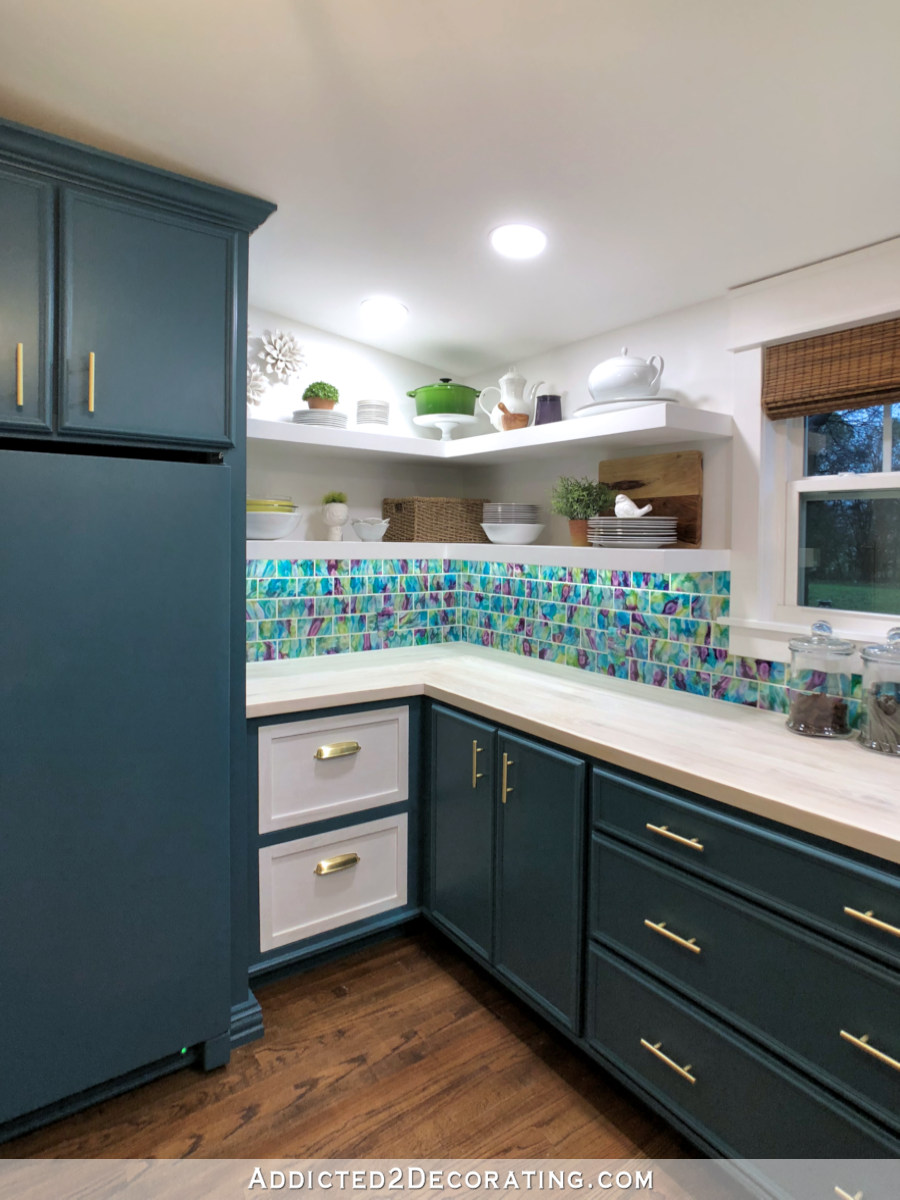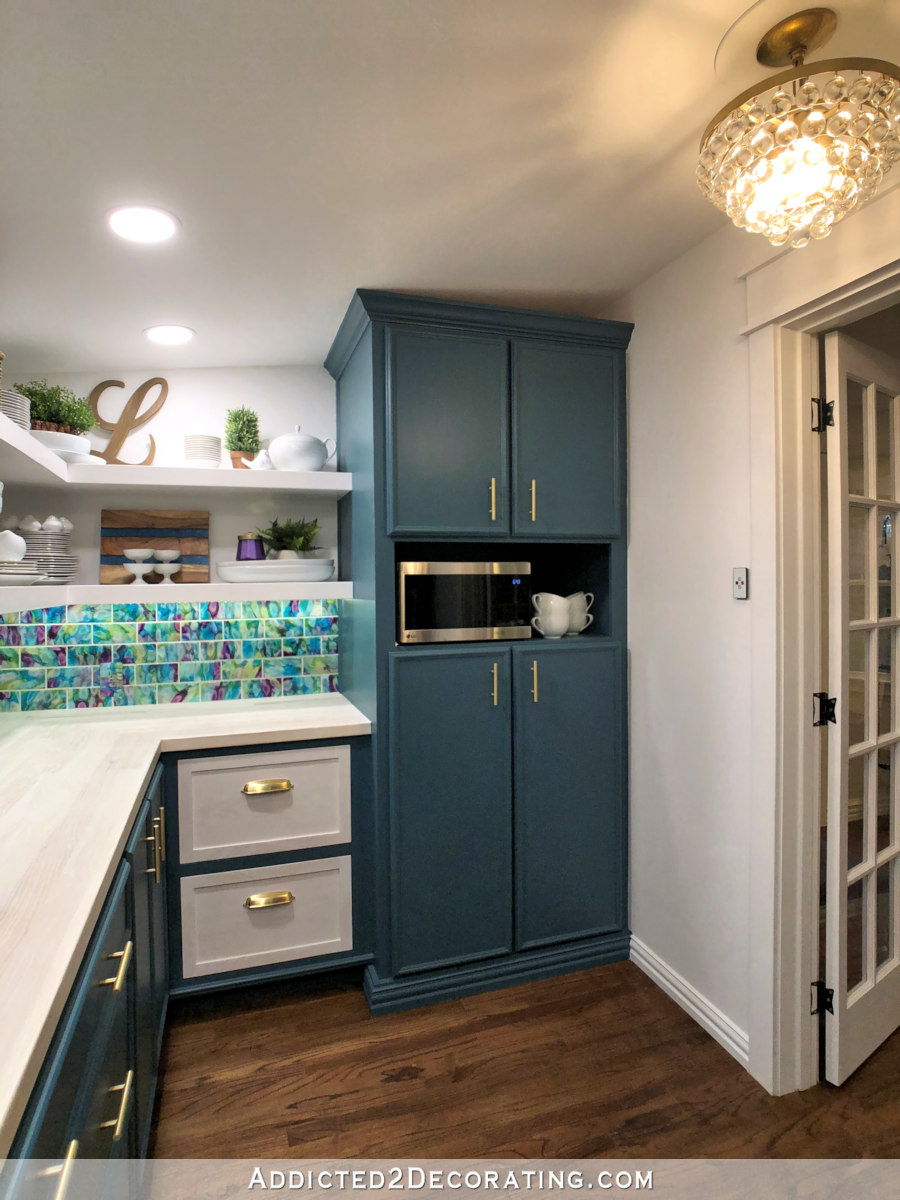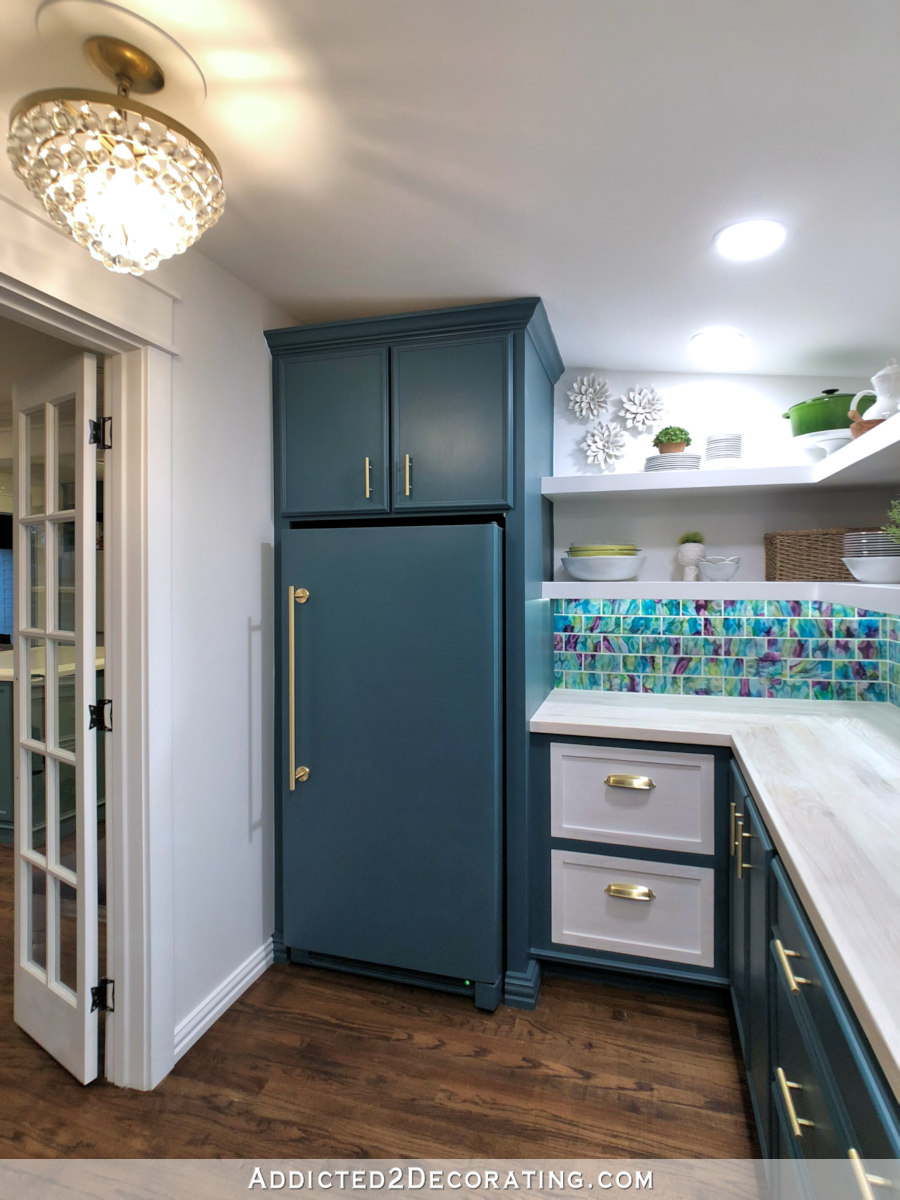 Not too shabby, right? 😀 I'm so excited about how this pantry turned out. In fact, I find myself going in there several times a day just to look and stare. The new hasn't worn off yet, and I think it'll be a while before I'm used to seeing an actual pantry through those glass doors.
This room is filled with DIY projects from top to bottom, including all of the cabinets, as well as the pull-outs that I made to go inside. The lower cabinet on the right has a pull-out shelf on top and a slotted pull-out drawer on bottom that holds all of my bakeware.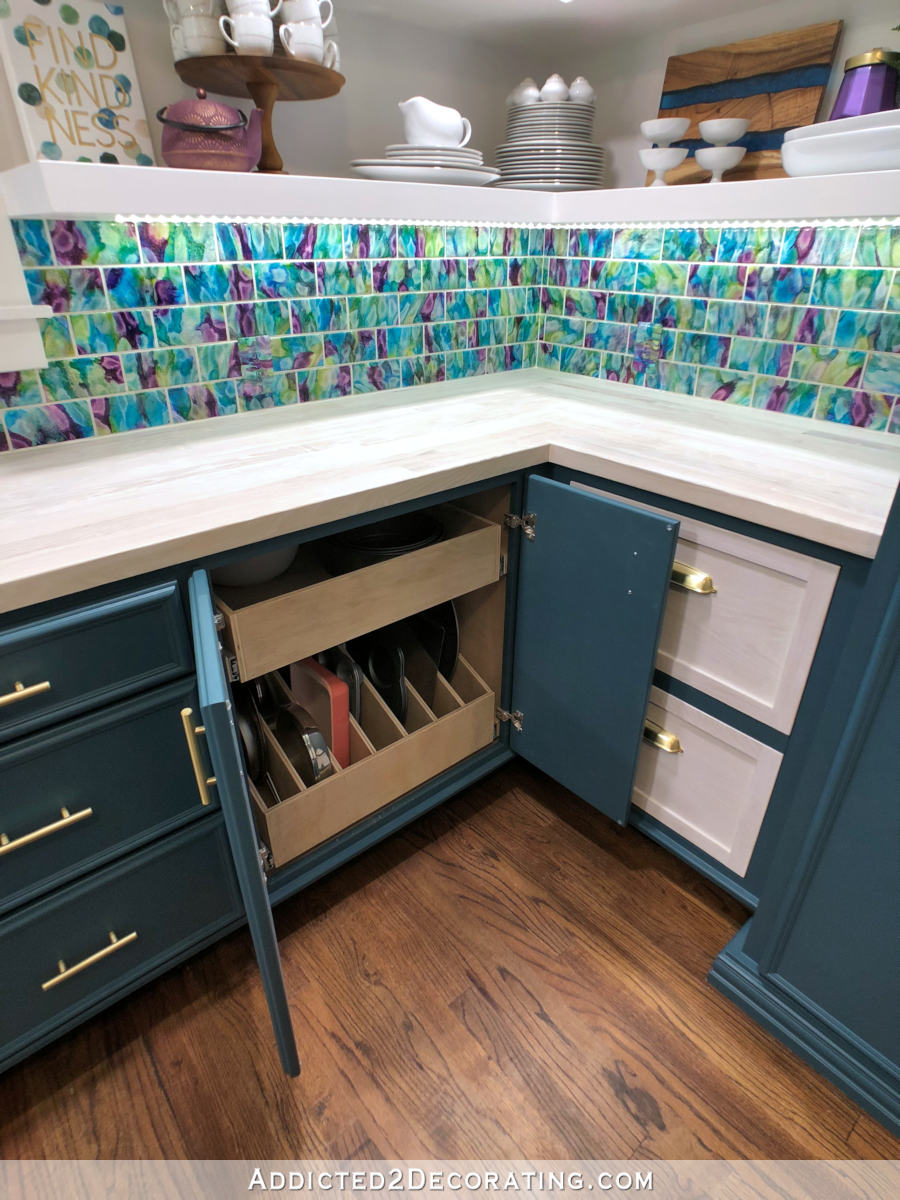 The lower cabinet on the left has three pull-out shelves that are all the same size.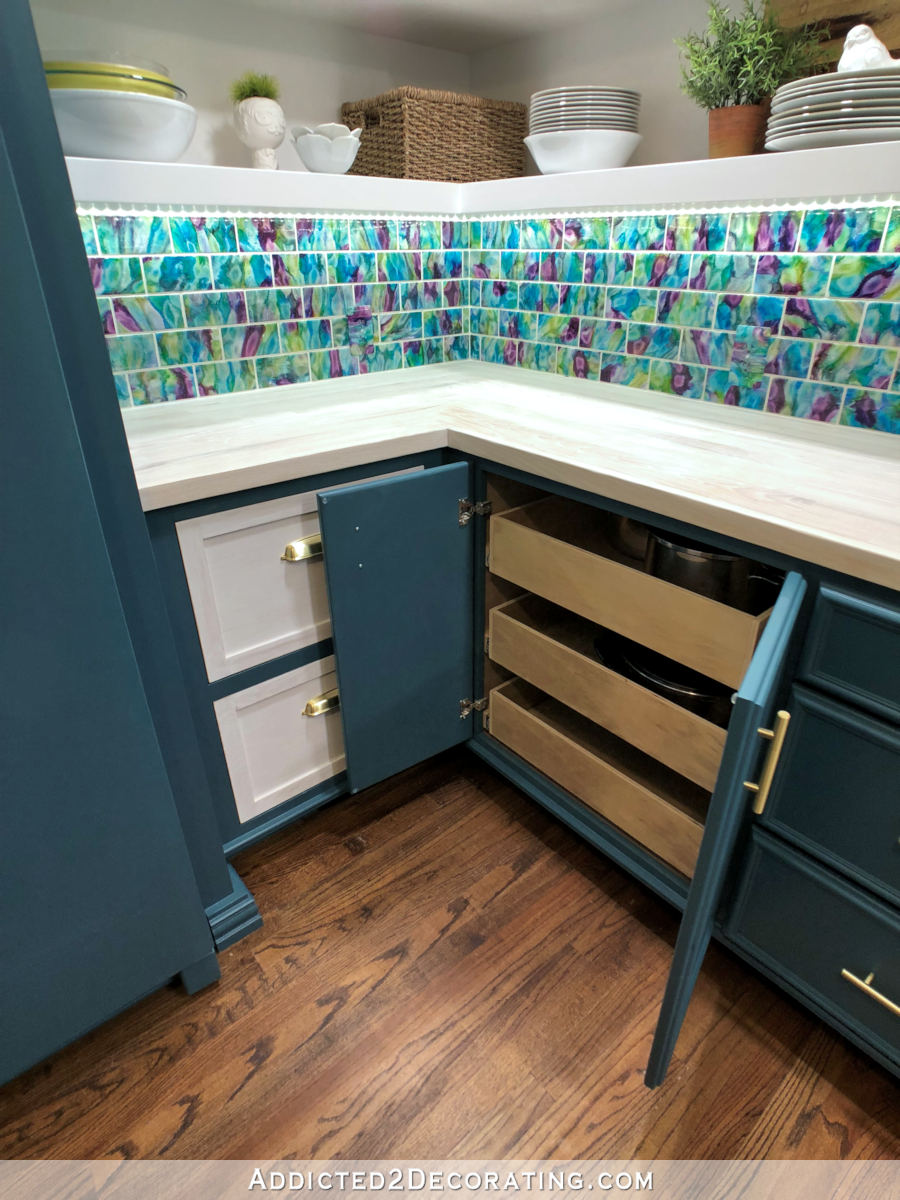 And the lower section on the floor-to-ceiling cabinet on the right has six pull-out shelves.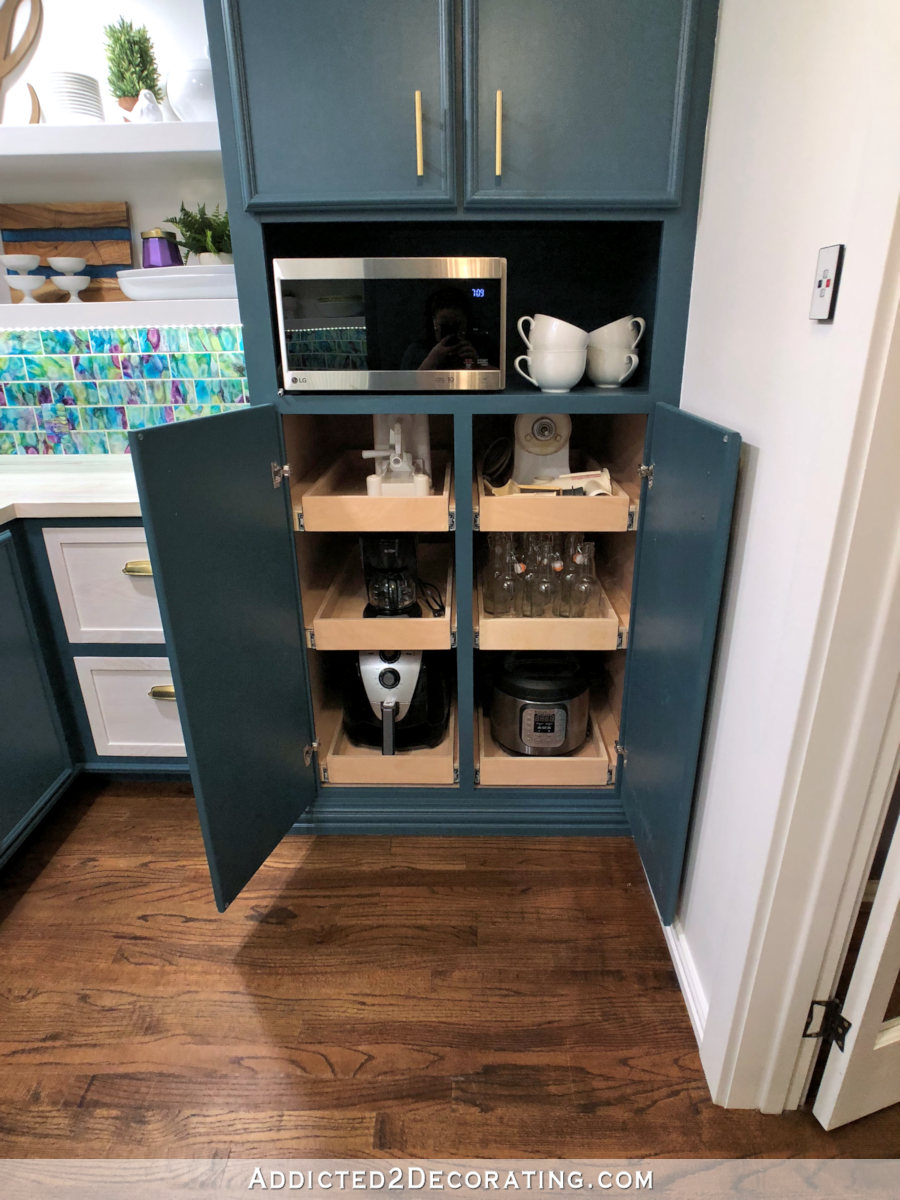 I really wanted the storage above the countertop to be open shelves, and I specifically wanted that to be where I stored my dishes that I bought when I lived in Turkey. They're just very simple and elegant gold and white dishes, and I have a lot of them, so I stacked them and spaced them out on the open shelves, and then filled in with some decorative items as well as the serving pieces from the Everyday White dishes from Bed, Bath & Beyond. Those are the dishes we use on a daily basis, so I keep the plates, coffee cups, bowls, etc., in the kitchen. But I put the serving pieces, like the big bowls, gravy boat, serving platters, etc., on the open shelves with my Turkish dishes.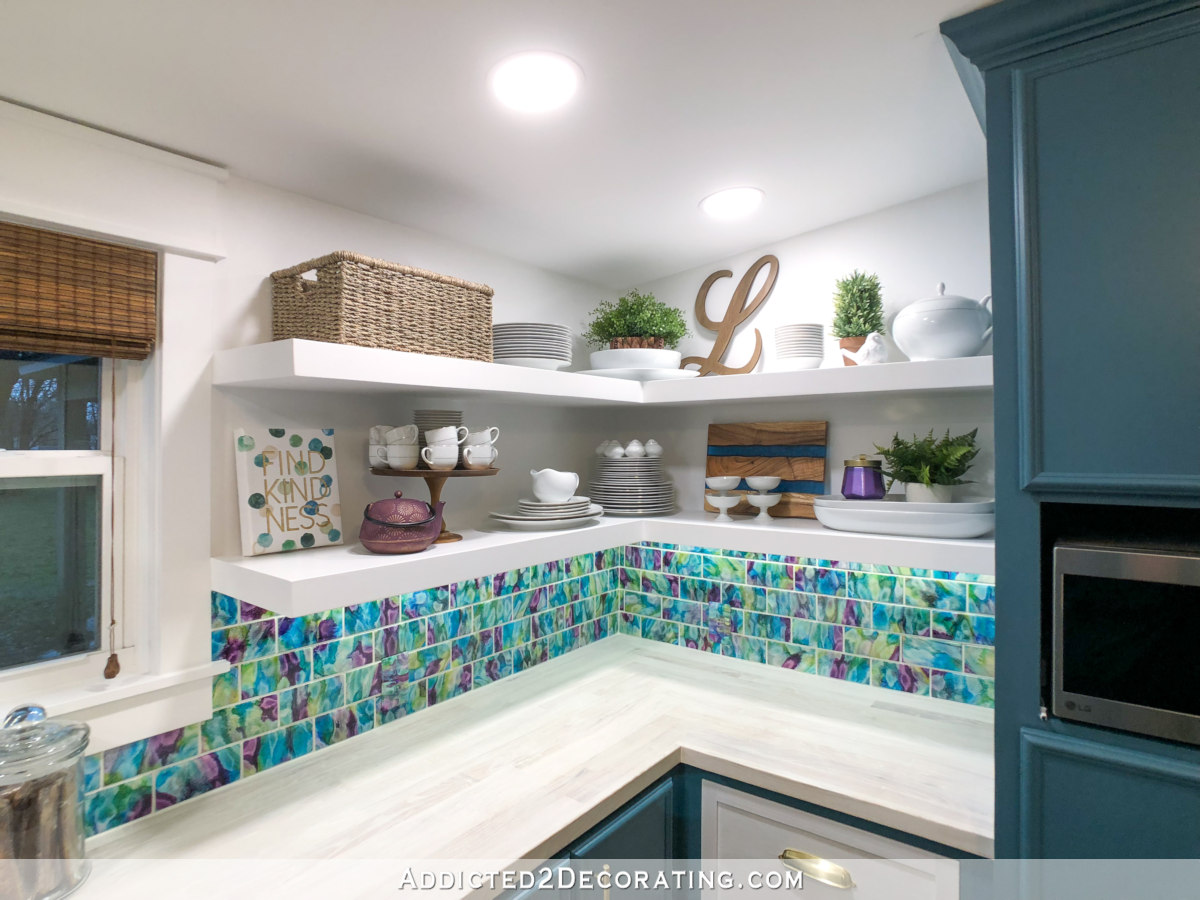 The craziest and most time-consuming project in this whole pantry was the tile project. These started out as just plain ole white subway tiles from Home Depot (the cheap ones that are about $0.20 each), and I layered on clear resin and alcohol inks in various shades of green, purple, teal and turquoise to create these crazy colorful custom tiles for the backsplash.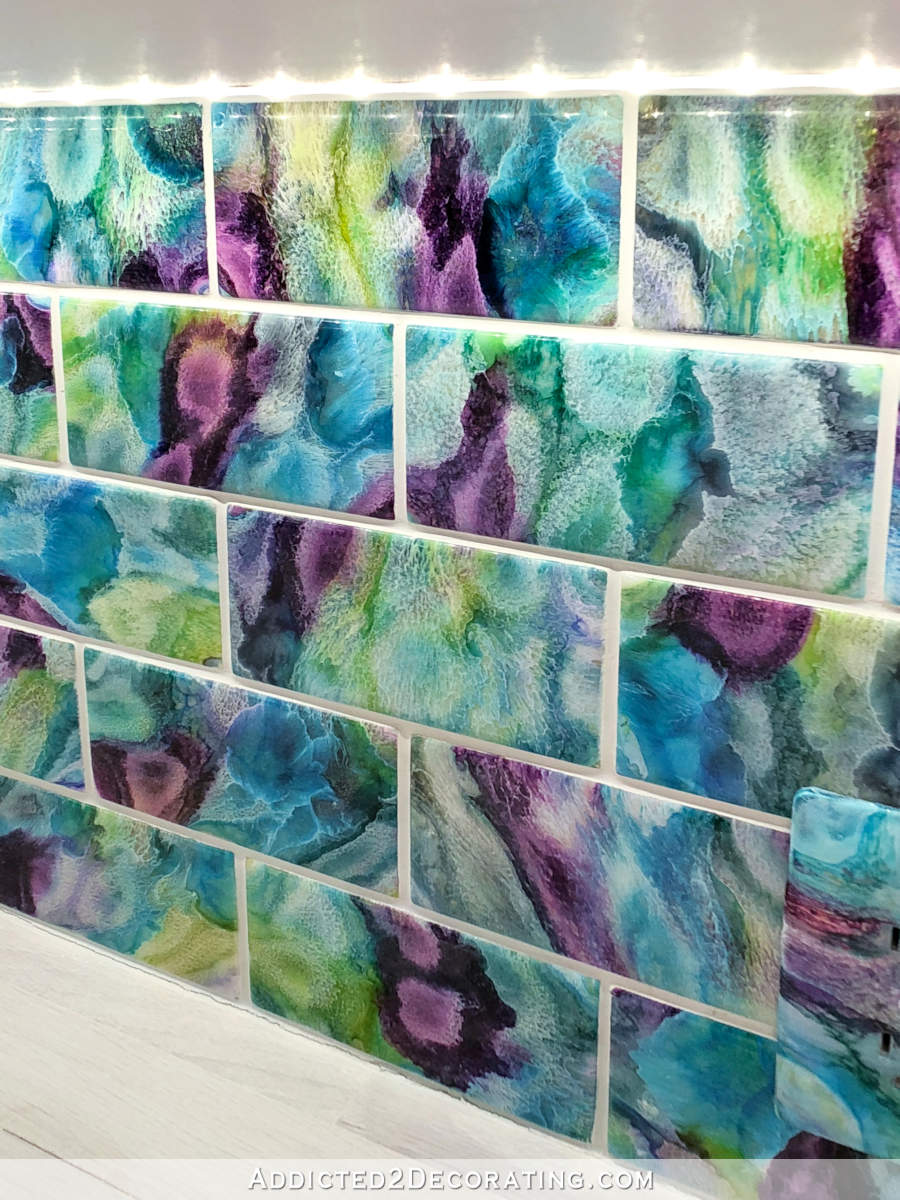 Those tiles definitely top the list as my favorite thing in this pantry. They're just very "me". But a close second is the painted freezer. That's just an inexpensive and very utilitarian upright freezer that we bought at Home Depot. It originally looked like this…
And after some paint and a new handle, it now looks like this…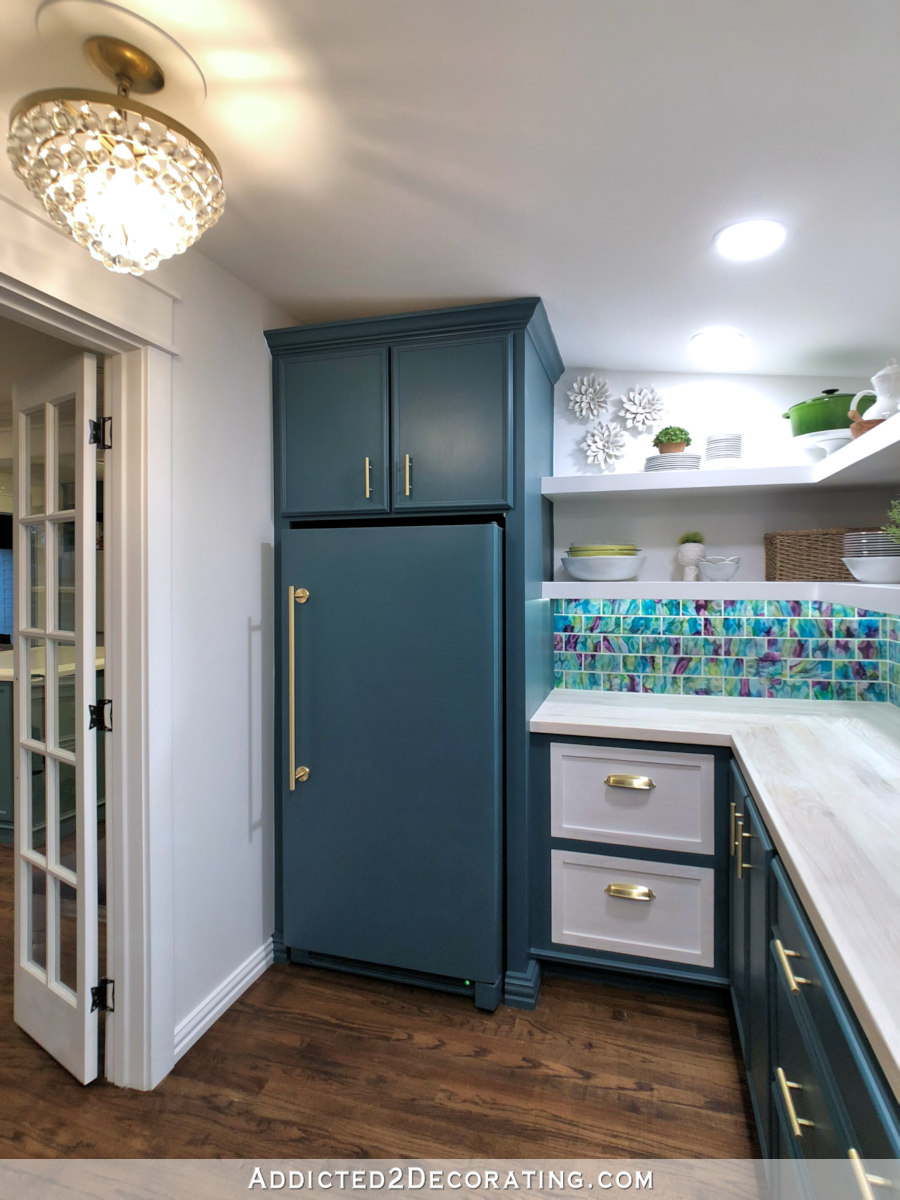 That really is the same freezer. 🙂
I'm so thrilled to have this butler's pantry finished! I still need to calculate just how much it cost, because I know some of you are curious. If I had to guess right off the top of my head, I'd say it's somewhere in the $2500 range, including all of the resin for the tiles (resin is expensive!), all of the cabinets, and the new freezer. But I'll see if I can figure a more accurate estimate.
In the meantime, you can check out all of the DIY projects that went into the butler's pantry design right here…
[laurel_index cat="pantry-diy-projects" title="Pantry DIY Projects" cols="3″ display_title="yes" amount="15″ display_image="yes"]
Sources:
Cabinet color – Mythic Forest, Behr, eggshell finish
Wall and trim color – Polar Bear, Behr, eggshell finish
Pantry doors – Home Depot
Ceiling light — Home Depot
Thin recessed lights – Home Depot
Door pulls – Lowe's
Drawer bin pulls – Amazon
Freezer – Home Depot
Freezer handle – Amazon
"Find Kindness" canvas – Pier 1
Wood cake stand – Magnolia
Small purple cast iron teapot – World Market
Glass canisters – Hobby Lobby
Porcelain wall flowers – Target
And I think that about wraps it up for the butler's pantry design project! If I left anything out or you have questions, just let me know and I'll answer as best as I can. Except for the cost. 🙂 I'll figure today and get that info to you as soon as I can.
UPDATE:
I had intended to include a video tour of the pantry in this post, but technical difficulties prevented that. I wrote a follow-up post to this one, and included that video, plus some answers to the most-asked questions about my pantry. You can find that here:
Addicted 2 Decorating is where I share my DIY and decorating journey as I remodel and decorate the 1948 fixer upper that my husband, Matt, and I bought in 2013. Matt has M.S. and is unable to do physical work, so I do the majority of the work on the house by myself. You can learn more about me here.