Designing A Wheelchair Accessible Master Bathroom
Well, I underestimated the amount of time it would take me to paint the hallway cabinets. 🙂 They're so close to finished, but not quite. But they'll be done by Monday, for sure!
In the meantime, I thought I'd share another project that I've had rattling around in my brain for the last week — our master bathroom. And no, I'm not talking about the tiny so-called master bathroom we currently have. I'm talking about our big, final master bathroom that we're planning.
So let me back up a bit and do some explaining for those of you who may be new around here, or those who may have forgotten our long term plan. Right now, the floor plan of our house looks like this…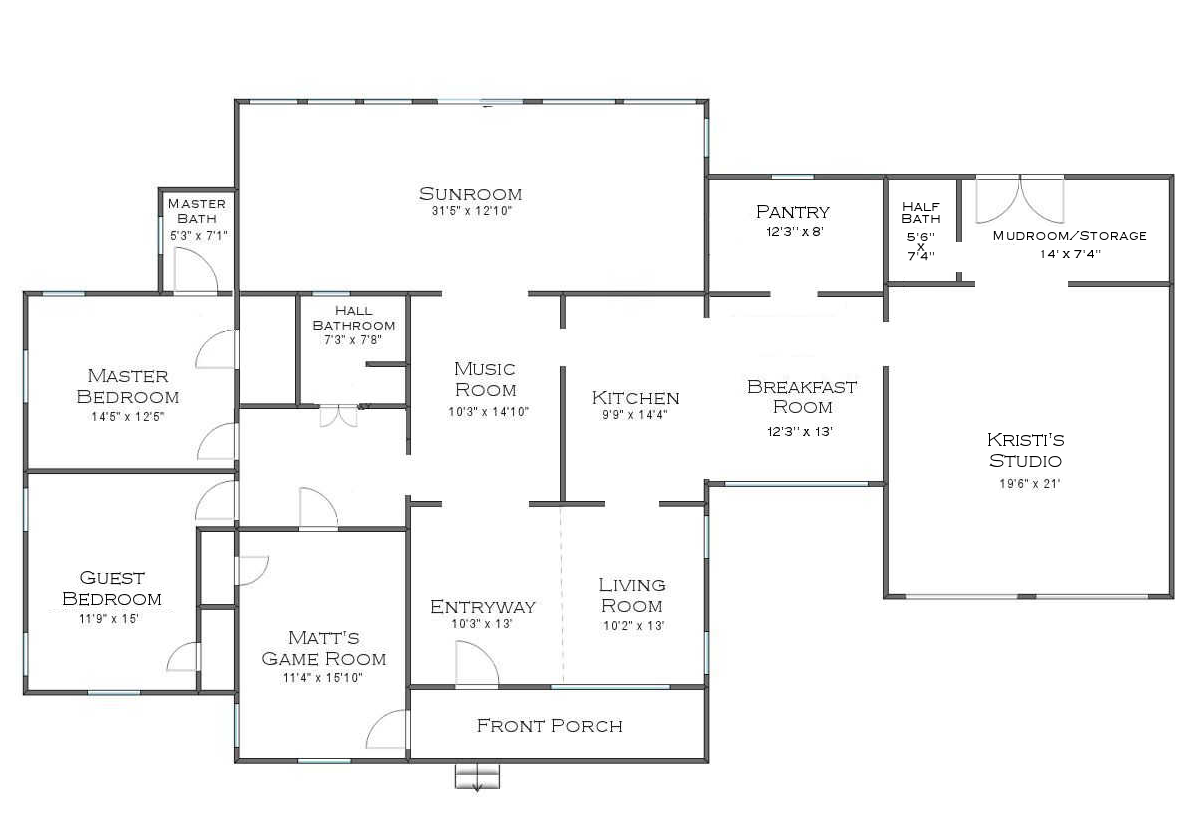 The current master bathroom (and I use that term generously 🙂 ) wasn't part of the original house. I have no idea when it was added on, but it's tiny and not worth saving, especially considering that a man in a wheelchair uses that bathroom. So our long term plan has always been to turn the current master bedroom into the master bathroom, and then add on a new master bathroom, laundry room, and family room. That plan would require tearing down the current "master bathroom" and sunroom, and when it's finished, it would look something like this…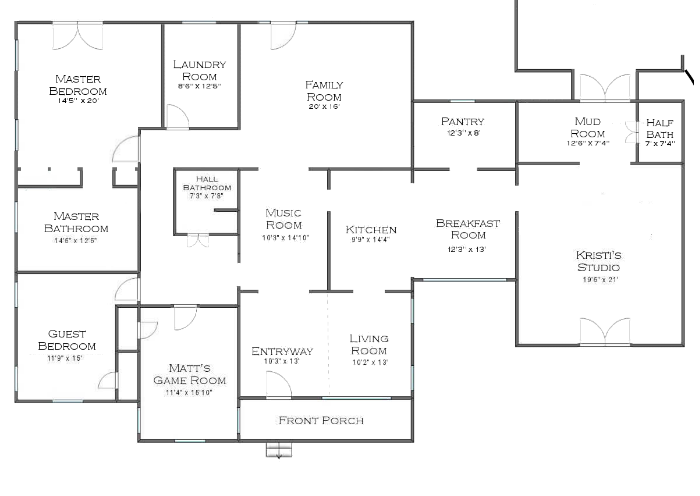 I haven't updated this floor plan to show the flip flopped locations of the mud room and half bath at the back of my studio yet, but the focus here is on the other side of the house, and especially the master bathroom as it relates to the future master bedroom. And as far as the master bathroom, master bedroom, laundry room, and family room go, the only thing written in stone is the general location. All of the particulars (closet locations, access to laundry room, etc.) are flexible, but aren't really important right now. I've got plenty of time to think through those details…and change my mind on them 100+ times. 🙂
We still don't know for sure when we'll be able to do this big addition, but the other day Matt and I started talking about the possibility of going ahead now (or soon…possibly at the beginning of the year) and moving our bedroom into one of the other bedrooms, and converting the current master bedroom into a bathroom, even if the rest of the addition is still a year or more away.
So for the last few days, I've been trying to figure out if this is even feasible. Here are the issues and obstacles:
For now, we would have to keep the door into the hallway since that's the only way to access the room from inside the house, but after the addition it will be walled off. That means that anything we plan to place on that wall (e.g., if we decide to put vanities there) would have to wait.
The doorway into the current bathroom could be closed up if need be. The future entrance into the bathroom won't be that close to the corner of the room.
The doorway into the current closet could also be closed up if need be. We've never really used that closet since it has the scuttle holes into the attic and the crawl space beneath the house, which have both needed to be accessed pretty regularly since we've been here. So we just keep that closet fairly cleared out. I'd need to add an access into that area either from the current hallway or from the sunroom since we'll still need to access the scuttle holes.
The one exterior wall that will remain currently has a window that's about 48″ wide and 60″ high. I'm okay with keeping that size or using a smaller window. I'm even okay with moving it if we absolutely can't work with its current placement. But that exterior wall is stone, so the more that window changes in size and/or location, the more expensive and difficult it will be.
The single most important thing for now is having a wheelchair accessible shower, which means it has to be big, and it has to be curbless. Even if we have to wait on everything else (vanities, toilet, bathtub (if possible), that's fine. But obviously the current placement of a shower has to fit within the grand plan for the design of the bathroom in the future, and it can't be placed where the current entrance from the hallway is.
So I've got a few challenges to work around. 🙂 And like I said, I don't even know if it's feasible, but I'm going to give it lots of thought and see if I can't come up with a plan so that we can build Matt a wheelchair accessible shower sooner than later. Matt was so supportive of my idea of turning the garage into a studio, even to the point of insisting that we started on it immediately because it would make my life easier to have that big work space. And he insisted on it even knowing that it would delay the addition, including the big bathroom that would make his life easier. So I really want to see if I can make this work.
Since the shower is the most important feature in this bathroom, I've been trying to narrow down what it should look like, where it should go, if it can work with the current window placement and size, and how everything else (vanities, toilet) would work with its placement.
There are basically two options — the first is to have a really big shower with one really big entrance. Something like this would be perfect. I think pulling a curtain closed would be much easier than dealing with any kind of glass enclosure with a glass door.
But I've also thought that perhaps this design, with the two entrances, would be easy to use as well.
Please note that I'm only talking about floor plan and shower size/design here. I'm not considering these finishes and fixtures. 🙂
But with that design, he could wheel into one side, and exit the other side. There would be no need to turn around, so it's possible that the shower could be a bit narrower than one with only one entrance. The two-entrance design would also give me a natural placement for a bathtub, and we could work with the current window placement, although I'd want the new window to be much shorter than 60 inches, and placed higher on the wall so that it allowed light in but doesn't give anyone at the neighbor's house a peep show.
Anyway, like I said, I'm just at the very beginning of even thinking about this project, and haven't even gotten so far as to put pencil to paper to draw up any preliminary plans. But if any of you have wheelchair accessible bathrooms in your home (or if your parents or someone you know has one), I'd love to know your thoughts on the two shower designs above. Which one would work better? The single large entrance into a big rectangular shower? Or the two entrances (entrance/exit) into a longer but probably narrower shower?
Addicted 2 Decorating is where I share my DIY and decorating journey as I remodel and decorate the 1948 fixer upper that my husband, Matt, and I bought in 2013. Matt has M.S. and is unable to do physical work, so I do the majority of the work on the house by myself. You can learn more about me here.