My "DIY vs. Hire Out" List
I've been working hard to get the hallway cabinet finished, and it's almost there. Everything is built, sanded, and primed. It just need a little more sanding, a bit of caulk, and then paint. I'm hoping I can get it finished today and show you the finished product tomorrow. After that big project is finished, and since I finally got the problem door installed, the rest of the hallway should be fairly easy.
But I've been giving quite a bit of thought to this post about how to decide what to DIY vs. what to hire out. Y'all had some great input about that, so I've been mulling over my 2017 house goals list, as well as other projects that have been started this year, and trying to be really honest with myself about what projects I want/need to do on my own, and which ones could/should be handed over to someone else.
After today, I will have finished 33 of the 54 items I had on my list for this year. That's not too bad, but September is almost over, so we've got three months left in 2017. Yikes! And considering that the hallway cabinet has taken me over two weeks now, I would imagine that the pantry alone will take all of October (if not longer) for me to finish.
So I had to get real with myself. I can't do all of the stuff on my list by myself and finish by the end of the year. And my main goal for this year was to have all of the main areas of my house finished and functional by the end of the year.
A few things on my list were just busy work. There's zero benefit in me doing it myself. I have nothing to prove to myself and nothing to learn from it since I've done it a hundred times already. Things that fall into this category include installing trim (like all of the quarter round/shoe moulding that still need to go on my baseboards) and doors.
How much of that I do in the hallway will depend on how soon I can get my guys over here to do it for me. If they're not available really soon, I'll do it myself since I want my hallway finished ASAP. But there's no need or benefit in me spending days installing shoe moulding in the rest of the rooms. I'll gladly hand that over.
I'm also considering handing over the living room draperies to someone else. This is a big step for me. 🙂
I have one panel made, and I need five more, with two of those being double-width panels. This is another project where I really have nothing to prove to myself and nothing to learn. I've been making draperies for years. I've made them for myself, for clients, for my mom. I've made all kinds, different styles, and I have several step-by-step tutorials here on the blog (which you can find here). So forcing myself to make these is just busy work, and I don't need busy work.
And then there's the sofa I want to use in the living room — the one I found at a local consignment store.
I already have the fabric for it, and my mom said she's ready and willing to help me reupholster it. But I think I'm going to let the upholsterer take care of this one for me. I would like to strip it enough so that I can refinish (or paint and topcoat) the wood before I take it to him, though.
The upholsterer is going to charge me $900 for labor and supplies, which include new batting and a completely new seat cushion (I want one long cushion rather than three), so I will have to take on the other upholstery projects myself (i.e., the two chairs for the music room and the two chairs for the living room).
Interesting tidbit — the cushions that are currently on the sofa don't have a single bit of foam in them. They're completely filled with feathers/down, which is why they don't keep their shape. It's so strange. Generally when a sofa has feather/down cushions, that means it has a layer of feathers/down that's wrapped around a foam insert. But whoever did this sofa didn't get the memo. 😀
One random thing I had on my "to do" list was to build or find a new coffee table for the living room. For some reason, I've envisioned something with a white marble top on it, and I had a plan to build a base for that top. Part of me wants to keep that on my list since I love to build things and to challenge myself to dream up, design, and create new things. But on the other hand, if the goal is just to get it done (for now), I already have a perfectly good coffee table ottoman that I built from scratch and upholstered, and that would work just fine for now.
It's not exactly what I had pictured for this room, and I actually plan to use it in the family room once we do that addition, but it'll work just fine in here for now. That'll get one more thing off of my list for this year so I can get the living room finished and usable, and I can build a new coffee table with a marble top next year…or the year after…or maybe never.
That's it for my official 2017 house projects list. I'm hiring out the sofa upholstery, living room draperies, and trim and door installation. It doesn't sound like much, but those items alone will probably buy me three weeks that I can spend on other things.
But in addition to my list, there's also the studio and exterior projects. The studio and exterior weren't even on my radar at the beginning of this year, which is why they weren't on my house projects list to begin with. But now that they're started, they need to be finished.
On the exterior, the only thing I've done is select a paint color (#4, which is Sherwin Williams Mindful Gray)…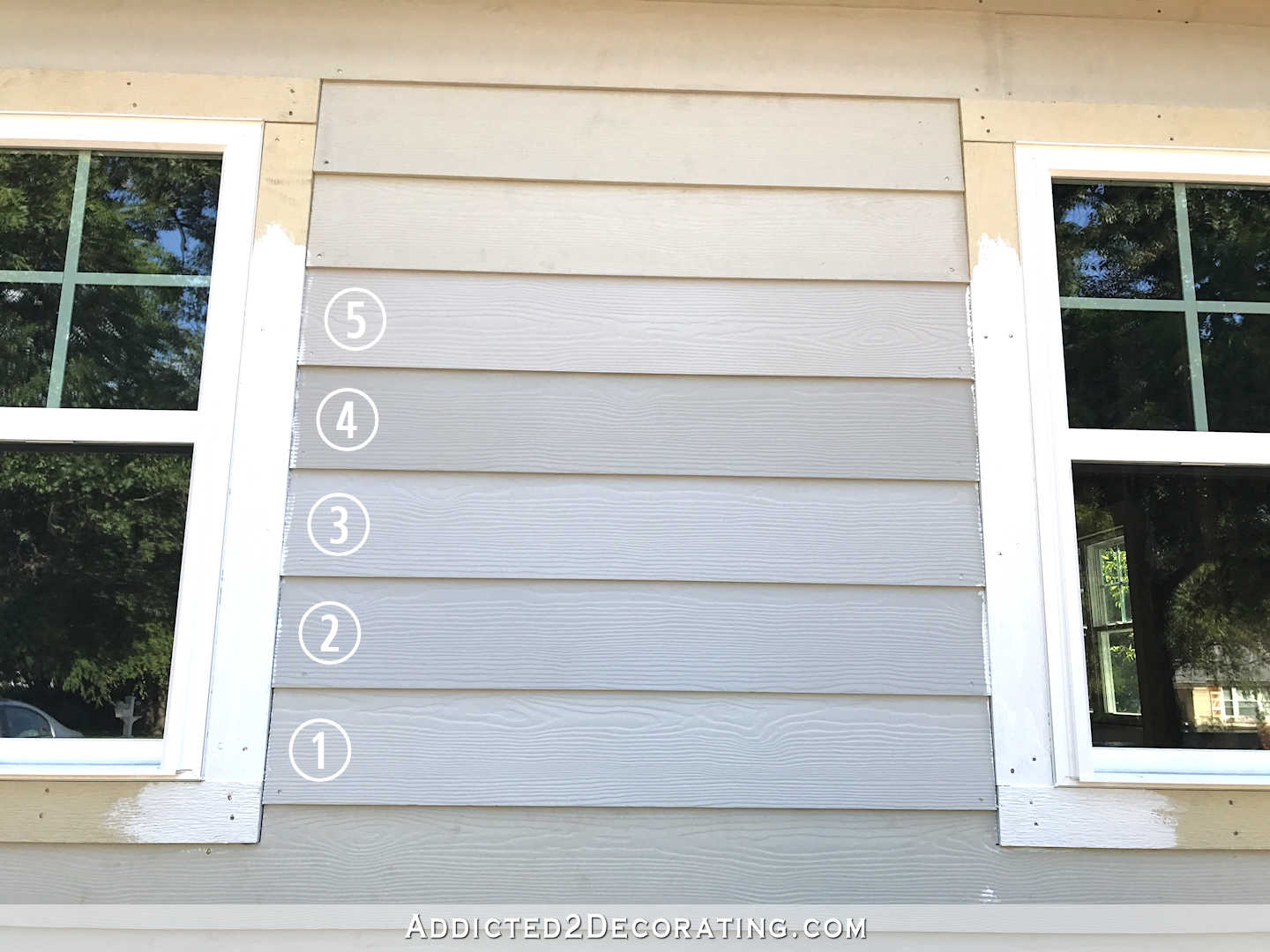 And then my brother and I spent some time one Saturday caulking.
This is one of those projects that was hard for me to let go of. I like to try new things, and I've never painted a house exterior before. But on the other hand…it's caulking and painting. How new and exciting can doing those thing on a exterior actually be when I've done them on the interior a thousand times? There's nothing new about either of those things for me, so I'm going to hire it out. Plus, I've been told that HardiPlank siding needs to be painting within 180 days of installation, so that's another reason I really need to hire this out and get it done. 180 days seems like a long time (about six months), but time really flies by when you've got a house full of projects that need attention.
On the inside of the studio, I've decided to just take it one project at a time. Things need to be done in a certain order, so I'll decide as it's time for each project to be done whether to do it myself or hire it done, based largely on our budget.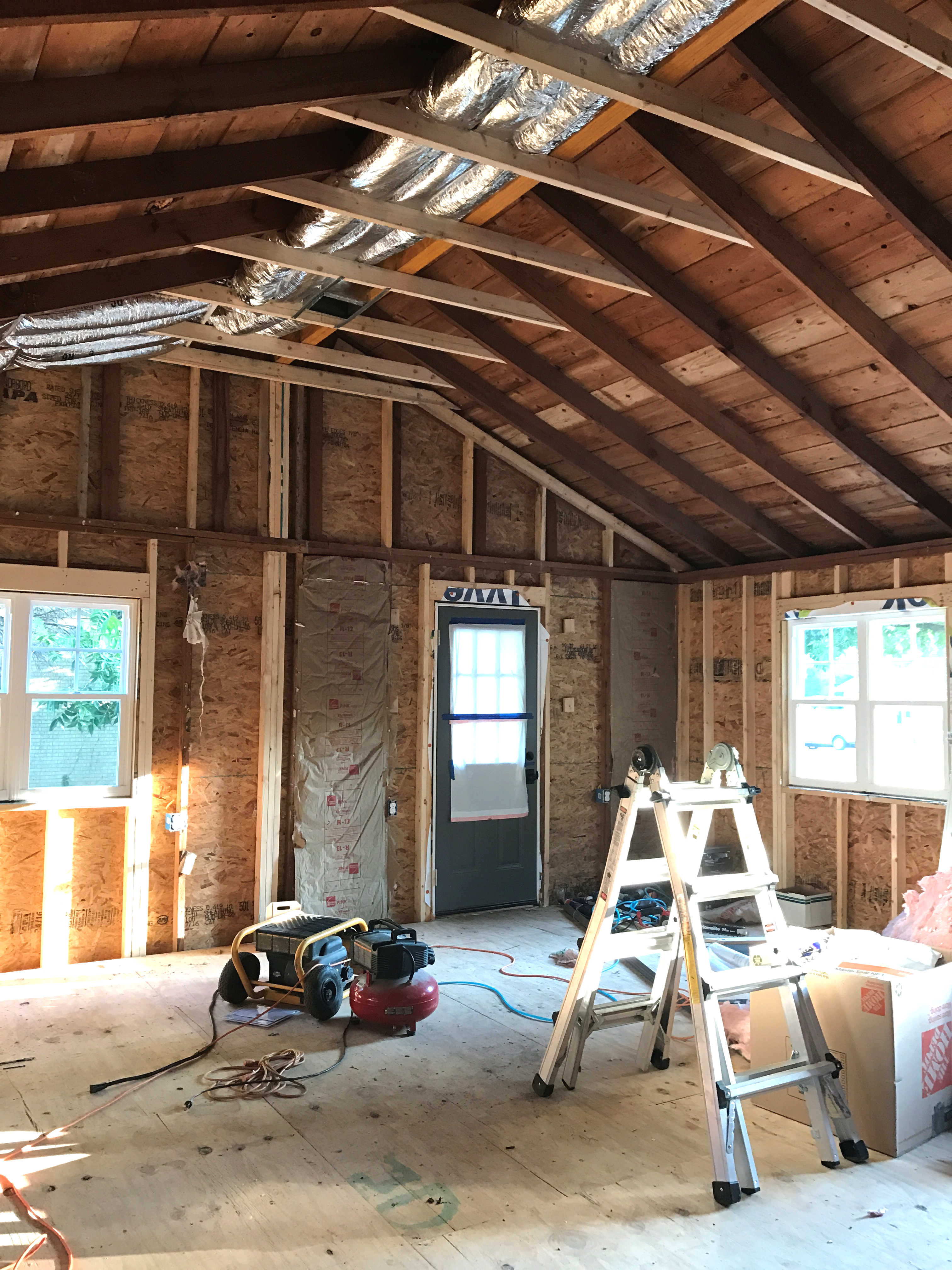 The first thing that needs to be done is electrical. I'm pretty sure I'll do that myself since electricians are very expensive. Next I'll need insulation and drywall. I'll definitely hire out both of those things. And then the hardwood flooring can go in. It's so easy to install that I cringe at the thought of hiring that out. But on the other hand, I've done it before, I have nothing to prove to myself by doing it again, and I have nothing to learn from it. That's time I could spend on other (new and challenging) things, so if we have the budget for it, I'll hire it out.
I also need my new 15-lite pocket door installed between the breakfast room and studio, and I'm perfectly fine with hiring that out as well.
Once those major things are done, that'll get me to the fun stuff (like building cabinets, which I'll do myself) and the pretty, decorative stuff, which of course, is my territory.
So that's the plan. 🙂 I'm slowly but surely learning to relinquish control over some of these things, but it's not easy. I just need to keep reminding myself that the goal for this year has been (and still is) to have all of the main rooms finished, decorated, and functional by the end of the year. That's the goal, so I'll do whatever I can to get there.
And as far as my studio goes, my goal (which I'm holding pretty loosely right now) is for it to be completely finished and usable by the end of June 2018. And that includes everything — cabinets built, installed, and painted, workroom table built and usable, and the whole thing organized, decorated and done. If I can get it done by that time, then the studio (including the half bath and mudroom) will have been a one year project from beginning to end. That sounds reasonable to me.
Addicted 2 Decorating is where I share my DIY and decorating journey as I remodel and decorate the 1948 fixer upper that my husband, Matt, and I bought in 2013. Matt has M.S. and is unable to do physical work, so I do the majority of the work on the house by myself. You can learn more about me here.