DIY Hallway Cabinets – All Painted And (Practically) Finished!
My hallway cabinets are pretty much finished, with the exception of a couple of details. Overall, I'm very pleased with how they turned out. If you missed the other posts on this project, you can click here for how I built the actual cabinets…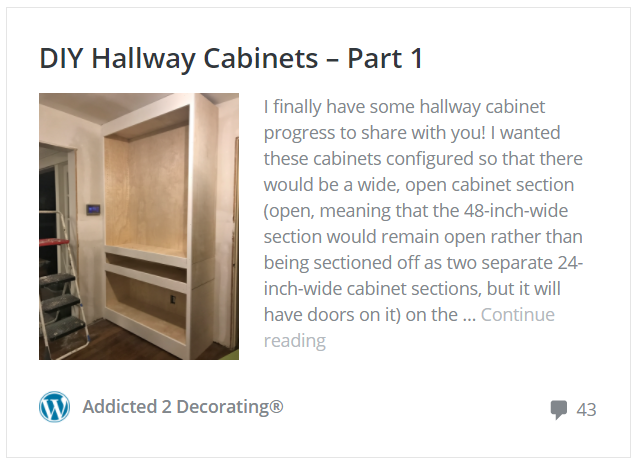 …and click here for info on how I made the cabinet doors with no fancy cabinet door-making tools…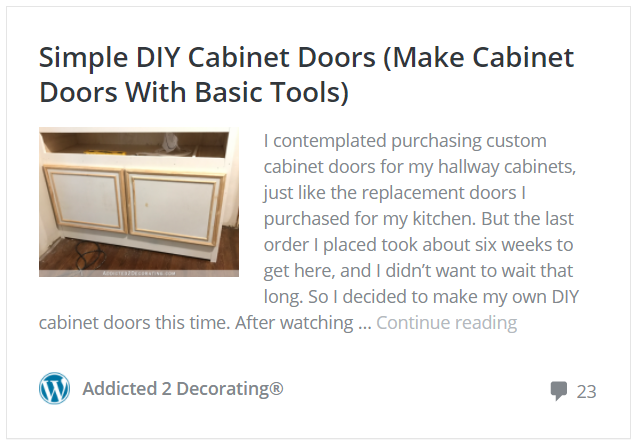 The hallway isn't finished yet…obviously…but here's how the cabinets turned out.
Overall, I'm pleased. But in hindsight, I wish I had done a couple of things differently. Mainly, I wish I had left off the horizontal trim that I added between the drawer and cabinet sections. I got that idea from a photo I really liked, but the cabinet in the photo had inset doors rather than overlay doors. In my mind, I thought it would still look really great. In reality, it just created too many lines and too many shadows from the one ceiling light in the room. I do plan to get a solar tube installed in the hallway very soon (possibly this week), so it will provide a great deal more (and much more natural) light in this dark hallway, so that might help the issue. We'll see.
But other than that, I really like how the cabinets turned out. Of course, the crown moulding and baseboards that wrap around the cabinets will continue around the room (which is why they're cut at angles), but I'm thinking I might want to settle on a wall design first and get it done before I install the rest of the trim.
In my first post about building the cabinet, the upper cabinet area was just one big open area from left to right…
That would have required 4-foot-long shelves. I decided that was way too wide. The wider the shelves, the more likely they are to bow over time, and I didn't want to have bowed shelves. But also having 4-foot-wide adjustable shelves would really limit how I could store things in these cabinets. If I had one tall item that needed to be stored, the entire 4-foot shelf would have to be adjusted to the proper height just to store that one item, which might create a lot of wasted space if everything else is much smaller.
So I decided to add a middle panel to separate the upper cabinet into two sections. I drilled all of my pin holes first (using my Kreg shelf pin jig), and then I attached it using pocket holes (created using my Kreg pocket hole jig) and screwed it into place.
So now I have two separate sections with fully adjustable 24-inch-wide shelves. I filled the pocket holes using the Kreg pocket hole plugs and sanded them smooth.
I haven't cut the shelves yet, but I'll just use the same 3/4″ plywood that I used to build the cabinets. And then I'll use shelf pins like these (I found mine at Lowe's) to hold the shelves in place.
I kept the inside of the cabinets the natural color and just used General Finishes High Performance Topcoat to seal them.
I ran out before I could get enough coats on (I'd like to do two coats on the top section, but probably three or four on the bottom since it will hold a litter box), so I had to order more. I get mine here. It should be here to day so I can finish this up, let it dry, and start using this storage by the end of the week.
Several of you asked me about the cabinet door on the left, and if the thermostat would interfere with the cabinet opening all the way. It does, of course, but I don't know that it interferes enough for me to go to the trouble of moving it.
And then there's my favorite part of all — the little cat doorway on the side. I found it here, and it seemed way overpriced to me, but I couldn't resist.
So that's it! My pretty-much-finished-but-not-quite hallway cabinets.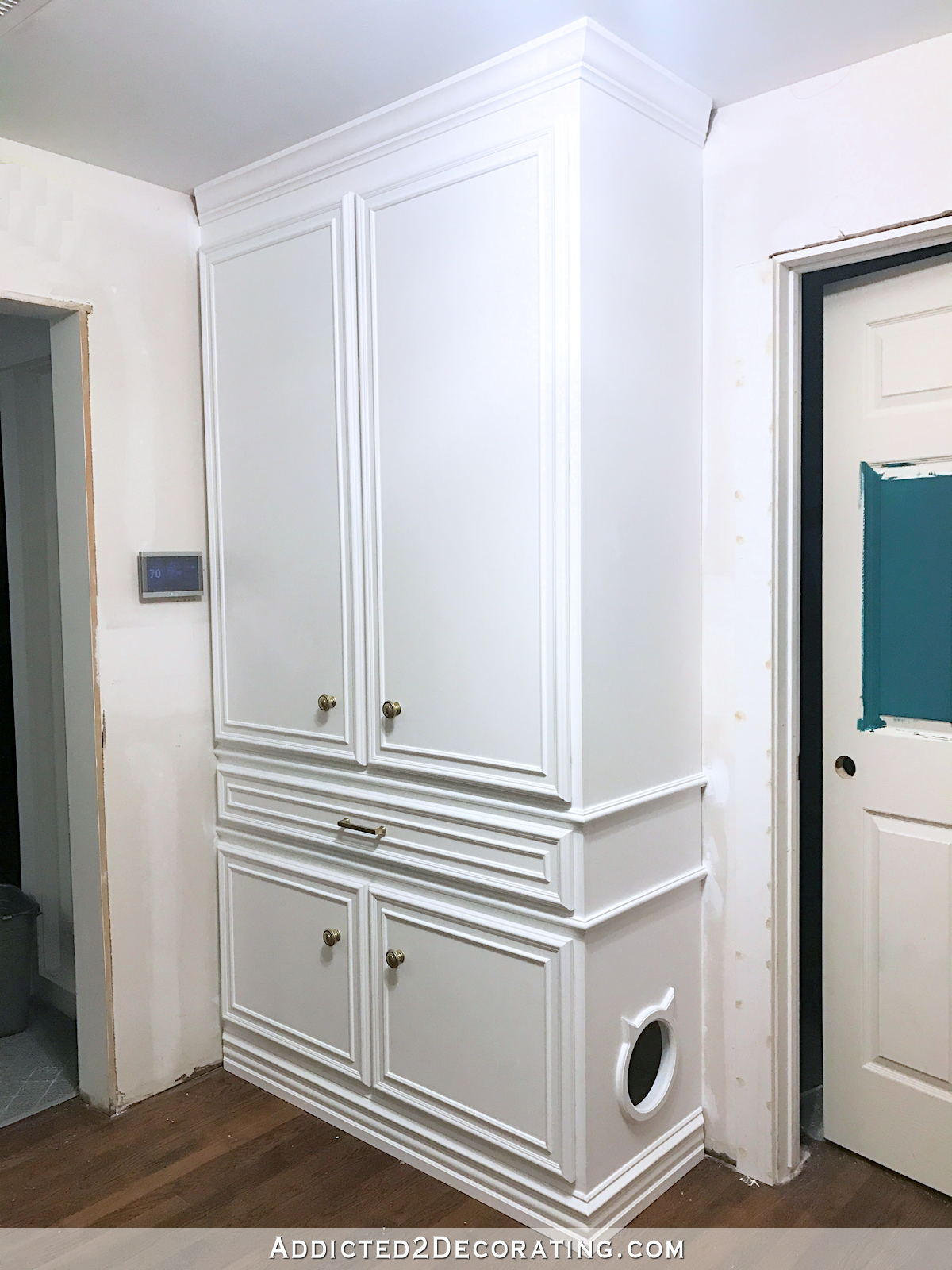 Sure, I'd do some things differently if I could start over today with the knowledge I have now, but let's face it. These cabinets, even with the extra trim and shadows, are 1000% better than what was there when we moved into this house…
Please tell me you agree. 😀
Addicted 2 Decorating is where I share my DIY and decorating journey as I remodel and decorate the 1948 fixer upper that my husband, Matt, and I bought in 2013. Matt has M.S. and is unable to do physical work, so I do the majority of the work on the house by myself. You can learn more about me here.