Devising An Electrical Plan – My Step-By-Step Process
Well, good news, folks! For the first time in two weeks, I woke up this morning actually feeling like I could tackle a DIY project today. And not a moment too soon. If I spend another day sitting still and binge watching Netflix, my mind just might turn to mush.
But I did take a break from Netflix for a few hours while I finalized my electrical plan for the studio, half bathroom, and mudroom. I plan to do the electrical work myself, and believe it or not, the actual wiring is the easy part. Coming up with the plan is the hard part, because there are so many things to think through.
Before I can come up with a lighting and electrical plan, I personally think it's very important to already know how the room is going to be used and arranged. If it's a living room, I want to know where the chairs and sofa will go. If it's an office, I need to know exactly where the desk will go. I like to already have the plans drawn up and have them on hand when working out the electrical and lighting plan. These are the drawings I did back in June that show how I plan to arrange my studio.
For areas with lots of storage or cabinets, it's also important to know how that storage will be used. Is an outlet needed inside the cabinet for a station for rechargeable batteries? Will there be a printer hidden in a cabinet that needs an outlet?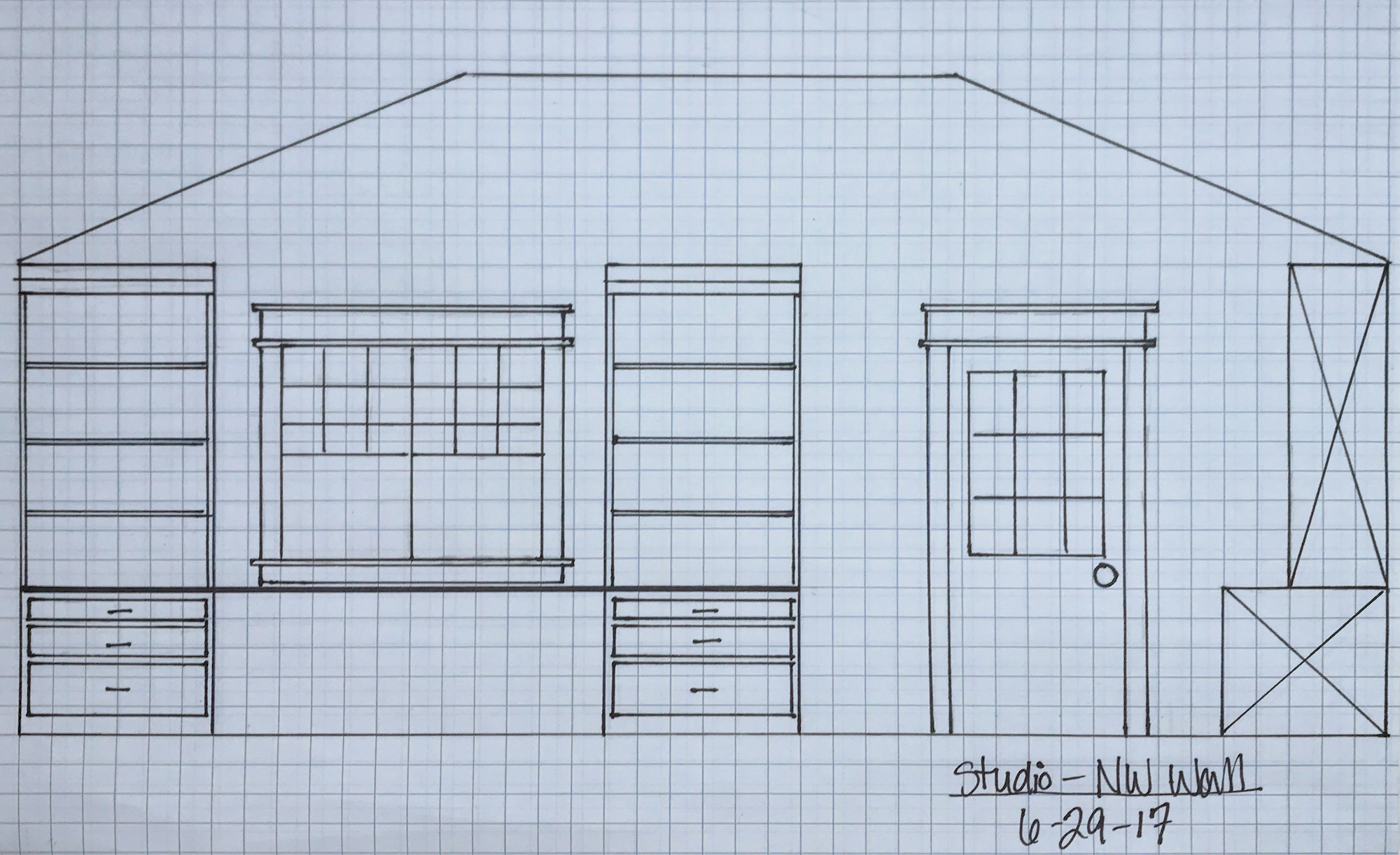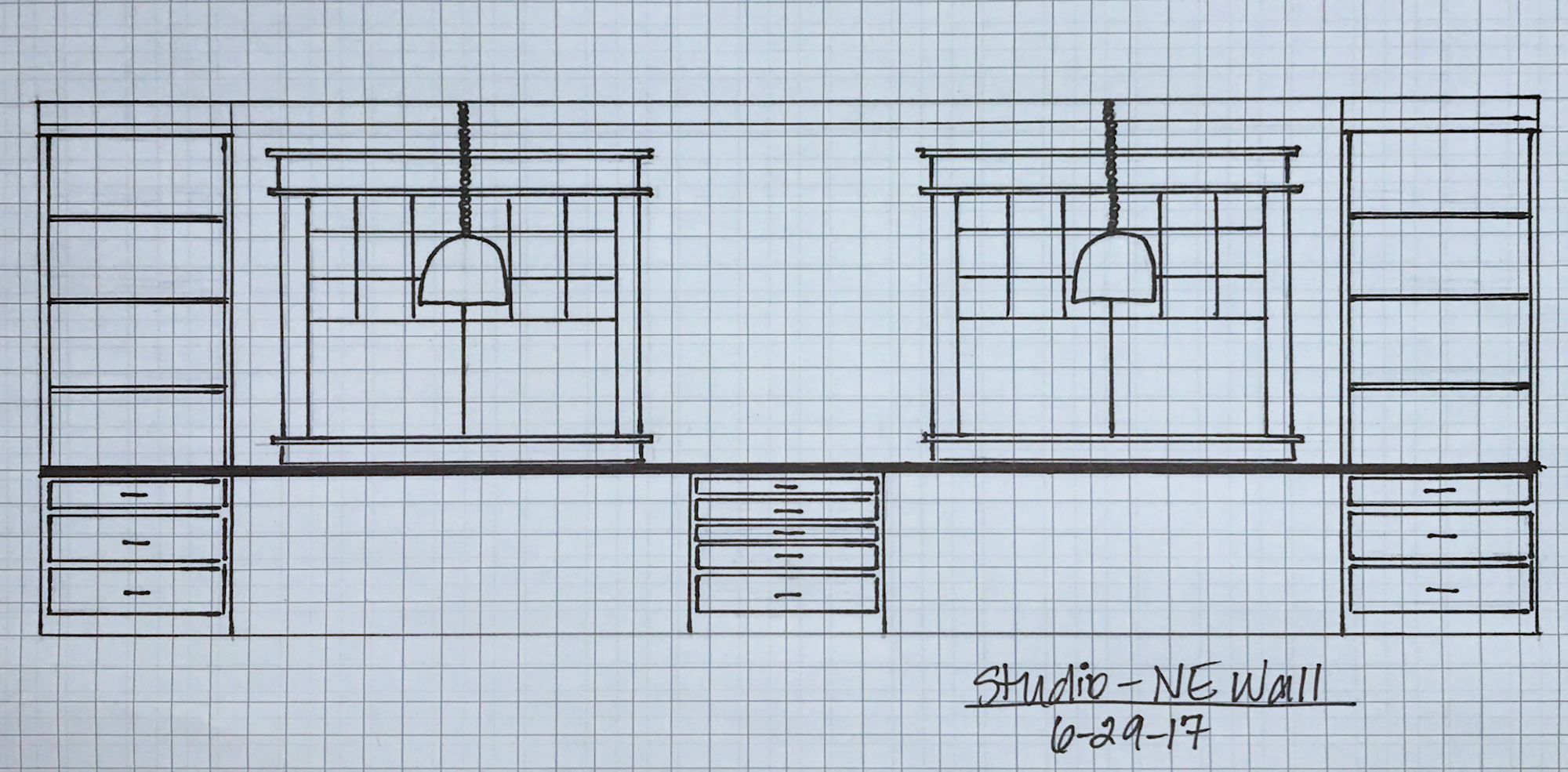 When I do an electrical plan, especially for a room so large that will be used for actual work and not just for plugging in table lamps and a vacuum cleaner once a week, I start out by making a list of the general lighting and electrical needs for the space(s). I like to think of lighting in layers or categories, and then work from there. The categories I think through are:
Decorative central lighting – I always like to put one decorative light in the center of the room. If at all possible, I like for this central light to be a beautiful chandelier or pendant light, and it serves more as a decorative element than anything else. But because I live in Texas, there are some instances in which I need the thing in the center of the ceiling to be a ceiling fan with a light. I try to avoid ceiling fans in areas like dining rooms, formal living rooms, etc. But there are some instances where exchanging a ceiling fan for a gorgeous chandelier just isn't an option, like bedrooms. I can't handle Texas summer nights without a ceiling fan in my bedroom. And since I foresee spending a great deal of time in my studio, I'll also be sacrificing a gorgeous chandelier for a ceiling fan in there.
Ambient lighting – This is the general lighting in a room. Sometimes the decorative central lighting can also act as the ambient lighting. In fact, in most of the rooms in the house, the decorative chandelier or pendant light serves as the ambient light. But in some rooms, I also like to supplement the chandelier/pendant light with additional ambient light in the form of recessed lights. I don't have room in the rafters of my studio for actual recessed lights, but I'll find something similar that takes up less space to add more ambient light in the room.
Task lighting – This is lighting required in specific parts of the room for specific purposes. In my studio, this would include specific lighting over desks and work tables.
Decorative accent lighting – This would include little pendant lights (just because they're pretty), wall sconces, and even floor and table lamps that will require electrical outlets.
Electrical outlets – Determining outlet placement is a bit easier than lighting. In most rooms, you just want to be sure you have electrical outlets spread throughout the room, with at least one outlet on each wall. But in a room like a studio and/or office, placement for specialized use requires a bit more thought. Also check local codes for placement requirements around windows, doors, sinks, as well as GFCI requirements.
Once I've made my list of all of the lighting I need and want that fits into each of those categories, I start marking up the floor plan. I suggest making several copies of your floor plan before marking it up, because it'll probably take several tries to get it right. And even when I think I'm finished, I always seem to want to go back and make changes.
After I mark the placement of all of the lighting, I then decide where I want the switches for those lights to be. And do they need one switch? Or do I need to be able to switch the light off and on from both sides of the room?
Here's how my floor plan looked after I got everything marked — lighting placement, switches for lights, and electrical outlets.
I know. It looks like a mess. 🙂
The floor plan markup is more just to get a visual to see how everything will look together and make sure the whole room has adequate lighting and electrical outlets spread around the room. But when doing the wiring, I don't actually work from the floor plan. Instead, I work from a thorough list that I make as I mark up the floor plan.
Here's what my list for the studio area looks like…
Lighting (Switch Location):
Studio ceiling fan with lights (breakfast room door/studio side door)
General recessed style lights (breakfast room door/French doors)
Pendant lights over worktop (wall between windows)
Pendant light over office desk (wall to right of cased opening)
Sconces on office bookcases (wall to right of cased opening)
Portico light (wall to right of side studio door)
Outdoor lights flanking French doors (mudroom wall to right of cased opening)
Main mudroom light centered on French doors (mudroom wall to right of cased opening)
Bathroom vanity light (inside left of bathroom door)
Mudroom closet (just outside closet door)
Electrical Outlet Locations:
3 outlets low on workroom table wall
3 outlets on wall between windows on worktop wall
2 outlets inside top cabinets on worktop wall
2 outlets centered under windows on worktop wall
1 outlet to left of studio side door
1 outlet outside of studio side door
2 outlets inside lower cabinets in office area
2 outlets on side wall by office desk
1 outlet on wall inside left of breakfast room door
1 outlet beside vanity in bathroom
1 outlet above table height on workroom table wall
Those are the lists that I actually work from when running the electrical wiring, but I do keep the floor plan around for reference. I also like to give it a few days, or even a couple of weeks, after then plan is in place before I start the work. That way, it'll give me time to really think through the list and be sure I'm not missing something.
So I think I have this room pretty well covered with different types of lighting and plenty of electrical outlets to cover just about any and everything I could possibly use this room for. I'll give it a week or so, mull it over a bit more, and be sure that I have it just right before I climb up into the attic and get started.
Addicted 2 Decorating is where I share my DIY and decorating journey as I remodel and decorate the 1948 fixer upper that my husband, Matt, and I bought in 2013. Matt has M.S. and is unable to do physical work, so I do the majority of the work on the house by myself. You can learn more about me here.