Last Updated on January 14, 2019 by Kristi Linauer
After a forced two-week break, I have finally finished my first project for the month! Something tells me I'm not going to make it through my August to-do list. 🙂
At the end of June, I purchased a "new" credenza (yes, I know it's a dresser 🙂 ) from a local resale shop. It's one of those places that buys up old furniture, slaps a coat of white chalk paint on everything, and marks up the price 400% because it's been "refinished".
This is what it looked like when I purchased it…
The picture doesn't show just how awful the finish was. It had drips and runs everywhere, and the entire surface was very rough.
But I loved the overall look of the dresser, and was especially drawn to the design on the upper drawers and the shape of the feet, so I paid their ridiculously inflated price for it knowing that I'd have to refinish it.
So I spent the last two days sanding down that awful drippy, clumpy, brush stroke-covered chalk paint finish as best I could. Then I gave it two fresh coats of Behr Polar Bear (my favorite white), and then accented the drawers with some Sherwin Williams Repose Gray.
The new look is definitely more my style. The details on this dresser were way too pretty to hide under that awful rustic/distressed look. This dresser needed a more refined look, in my humble opinion.
What I didn't count on was that I'd have to redo the entire top. When I saw the dresser in the shop, there were all kinds of decorative items displayed on top, with what I realize now were two big mirrors strategically placed.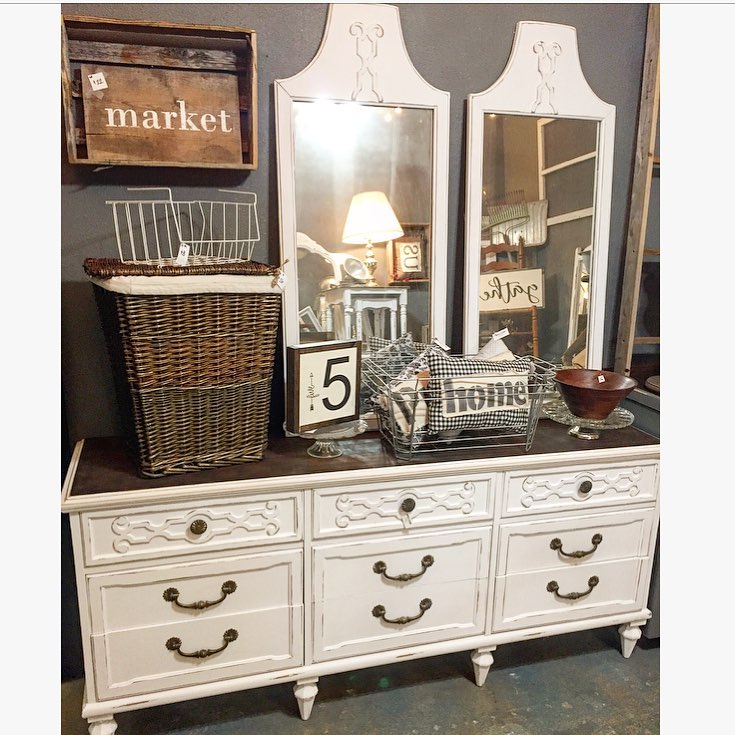 The part of the top that I could see looked just fine. It wasn't until they delivered it to my house that I saw that the top had severe water damage to the point that the particle board under the veneer had swollen to almost double its thickness in some areas and had become very brittle, and the veneer, which was barely hanging onto the brittle particle board, was very warped. It never dawned on me that they would have covered up so much damage by strategically placing large, heavy merchandise so that it hid the damage. I can't imagine being a shop owner and being okay with something like that leaving the store.
This isn't a great picture, but it's the only one I have where you can kind of see the damage I'm talking about on right side of the top towards the back. See how warped and bubbled up the veneer is? And the damage to the particle board underneath made the particle board unsalvageable.
So I peeled off all of the warped veneer, and then chipped away all of the swollen, brittle particle board underneath.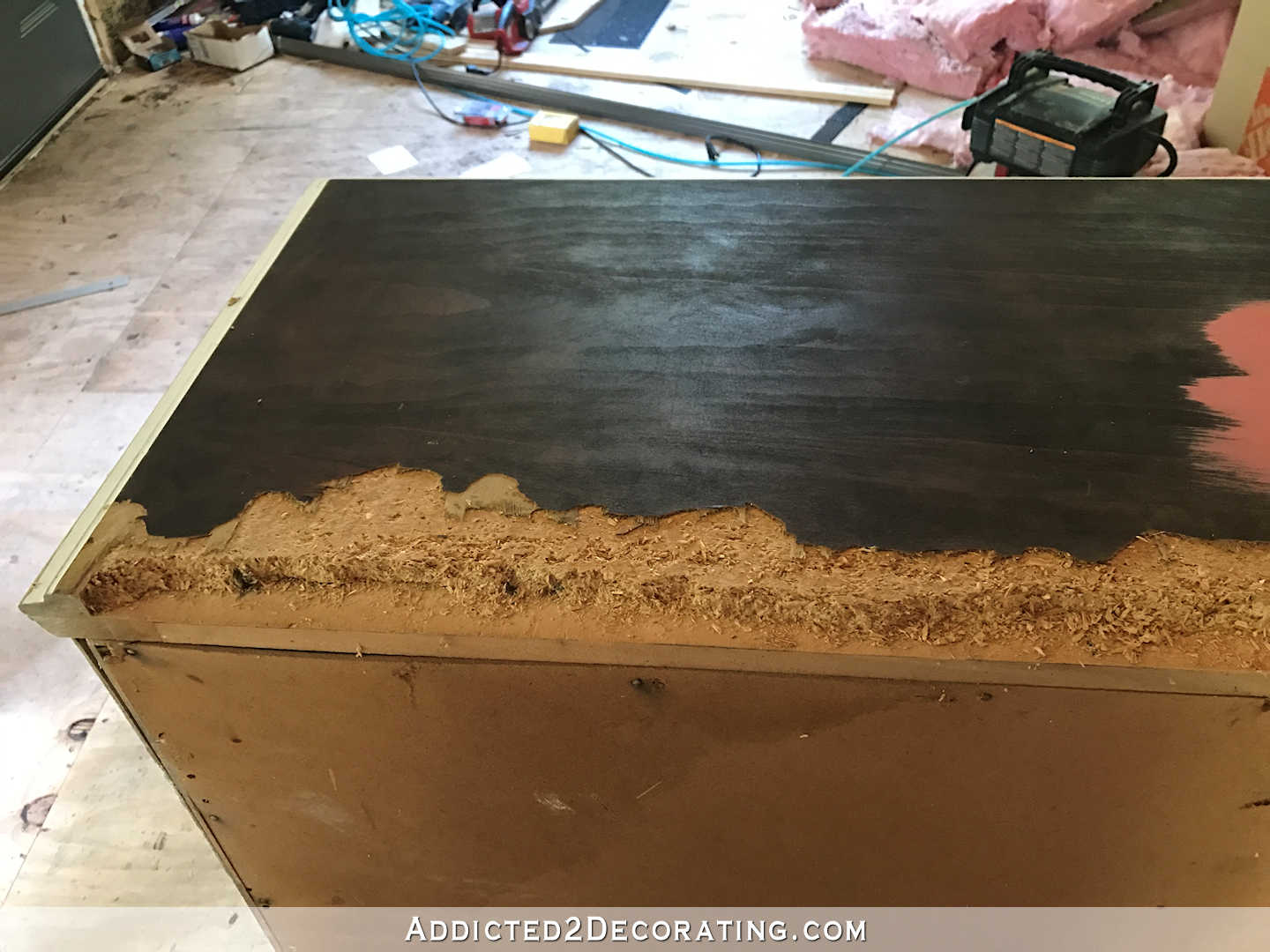 I didn't want to go to the trouble of completely replacing the top, which would have required ordering new wood veneer online and waiting at least two days for it to arrive. So my simple solution was to just cover the entire top, from the innermost edges of the routed design on the front and side edges, with a new layer of 1/4″ plywood. I used contact cement to adhere the plywood to the old top.
That did leave me with an area roughly 1.5″ x 18″ with no support under the new plywood top, but since it was right on the back edge of the top, I didn't worry about it. I never place items that far back on the top, and even if I did, the 1/4″ plywood is strong enough to hold any decorative item I'd ever place on the top of a dresser.
I sanded the edges so that they were very smooth and the edges were rounded just a bit. And then since I knew I would be painting the whole thing rather than staining, I caulked where the plywood met the old top to mimic a continuous routed edge look. I think it turned out pretty well.
The original pulls were dark and heavy looking…
I may eventually get new pulls — something a bit simpler and less bulky in design. But for now, I just lightened up the look of the existing pulls with Rub 'N Buff in antique gold.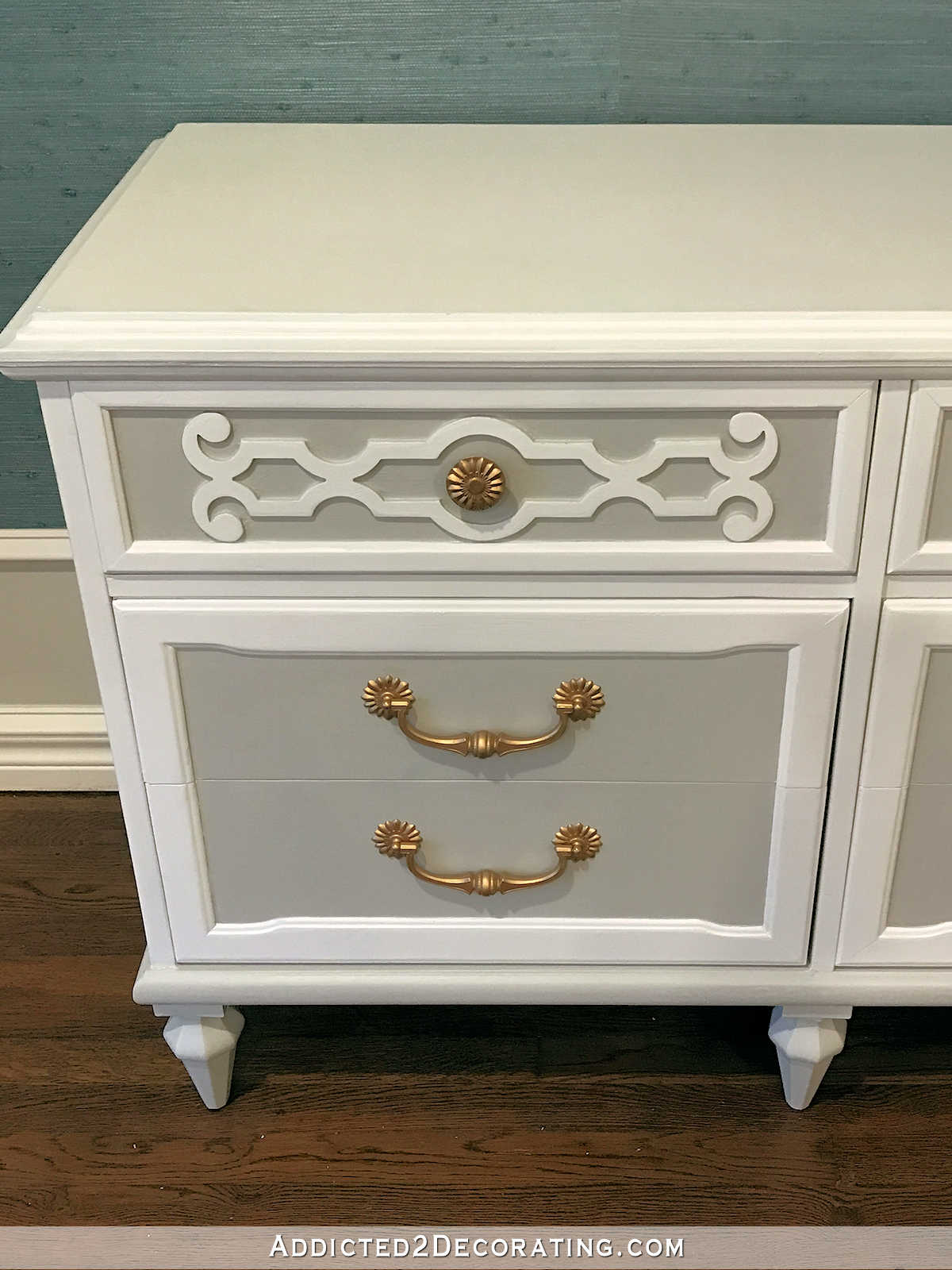 I'm very pleased with how this turned out. The finish on it before just didn't do this piece justice, and the damaged top was just awful. There's no way I could have been satisfied with that in my entryway.
But now she's all cleaned up with a new top, fresh paint, and shiny hardware.
So it took me 17 days to get my first item crossed off of this month's to-do list. Oh well. It's a marathon, not a sprint. Right? 🙂
Addicted 2 Decorating is where I share my DIY and decorating journey as I remodel and decorate the 1948 fixer upper that my husband, Matt, and I bought in 2013. Matt has M.S. and is unable to do physical work, so I do the majority of the work on the house by myself. You can learn more about me here.
I hope you'll join me on my DIY and decorating journey! If you want to follow my projects and progress, you can subscribe below and have each new post delivered to your email inbox. That way you'll never miss a thing!